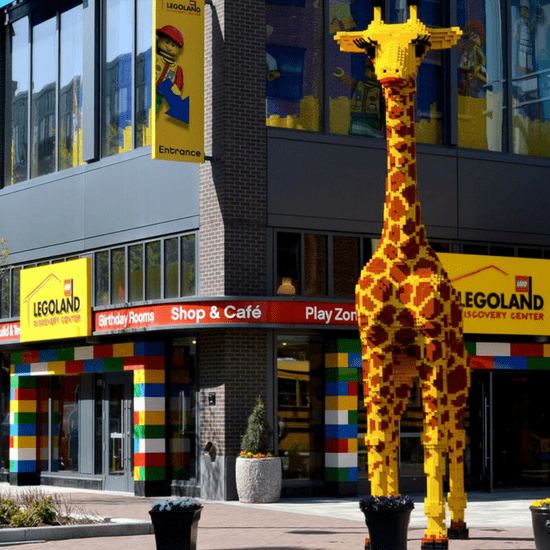 I've written this blog post in exchange for tickets to the LEGOLAND Discovery Center in Boston. All opinions are my own. You can read my full disclosure policy here. 
Going to LEGOLAND Discovery Center near Boston is a great day trip! We visited when it first opened and remember having a blast. My boys are getting older. I want to do these things with them again before they are too big for it.  Here is my what to know before you go to
LEGOLAND Discovery Center in Boston, Massachusetts.
Before you visit
Buy your tickets online via their website, before you go. This ensures your entry into LEGOLAND Discovery Center. During peak times such as holidays or summer, it can get pretty crowded. LEGOLAND will limit the number of visitors in at one time to create the best possible experience. After purchasing online, print them out. If unable to do so, have the barcodes ready in your email when you get there and they can scan them from your smartphone. Save yourself some time and buy online.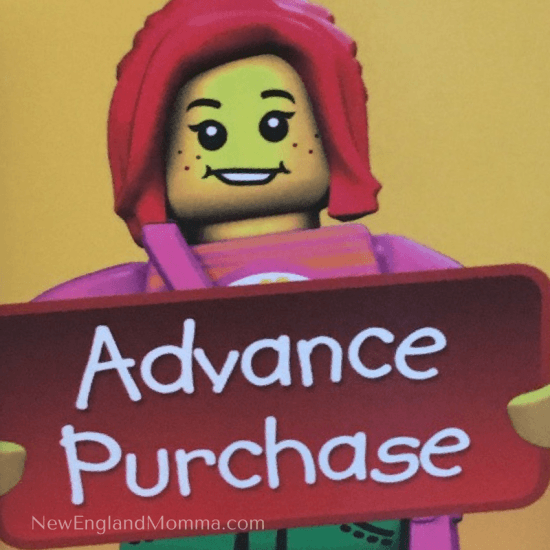 Let the fun begin
But wait, the kids can't just run off and explore and to be honest, I have mixed feelings on the have-to-do activities. My kids' excitement is now going through the roof and it's difficult to wait for the next thing. But LEGOLAND Discovery Center does it in a way that makes it fun as well as staggering the crowd as we go through the activities.
After getting the go-ahead, head up the elevators to a waiting area. Here, LEGO minifigures will introduce themselves in a very short movie. After the movie, its onto a behind the scenes movie to see how LEGO minifigures are created in the factory. During this video, you will also get the chance to create your own online minifigure!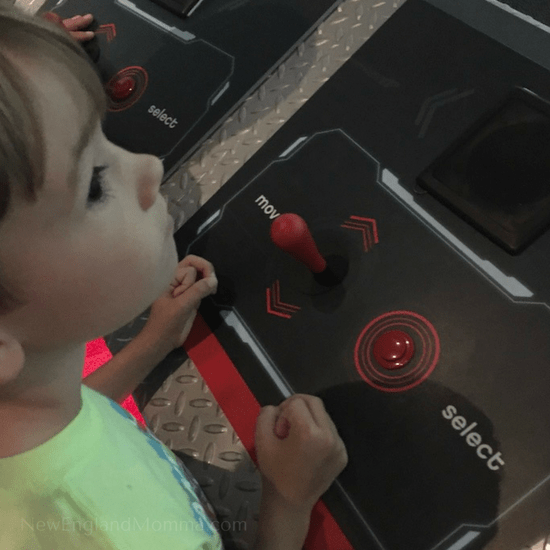 My son was a little hesitant being unsure what he was actually waiting in line for but made a great minifigure (on the left) when it was time to so.
Kingdom Quest ride
Next up is the Kingdom Quest where we must save the princess! Kids under 51" must ride with an adult and off we go to shoot lasers at spooky spiders and trolls. We each rode with a child and this ride is super fun even for us big kids!
Miniland Boston
This is by far one of my favorite parts of LEGOLAND Discovery Center. Over 1.5 million LEGO bricks are used to recreate both historic and iconic landmarks of Boston. Logan Airport, Fenway Park, Boston Harbor Hotel, and more. And there are interactive screens and buttons to push to keep the kids engaged, so take your time and don't rush through this section.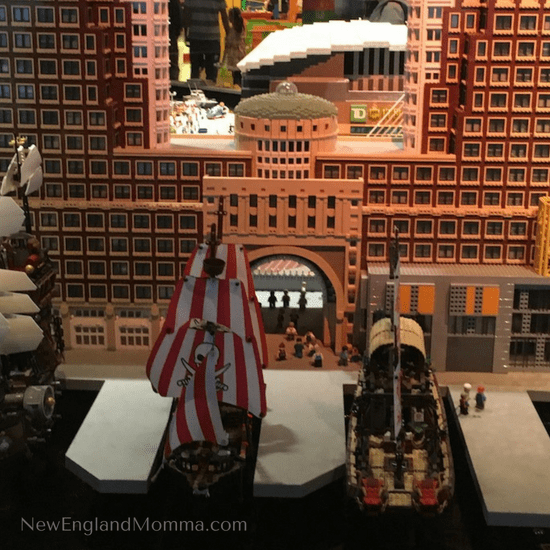 Even more to explore
Once through the Boston Miniland, it's on to the area where there is even more to explore! This area has a play section for toddlers as well as the LEGO City Play Zone where kids 56" and under are able to slide, climb, play and explore. Socks are a must for the play areas and are available at the coffee shop to buy, if needed. My 7-year-old loved climbing up the jungle gym and checking out all the places to explore here. However, my 11-year-old to much sadness realized he is getting too big for these things. He wanted to climb around in there as well (seriously, I would if I could!) but he is taller than the 56″ and unable to do so.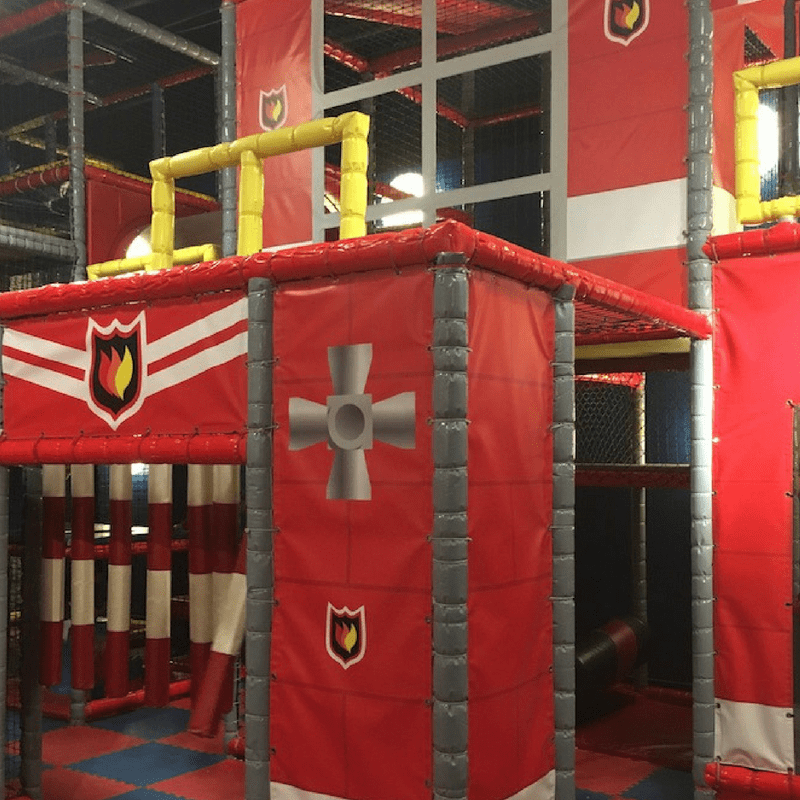 There are plenty of other things to do in this area! His dad took him to the 4-D movie (no extra fee) which he loved while his younger brother who isn't so keen on 4-D movies, played in the City Play Zone under my watchful eye.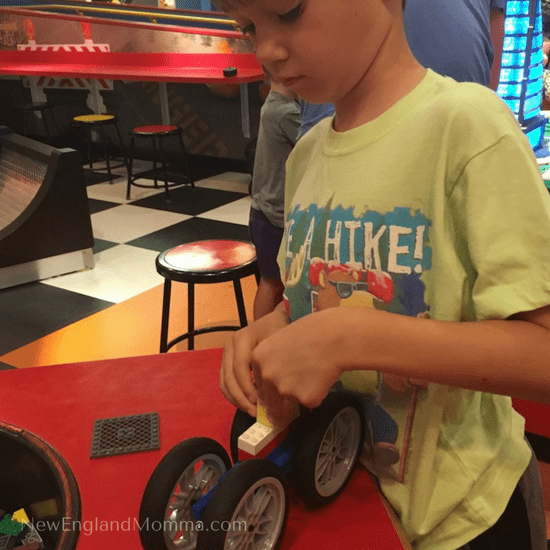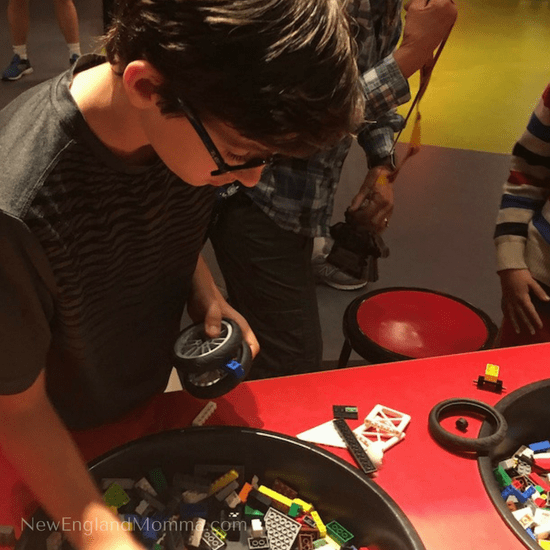 Next, it was time for some building fun with build your own LEGO race car to race along side others, as well as the DUPLO Earthquake table. Build your own DUPLO block tower to see if it can withstand the shaking platform!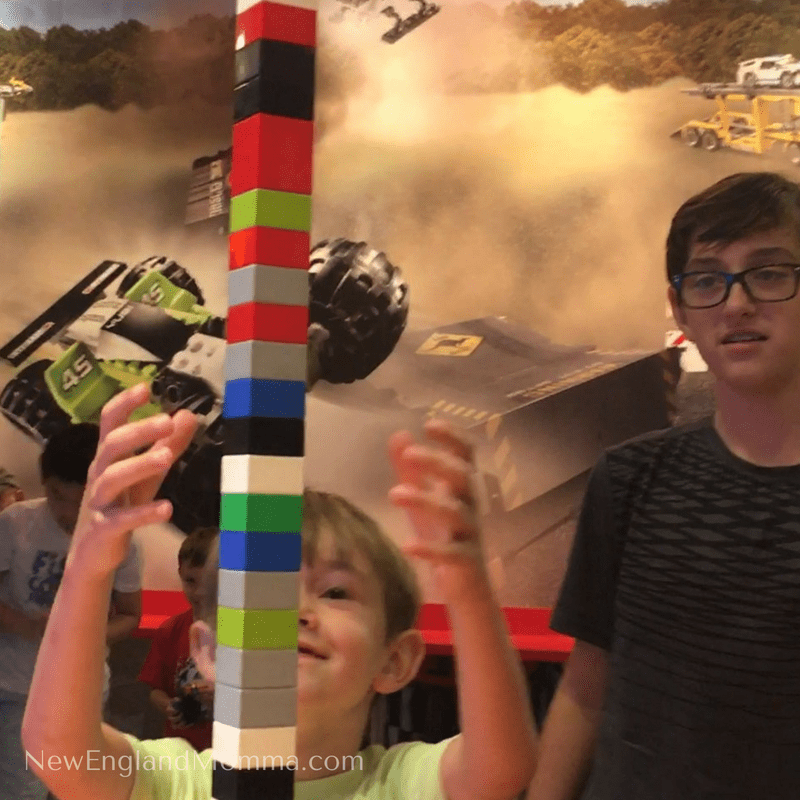 Both my boys loved these two areas. They enjoyed making their own race car and my oldest son, kept going back and trying to perfect his car for various racetracks. My youngest son, made a very tall DUPLO tower. He would put a few blocks on and then hit the earthquake switch on the table to see if it would fall over. When it held up, he would add even more blocks. Then, his older brother came over to help him make it super tall! It fell with a big kerplunk and they picked up the pieces, but it was a lot of fun watching their excitement grew as the tower grew.
Snack time
All this building and climbing, can make a kid (and mom & dad) hungry. Head on over to the coffee shop for a little snack or lunch. They serve Starbucks coffee, as well as muffins, chips and an assortment of other items. At the time that we visited, they had kid lunches starting at $7 which include a kid sandwich, snack and drink.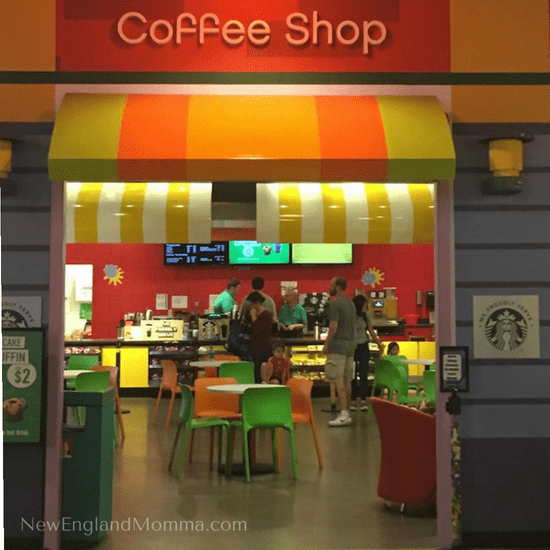 After our snack, we waited in line for the Merlin's Apprentice ride which I could have done without, but my 7-year old was eager to give it a go. And it was well-worth the wait for the look of happiness on his face. While milling around in that area and you notice the line to be short, I would say to jump into it. When we first arrived, there was no one in line and by lunch time it was quite a long wait.
The Great LEGO Race VR experience
LEGOLAND Discovery Center also has a new Virtual Reality (VR) ride that is super cool and fun to check out. For only $5 more, you can get these tickets when you get to through the admission line. You can not buy the tickets once your in line, so get them ahead of time. Ages 6 and up can take part in the The Great LEGO Race VR Experience.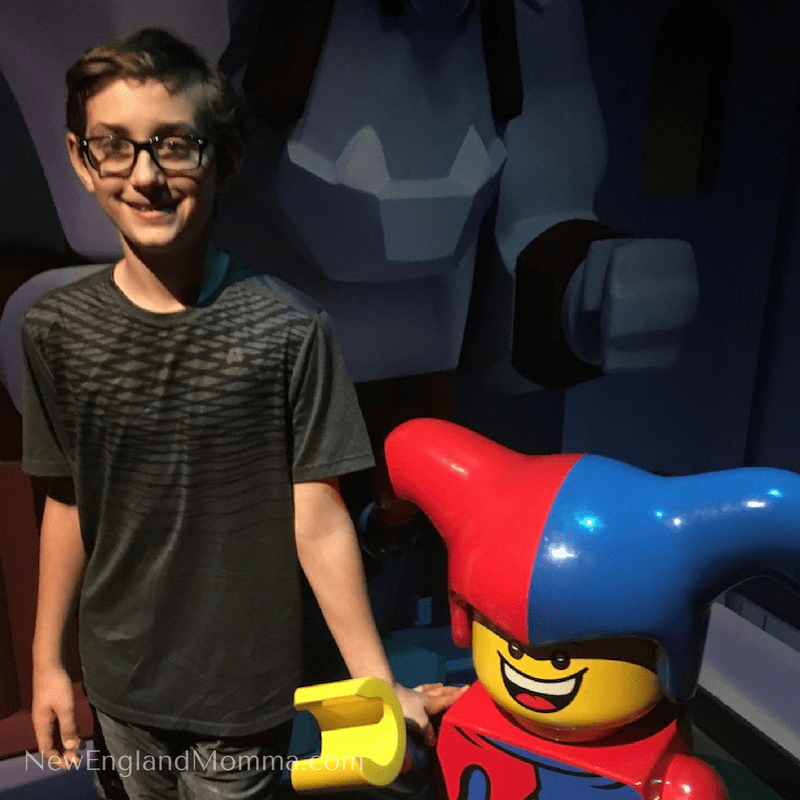 The VR ride brings you into a separate room where you sit in a pod. You get a VR headset to wear on your head and pulls down over your eyes. Once the ride begins you will be immersed into a 360 degrees virtual world. Usually motion rides make me feel sick. However, I was eager to give the VR ride a try. I would close my eyes whenever I felt the motion sickness coming on and kept them shut until the feeling passed.
What to know before you go to LEGOLAND
Giraffe: Look for the big LEGO giraffe out front to easily find the entrance.
Parking: Bring a credit card as the parking garage next door requires a credit card to enter, not cash.
Buy online: Save yourself some time and get the best value by buying online.
Bring socks: If your child is under 56" and will be playing in the LEGO City Play Zone.
Hand Sanitizer: Bring your own! Yes, there were hand sanitizer wall dispensers but most of them were empty! At least on the day that we went and after my kids were touching all the LEGO building blocks, I really wished I had brought my own.
Charging Stations: Bring a cord for your smartphone. The coffee shop has tables with charging stations on them so you can charge your phone, if you remember to bring your cord.
WiFi: Yup they have a free guest wifi, always a bonus.
Rides: Don't wait to do the rides if the lines are short. They can get long in a moment's notice.
Go Early: When we go again, we will go the earliest time slot they have available. Most people, by what I observed seem to come mid-day. The first time we went it was early and sunny and there were no lines. Our second visit, it was mid-day and rainy. Super crowded. Plan wisely.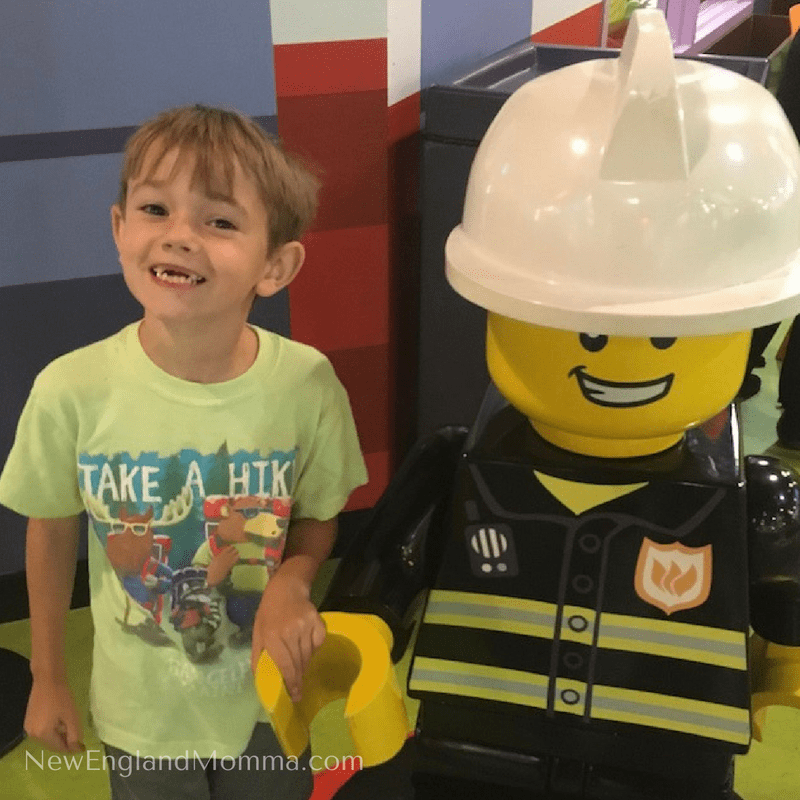 Revisiting LEGOLAND Discovery Center in Boston was great day trip! The kids got to do a ton of fun hands-on activities, go on rides, play and climb. Whether you have been or not, it's time for a visit to the LEGOLAND Discovery Center in Boston. Look for fun events such as Toddler Tuesdays, Homeschool weeks and special Adult only nights. Check their upcoming calendar of events here.