The best car accessories are those that make the ride a little easier and fun for everyone. Every parent understands that kids need things, especially when in the car for long periods of time. They want to be comfy and entertained. And of course, parents want to keep the car clean, have electronics charged, items within easy reach and to make it the destination with little to no tears along the way.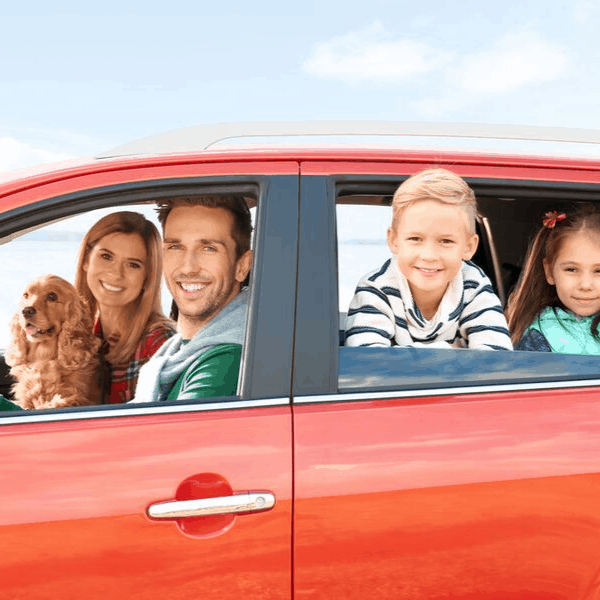 First Published: May 22,2018... Last Updated: Jan 7, 2020
Here are 18 awesome road trip accessories that will make your next car ride run much smoother. The best thing is once you purchase these items, you will have these useful travel accessories for many road trips to come!
As an Amazon Associate I earn from qualifying purchases.
Cuddly animal blanket
This 3 in 1 Travel Blanket is also a hand warmer and a pillow. Perfect for car travel! Great for your child to hug, cover up and lay their head on. Available in dog, bear, cat, blue and pink owl.

Kick mats
Have back seat kickers? Yeah, me too! These kick mats are awesome to keep dirty feet off of your clean car seat backs. So simple, yet they work so awesome. Just put hook them on to the front seat headrest.
Car seat protector
Speaking of keeping your seats clean...not sure why car manufacturers thought it was a good idea to make grooves where a child sits but this is exactly where food crumbs like to get smooshed into. Check out your car, you will see what I mean. Protect your car seats by having your child sit on a car seat protector. It fits under a car seat, booster or use as a standalone to keep food out of the grooves.
Travel neck pillow
When our kids start to fall asleep, their head droops to the side or worse, under the seat belt. This kids neck pillow for your trip is exactly what is needed. Super comfy and has support for child's chin, neck and entire head support without pushing the head forward. Finally your child can sleep in comfort in the plane or car. Comes in adult size too!
Car mug
There are many different kinds of travel mugs. My favorite is Corkcicle, which makes a mug that not only fits in the cup holder of your car, it also has a lid that slides open and close. And the best part of this useful travel accessory is that it also keeps hot liquids, hot and cold liquids, cold for a super long time. It comes in a variety of colors too! Get one for each adult in your house and keep one in your camping bin for the next time you go camping!



Car power converter + USB charger
Heading out on road trips means everyone will be bringing their electronics. Smart phones, tablets, 3DS, DVD player... there are so many things that run on batteries. With this charger, you can charge up the DVD player or your smart phone at the same time.
Smartphone car air vent holder
If you use your phone as a GPS, like I do when traveling, then you will your phone top be held up at eye level so you can see it. I love using the vent clipped phone holders with one button release. Perfect when you need to take your phone out of the holder quickly for whatever reason. There are many phone holders out there but I prefer it clipped to the vent instead of suction cupped to the window or dashboard. It's whatever you prefer. Give it a try before heading out on your road trip.
Kids travel tray with erasable surface
With all the activity books and coloring sheets, this Kids Travel Tray will be perfect for car or airplane. Folds down flat to be able to be put in a backpack. With big side pockets, a drink holder and smaller tray pockets, this is perfect for any kid on the go!
Travel scavenger hunt card game
Kids need activities. We love printing out various printable for my kids to print out. These cards are awesome! They are larger than a regular playing cards so they're great for little hands! Even though it says 7+ on the box, my boys have been playing them since my youngest was four years old. The cards are big, colorful and this is a great game for kids of all ages for your next road trip.
Car seat organizer for front or backseat
Kids have lots of stuff especially when traveling in the car. Books, electronics, coloring books, crayons, bottle of water - you get the idea and where better to put it all then in an organizer that sits in the backseat. Great if you have more than one child and you don't want them sitting too close to each other.
Car pockets seat catch all
How many times have you dropped things in that little space between the seat and the console? I've dropped keys, pens, my phone and many other things. This Car Pocket Car Seat Catch All is an awesome invention to give a little extra space in your car as well as help keep you organized.
Child car seat waterproof liner
This is great if you have a child in diapers or even a potty training child on your road trip. These waterproof liners are awesome! Once, I had to pull off the car seat cover to wash it, boy did that take a lot of finagling to figure out how to put it back on as well as thread in the seat belts. The liner makes it so you just have to throw it in the washing machine and use it again and again! So easy! This liner fits in the bottom of your child's car seat. The seat belt goes up through the hole. Perfect for small accidents or leaks. Don't leave home without one!
Kid's headset
If your kids are listening to music or playing a game on a tablet or watching a DVD, having their own headset is key for sanity within the car! There is only so many kid songs one can hear over and over and over again. This headset is perfect for kids as it's fully adjustable for a child's head. Cushions on the ears make it comfy. Volume limited to protect child's hearing. Also, this headset has a share port on the right side of the headset to share with a friend or sibling also in the car! This headset from MPow is available in blue or pink.
Antibacterial wipes
Kids are messy! We all know this so be sure you are not leaving home without a package of wipes. From cleaning up spills, messy faces, or sticky hands. We use them not only for children, but adults too. Do yourself a favor and pick up a couple of these packs and throw one in your car console, one in your purse and one in back with the kids!
First aid kit for travel
100 pieces of comprehensive first aid treatment products. With adhesive bandages, gauze pads, examination gloves, instant cold compress and more, this kit is ideal for families for at home or travel.
Travel potty
Kalencom's 2-in-1 Potette Plus is a great travel potty for kids 15 months to up to 50 pounds. The seat can also be used as a foldable training seat.

Collapsible cooler
This 30-liter soft-sided insulated cooler is ideal for road trips. It's compact when not in use, and leak-proof when you fill it with food, drinks and ice. Has both a handle and a shoulder strap for easy carry and extra pockets on the sides for additional items. It also comes in some great colors - I love the Heathered Orange with Charcoal straps.
Auto bingo
Playing Bingo while in the car on a road trip is great way to pass the time. This set comes with four cards and nothing else needed. As your kids find each item on the car, slide the fingertip shutter windows closed. So easy and super fun for kids of all ages!
From car seat pads to what to listen to in your car, from first-aid kits to a cooler for snacks, here are 18 useful travel accessories you may want to look into getting for your next car trip. Did I miss something from my list? Please let me know in the comments below!
More road trip articles you may enjoy: