These tips for better sleep when traveling are a necessity if you have kids. Have you ever tried to get your kids to sleep while on vacation? A different bed, voices in the hallway or a nearby campfire. Of course they said they're not tired! They're jumping up and down on the bed or want to watch the big TV in the room.
The excitement of the day is still coursing through their minds and bodies. Settling down for sleep is the last thing on their minds. And us parents...we just want them to go to sleep!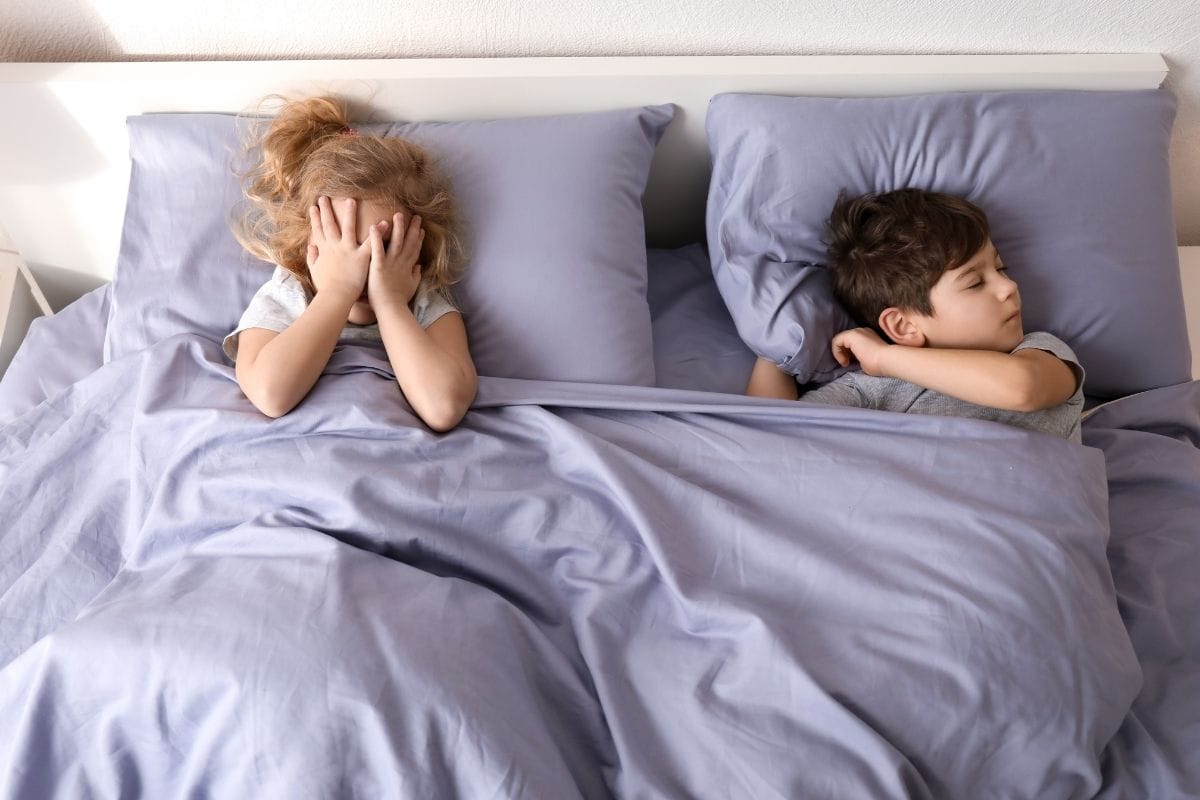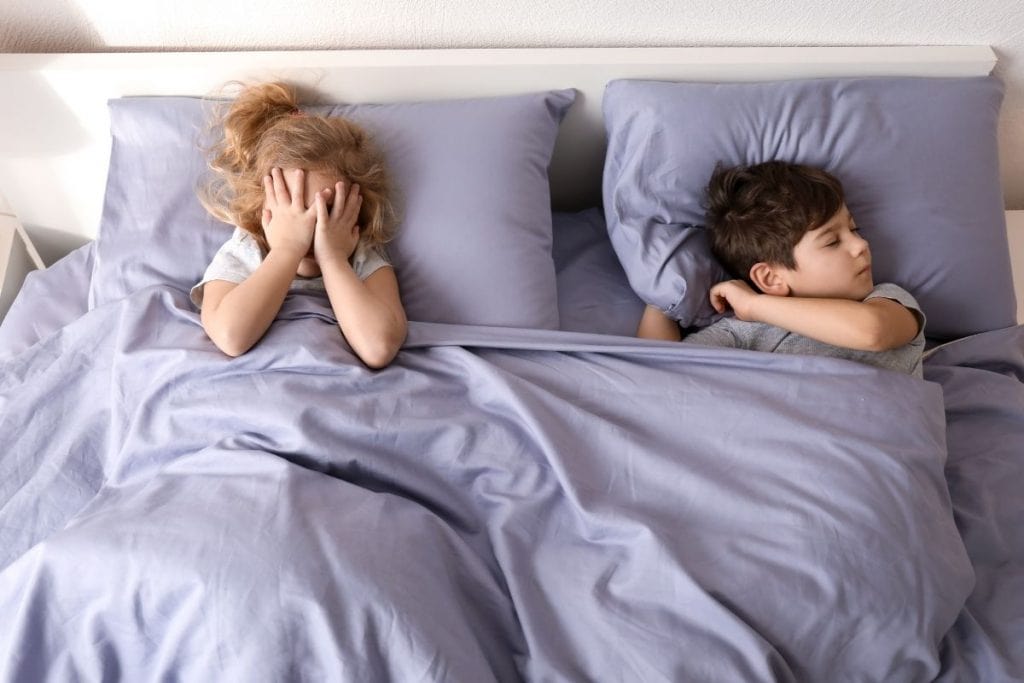 First Published: Aug 19, 2017... Last Updated: Sept 18, 2020
As an Amazon Associate I earn from qualifying purchases.
Tips for better sleep for kids
If you travel with your kids, then I'm willing to bet you've been through this nightmarish bedtime routine! Seriously, who has the patience for this craziness?
I mean, getting kids to go to sleep on any given day can be difficult. Now, throw in being at a hotel room or a tent when camping, and you have a whole new set of challenges on your hands.
Frustrating and exhausting, but keep it together as here are the best tips for better sleep when traveling with children.
Bedtime routine
Keeping to their routine as close as possible is essential for kids. Dark room at home? Pull the curtains, close the tent, even hang towels. Do what you must to make the room dark. Do they sleep with a favorite friend or blanket? Be sure to bring those with you as well.
Rub lotion on kid's feet
This may sound a bit silly, but if you're child is bouncing off the walls and you need them to calm down - give this a try! Squeezing a small amount of lotion into the palm of your hand. Rub your hands together and then rub your hands up and down the length of their feet. Don't forget to rub gently and between their toes. It may feel cold to them at first or they may give you a few giggles. But it's definitely worth it for the smiles and to help getting them into a relaxing state for sleep.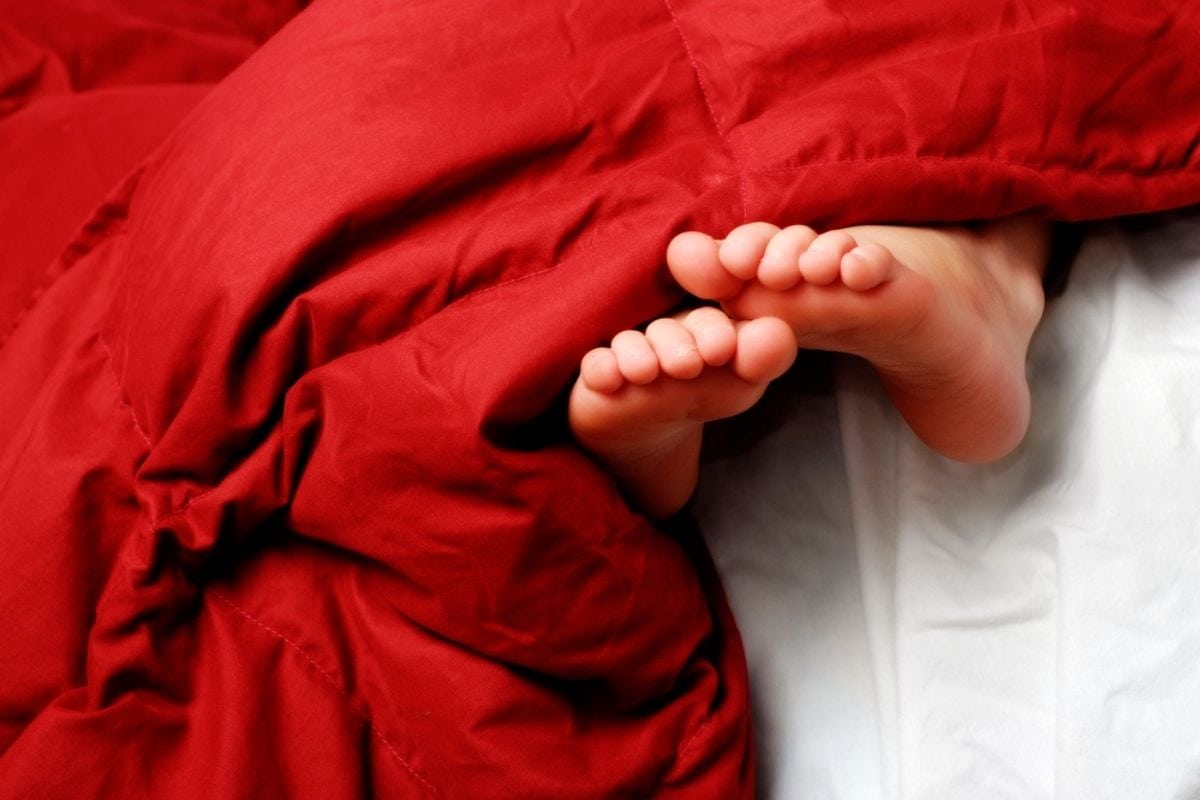 Listen to a meditation
There are many apps that offer meditations for kids available on your smart phone. One of our favorites is Relax Melodies App. This soothing app will help everyone get to sleep! I have used it with my 9 year old, as well as myself, when trying to get to sleep. It works A-mazing!
In their app, choose from one of their many soothing sounds or our favorite is the 15-Minute Body Scan which is a soothing fifteen mediation which helps my son (age 8) fall asleep no matter where he is!
RELATED: How to pack for a road trip for busy moms
Since writing this post, I have come across a couple of other great mediation apps. The Calm app has a ton of great stories as well as mediations to choose from. I especially like their Thomas the Train mediations for kids. But, seriously, they work for any age.
And finally, Shine is another recent favorite. I enjoy listening to Shine each morning when I wake to get refreshed and ready for the day. I also enjoy their positive affirmation.
Deep slow breaths
I'll warn you, that if you do this with your child, you may also fall asleep! So, if you were looking forward to some quiet time AFTER the kids go to sleep, don't say I didn't forewarn you.
Walk them through taking a deep breathe in and then slowly exhale. You may even want to tell them to put a hand on their belly so they can feel their belly fill up with air when breathing in and then go down when exhaling.
Another idea is to have them clench their toes tightly and then release them. Then tighten their legs and release them. Continue with their hands, close them into tight fists and then open them.
Again, this one works for me so be ready for sleep when you try it!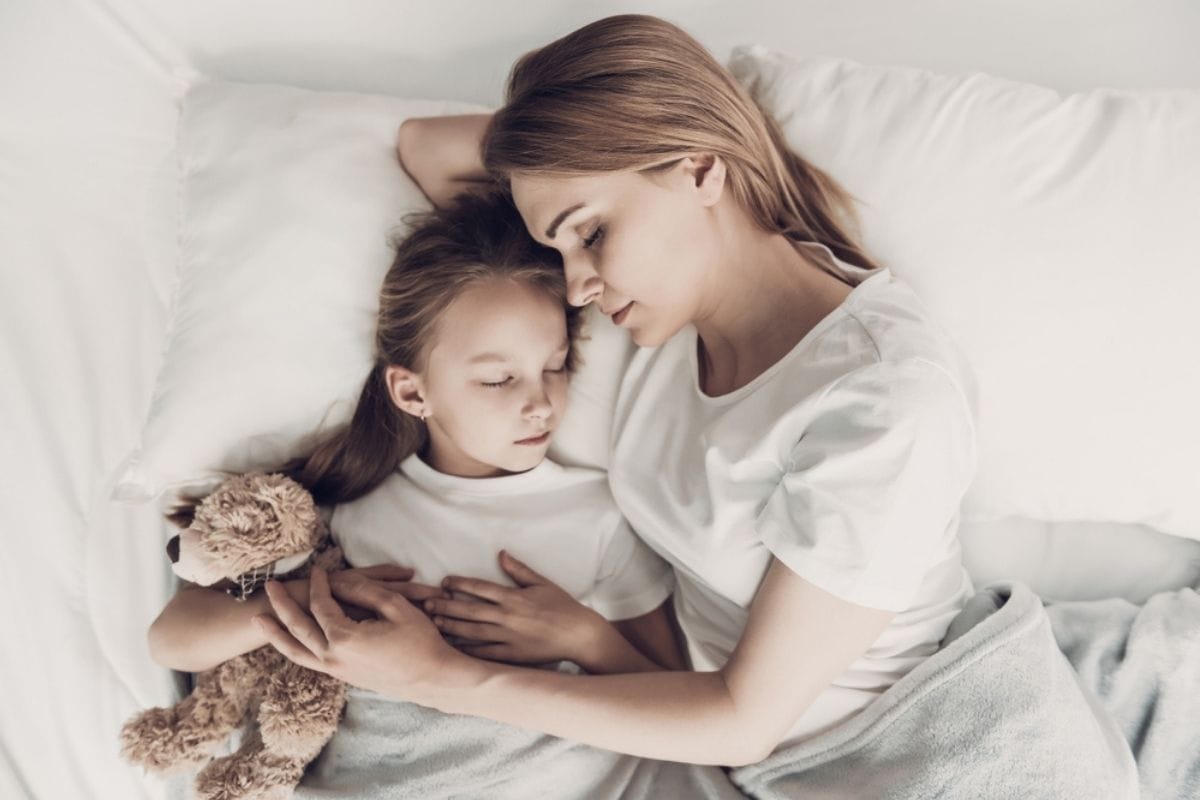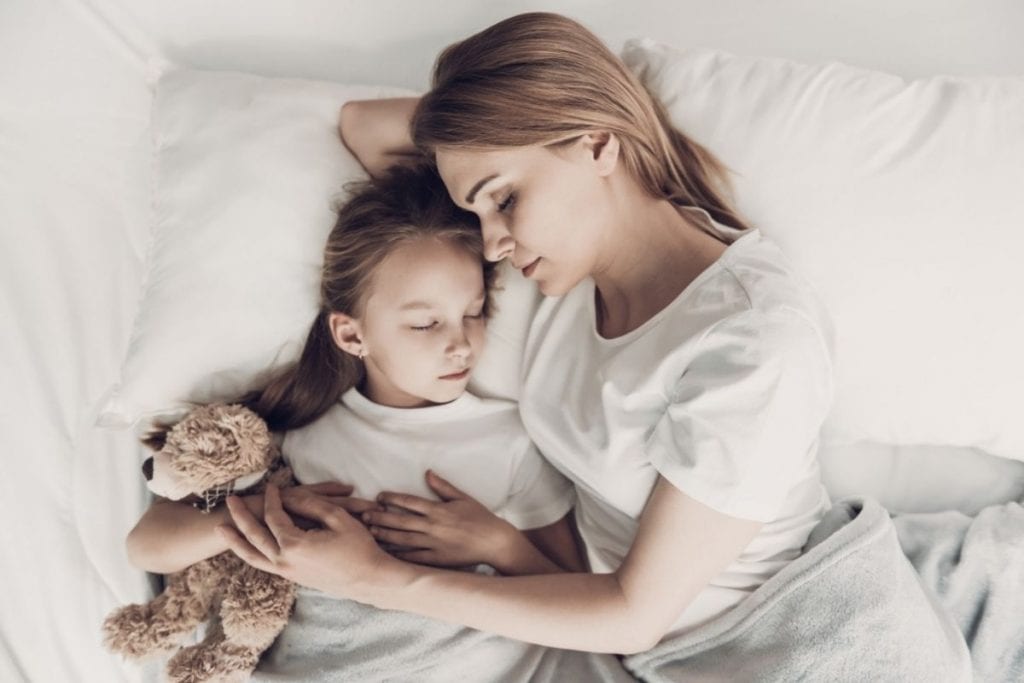 Create a made up story
Shut the lights off, snuggle up and start the story. Our stories always have our boys as the knights or heroes of the story and they are saving a parent or a friend. This type of story may not get them sleeping, but it will get the thoughts of the day a little further from the front of their minds so they can get ready for sleep.
The story can be as long or as short as you want it to be and you can even start talking in a much lower and an even s-l-o-w-e-r voice so they start to fall asleep.
RELATED: Awesome road trip snacks for the car
Unique night light
The night light we love to use is the Twilight Ladybug by Cloud b. When the lights off and the night light on, the room fills up with a starry night sky projected up onto the walls and ceiling of the room.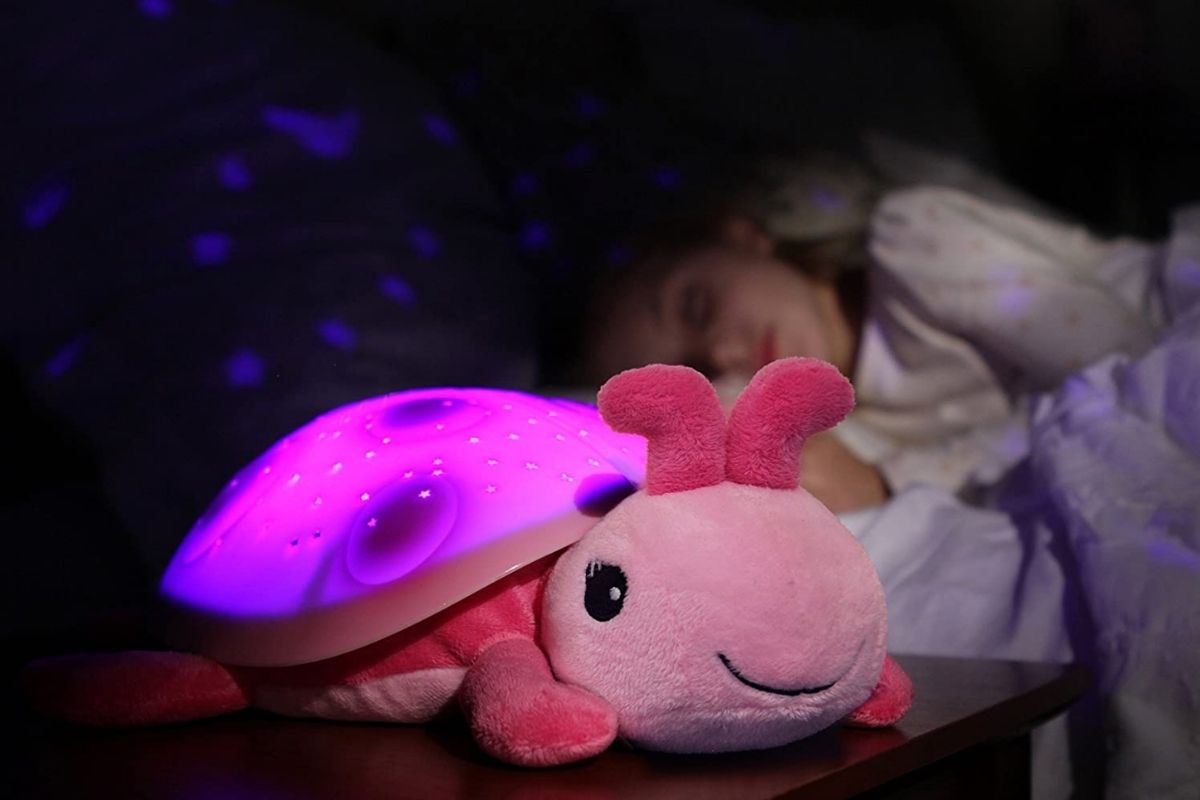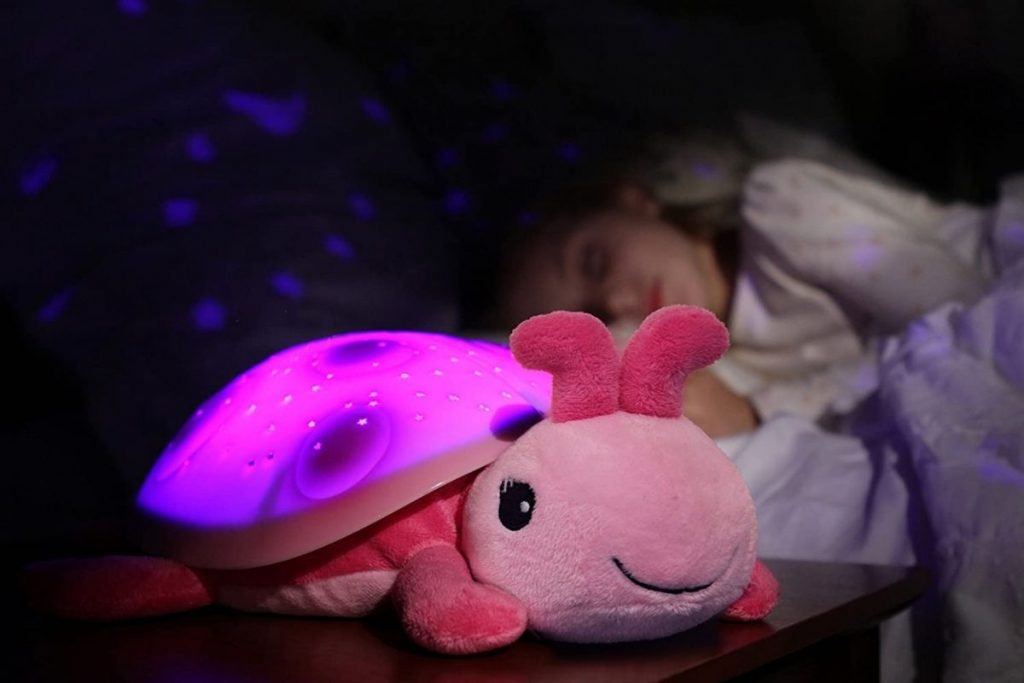 The instructions contain real star locations to find, however, we usually would stare at it and/or make up a quick game of 'what can you see?' in the lit up constellation. And it has a automatic shut off so when kids fall asleep with it on.
Make brownies or pancakes
Not real brownies or pancakes! I will pretend I'm making brownies on their back by first having a child lay on their belly. Both my boys love this so much, they ask for it often when we are away from home and can't sleep. The feel of mom's hands on their back and smoothing voice helps to get them relaxed for sleep.
Pretend you're dropping eggs on their back, by plopping your hand down on them gently. 'Mix the batter' by stirring your fingers around on their back. Next it's time to 'cook' by rubbing their backs or flipping your hand back and forth for pancakes flipping. Use your imagination while walking through the steps of making brownies or pancakes. Your kids will ask for this often!
Let them be kids
Remember that you are after all on vacation and maybe going to bed an hour later or letting them jump on the bed to get some energy out, just might be the thing they need to do. If you're at a hotel, a dip in the pool is not only refreshing but gets out lots of energy, making them tired for bedtimes. If camping, having a campfire with friends is a good way to end a fabulous day outdoors. Be creative and remember to have fun with your kids!
Expert tips for better sleep
Keep the room dark
Bring any sleep buddies or blankets kids sleep with at home
Rub lotion on their hands or feet in a slow rhythmic pattern
Listen to a meditation or white noise
Take deep slow breaths together
Create & share a made up story
Bring a unique night light
Message or rub their back while making 'brownies'
Set expectations ahead of time with your child
Participate in fun 'get the energy out' activities before bed
Don't let over exhausted kids ruin your daily travel plans. Try one or a couple of these tips for better sleep when you are away from home. With a little patience and creativity, your children will be asleep and you can all get ready for the next day of adventures!