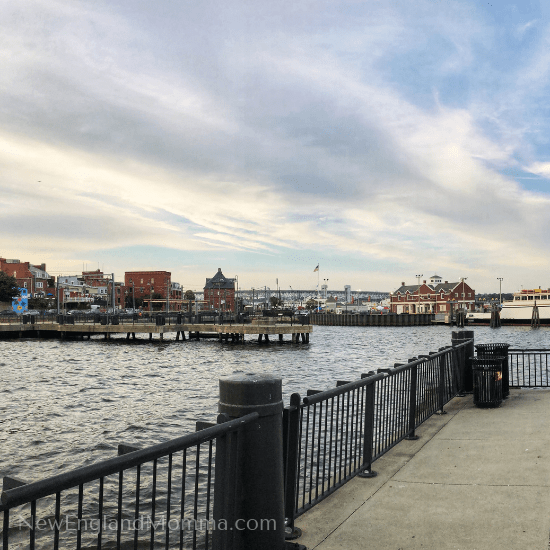 Recently I was asked to come visit New London, Connecticut and check out the Food Truck Festival in New London at the city's downtown pier. Having never been to New London, we weren't sure what to expect.
Along with the Food Truck Festival invitation came a complimentary stay at the Holiday Inn, located in the heart of downtown New London. Excited to start our overnight trip, we arrived early at Holiday Inn and was told our room was not quite ready. But the woman behind the counter, was super friendly and handed us a map of the city. She offered us ideas on where to go for lunch while we waited for the room to be ready. Armed with our map, my husband, Jason, our two boys (ages 7 and 11) and I headed out the door excited to see the city and what it had to offer.
EXPLORING DOWNTOWN
While we walked, I felt inspired to take a few pictures of the city. Here are just a few of the pictures I took as we walked up one block, down another and then took a left heading further downtown. We came upon some interesting wall murals of a whale and dolphins as well as musicians. The murals were incredibly vibrant and we enjoyed looking at them.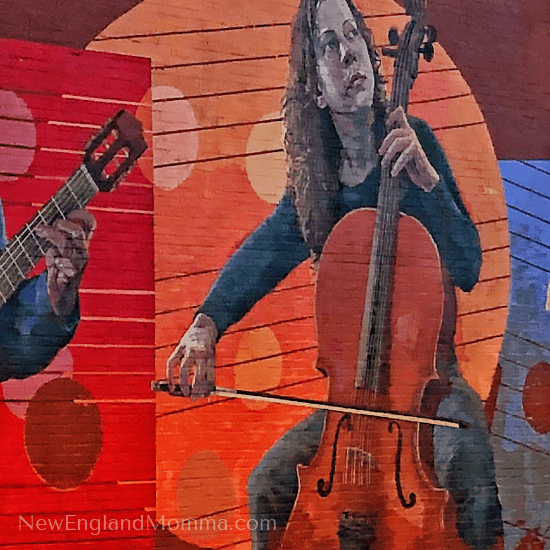 We walked down one more block to Bank Street. Bank Street has a ton of restaurants and shops and ice cream to check out.
HOLIDAY INN / NEW LONDON - MYSTIC
After strolling through downtown for a bit, we headed back to the Holiday Inn. We were very pleased with the Holiday Inn in New London - Mystic. Conveniently located right off the highway and only a few blocks from the Amtrak train station, this hotel is an ideal spot to stay at when you book your New London trip. The hotel also has an indoor heated pool, a fitness room and an on-site restaurant, La Luna, serving breakfast and dinner. Kids under 12 stay and eat free. Holiday Inn New London - Mystic also offers free wifi and offers complimentary shuttle service to the Mohegan Sun Casino on Friday and Saturday evenings.
We enjoyed the afternoon swimming in the pool with the kids and then a little rest before getting ready for the main event, The New London Food Truck Festival! Knowing the city a little bit better, we were very comfortable just walking down to New London's waterfront. We passed this awesome whale fountain the kids really, really wanted to run through but since we were just getting started with our evening, they listened mostly and just skirted the outside of it.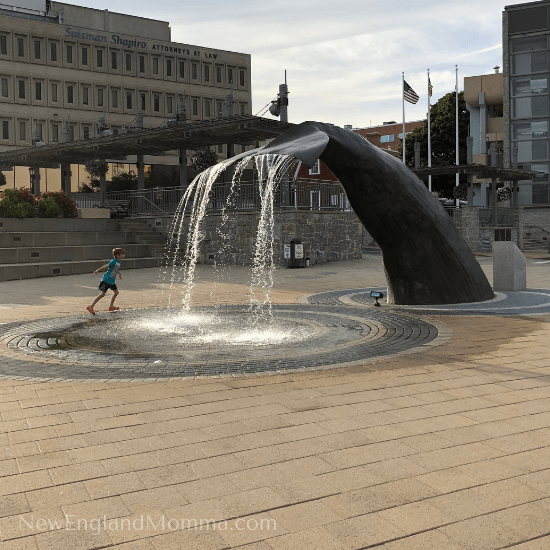 NEW LONDON'S FOOD TRUCK FESTIVAL
The food truck festival is an annual event taking place on New London's Waterfront district on the city pier. I found the city pier to be amazing. New London is very busy seaport and you can see this upfront and personal right from the city pier! It is located on the Thames river where it opens up into the ocean. There are ferries for lighthouse tours, whale watch boats, and huge car-loaded ferries heading to Block island and Long Island.
The food trucks were all lines up along the City Pier. We got there when it had just started, yet there were already a lot of people there, however, it never did feel overcrowded. The food trucks were prepared and they kept the lines moving.
There were so many yummy choices! Here are just some of the yummy foods we tried and pictures of the trucks.
WHAT'S FOR DINNER?
At Captain Scott's Lobster Dock, we got Scallops wrapped in Bacon and Lobster Grilled Cheese Sandwich.
After sharing those, it was Wings and Ribs from Backyard Smokers Food Truck. There were so many items to choose from!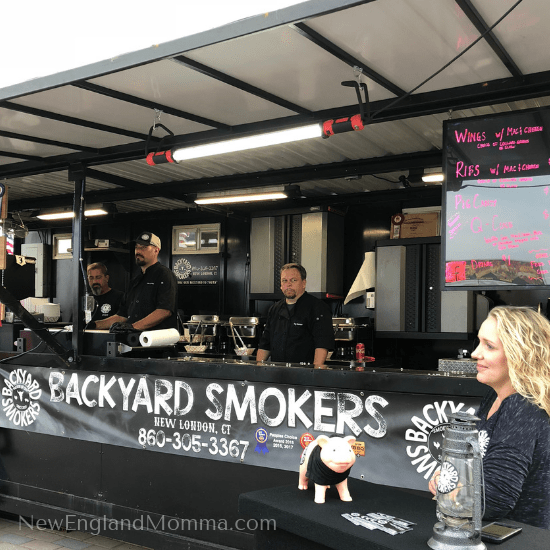 Did someone say time for dessert? Yes, although my stomach was stuffed, there were items I just had to try. Mind you, we didn't try all this food in one sitting. We took our time, strolled by, watched many of the ferry boats going by. Besides the food, they also had a DJ playing music which many people young and old were up dancing around and enjoying themselves, as well as free face painting and balloon animals for the kids.
FOOD TRUCK FESTIVAL DESSERT
Nora's Cupcake Co. had the most delicious cup cakes. My oldest son, Dylan who loves OREO's and Mint said the Mint Cookies 'N Cream was the best cupcake he has ever had. And my younger son, Tyler decided to go with Strawberry Shortcake. The both devoured them with happy faces.
My husband and I decided to visit Curb Your Appetite for a Cookies 'N Cream Chocolate Chip Cookie Ice Cream Sandwich. Fresh baked chocolate chip cookies surrounds a scoop of Cookies 'N Cream ice cream.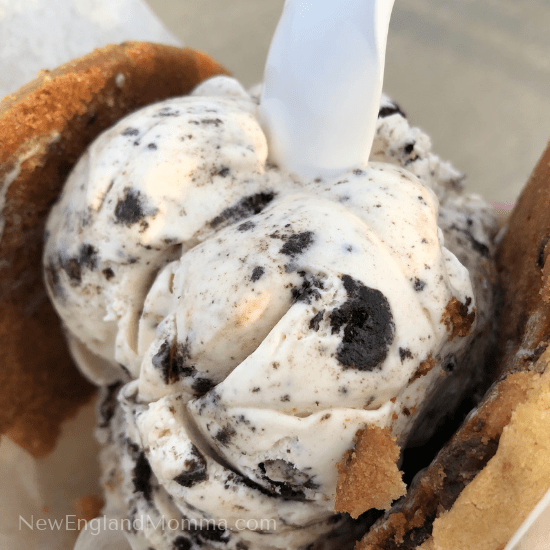 WALK THE PIER
After filling up with so much delicious food, we explored the city pier a bit more. The city pier actually stretches down along the Thames river where they have a paved walking path and various piers that jet out for walking, benches to sit on to watch boats go by. My kids had a ton of energy so we walked along the pier - or rather they ran along happily while we walked and took pictures, soaking up the evening sky and pier.
We had a fabulous time visiting and exploring New London. A place we only knew its name from a map, is now a place I would highly recommend to others to visit. Keep up to date on New London's upcoming events by visiting Downtown New London Association's website.
Although we were given a complimentary night at the Holiday Inn in New London and an invitation to the Food Truck Festival all opinions are my own. Please read my full disclosure policy here.
Need more fun days with the family, check out these fun day trip ideas around New England.