This post is sponsored by Chuckit! but the content and opinions expressed here are my own.
Dogs love to play. They are like kids (and even adults). They crave attention, the one-on-one play time with their person. My dog loves fetch and when Chuckit! gave me some fun toys to try out with Millie, we had a blast! Here are some ideas to play with your dog!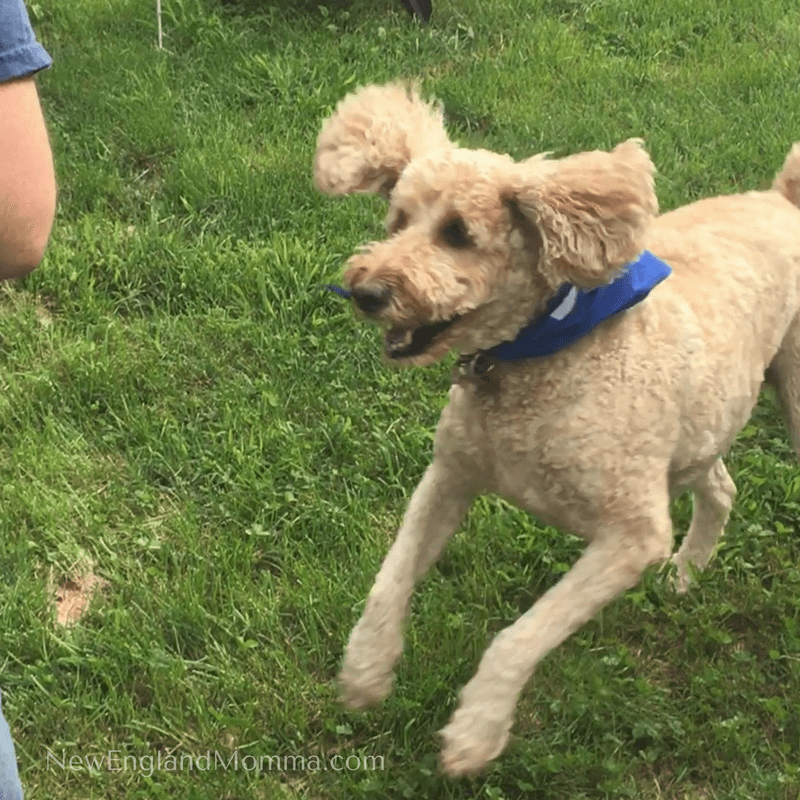 One of the first games, we taught Millie was Hide and Seek! We wanted the dog to know the kids names and voices.  It's also a great way to start teaching your dog commands such as 'stay'. We put her in a down/stay and the kids would go hide some where in the house. They would call her name, but only a couple of times, and she would run and find them. It was both hilarious and fun. There were times I would be hiding and it was difficult not to let out a small giggle as she stood nearby listening for me. Of course this meant, she would quickly find me. Happily staring at me with her big dog smile and tail wagging.
And when she finds us, we pet her, praise, and sometimes give her a treat.  My kids still love playing this game and have had some very creative hiding spots; under the bed, behind a door and my favorite hiding behind the shower curtain.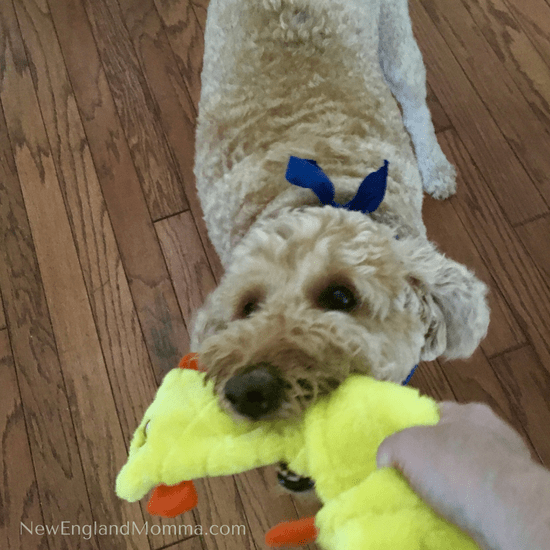 Another game we love to play is tug a war.  She grabs a toy and we would pull the other side of the toy. And to be honest, I don't stand a chance as she is much stronger than I am. She enjoys it all the same. I know because she always brings her toys right over to me and when I try to take it, she pulls the other end. Be sure to teach your dog the "drop it" command so when it's time to quit, you can get the item away from her.  
But my Goldendoodle dog's most favorite game to play is fetch!  First, we tried fetch with our son's soccer balls, although with her teeth she has broken quite a few balls, much to the sadness of our kids. Same thing with a few different flying discs. Fun at first, but, they never lasted with her large strong teeth and jaw.  We would keep buying her new toys to play fetch with and throw them away as she destroyed them. Sound familiar?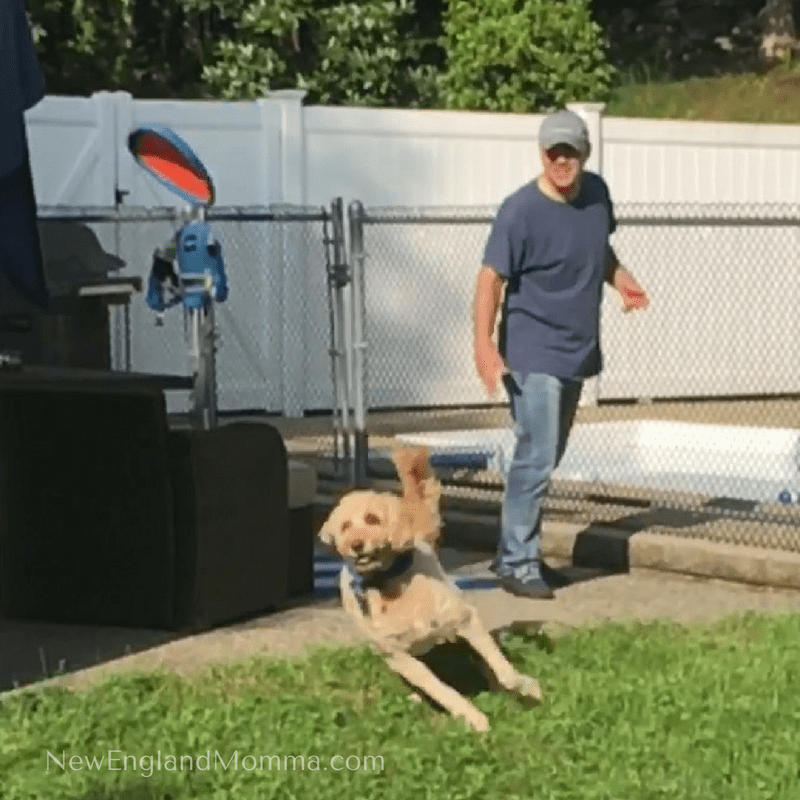 Then ChuckIt! wanted to send me some fetch toys for Millie to try. We jumped at the chance! We tried three different toys to play fetch with and I will tell you, one of them quickly became her favorite! The FetchFlight is now the only one she will play fetch with us. The FetchFlight looks like a flying disc, but soft on her gums. Also, with it's EZ grip design, she can easily pick it up and carry it back. Learn more at chuckit.com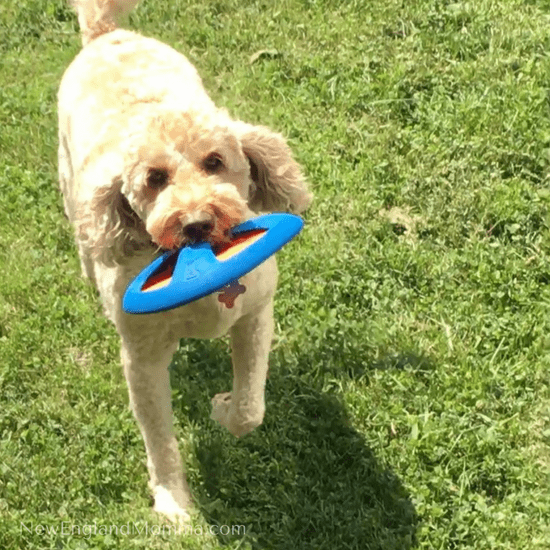 ChuckIt! has such a fun variety of dog toys, you and your dog are sure to find one that your dog will love! Check out ChuckIt's website to find your dog's next play time toy! 
I've uploaded a video of us playing fetch in the yard with the Fetch Flight. Our yard is small but that doesn't stop us from playing together! I love that the ChuckIt! toys are strong to hold up to Millie's jaw and made so they are easy for her to pick up. 
Our dog Millie playing with ChuckIt!'s FetchFlight
We also tried the Ringchaser and the Rugged FetchWheel but my Millie didn't take to those as well as she took to the FetchFlight.
Be silly.  My dog loves to run back and forth with me in the backyard. We'll say 'what's that?' and run in one direction in the backyard and she'll follow me. I'll say it again and we'll run in another direction. This usually ensues in her jumping for joy and barking.  Other times, I put on music and I dance next to her and she tries to stand on her hind legs and "dance" with me. She knows we are playing and she loves it.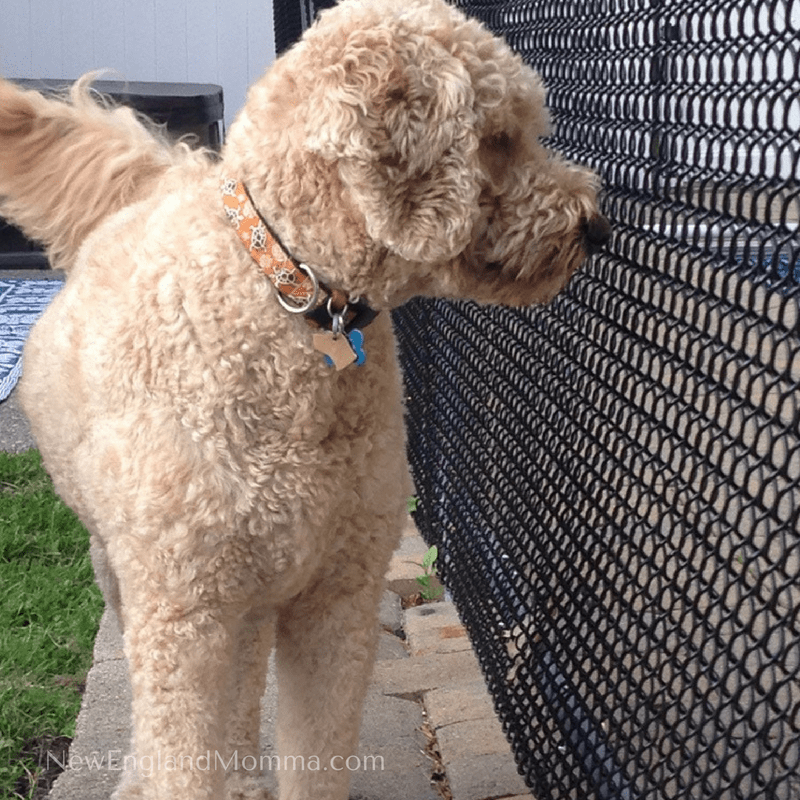 Playing with your dog will keep you connected and strengthens the bond between you and your dog. My kids love playing fetch or hide and seek or just hanging out with their dog.
Find something your dog loves to do, such as fetch with the FetchFlight or other fun toys with ChuckIt! and get out there and play together!