Every year, Santa brings my sons new sleds.  It's a great tradition they have with Santa, however last year, Santa decided to bring them what looked like snowboards with handles for their annual sleds-under-the-tree, I was both excited and a little skeptical that these so-called "sleds" would even work on the snowy/grassy slope of our front yard.  Also, my little guy was only four and did not have the same level of balance as his nine-year old brother. I was conjuring up images of Tyler constantly slipping and falling face first in the snow; definitely not having fun on these new snowboard sleds from Santa.
I am happy to tell you I was wrong.  Just check out how my boys are about to snowboard down a slope with less than an inch of snow.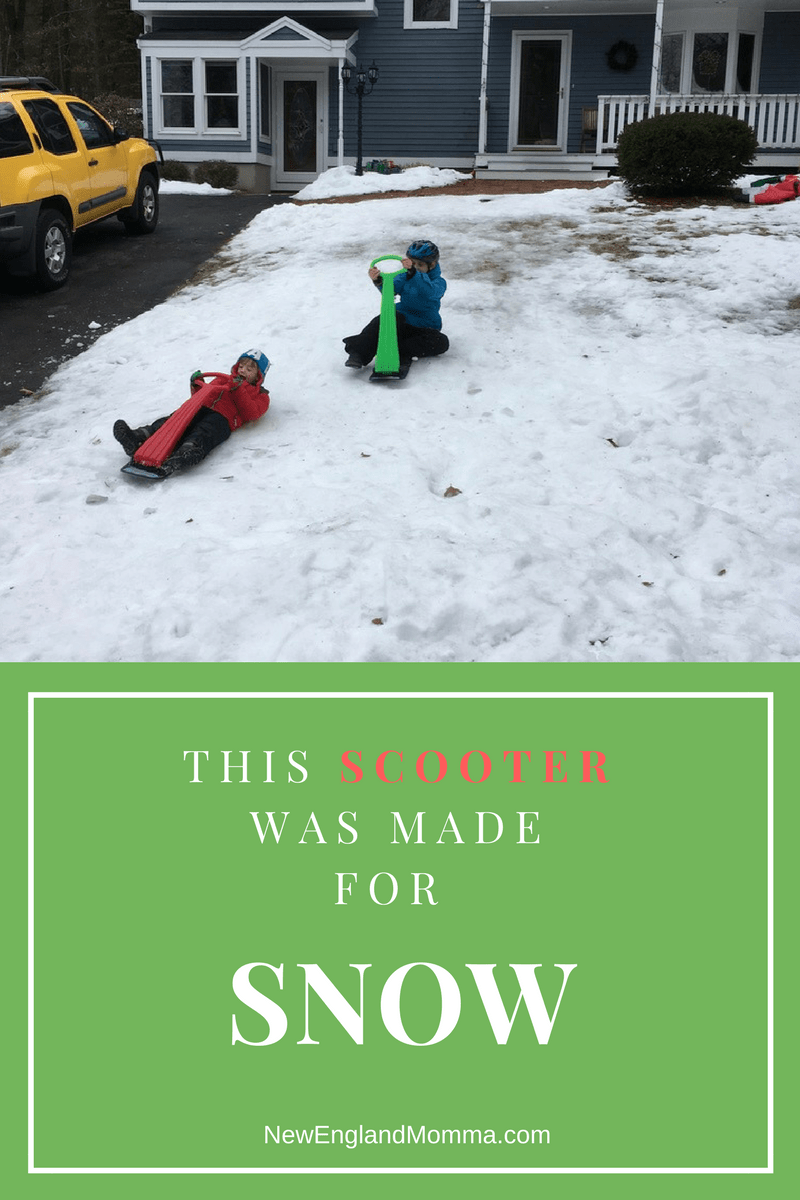 Show of hands, who has kids that love the snow?  Yup, me too!
Okay, who has kids that love the snow and sledding?  Same here.
And how many have fallen victim to have a snow storm one day, only to have it disappear with the crazy mild weather we have been having here in New England?  Sadly, me too.   It seems to be the norm lately as even last winter was pretty much the same as far as the amount of snow we got here in Massachusetts.
Okay and finally, how many of us have snow loving kids that can sled on a slope in their yard even if there's only an inch of snow?   Wait, am I the only one holding my hand up? Read on for more info!
NewEnglandMomma.com is a participant in the Amazon Services LLC Associates Program, an affiliate advertising program designed to provide a means for us to earn fees by linking to Amazon.com and for affiliated sites.  As an Amazon Associate I earn from qualifying purchases.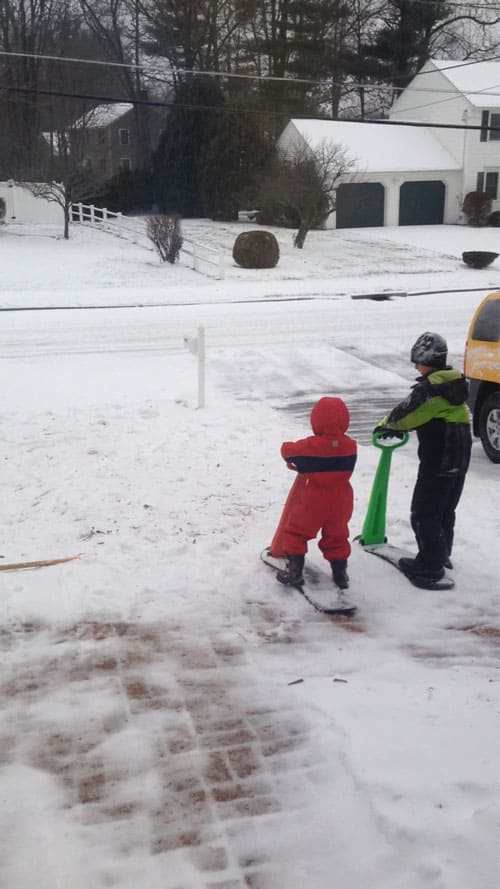 In fact, I am going to tell you these are probably one of the best sleds that Santa has ever gotten my boys. First off, these are sleds are actually scooters or as the Geospace brand name calls them, Ski Scooters.
Lightweight, durable plastic and FOLDABLE!  Yes, you read that correctly.  These sleds fold up for easy storage. And they are LIGHTWEIGHT as they less than a pound, yet they can hold up to a 200 pound adult!
Ski Skooters are easy to hold onto with the handled loop and the board itself has a non-skid surface so your child won't be slipping off the board and into the snow, like I had originally thought.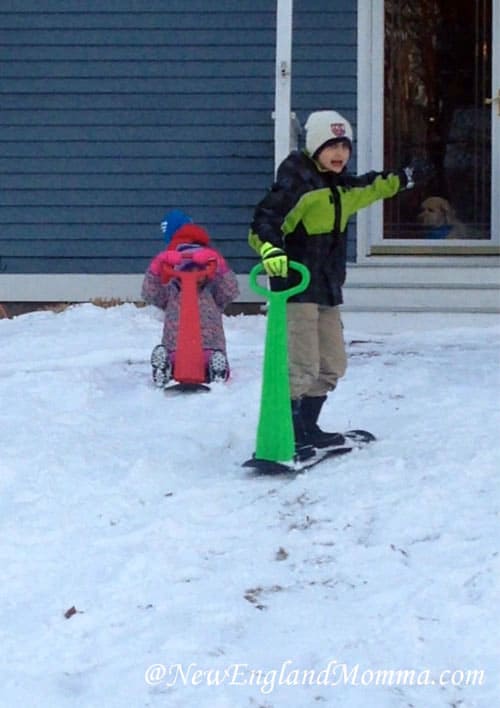 My younger guy even figured out a way to ride his scooter without having to stand up on it, which he wasn't ready for just yet.  He sits down and holds on to the handle.  I love this idea because he can very easily, slow down with his boots or roll off it if he needs to stop.  It really is perfect for the small slope we have in our front yard.  He is able to go super fast until I catch him at the bottom.  Super fun!
Dylan, on his way to the bus stop, decides to take one quick ride down on the barely-no-snow-there-slope. He wasn't very successful but had fun trying anyways!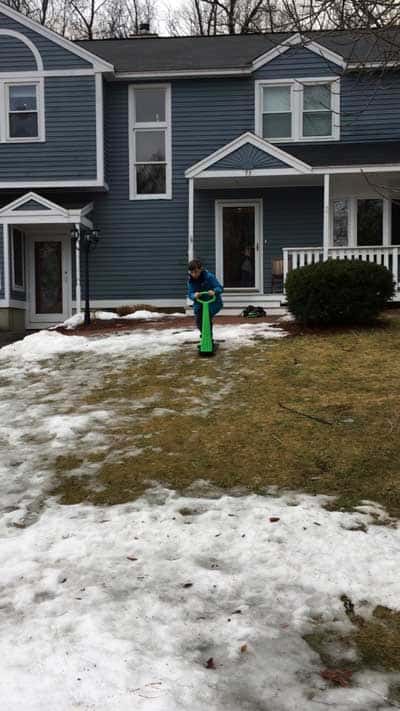 We got our scooters from Santa Claus so you can put them on your list for next year or you can check them out on Amazon.com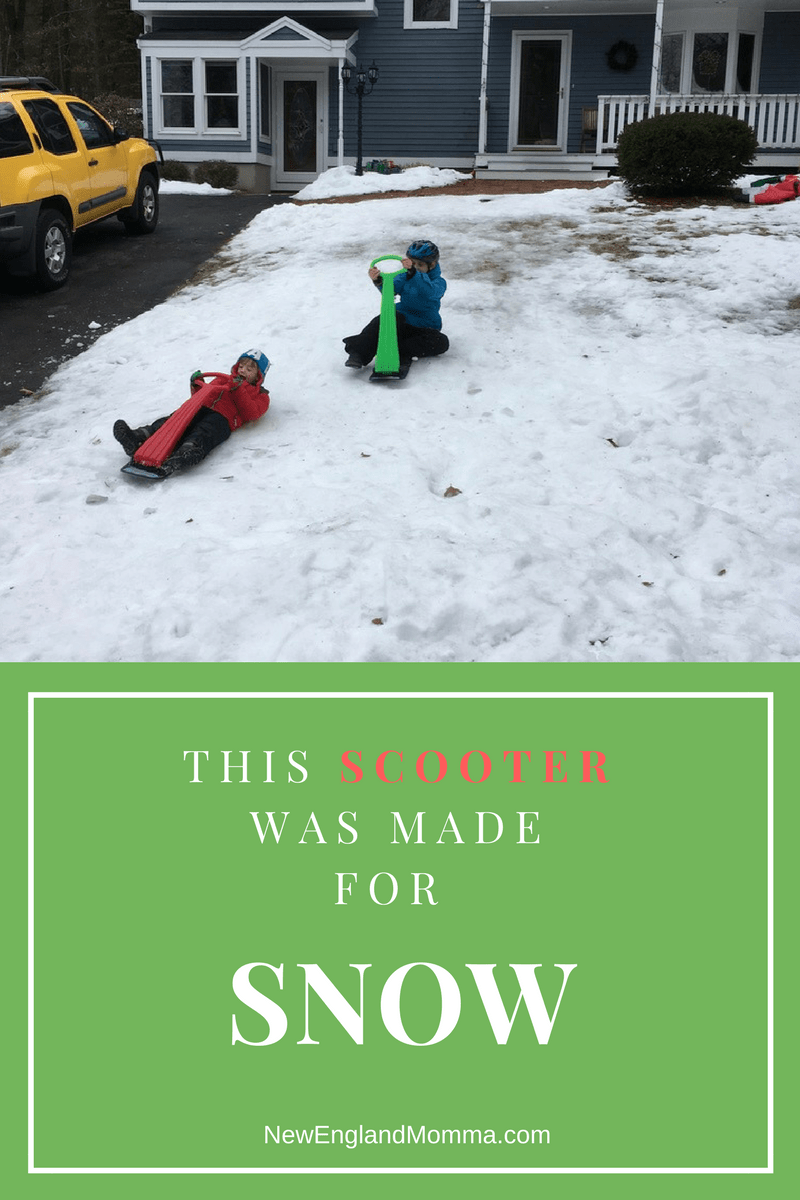 SaveSave