Summer Sangria Drinks are a great way to relax on the front porch or by a campfire. These summer cocktails are versatile and fun to have on a warm evening. Add a colorful straw, some ice cubes and sliced fruit as well as some friends and you've got yourself a summer get together!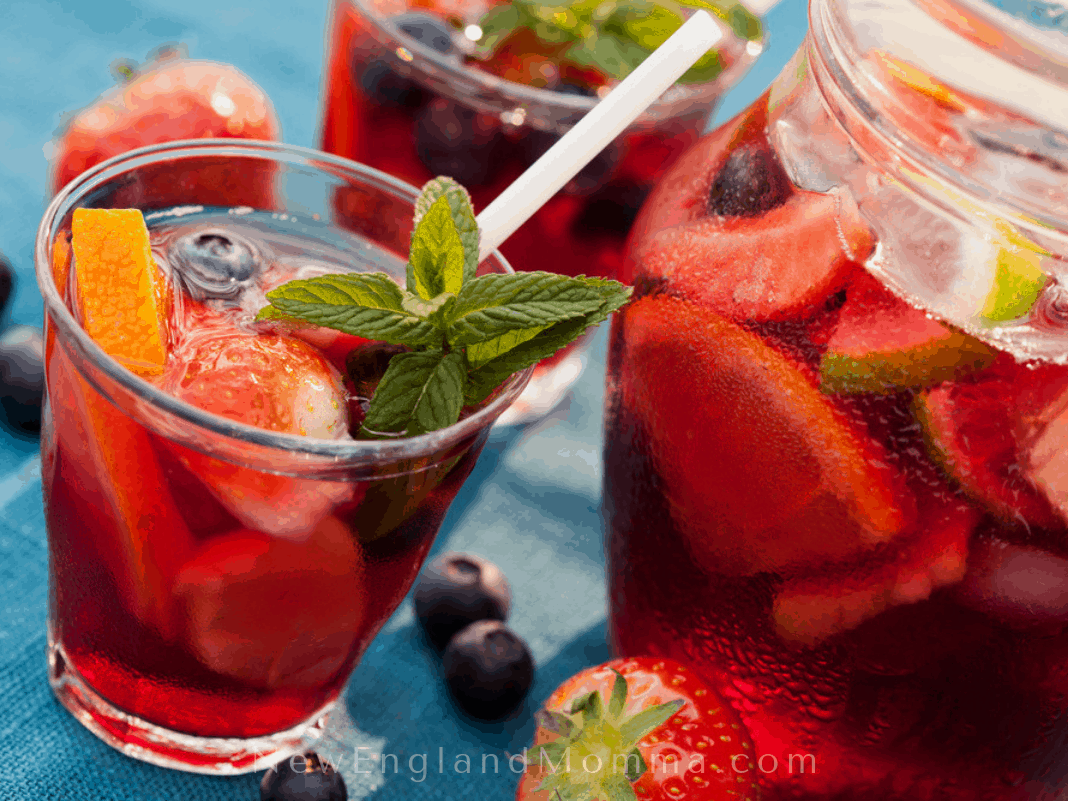 Winding down for the evening, make up a pitcher of sangria. This collection of sangrias are easy to put mix up and are an awesome way to share some mom time together with friends. Try the recipes with different wines to add more variety!
EASY TO MAKE SUMMER SANGRIAS
Making a sangria is as easy as grabbing a pitcher, slicing up some fresh strawberries, oranges or pears. Throw in a handful of mixed berries and your favorite bottle of wine. Lastly, a touch of ice and you have the makings of a great summer cocktail!
The list below are 20 drinks perfect for summer sangrias.
Easy And Traditional Red Sangria by Minimalist Baker
Rose Rooibos Summer Sangria by Every Day Maven
Berrylicious Iced Tea Red Sangria by Culinary Hill
White Pear Sangria Recipe by Tipsy Chicken
Tropical Margarita Sangria Recipe by Wine And Glue
Mango Cointreau Sangria by Homemade Hooplah
Melon Sangria by Muy Beuno Cookbook
Cider Beer Sangria by How Sweet Eats
Triple Citrus Sangria by The Kitchen Is My Playground
White Peach Sangria by Sumptuous Spoonfuls
Pina Colada Sangria by Wine And Glue
Berry Sangria by Champagne And Coconuts
Lemon Meringue Sangria by Lemon Tree Dwelling
Strawberry Rose Sangria by Jennifer Meyering
White Sangria Sparkler by Call Me PC
Tropical Sangria by Lemon Tree Dwelling
Sweet Spicy Sangria by Dash Of Jazz
Easy Sangria Recipe by Foodal
Blackberry Peach Sangria With Elderflower by My Kitchen Love
Peach Rose Sangria by Julie's Eats And Treats
For your next summer barbecue, cookout, campfire or holiday get together, noting says summer like a fruity and yummy drink! These summer sangrias are versatile, fun and oh so tasty!
Also, are you looking for some fun drinks for your next ladies night in? These 20 Summer Sangria Drinks are just what you need for a fun night in with friends.