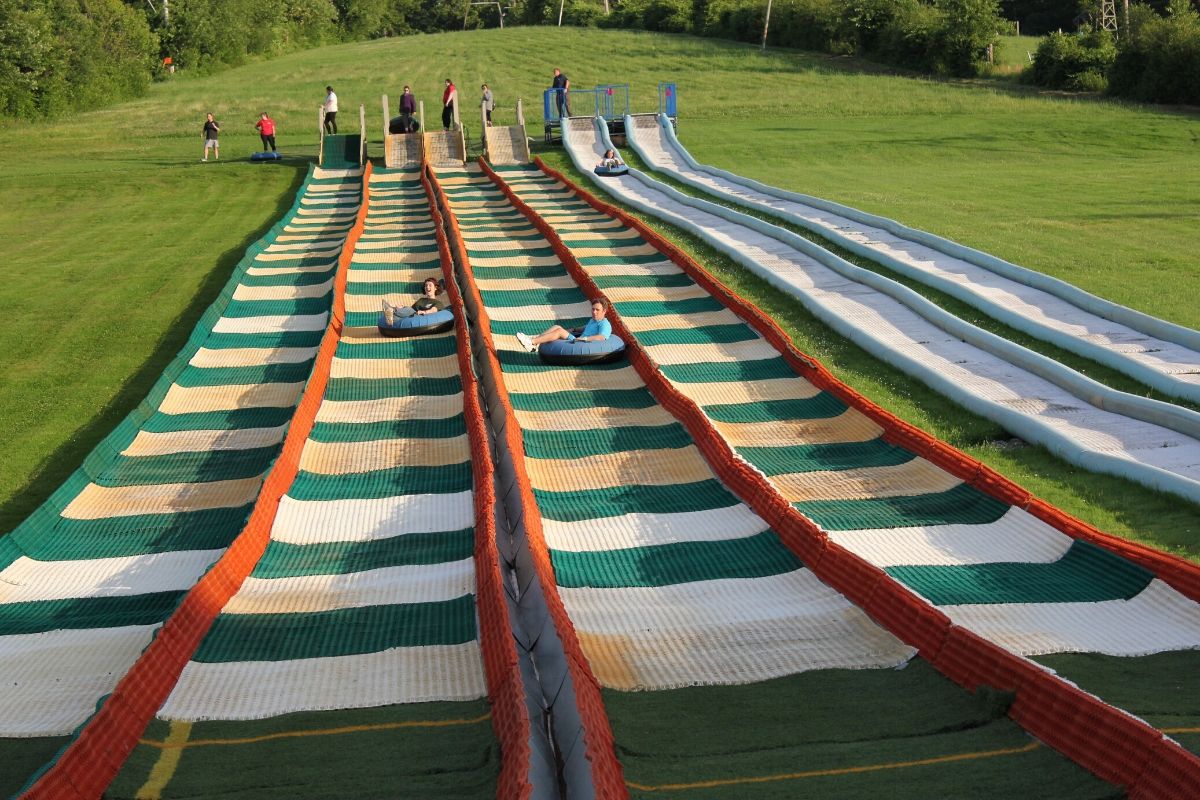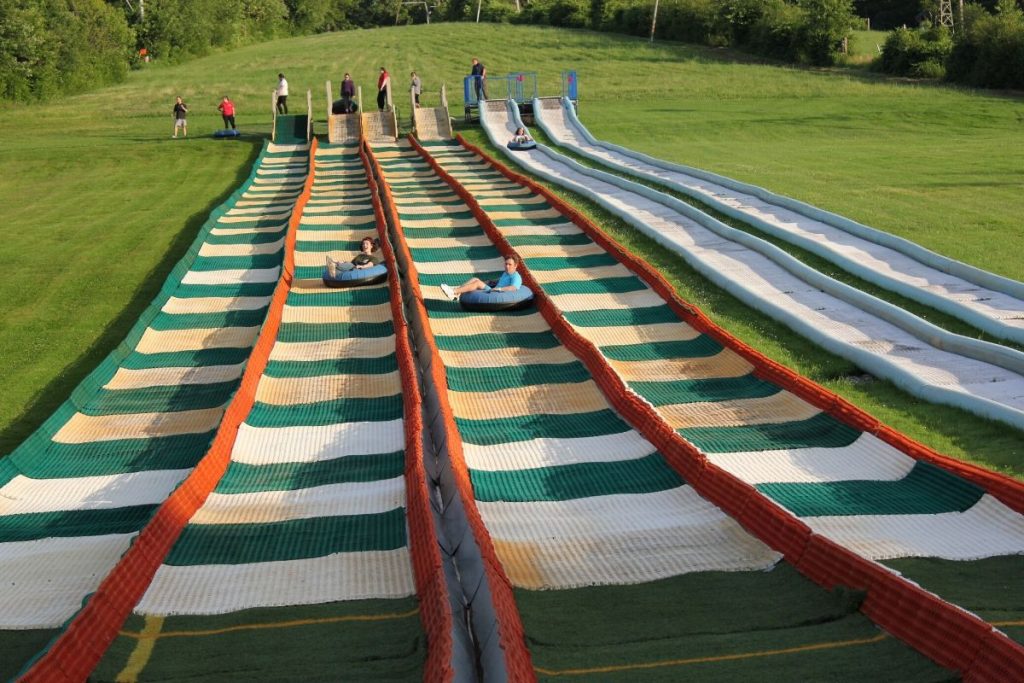 The days of summer are finally here. No more school and so many fun outdoor activities with kids. Right? Ugh, unfortunately there is less to do in the summer of 2020 with Covid all around us. And what about being socially distant and wearing masks? Yup, something to take into consideration when planning outdoor activities this summer.
There are museums and other indoor attractions beginning to open their doors, yet for me I am just not there yet! I want my kids to enjoy outdoor activities. I tell you this, because I want you to know where I'm coming from. Going out right now, is not on my high list. Being safer at home is.
Summer of Covid
However, I want my kids to get use to going out with masks on, using sanitizer more (believe me they already have the hand washing down pretty good!) and learning how to stay socially distant.
Where can we go that is outside, fun for big kids and still be able to maintain all the safety precautions with a pandemic going on around us?
So I searched for things we could easily do and they would truly enjoy and want to leave the house with their mask.
I found 5 such places that have Covid safety precautions in place. Be advised that their policies may have changed since the writing of this article. Please visit the attraction's website page, their Facebook page or give them a call before you head there to find out their safety rules.
Milford Drive-In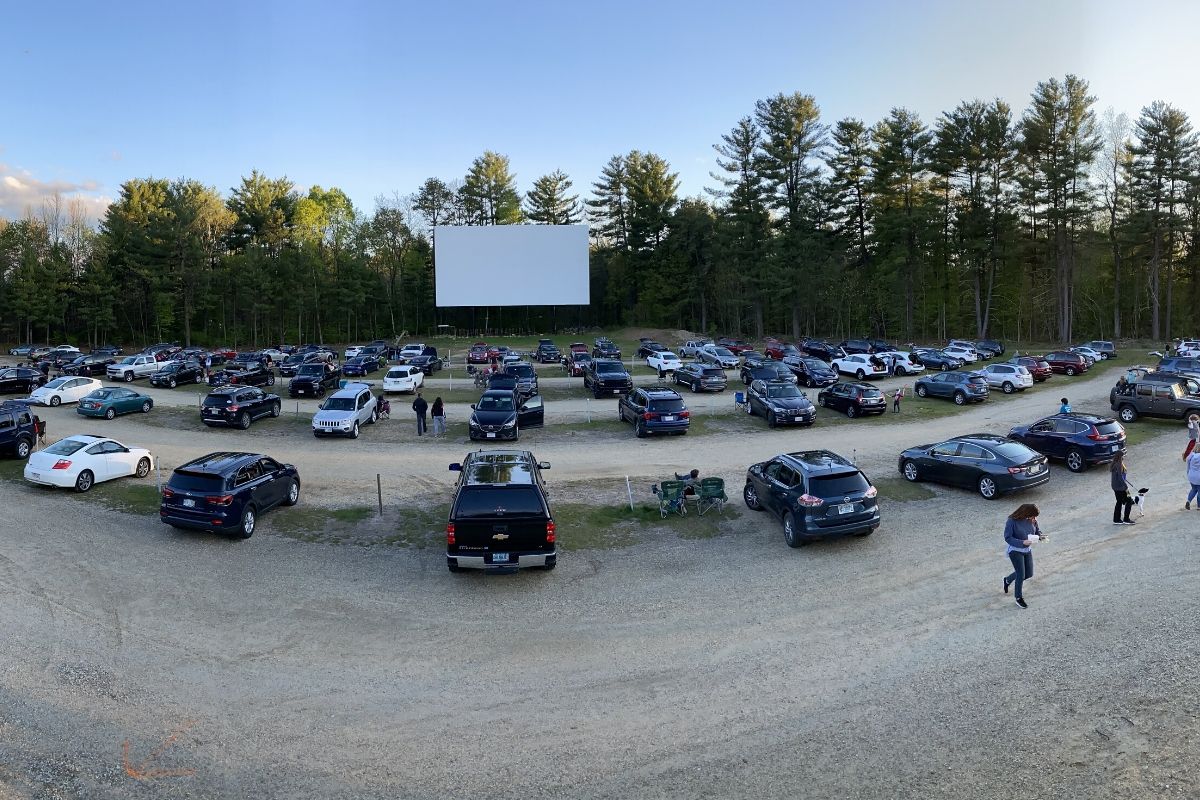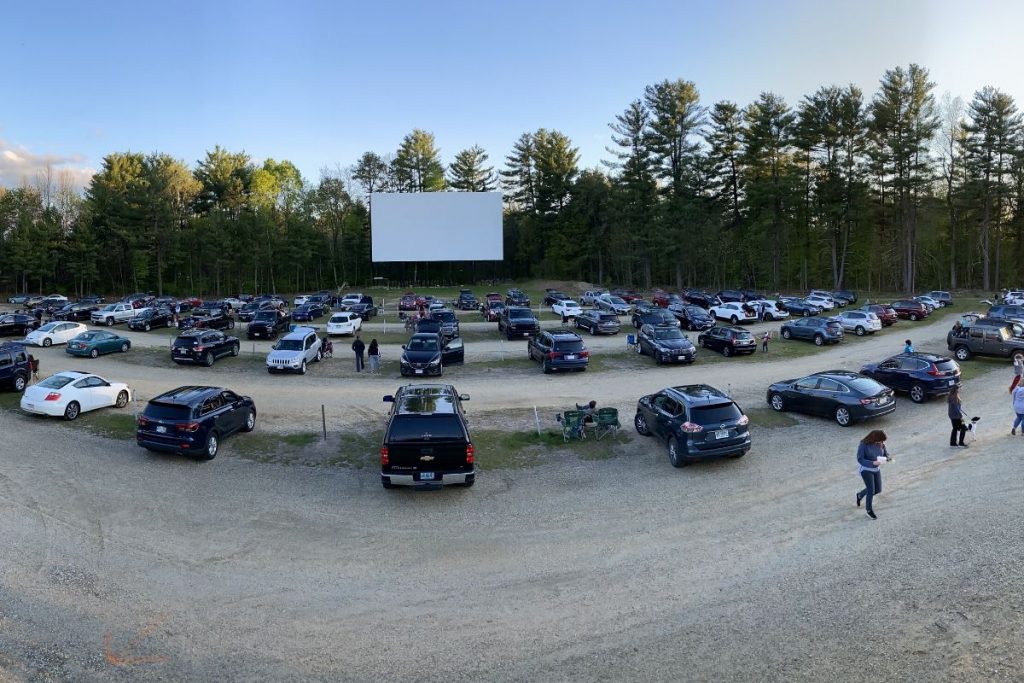 Remember drive-in theatres? Or do you just remember seeing it in the movie, Grease? Regardless, you are in for a real treat because there is a drive-in movie theatre in our neighboring state of New Hampshire. In fact, the Milford Drive-in is the only remaining drive-in in southern New Hampshire.
This family-owned theatre has been serving customers since 1969! But don't let the year fool you, the Scharmett family has been upgrading screens, equipment, concession stands and more throughout the years to keep up with technology while providing a fun evening outdoors for families.
Mask wearing is required at their concession stand and the bathrooms. They will also only be operating at half-capacity, each car will park in between two poles, to keep 10 feet from each vehicle. Employees are wearing masks, gloves and will be screened. For a full listing of their Covid-19 rules, please visit their website.
Get those kids in some comfy pajamas, grab a few blankets and go see a movie at Milford Drive-In. You can sit outside your car, in the bed of your truck or even park backwards to view the screen. Don't forget to purchase your ticket (one per vehicle) ahead of time! Enjoy this fun night with your family watching a double feature under the stars.
Visit Milford Drive-In's website for more information, tickets and a list of upcoming movies.
Boundless Adventures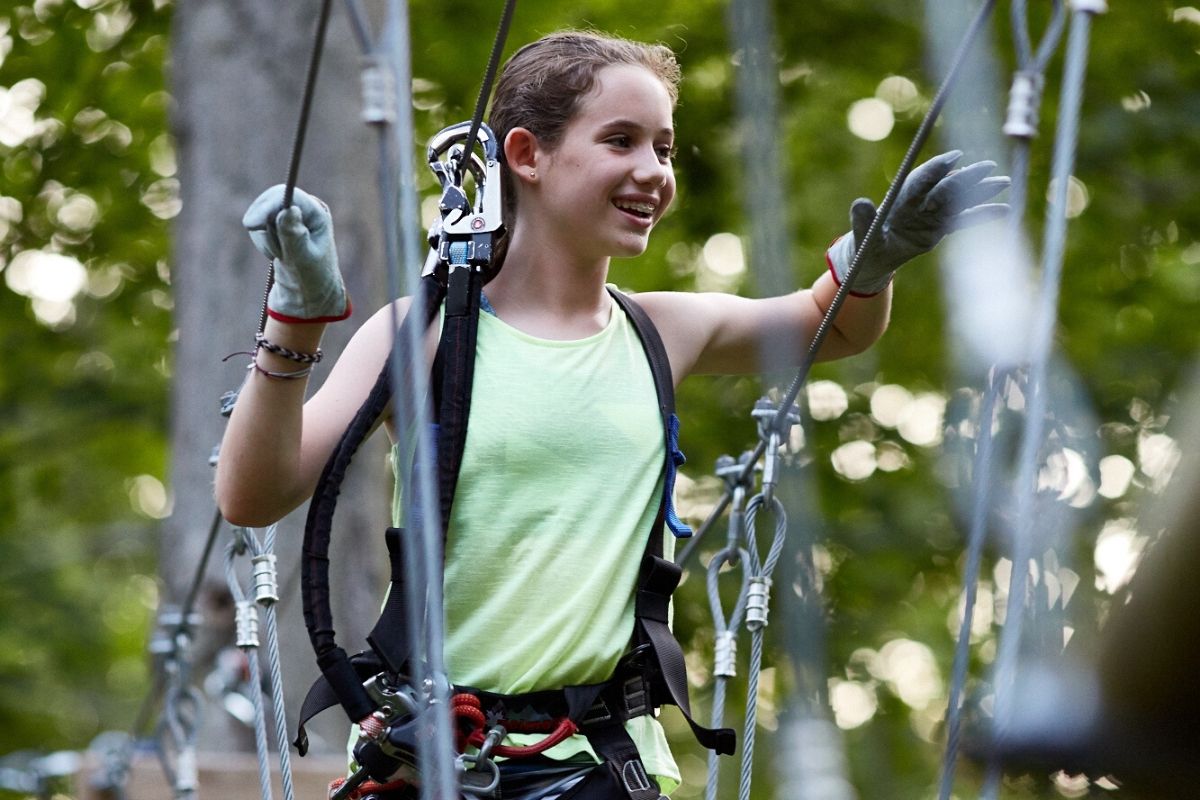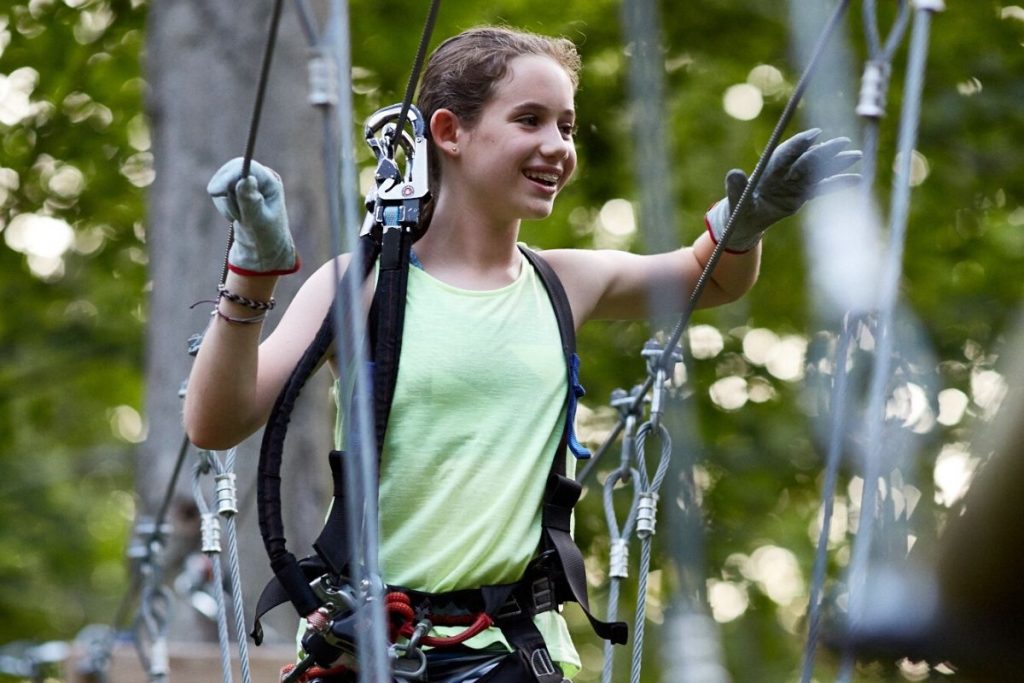 Boundless Adventures is located in metro-west Boston in Berlin, Massachusetts. Kids ages 7+ to adults get harnessed in and ready to challenge themselves as they balance, climb, swing and zip line across multiple courses depending on their age.
Masks are required at check in, but can be taken off or pulled down when on the rope course.
Head to the Boundless Adventure's website, to reserve your day and time for your entire party. Here you will also purchase your tickets, gloves (if you don't already own) and sign the electronic waiver for all climbers.
At Boundless Adventures, safety is a priority. Masks are worn when checking in; only one family at a time on a platform and one person at a time on each element. Boundless Adventures is open rain or shine and has something for every level. And in the month of July, they do offer summer programs for the kiddos!
Bromley Mountain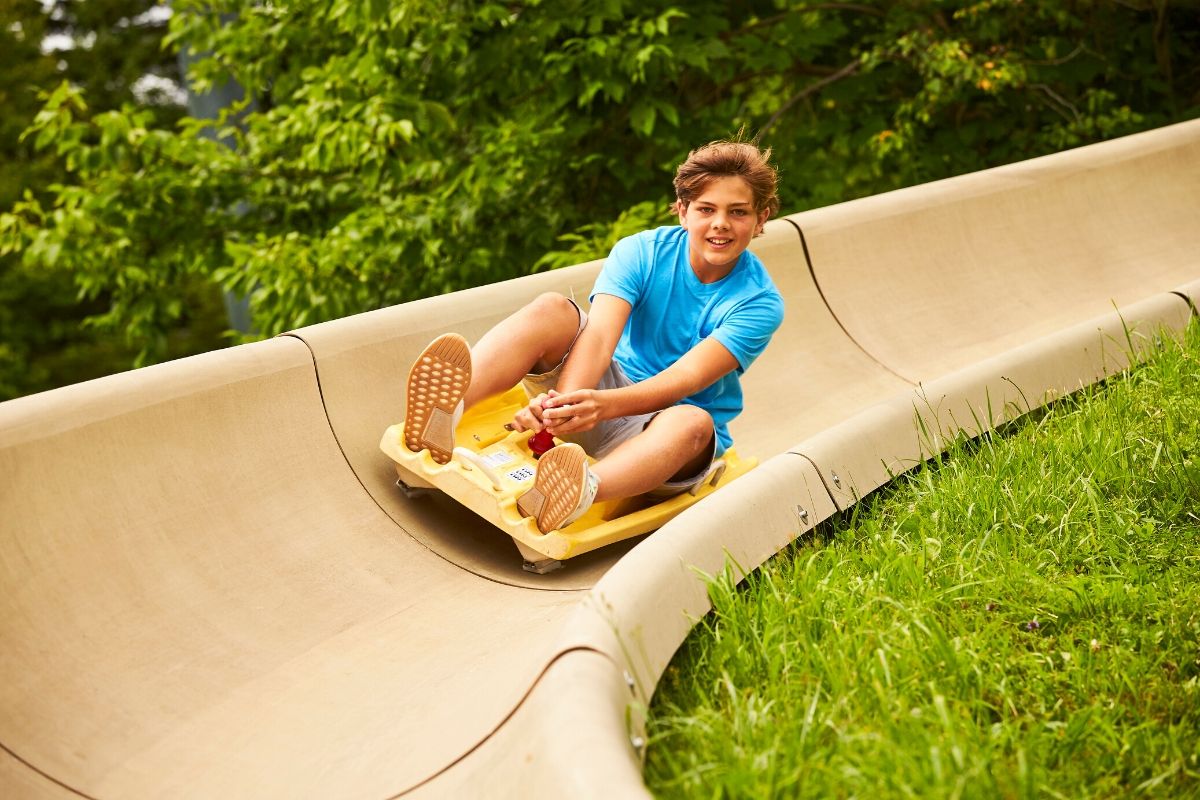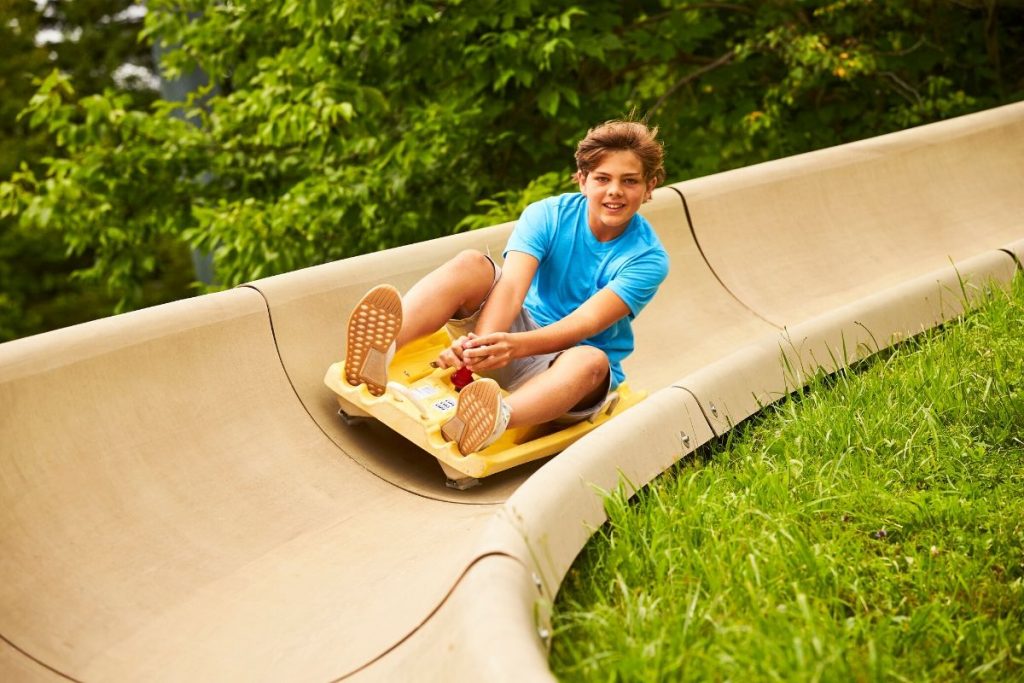 Looking for an exhilarating day of fun? Then you need to visit Bromley Mountain and go for a ride on their Alpine Slide Mountain coaster! Bromley Mountain is located in southern Vermont. They are open 7 days a week and a mask is required. They also have an 18-hole Mini Golf Course, The Giant Swing, The Big Splash Waterslide, Trampoline Things, the Climbing Wall, The Space Bikes and The Aerial Adventure course!
Reserve your ticket online ahead of time on Bromley's Adventure Park's website. Don't forget the sunscreen and water to stay hydrated!
Polar Caves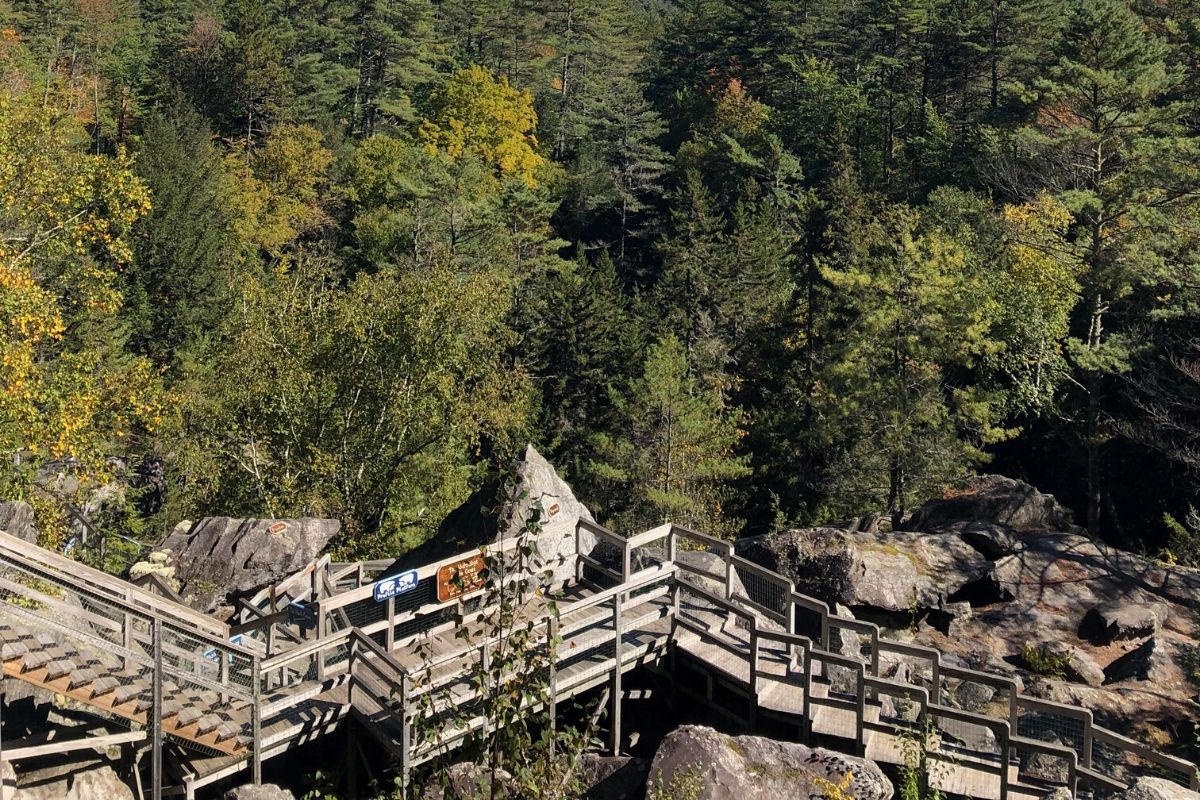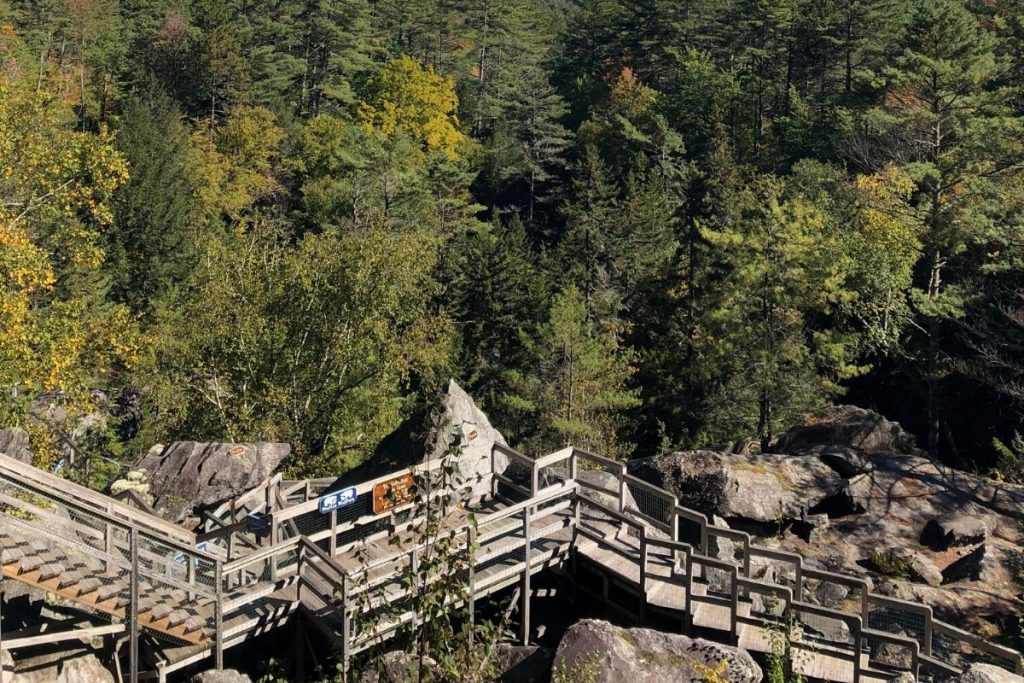 Gather the kids, we're heading to New Hampshire to check out awesome glacier-formed caves in the White Mountains. This road-trip worthy attraction is a must-do on your New England summer bucket list!
The Polar Caves is a family-owned nature attraction that is less than two hours from Boston. It's a great way to get kids active and outdoors and of course, keep socially distant. Masks are required.
RELATED: POLAR CAVES - WHAT WE LOVED ABOUT IT
Enjoy climbing, shimmying and squeezing as you go through each of the 9 caves here in Rumney, New Hampshire. Head to the Polar Caves Park website to reserve your tickets!
Ski Ward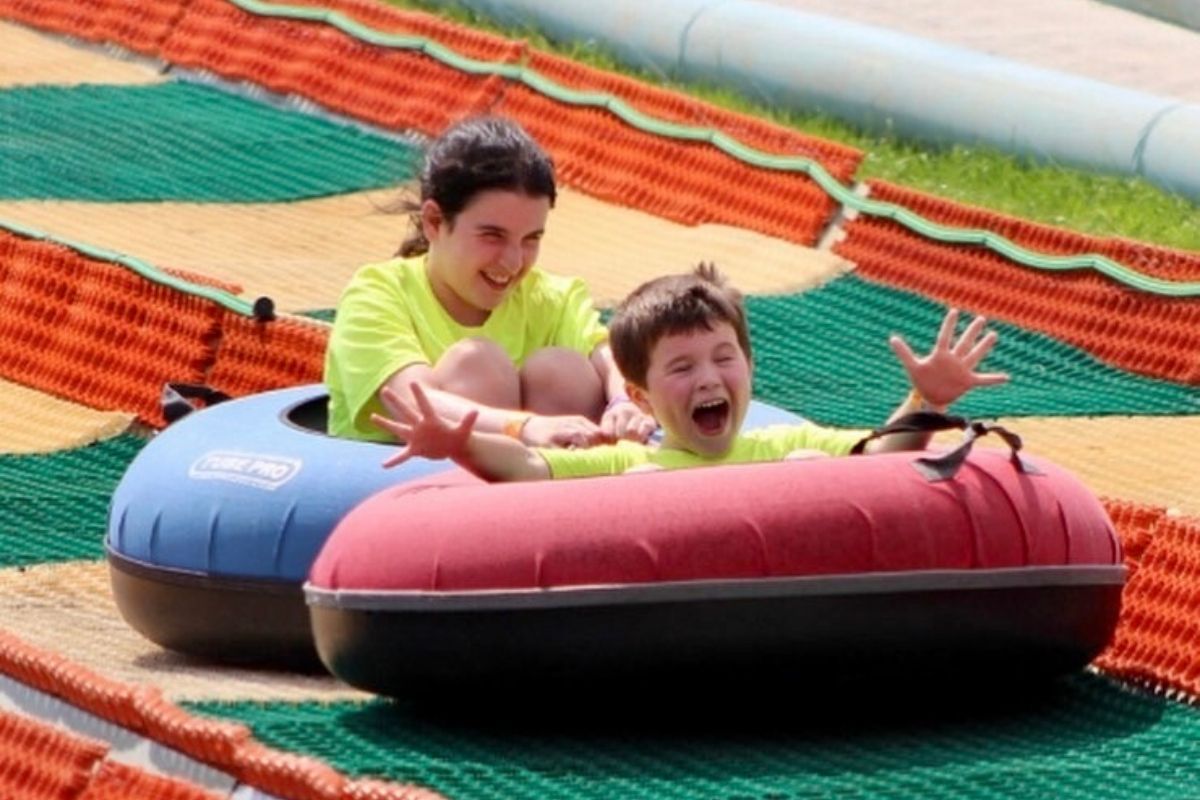 Summer tubing is ready for your visit here in Shrewsbury, Massachusetts! TubaSliding is for kids (ages 5+) to adults. Get ready to zip and zoom down one of the six 280 foot tubing lanes while enjoying a summer breeze! What a great way to spend an afternoon. Ice cream on their patio, too!
Masks are required and tubes are sanitized after each use.
Check their Facebook page for hours, or to find out if they are closed due to inclement weather. Find out more about TubaSliding on SkiWard's website.
A summer with Covid can still be a ton of fun with these outdoor activities with kids. Remember to check their websites before heading out for their hours, tickets and safety precautions.