We took a day trip to Boundless Adventures in Berlin, MA. We were looking for something fun to do as a family, that would also be challenging and different. Also, because of COVID, we needed it to be an outdoor activity, where we could be socially distant and still feel safe being around others.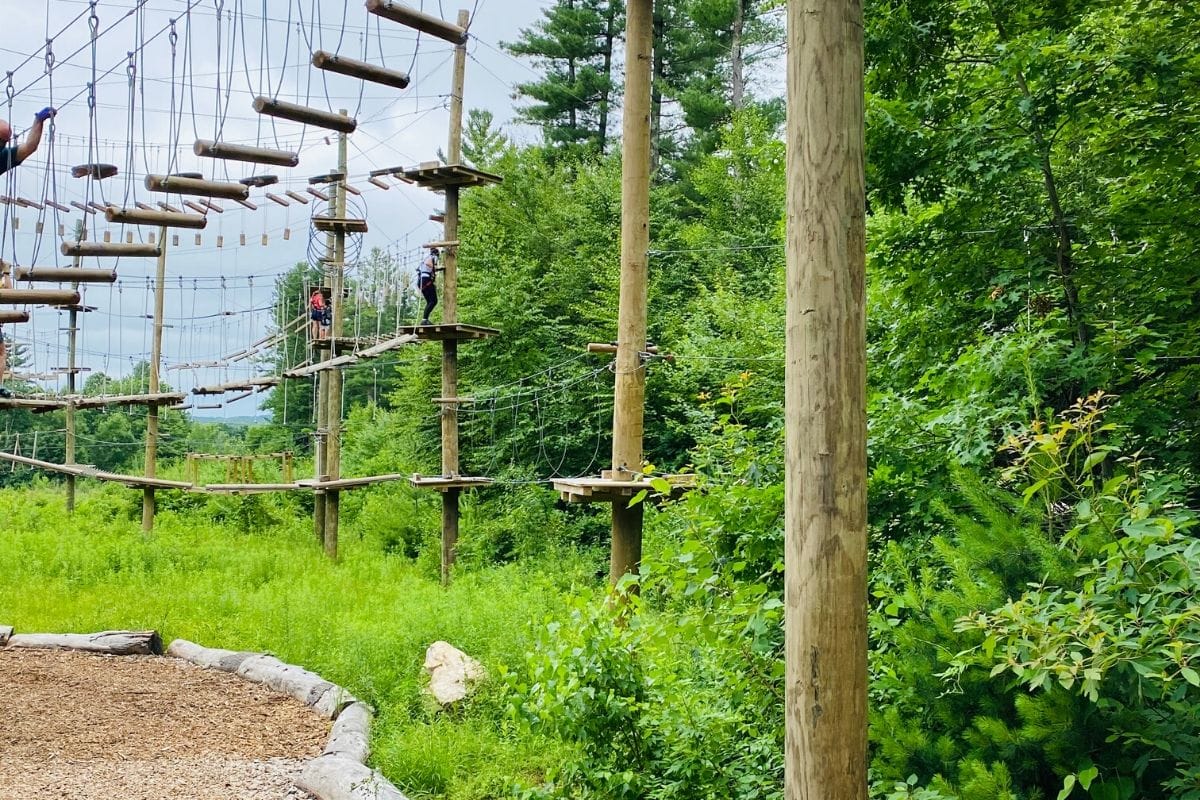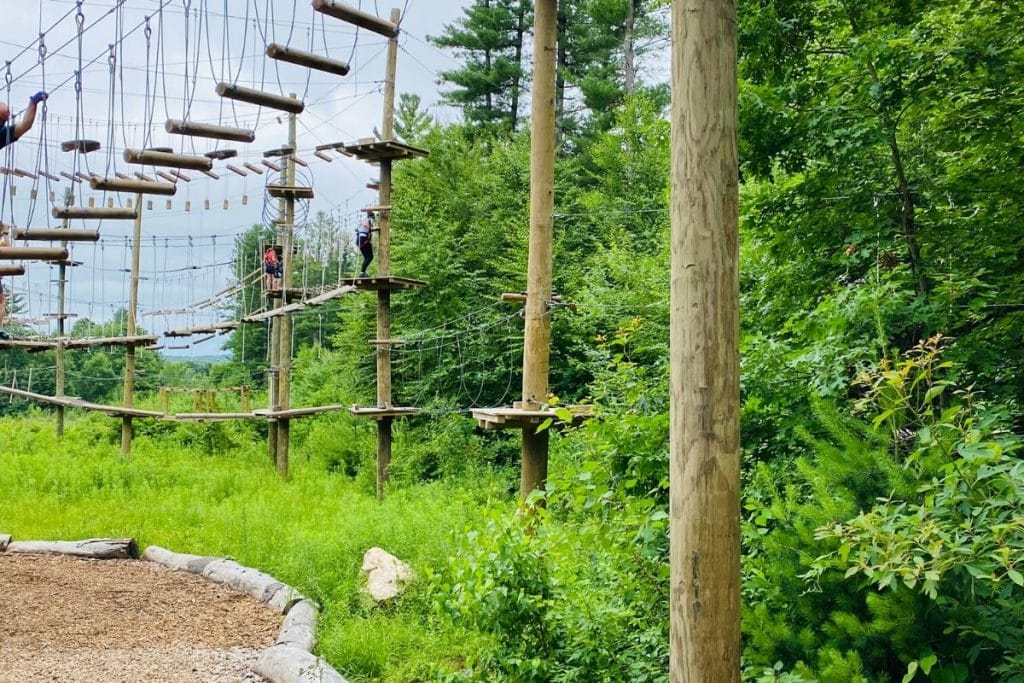 Boundless Adventures is an aerial ropes course for kids to adults. Kids must be aged 7 or older and adults under 265 pounds. Also, some of the courses do require supervision, but I will get into more detail below. They have three locations within the United States, today we visited the location in Metrowest Boston in Berlin, MA.
I reached out to Boundless Adventures to see if they would host us in exchange for an exclusive blog post. Yes! They agreed. But we found out we couldn't just head there. No, now-a-days, things need to be reserved ahead of time.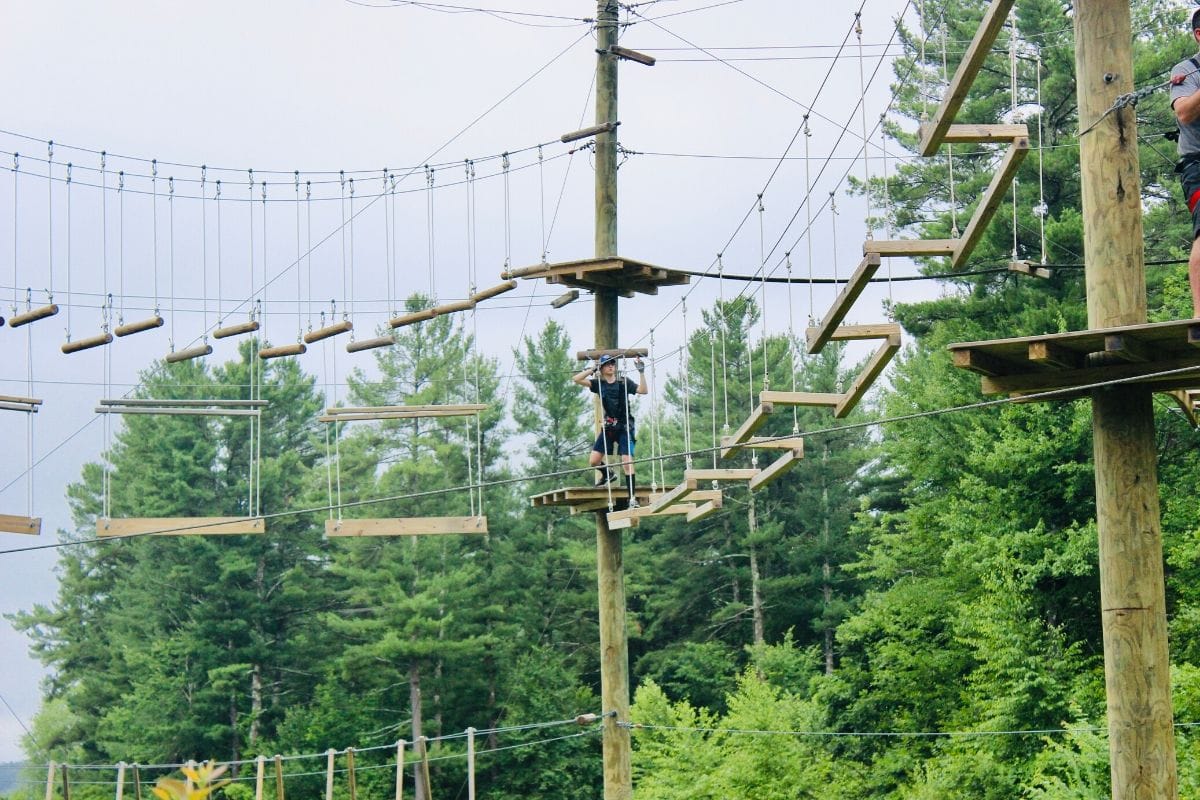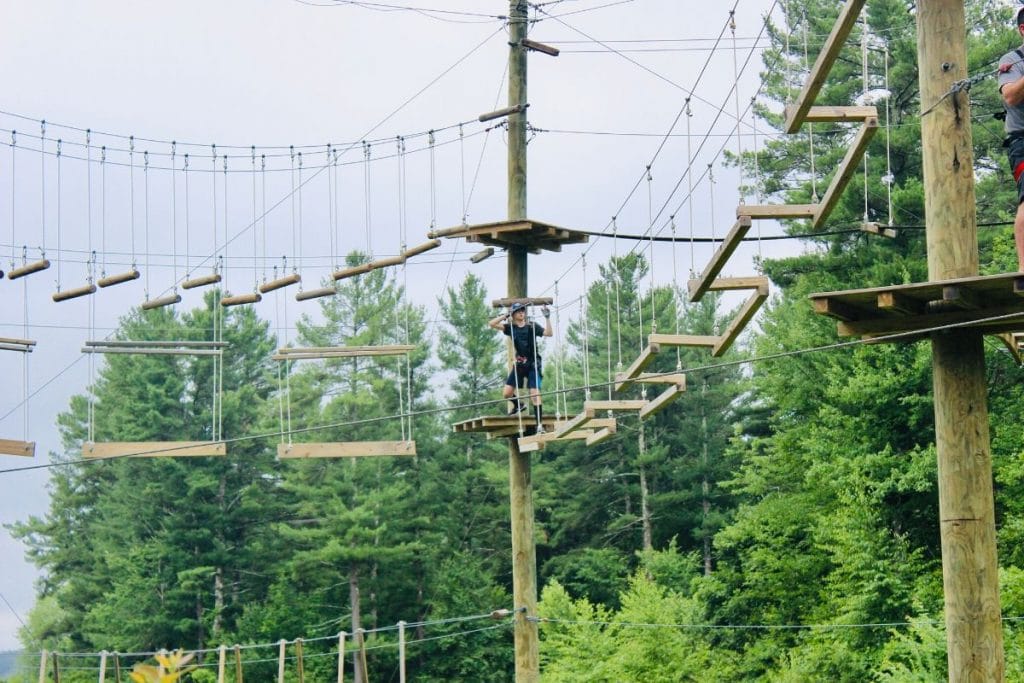 Online reservations
Heading over to their website, we were able to select a day and time for our day of adventure at Boundless. Times are reserved in 15 minute increments.
Online we purchased our tickets, signed the waiver form electronically and purchased gloves to be used on the rope course. If you have your own gloves, then you don't need to purchase theirs.
Boundless Adventures in Berlin, MA
Boundless Adventures are located about an hour west of Boston or 20 minutes from Worcester in Berlin, Massachusetts. This is centrally located between Boston, Worcester and still close enough to take a day trip from neighboring states.
When you arrive, grab a parking spot and head on over to the one building to check in. Be sure to put your mask on for your arrival. When you're greeted, your temperature will be taken, you and your family will be asked a series of health questions and then if everything checks out, you will all ready for your adventure to begin!
After you check in, it's time to head over to get your harness on. We were greeted by an orange cone with a sign letting you know to wait here right next to a blue Boundless canopy and table.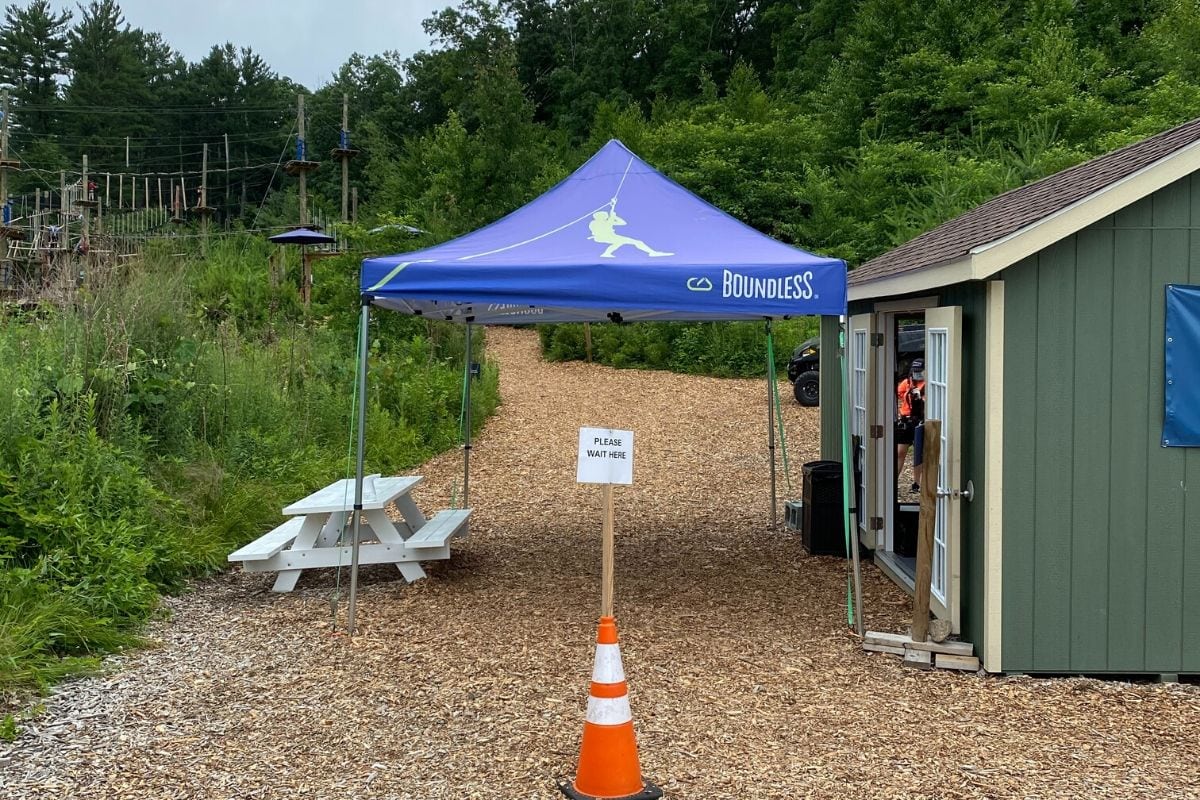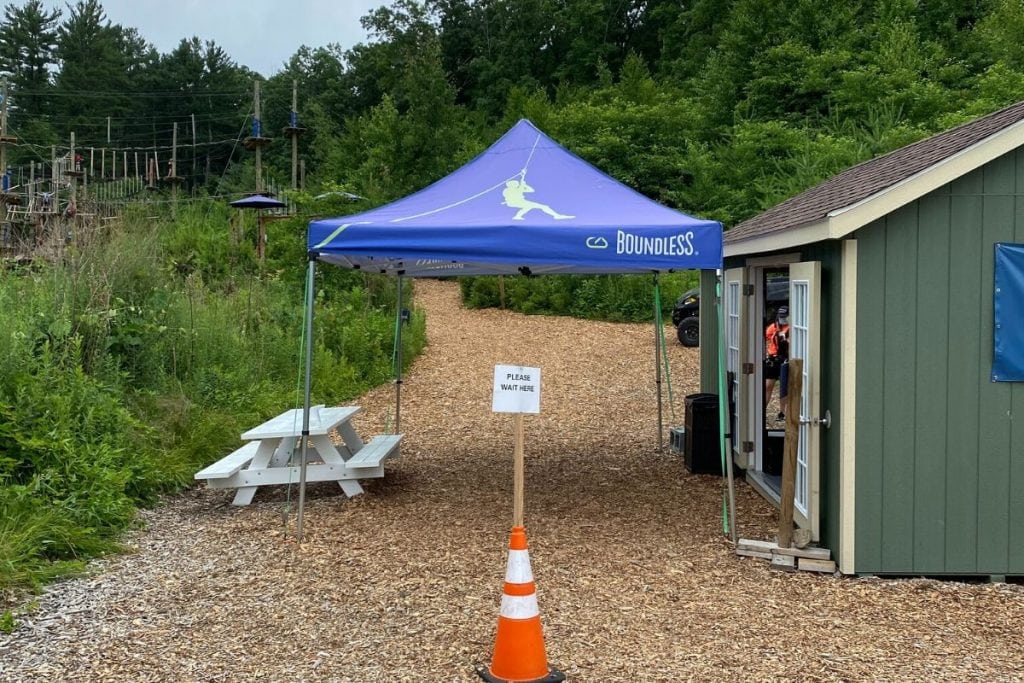 Keeping your mask on, the staff at Boundless will call each member of your party over to be fitted into a full body climbing harness. When each person in your party is ready to go, you will walk up to the training area for a safety briefing demonstration.
After the safety talk, each person will get to try out the harness and carabiners to make sure everyone understands how it works. Boundless Adventures safety is super important. The carabiner clips are connected to a safety line. Users cannot fully disconnect until they are at the end of a course with an exiting system.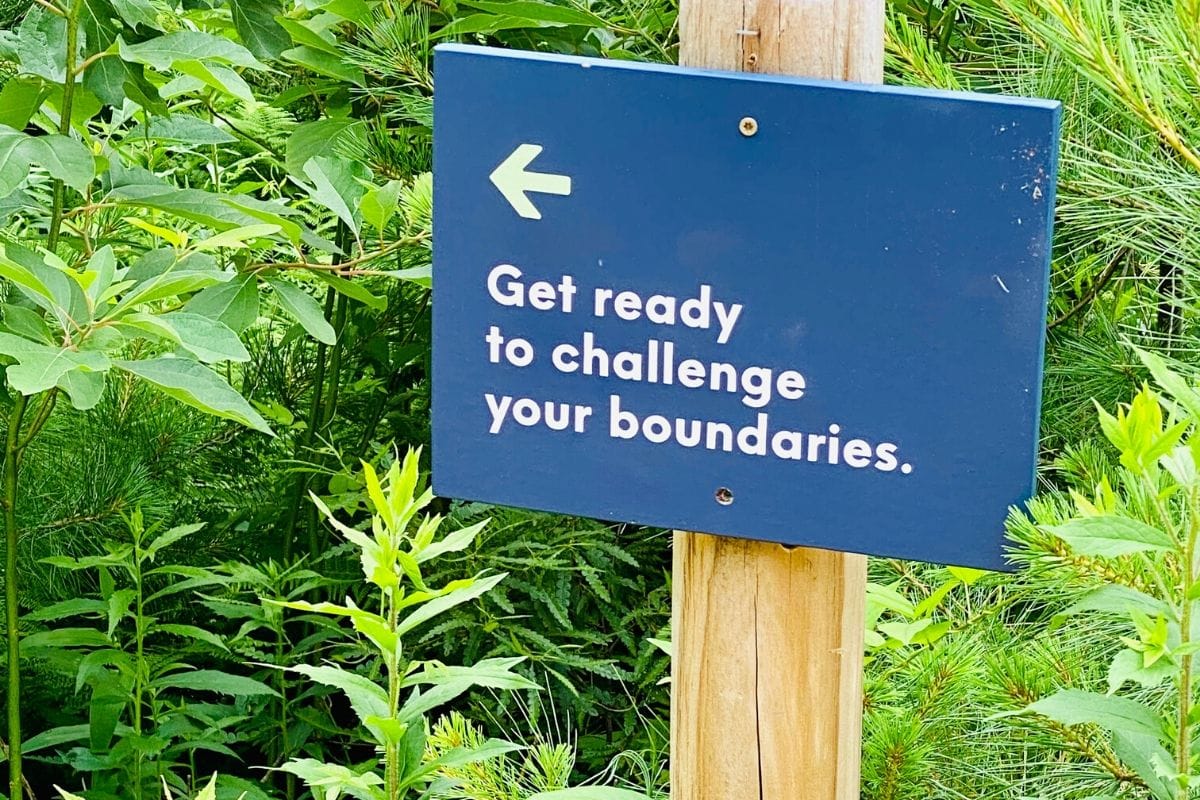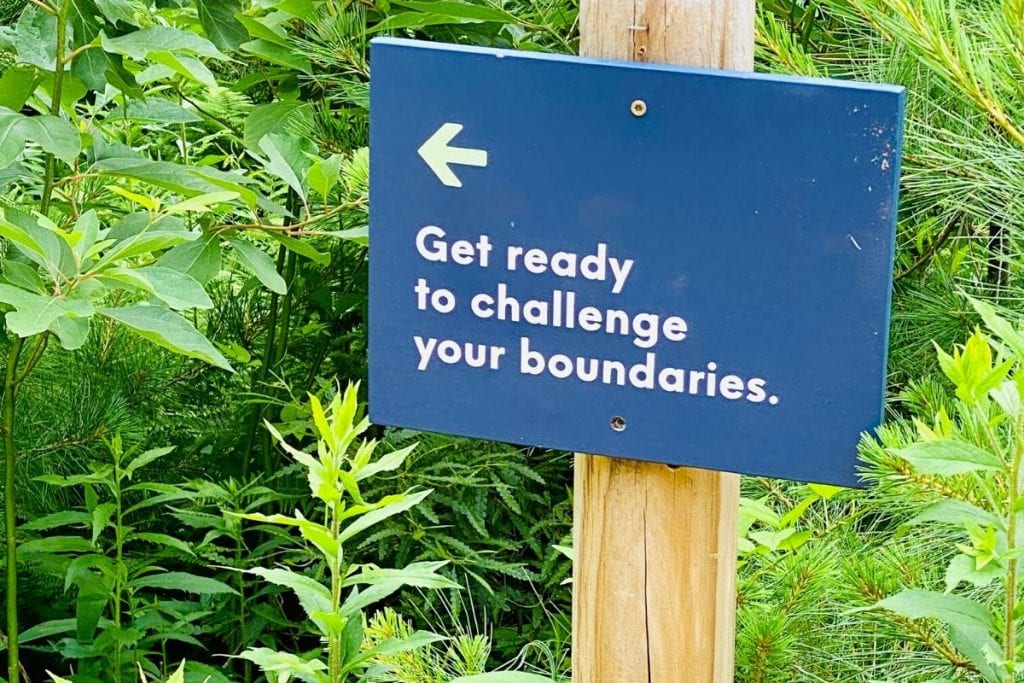 Course levels and obstacles
There are 4 different course levels. Yellow, green, blue and black. Yellow being the lowest and by that I mean lowest to the ground and not as difficult as the higher level courses, yet don't think they aren't challenging, because they are!
There are various balancing, climbing, ropes, zip lines and more that you will need to figure out the best way for you to get over each obstacle.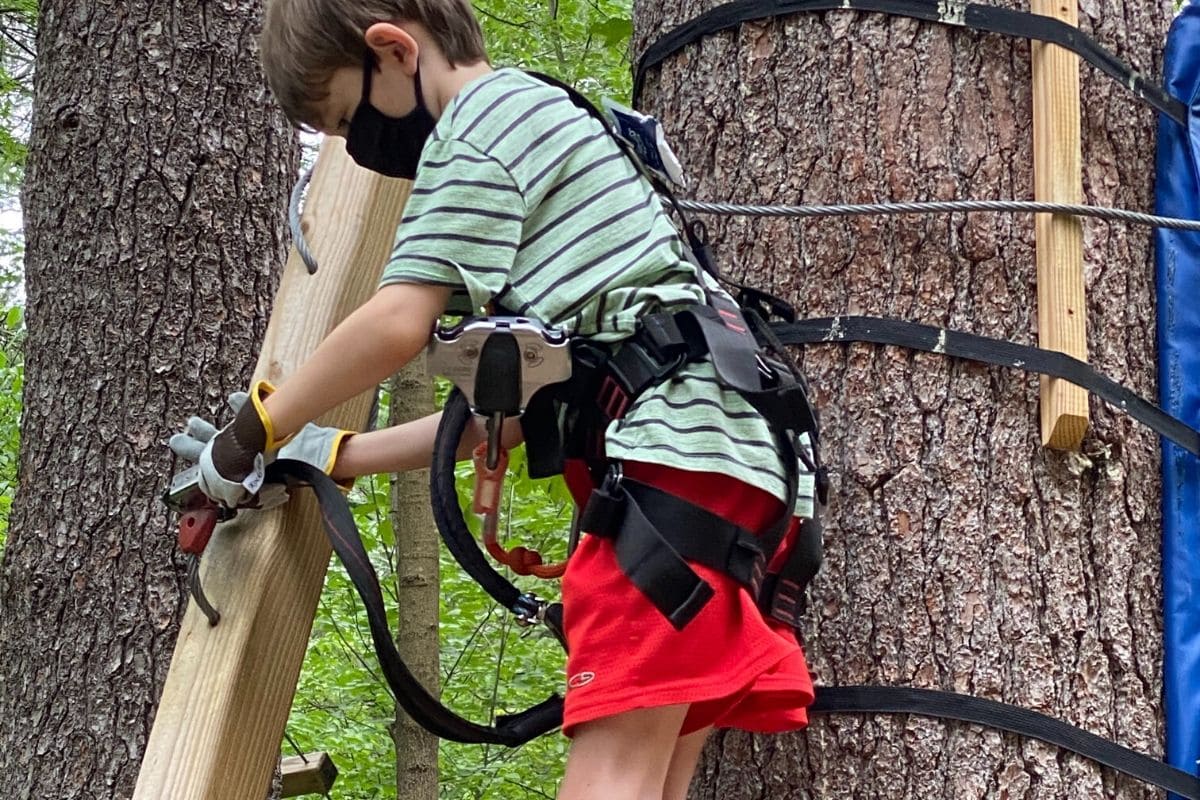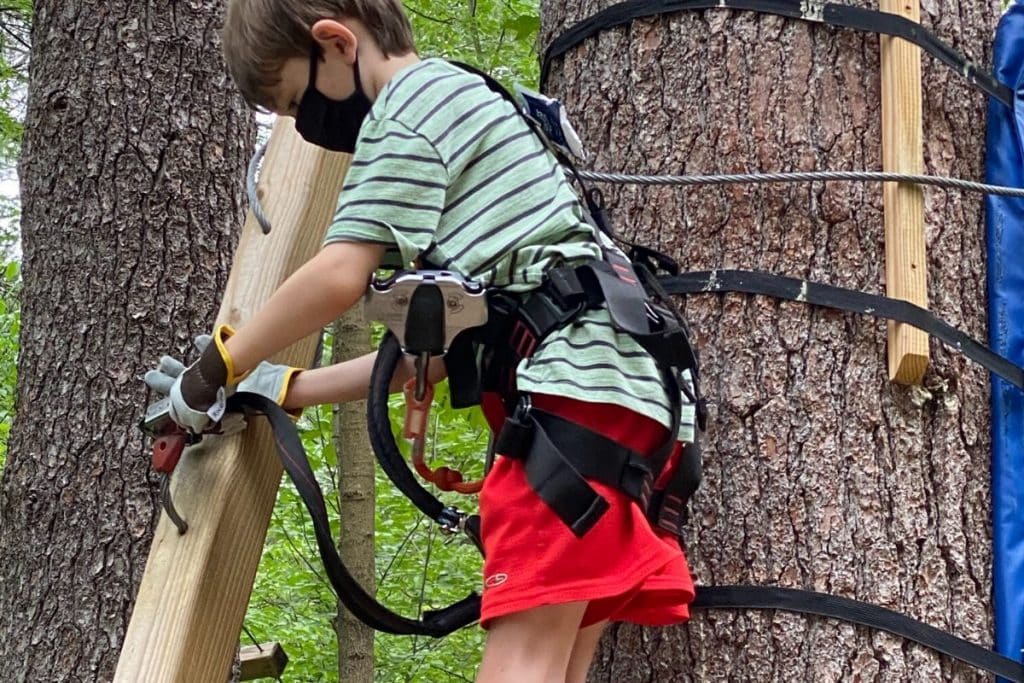 When my boys began, they started with green. Now one of the things, the staff here will you, is to do the level below the one you want to do. So, if you want to do green, then try yellow first. My 13 year old, wanted to do blue, so he started with green. My 8 year old, unsure followed big brother realizing what he was up against.
Well, little bro, was now 15 feet high and wondering what he was doing way up there! He froze when he got the first platform. Eek!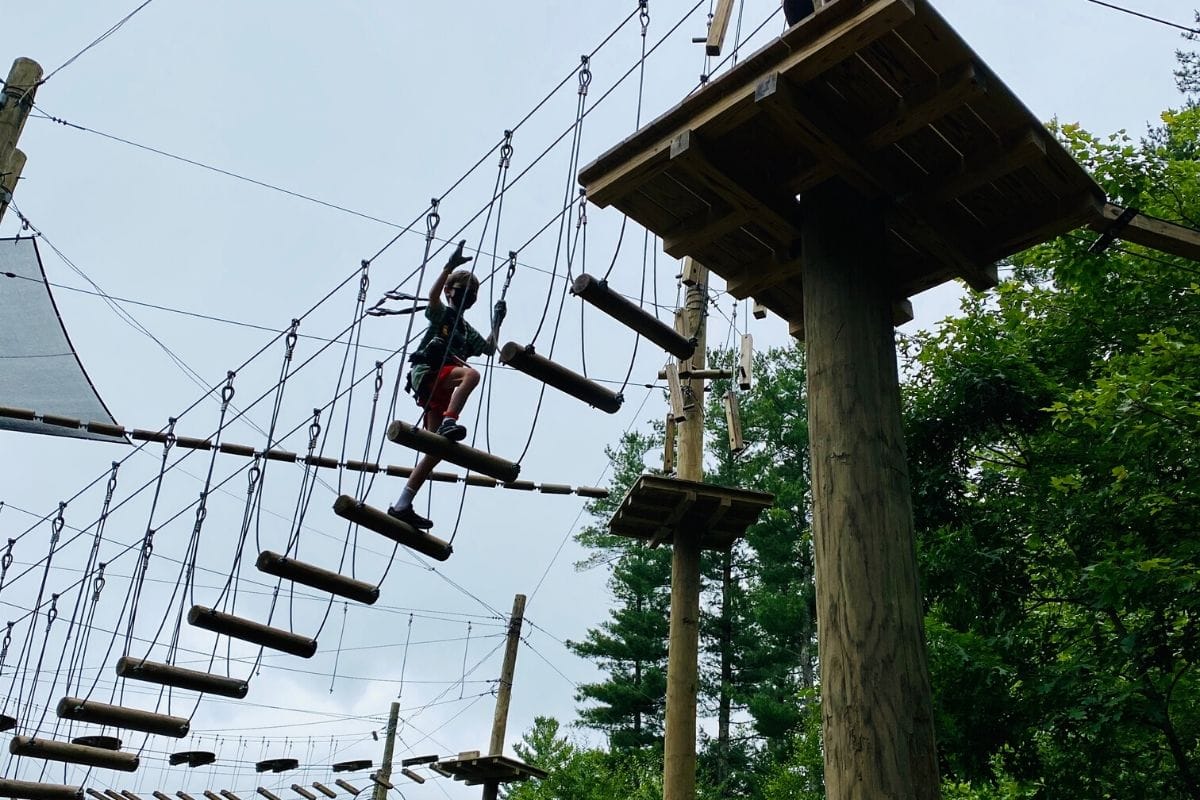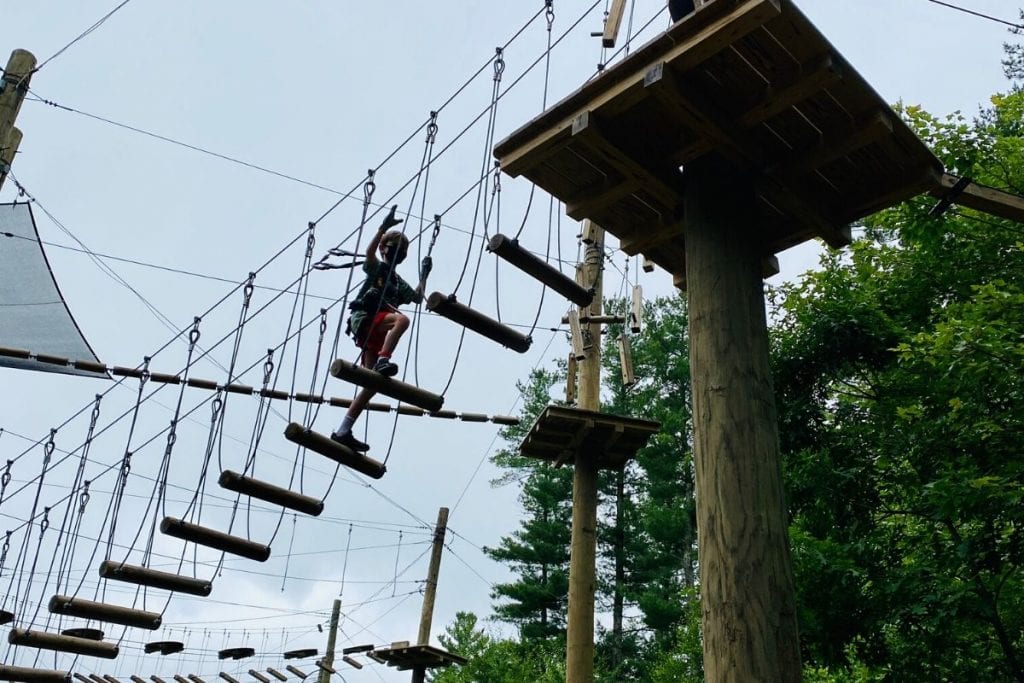 The great thing about Boundless Adventures, is that there is an abundance of staff, around and they were able to help him get back down to the beginning and get over to the lower level courses first. Phew! Needless to say, I was standing there on the ground, looking up, wondering why my 8-year-old that was already nervous was so high!
MORE SOCIALLY DISTANT IDEAS: 5 Outdoor Activities with Kids
He needed to build up his confidence on the lower levels first. And he did! I am happy to say, that he completed all three yellow courses.
Help! I think I'm stuck
As mentioned above, the staff here are nothing short of amazing! My tween was not the only one that was scared on the aerial rope course.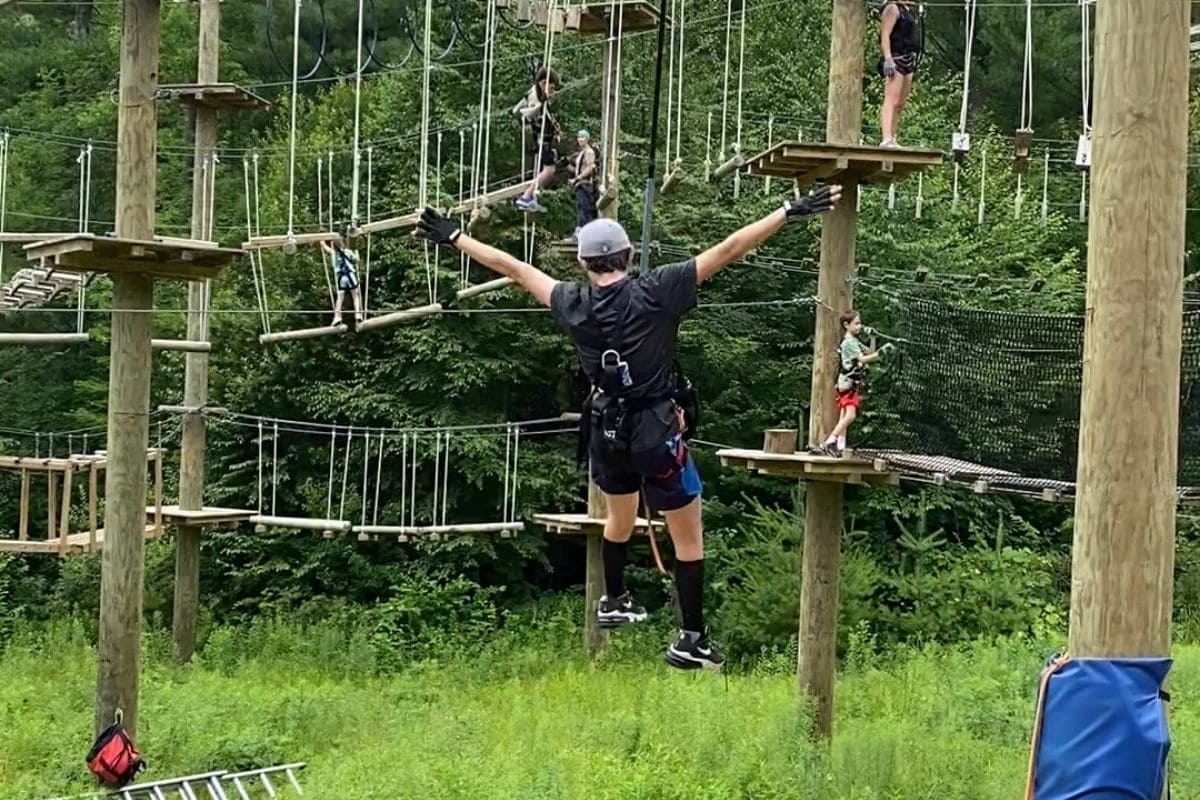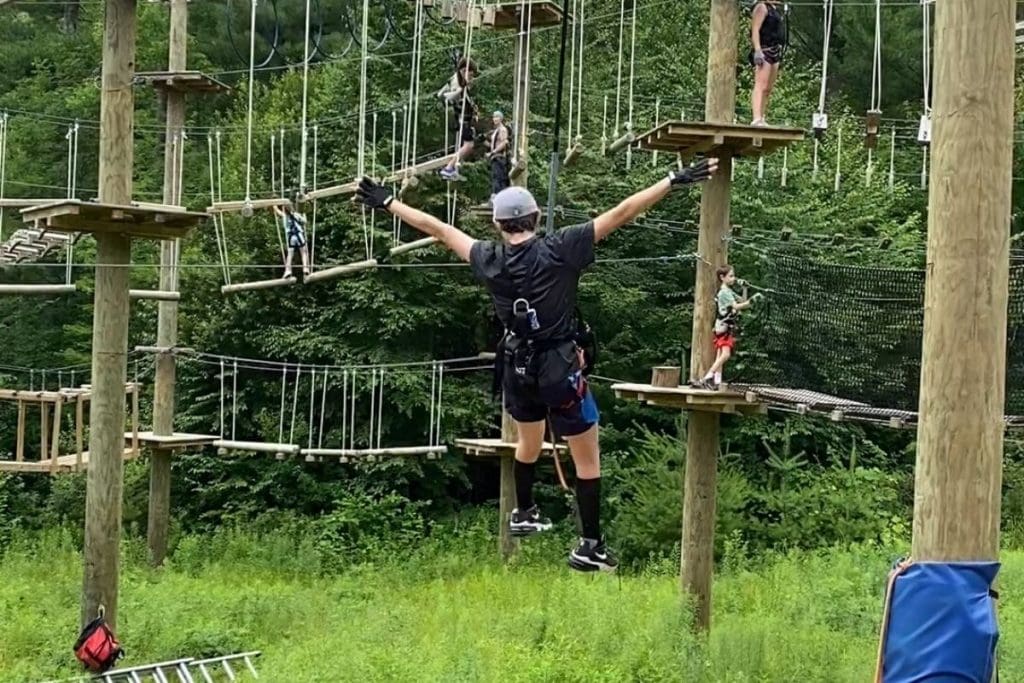 If you do end up needing a hand, call out to the staff. They are wearing bright orange shirts. They will talk you through what you need to do or come up there and get you.
When I was there, I saw them walk through a boy on one of the toughest elements. I didn't even know him and I was proud to see him dig down and find the courage to help himself back up and complete it. Another woman needed help after I'm guessing she froze up on one of the obstacles. The staff were amazing and were able to help her get down.
Safety rules for Covid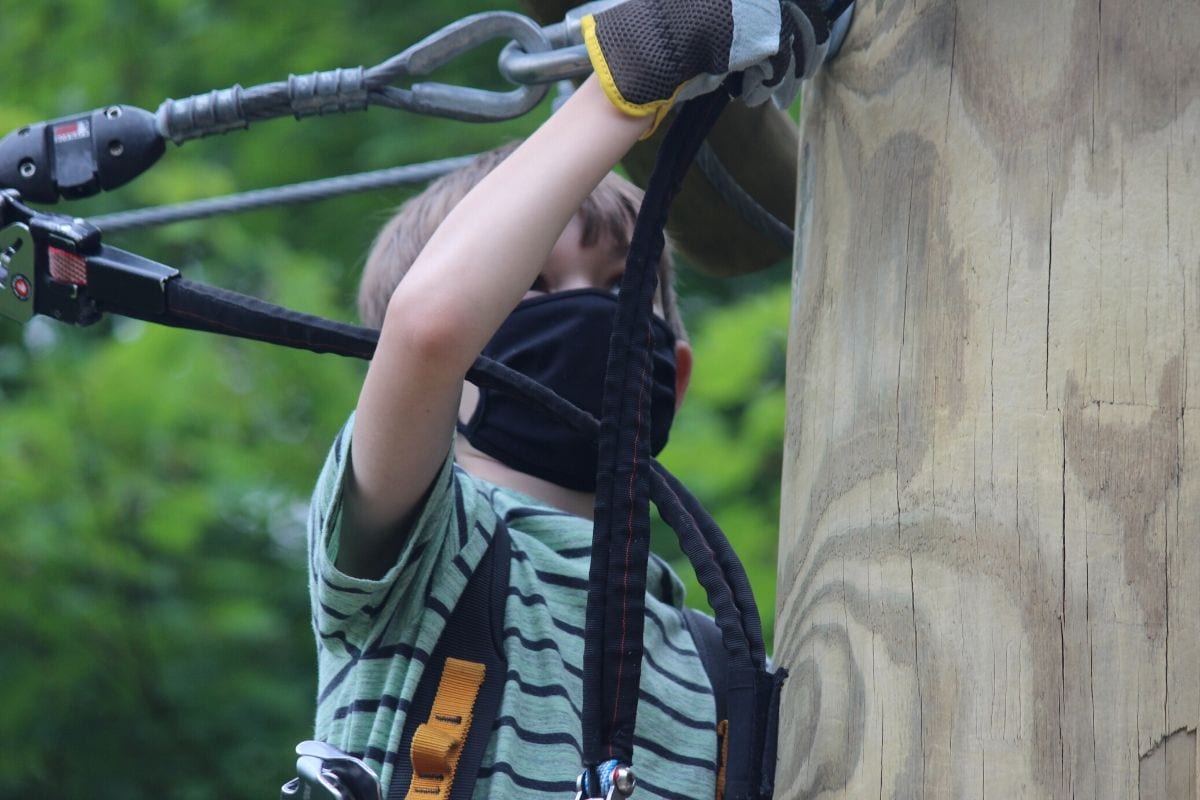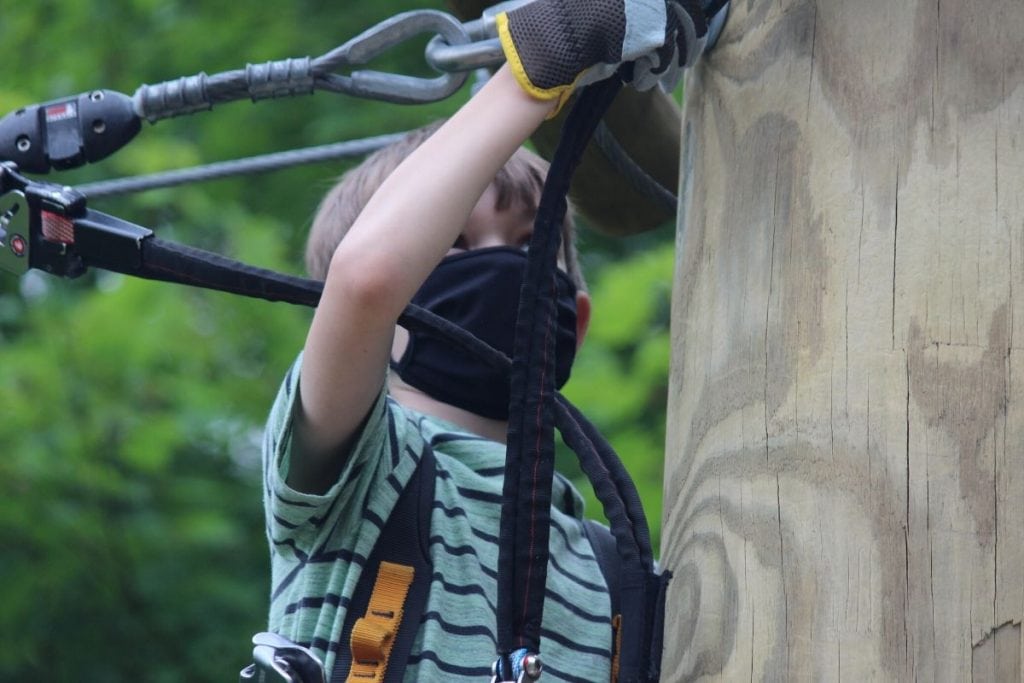 One of the requirements, for us to go here was that there needed to be safety precautions in place for COVID. I was told they have more harnesses than people that visit each day and they spray down the harness each evening.
Other rules they have in place are, only one person on an element. Only three people on a platform and they must be from your party/family. Masks although not required when on the course, most kids and adults pulled them down to their chins and when back on the ground or in line for the next course, would pull them up to cover nose and mouth.
You can view their full Covid Policy here.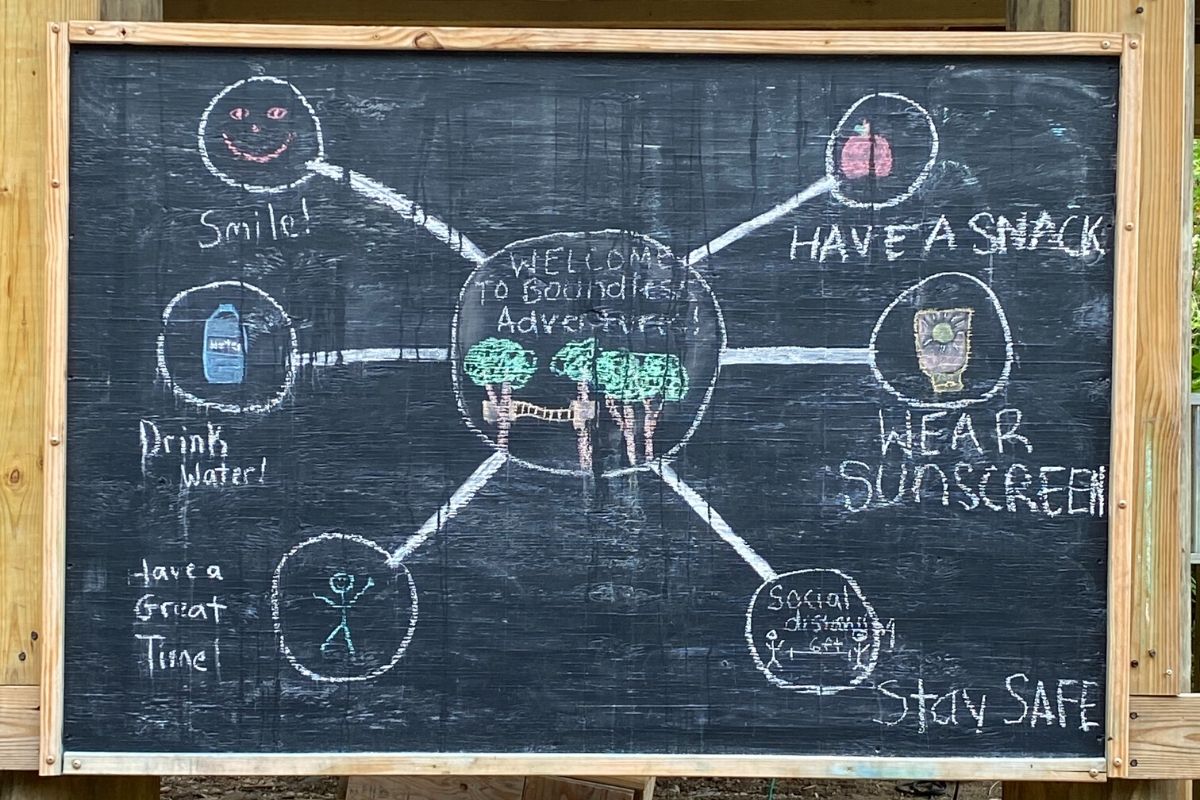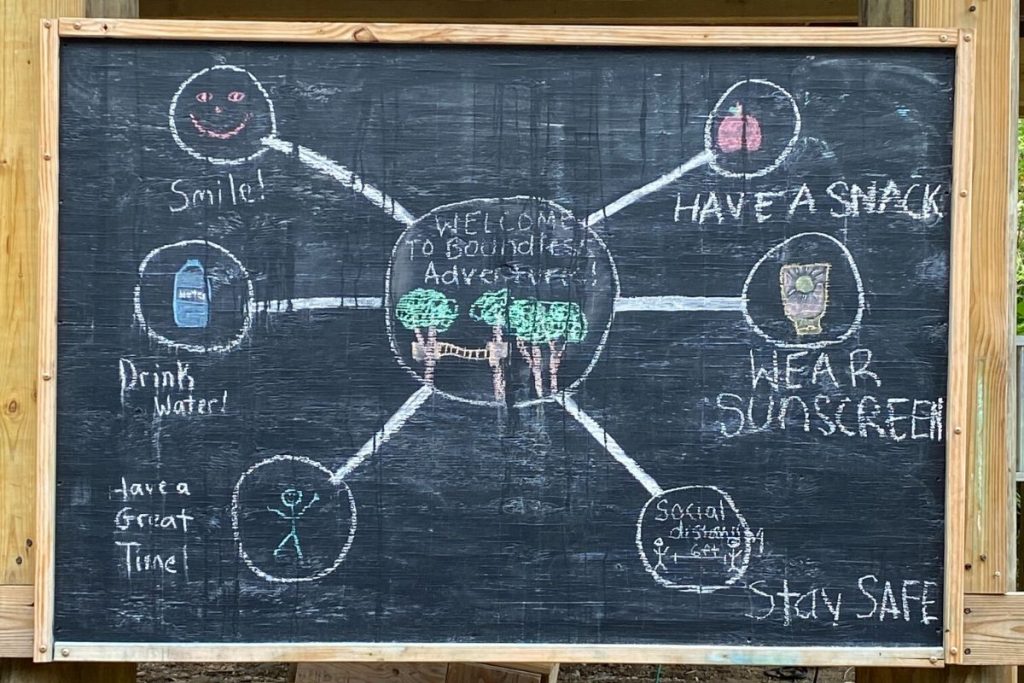 Things to remember before you go
Mask for every member of your family
Make a reservation online
Sign the electronic waiver
A water bottle + snack
Close-toed, comfortable shoes such as sneakers
Purchase or bring gloves (they do have gloves for small hands)
Weight/age limits - Must be aged 7+ and under 265lbs
If it's raining, they are probably still open
Plan for at least 3 hours for climbing
Check their events page and summer programs
Stay together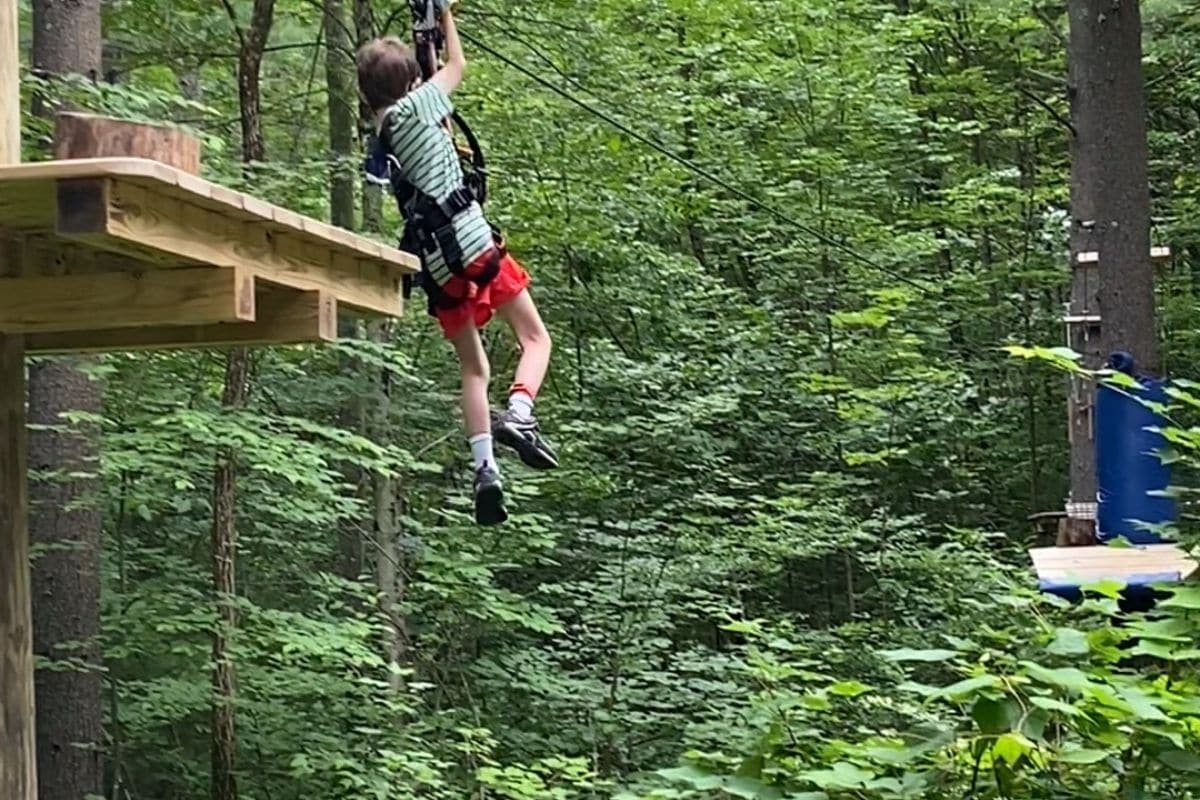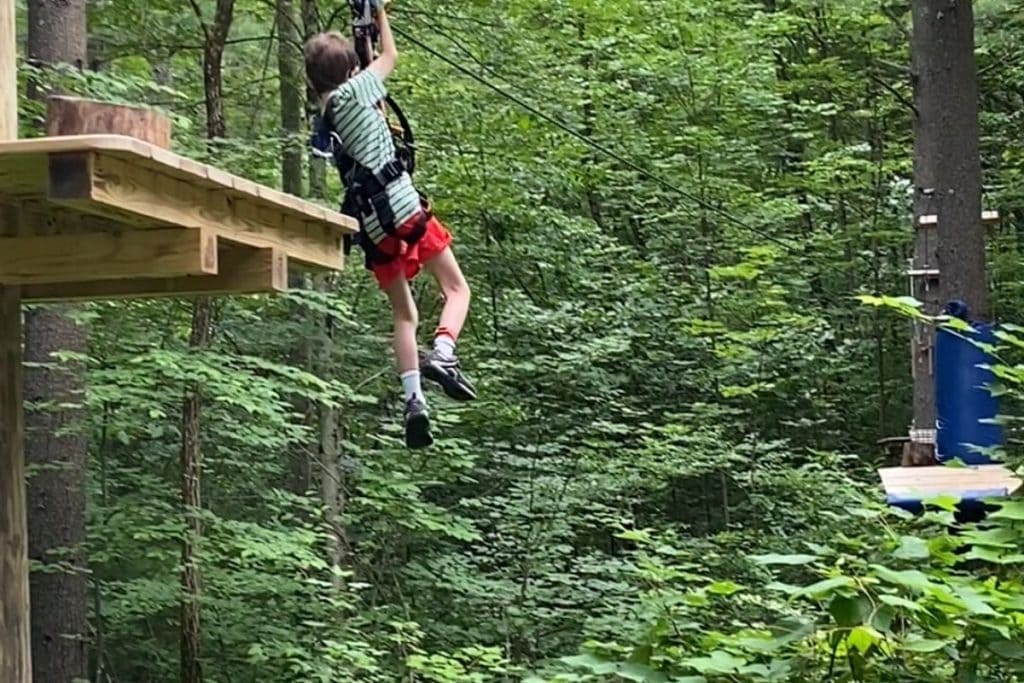 Fun at this aerial course
My younger guy, who was super nervous at first, ending up loving it and gained a boatload of confidence by the end. He was even a pro when it came to zip lining between two platforms.
My older son told me it was harder than he thought it would be and apparently a really good arm workout!
Boundless Adventures in Berlin, MA is an outing not to be missed with your kids this summer. Taking your time and enjoying it, I think is key here. I had brought a couple bottles of water, but really wished I had packed a few light snacks. This is definitely something we would do again!