As a true Amazon Prime addict, the days I look forward to most on Amazon are the 12 days before Christmas as well as Amazon Prime Day.  This year, 2019, Amazon Prime will last two full days. Here are some ways you too can take advantage of being an Amazon Prime Member.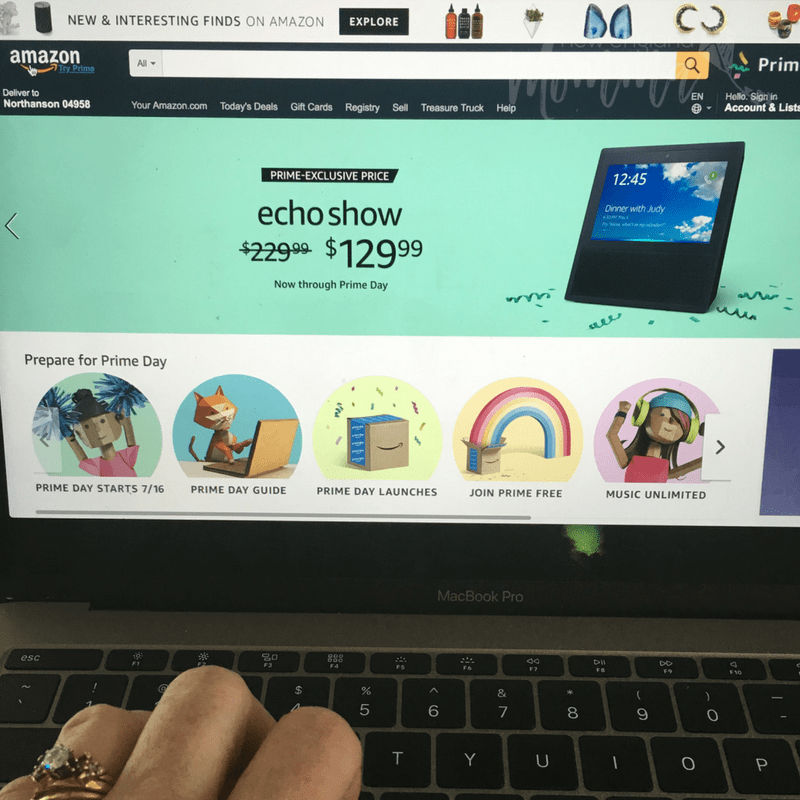 First Published: July 9, 2018... Last Updated: July 12, 2019
As an Amazon Associate I earn from qualifying purchases.
I love Amazon Prime. I'm an addict. I'll be the first to admit it. Browse the internet, throw it in my cart and two days later I have it arrives with its famous FREE 2-day shipping.  I purchase many items there from activity books for the kids for car rides to birthday presents, household goods and once a fantastic deal on a laminator.
There are a couple of times a year I get even more excited for Amazon.com shopping. In the month of December, when they have daily deals for the holidays and in July when they have a day and a half of amazing deals for Amazon Prime day. You may already know that Amazon has special deals every day, but these are the two times I am most excited to shop because the deals usually can't be beat!
Amazon Prime Day
There will be giveaways, amazing deals of on items that you will need!  Christmas shopping in July? Yes!  Amazon prime day will kick that off for you! The next Amazon Prime day will by on July 15th and 16th, 2019.
You need to have Amazon Prime to take part in these events. Every day they have daily deals which change throughout the day.  During the special events, it is the Prime Early Access Deals, that can make the difference between getting an item or not. I have seen it sell out in the first thirty minutes to all Prime members and non-Prime members miss out.  Don't miss out!
Don't have Prime yet?
Get it FREE for the next 30 days and take advantage of Amazon Prime day as well as 2-day free shipping, stream movies and tv shows, discount pricing, if you have never tried Amazon Prime before.
Amazon Prime Student - is just for students. Get 6 months free to new subscribers only and get fast, free Shipping, access to thousands of TV shows and movies, exclusive college deals, and more!
Save Money with The Amazon App
When you download the Amazon App to your tablet or smart phone, you will get the ability to shop Amazon from anywhere (well that has a wireless connection).  And you will also be able to set up notifications of when the giveaways begin. Download the app from your iTunes or Google App Store, Amazon has a how-to right here on their website on how enable notifications.
Another benefit of a having the Amazon App on your phone is to use it when you are shopping at regular stores. If you are trying to compare a price of an item at a store to the price on Amazon, all you need to do is open the app. And next to the search box there is an icon that looks like a camera. Touch that and then select bar code scanner.  Now scan the bar-code of the product in your hands and it will tell you what the price is on Amazon.com.  This has saved me a ton of money!

July 15th & 16th is Prime Day!
Check out the  amazing deals that are coming up for campers and family road trippers for 2019!  We may not know yet what all the amazing deals on Amazon Prime Day is yet, however if you have the Amazon App, you will be one step ahead of everyone else and ready to go!
Add to your Watch List 
Browse the upcoming deals and add it to your watch list. Be sure you turn on notifications in your account settings so Amazon will remind you the deal is about to open. Often these deals are gone within a half hour, so you want to keep your notifications on for Prime day!
Camping and Family Travel Deals
Check out this post all day on Monday July 15th and Tuesday July 16th for Camping and Family Travel deals I know you will love! Check it often for what deals are coming up throughout the day!