A day trip to King Richard's Faire is a favorite thing to do each Fall. A full day of Renaissance fun complete with games, rides, entertainment, shops and of course yummy food! King Richard's Faire is located in Carver, which is Southern Massachusetts, about an hour from Boston.
First Published: Oct 1,2018... Last Updated: Sept 13, 2019
This is a sponsored post but all opinions are my own.
My boys always love this day trip. Truth be told, we love it too! My husband and I have gone many times before we had kids, as it's not just for kids. In fact, King Richard's Faire often has themed-weekends that are geared towards adults.
This can be a great date idea or a family day trip!
Pre-purchase tickets
If you prefer to pay for your tickets with a credit card, then go to their website to purchase your tickets in advance. If you purchase your tickets at the gate it is CASH only.  It's important to note that there is also a $2 per ticket service fee if you purchase your tickets in advance online.  You will need to decide if the $2 a ticket fee is easier than perhaps waiting in a long line at the ticket booth to get in. We always get our tickets before we go.
Often times if you search on Groupon, you may be able to score tickets at a discount. Worth to check before you purchase tickets.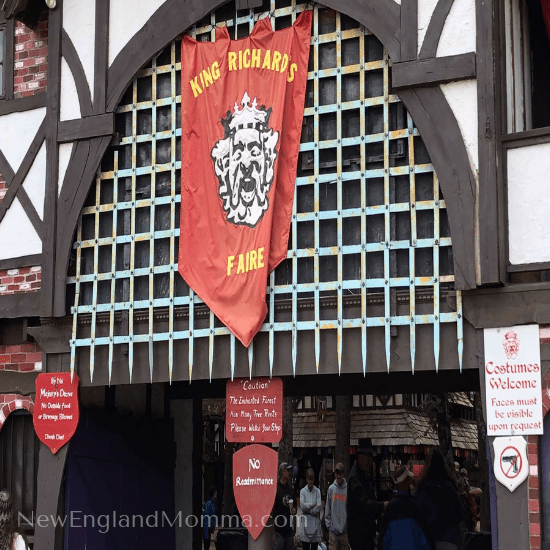 Play the part - wear a costume
One of the super fun things about Renaissance fairs is that people love to dress up. As I mentioned above, this faire is not just for kids. Adults will go in full knight outfits, I've seen jesters, rogues and princesses. Dress as a pirate or a fair maiden. One of my favorites was a man with a huge jack o'lantern on his head, my kids had to have a picture with him, which he didn't mind at all and I could see we weren't the only ones asking for a picture!
My older son wore his cloak like a wizard and we picked up a couple more pieces while we were at the faire.  My younger son went dressed as a skeleton king. Between you and me, I'm not really sure what that is, but it was cool for a picture. The costume did come off on my younger son much sooner than expected, so be sure to dress them in something comfortable and/or carry a backpack to throw it when they tire of it!
Don't have anything to wear? You can rent a costume on the faire or you can visit one the many shops they have at the faire that sells Renaissance
Renaissance Fun
When you walk in, be sure to grab a map. It actually looks like a thin newspaper. This is the calendar of events going on for the day. This will include a map of the faire grounds as well as all the events, shops and food places. It will also list where the ATM is located. However, some of the vendors are accepting cards now, just need to check with the shop you are visiting since they are all individually owned and not ran by the Faire.
Shopping
I could easily do a whole post just on the different vendors and shops at the Faire.  These are known as Artisans of the Realms at King Richard's Faire. Going to the many shops, is one of my favorite parts as there are so many hand crafted items available and all artisans have a unique selection.  We loved trying out the canvas hanging Sky Chairs. As well as visiting the shop with pirate clothing and accessories, Hans Dipper's Wax Works with many beautiful wax hands and wax dipped roses. My boys always love the Remembrance Shop with fire memorabilia, swords, shields and pottery.  Here are a few more of our favorite shops.
Threads of time
This store sells Celtic clothing at the faire, however, they do have more options available online. All items are handmade in the USA to your specifications. This is where my son got a few more clothing pieces to complete his outfit. The staff here were super friendly, helpful and they had a great selection of handmade clothing as well as dressing rooms. Visit them at the Faire or on their website: https://threadsoftime.com
Seekers & Settlers
Seekers & Settlers is a fantastic little store if you enjoy hand-carved walking sticks, staves and brooms.
Dragon pets
Want a pet dragon? Of course we all do! These hand-made dragons are a great souvenir for kids and they will have fun wearing on their arm as they walk around the faire. And who can resist having their very own pet dragon to take home?! Visit them online or at the Faire: http://mydragonpets.com
Lightening Willow Farm
Make sure to visit Meaghan at The Lightening Willow Farm. This was one of my favorite shops at the Faire. Meaghan, the owner is super nice and very helpful answering all my questions we had. She makes artisan soaps & herbal skin care. I ended up purchasing the Poison Ivy Survival kit for my husband who always gets poison ivy when mowing our lawn no matter how far he stays away from it.
I also got a bar of facial soap that smelled delicious! And just so you know, my husband washes with the poison ivy skin care products and has not gotten any! Her products can be purchased at King Richard's Faire or on their website: http://lightningwillow.com.
Star Fire Swords
Star Fire Swords sells metal swords, axes and daggers. My kids always love this store! It's always very fun to check out the swords, axes and daggers they have on display here! Visit them at the Faire or online: http://www.starfireswords.com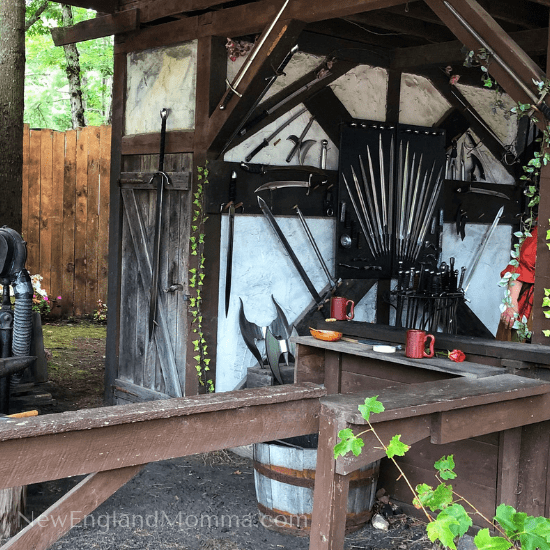 Jousting tournament, fire eater and more
After a little shopping, there is still plenty to do! Head on over to the jousting tournament, how about watching grown men eat mud or if mud isn't your thing, how about a fire-eater? The shows are fun, daring and at time hilarious.
Be sure to check your program/map for all the show times of the day.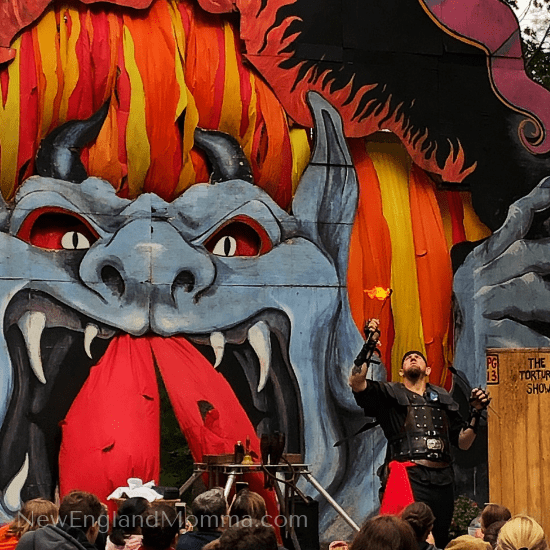 My kids loved the 'bubble man' as they called him. This gentleman was blowing huge bubbles and kid were just running around trying to pop them.
Face painting anyone? My youngest son got a brilliant looking sword drawn on his arm by a local artisan.
Games and rides
On to the games and rides of the realm!
Purchase your tickets located at ticket booth as the games, rides and food only take tickets. It works out to be about a dollar a ticket, I believe.
We usually purchase fifty dollars worth so the kids can pick two things to do as well as get some snacks or a turkey leg when lunch time rolls around.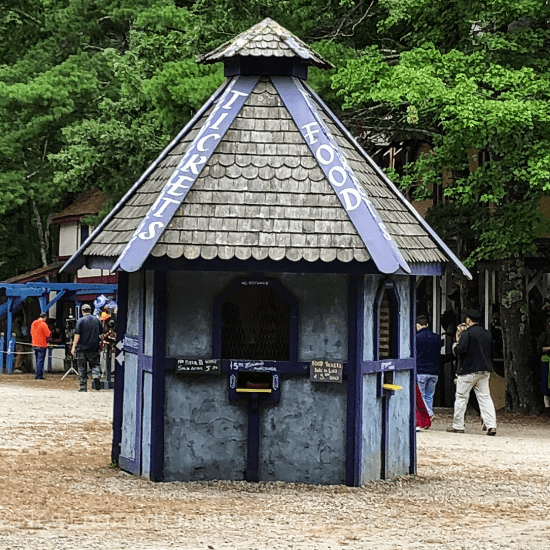 There are some great games to try out. This time around Catapulting Critters, Axe Throwing and the maze with a slide at the end were on their list of things to do. Check out the entire list of activities as well as more pictures of faire-goers on the King Richard's Website.
What to know before you go
Here are a few more things to know before you head to King Richard's Faire.
If you purchase advance tickets, and you can't go.... Tickets are transferable to another person. So give them to a friend!
The faire is open rain or shine. If it's going to be rainy or was the day before, bring boots or other shoes you don't care get muddy, because they will. The ground is dirt, not asphalt.
Although the faire is open rain or shine, if it is questionable with storms, call or check their website before making the trek to the faire.
They have bathrooms (yay!) They are small and cramped (better than an outhouse!) and they have running water. If you have ever used a toilet in an RV, then you will know exactly what to expect, but less room.
Leave outside food at home. They do offer vegetarian, gluten-free as well as lactose-free food options.
King Richard's Faire is a fun, authentic Renaissance faire for friends and family to enjoy! The Faire runs from September to Mid-October. Take a day to head to Carver, Massachusetts and find yourself transformed back to a day of amusement and adventure of Renaissance times.