Family camping may be all about the kids in their minds, but really us adults want to relax and have fun as well! Right? Here are some games that adults will love to play and the kids are not invited!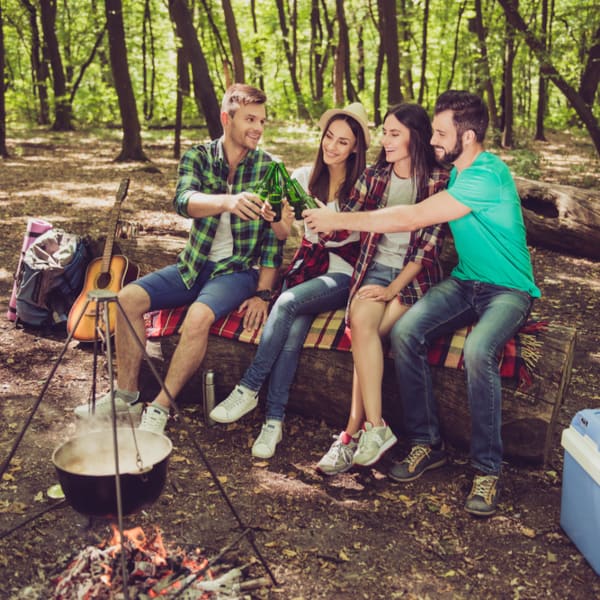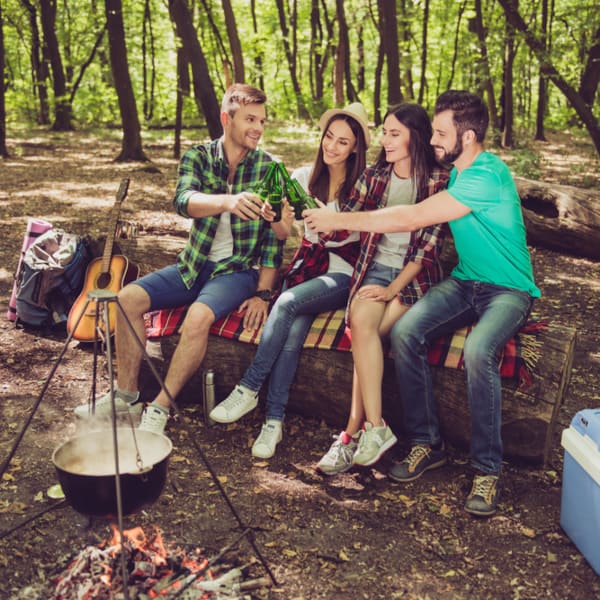 First Published: Apr 16,2016... Last Updated: Mar 4, 2020
As an Amazon Associate I earn from qualifying purchases.
Now that our kids are getting older, they want to be off with their friends at the playground or riding their bikes and doing kid things. Here's the thing, camping isn't just about the kids. While the kids are off doing kid things, and we have time to relax, we love getting out a games that adults enjoy to play.
Warning: While some of these games, are great to play while dinner is cooking and the kids around, others are best to bring out when the kids are tucked in for the night.
Azul
This easy-to-learn strategy game will have everyone scheming to figure out place the tiles on the board to get the most point to win the game. We love games that are fun, get you thinking and end up getting cutthroat and this game is all of those.
Cards Against Humanity
This adult only game is not for the faint of heart or easily embarrassed. This is one of those games, that is best when kids are not in ear shot.
Each round, one player asks a question from the black card deck and everyone else answers with their funniest card in their hand. There will be lots of laughing to yourself, as you decide which card from your hand answers better to the question being asked. And then even more laughing, once the person asking the question, reads the answers everyone chose. This is just a hilarious game and probably one that should be played once the kids are sleeping!
What do you Meme?
Another ages 17+ card game, means keep the kids away. This game has 75 colorful photos on cards and each person has to come up with the funniest or most appropriate meme. With 360 captions, there are plenty to choose from. This is another super funny game to play with close friends that are not easily offended.
Yahtzee
This classic game is great for all ages. Shake the five dice in the included cup and try for a straight, full house, chance or more. We love to play a game of Yahtzee while dinner is cooking on the grill. It's an easy game and doesn't require much strategy, so if you need to focus on dinner occasionally, and not so much the game, this is a great choice.
It's in the bag!
This laugh out loud game will have nearby neighbors looking over to your group in envy, wondering what everyone is laughing about. This game is played in teams and there are three rounds. The first round describe what's on the card without saying the word. Second round, define the word with one word while your partner guesses and third round, act out the word. Hilarity will ensue with this game. Don't take a sip of a drink, before you start guessing - you've been warned!
Never Have I Ever
Deal out the card and admit to things you may have done in your life. Have fun finding out things about your friends, you never knew! This adult party game will have everyone laughing and having fun around the campfire.
Lawn games
Since we all know the kids never sleep when we want them to, then you may want to play lawn/beach games like Corn Hole, Ladder Toss and Ring Toss.
When I was a child, I remember the adults all playing Lawn Darts at our camp site. However, now a days, it's called Lawn Jarts because I think they realized that pointy darts flying through the sky at each other probably isn't the best idea.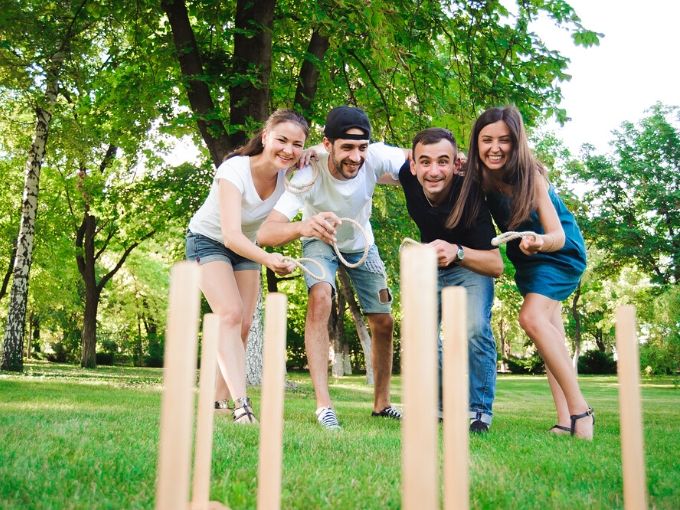 The lawn games are lots of fun for adults when camping. And of course, when you are not in a heated battle with your friends and family over an enthralling game of corn hole, then your kids will be playing and it will be keeping them busy too. A win-win!
After the game, it's time for Marshmallows and of course there is a non-kids version as well. Check out my post on Marshmallow treats for adults!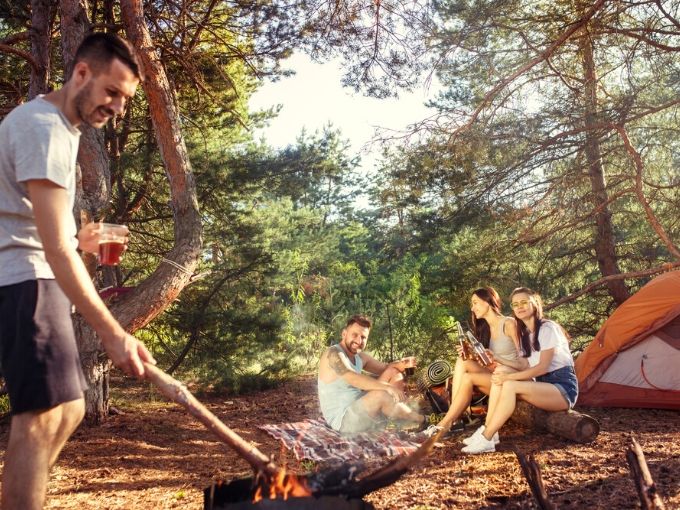 These camping games for adults are worth checking out. Everyone lately has something to run off and do, but when you're camping, there is so much more down time. Us, adults need to have fun too, and these game are one way to get lots of laughs in your day.