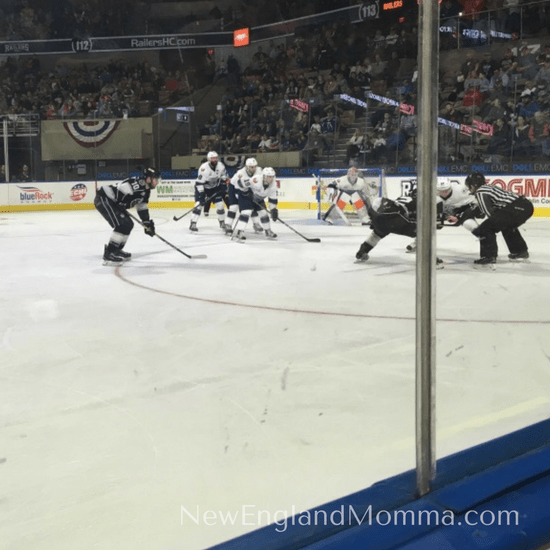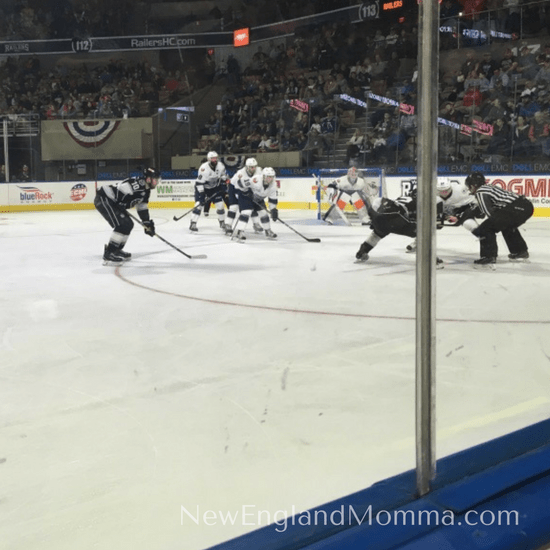 Have you noticed that hockey is back in Worcester, Massachusetts? Not since, the Ice Cats packed it up and headed to Illinois in 2005 have we had an ECHL hockey team to call our own. But we do now! And if you haven't been to a game yet...well what are you waiting for? Attending a Worcester Railers game is a fun and exciting way to have an outing with your whole family!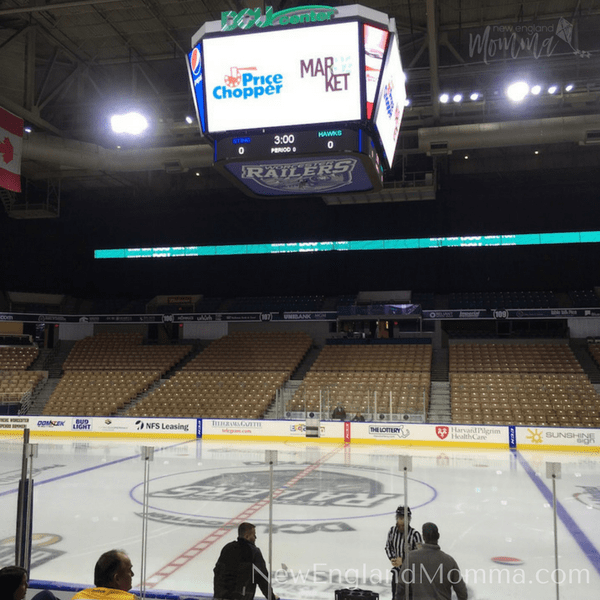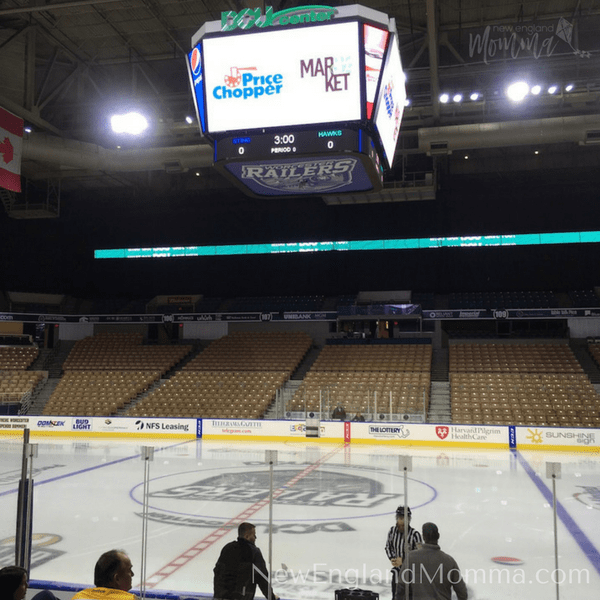 What to know before you go
Kids Can Be Loud
Watching a live game is so different than sitting at home in front of your television. Soaking in the sounds of the game, the fans, the music.  The fans cheering on their favorite team.  The anticipation of your team trying to score a goal and then when they do, everyone erupts with joy while clapping and yelling! That's right, they want your child to be apart of the fun, so let them yell and cheer along.
Your kids are going to have a fun time regardless if they are hockey fans or not.  Everyone at the Railers does a great job from rallying the crowd to 'make some noise',  to the lights and music. And who can resist a giveaway? Or a chance at wining 'chuck a puck'? Maybe your child will get their picture taken with Trax, the Railers mascot!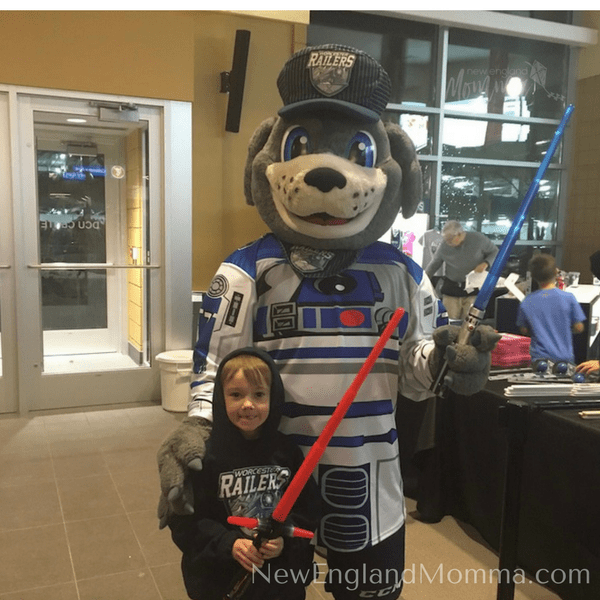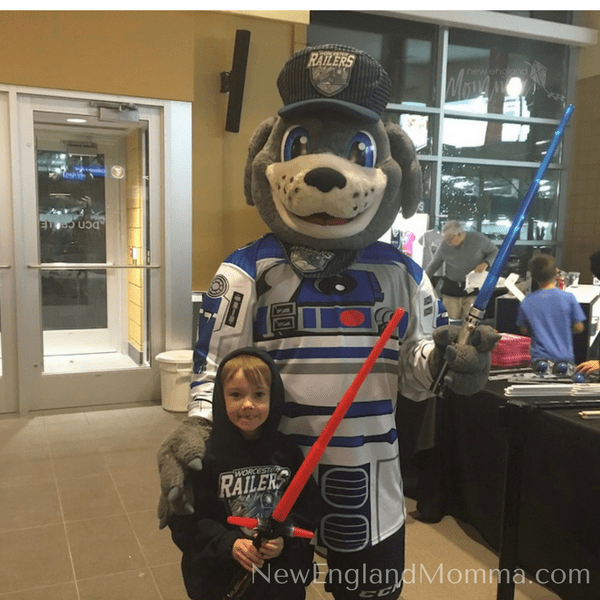 Go Early
The doors open 60 minutes before game time. If you are bringing kids, you will definitely want to get there when the doors open, as they sometimes have the Railers' mascot Trax in the lobby available for high-fives, hugs and pictures.
My younger son loves to meet up with the many character mascots they have on various nights to have his picture taken. Such as Star Wars night, Trax's birthday and Super Heroes night. My sons have gotten pictures taken with Darth Vader and Captain America as well as Orson, the Polar Beverage's mascot!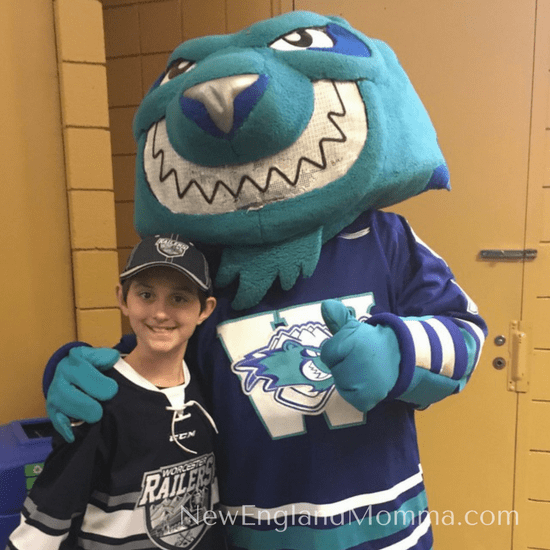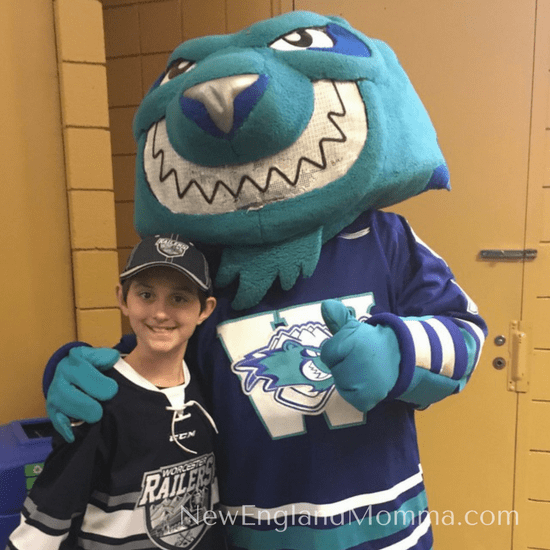 Getting to your seat early, will also allow you time to get a snack and/or drink as outside food is not allowed and they check bags as you're coming in the door. Players also warm up and it's fun to see them skating around before the big game.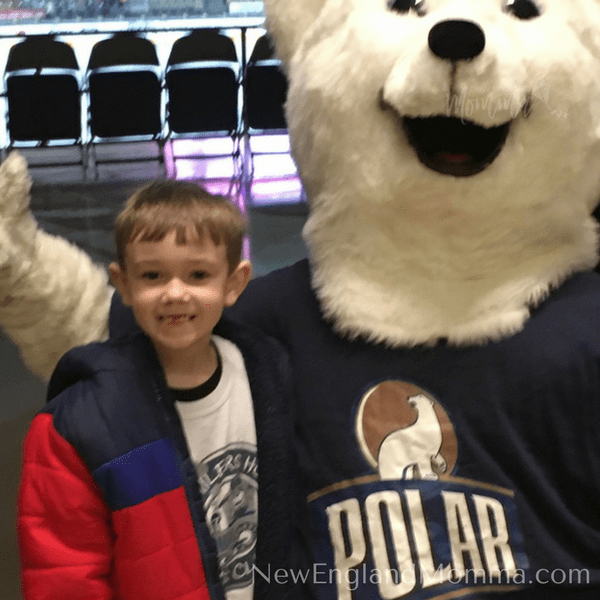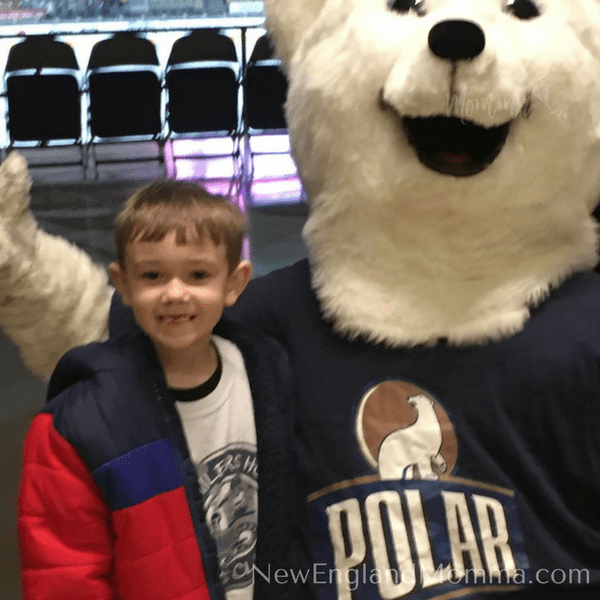 Parking
There are a many parking garages near the DCU Center.  Our personal preference, is to park at the Mercantile Center Garage at 201 Commercial St. Parking for the game is a flat rate of $10.00 at this lot during Railer games. If you do park there, take your ticket with you and pay at the machines BEFORE you go into the game to save yourself some time when leaving. This parking garage is across the street from the entrance and also close to the Railers Sports Tavern if you are looking for a bite to eat before the game.

Tickets
If you are picking your tickets up at the Will Call window. I cannot stress this enough - Get there early!  I've seen the line extremely long and I've been told by friends how slow it moves.  You don't want to miss any of the game. The Railers Will Call window opens 1 ½ hours prior to game time.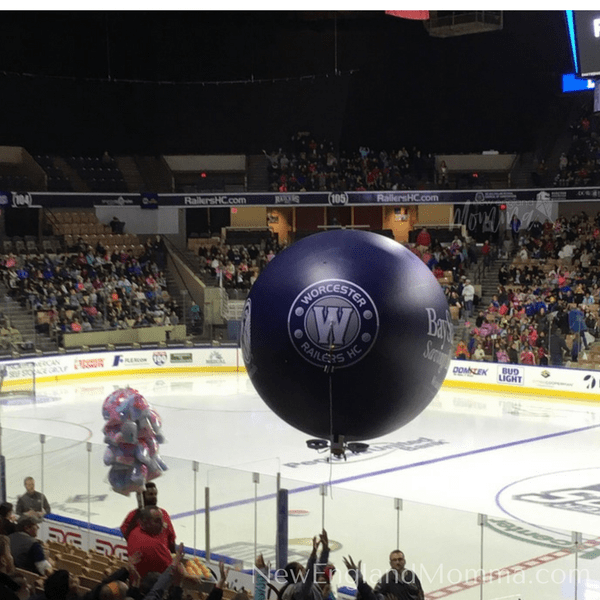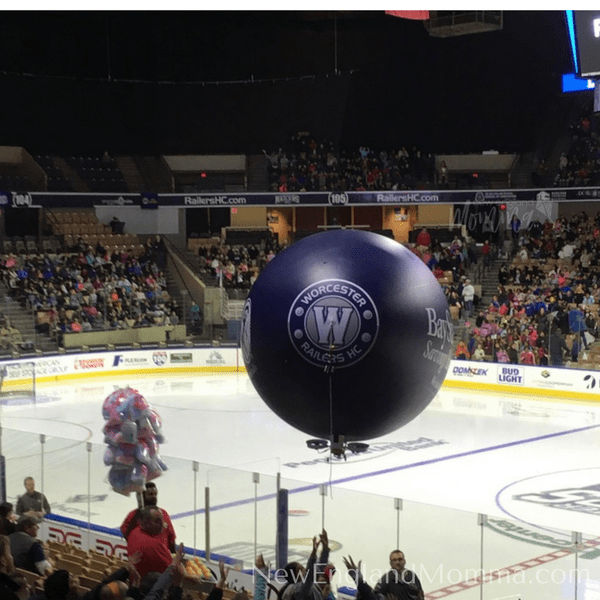 Promos
Nearly every game the Railers have different promotions going on. For example in 2017-18, there were 2-3-4 Fridays ($2 popcorn, $3 hotdogs, and $4 Bud Lights), Big Game Saturday where they have giveaways, specialty jerseys for the players, celebrities and more) and on Sundays they have had giveaways to first 1,000 kids as well as a Family Fun Pack deal complete with tickets, & food.  Check the Railers promo schedule for more info!

Love it? 
There's no doubt in my mind that you won't love it. You may love it so much, you want to become members. We became members and my husband takes turns taking our boys to the games. Members can also look forward to awesome seats, exclusive benefits such as buddy passes, savings off of box office ticket pricing and exclusive interaction with the team. We've ice skated with the players twice this season!
By the way, this post has no affiliate links nor was I paid to write this review. I love that we have hockey back so close to home and want it stay for a long time! Regardless if you become a member or just want to get tickets for a night out with the family, this is a super fun way to spend some time together and cheer on the Worcester Railers!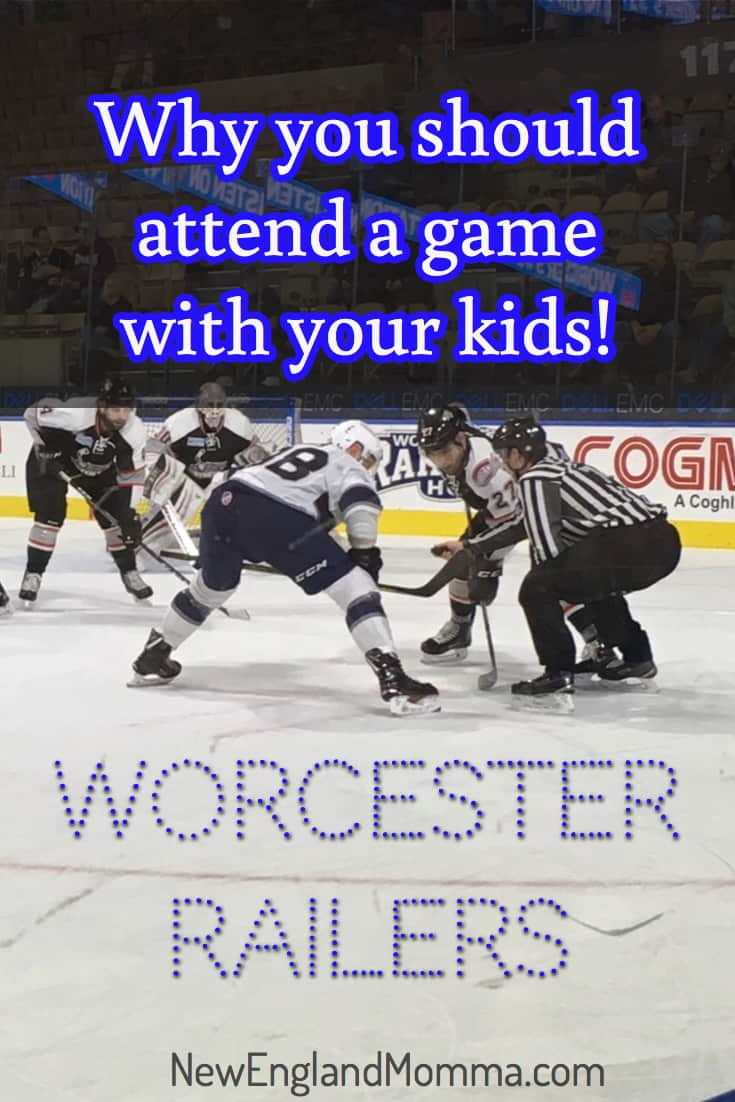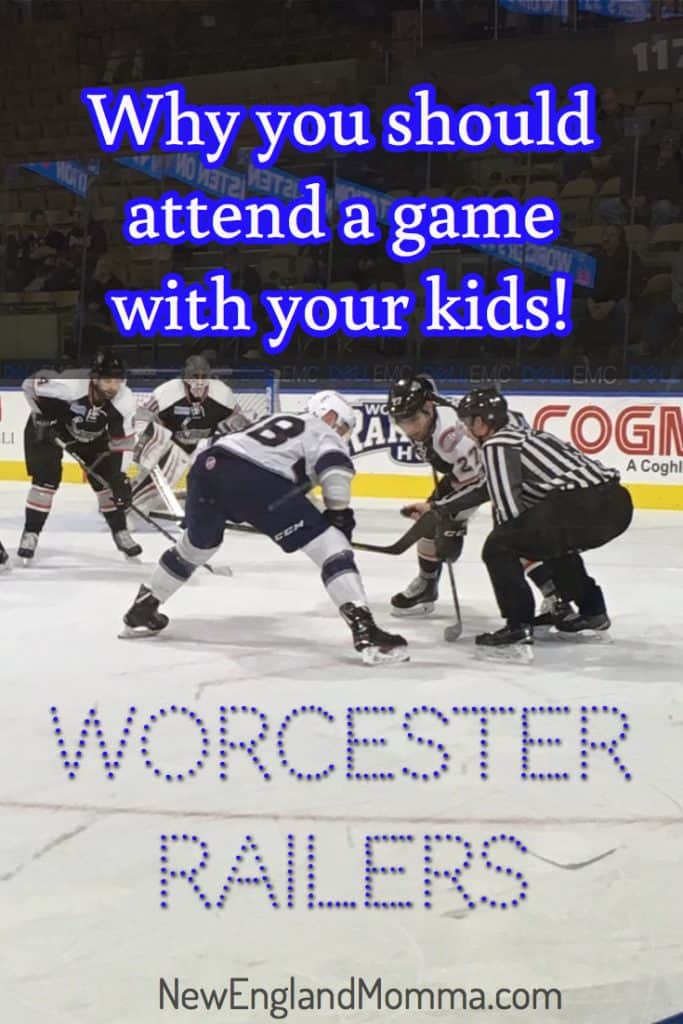 SaveSave
SaveSaveSaveSave
SaveSave
SaveSave
SaveSave
SaveSave
SaveSave
SaveSave
SaveSave
SaveSave
SaveSave
SaveSave
SaveSave