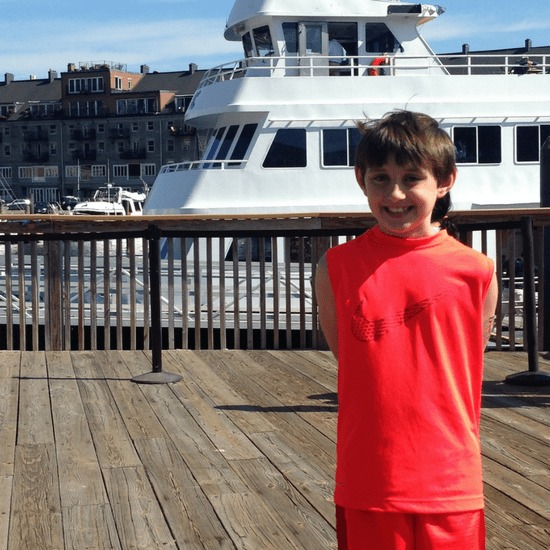 One of my favorite things to do when I was a kid growing up in Boston was to visit George's Island. George's Island is one of the many Boston Harbor Islands that is available to visit from Memorial Day to Columbus Day. It was often a field trip our class would go on or that my mom would take me and my siblings.
Now living an hour from the city, we only go into Boston occasionally but I finally got the chance to take them to George's Island. It has changed considerably over the years, but its still home to the famous Fort Warren where Union soldiers, Confederate prisoners, and Southern Legislators stayed during the Civil War.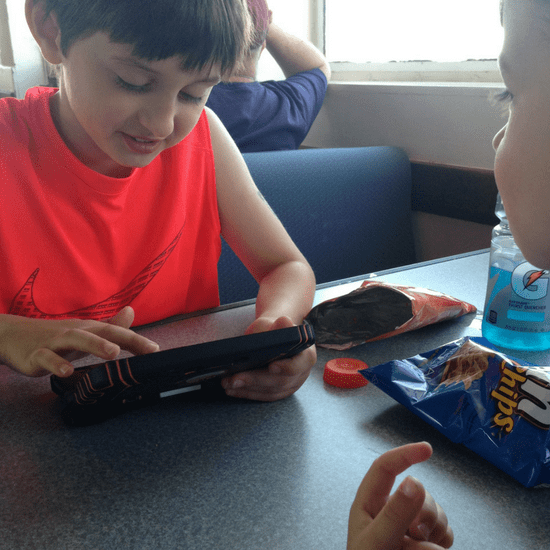 Ferry Boat
To get to George's Island, purchase tickets and take a passenger Boston Harbor Island ferry boat.  The ferry-boat is fun for kids and adults. If you don't mind the wind in your hair, then grab a seat on the top outside deck. Be sure to put on your sunscreen or a light jacket as it can be quite sunny and/or chilly with the wind.  We grabbed a booth down in the lower deck where my kids could stare out the window or play their electronics as it is a 40 minute ride from Boston Long Wharf to George's Island.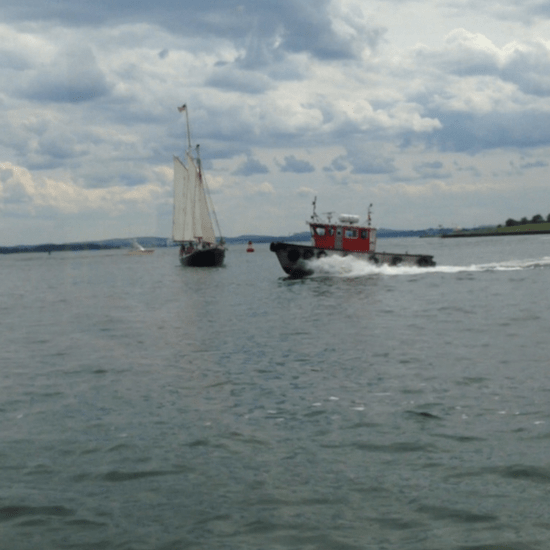 As the ferry moves towards George's Island, be sure to look back and snap a photo of the Boston skyline from the water. The view is amazing. If you can, also try to hear and see was the captain is pointing out along the way for points of interest as you make your way to George's Island. Boston Harbor is an active port with many large ships passing by, so it's a great place to see different size vessels as well.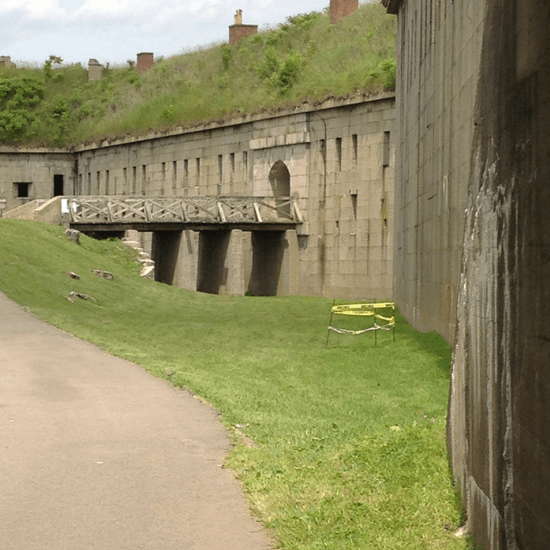 All A Shore 
Once the ferry is docked, it's time to start the exploring! You can sign up for a tour with a ranger or you can go at it alone with your kids.  We chose the latter.  There are so many nooks and spaces to be explored in Fort Warren on George's Island.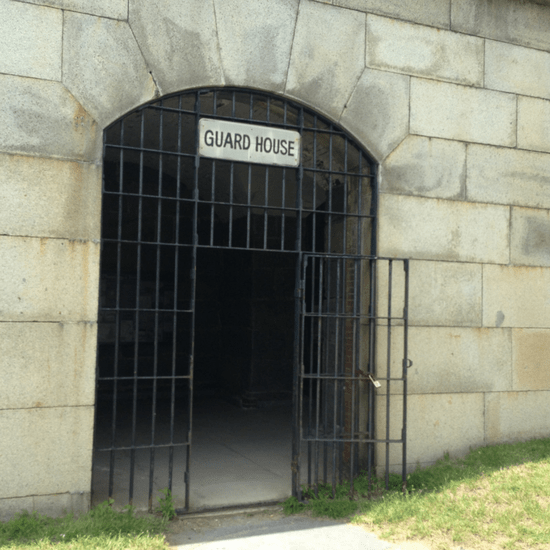 Reading the signs as we went along, my boys had an awesome time exploring what Fort Warren was like. Shining their flashlights into dark crevices, yelling into the hollowness of the fort listening at their voices echo.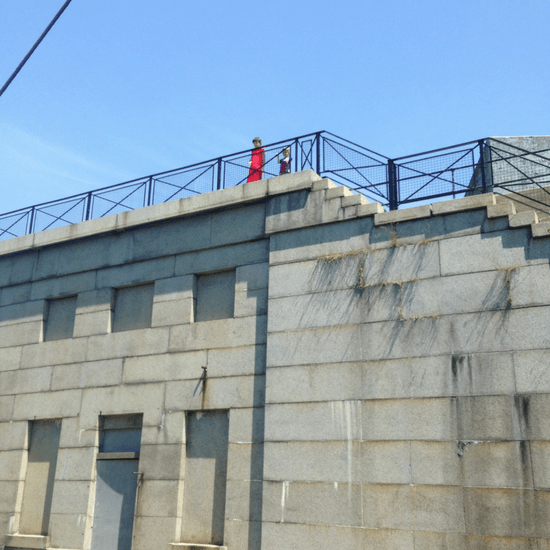 Before you go
Bathrooms: Passenger ferries are equipped with bathrooms and there is a public restroom on George's Island as well.
Food & Water: George's Island does have a snack bar that is open 7 days a week during the summer months however, keep in mind that supplies may be limited on the island and you may choose to bring your own water, food, sunscreen, bug repellent, band-aids and any other necessities.
Flashlights: Bring a couple of mini-flashlights or headlamps for your kids to explore the nooks and crannies of the old fort.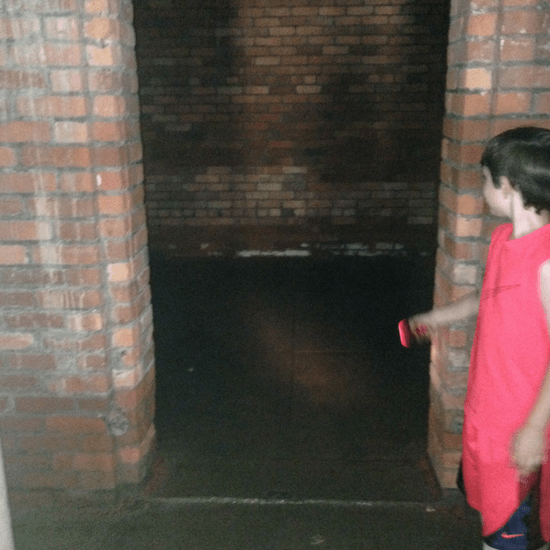 Supervise young children:
 Although it's a fun place to visit with kids, caution must be taken as there are high areas that a child's hand should be held; watch for crumbly edges as it's an old fort and a fall could be fatal. If it recently rained ladders, railings, and stairs may be wet.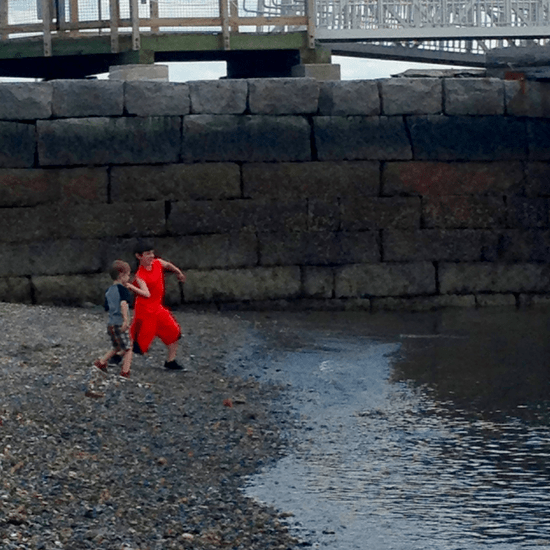 And Finally...Have Fun
George's Island is a great place to explore.  Letting kids run outside on the grass, roll down the hill (check for ticks afterwards), throw rocks into the ocean.   It's a place where kids get to be kids and the 40 minute ride home on the ferry boat is usually a quiet one with kids sleeping.
SaveSave
SaveSave
SaveSaveSaveSave
SaveSave
SaveSave
SaveSave