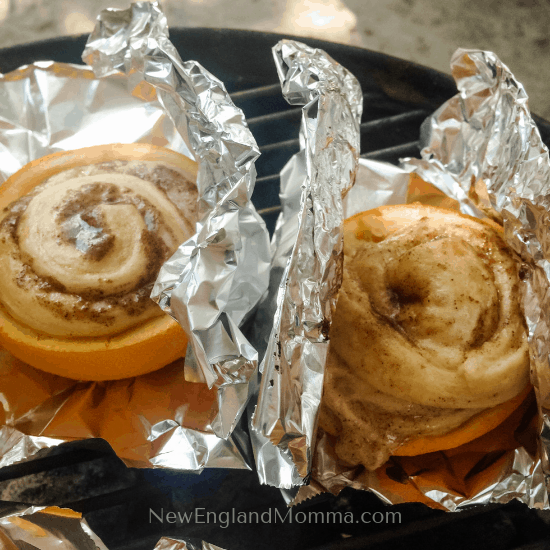 Finding new ways to enjoy foods that we would cook in the oven at home is part of the fun of camp cooking. Here cinnamon rolls meet oranges! Let me back up and tell you we tried cooking cinnamon rolls on a piece of tin foil over our charcoal grill, twice. Each time we ended up with burnt crispy bottoms. We were only able eat the cinnamon roll by picking it up and gnawing on the top. We wanted to be able to get every bite of the cinnamon roll goodness. Then the flat burnt bottoms were sadly discarded. Almost as bad as overcooked bacon! Speaking of bacon, it tastes so yummy over a charcoal grill and you can find out more about how to do that here.
Warm, gooey cinnamon rolls is such a fun treat especially when camping. I've found having the cinnamon rolls cook in the oranges has been, so far, the best way to cook them. I have seen pictures on Pinterest of campers cooking them on sticks over the fire. But let me be honest, my kids have a hard time standing by a campfire cooking a marshmallow for 5 seconds before they want to stick it in the fire. There is no way they would be able to stand still with a cinnamon roll wrapped around a skewer for 5 minutes. Kudos to those that can, but not my kids.
How to prep oranges
Oranges, cinnamon rolls, tin foil, a sharp knife and a spoon is all that's needed for this recipe. A regular size of cinnamon rolls has 8 in each can. You will need four oranges for each can. However, I like to get an extra orange just in case. With my luck, one of the kids would start peeling to eat it and that won't do, because the cinnamon rolls will be cooking in the orange rind in this recipe. Using a sharp knife, cut the oranges in half.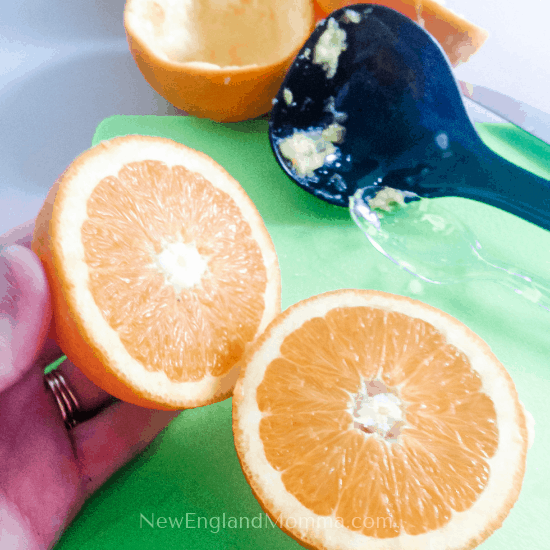 Using a spoon scoop out the flesh of the orange. I had a large spoon that I use, but I found a plastic spoon and/or fork worked as well. Careful not to pierce through the rind. This is the perfect time to enlist the older kids to help or to serve them up the orange flesh to enjoy before the cinnamon rolls are ready to be eaten.
HOW TO BAKE THEM ON THE GRILL
Lay out a sheet of tin foil. Place one cinnamon roll into each orange rind and place on a sheet of tin foil for cooking on the grill. If you have read my other camp grilling posts, you know that I am a big fan of heavy-duty aluminum foil. It's thicker and stronger and better to cook with in my opinion. If your grill is on the small side, wrap each orange with cinnamon roll individually. Or you can just lay out the tinfoil and put the oranges on top for cooking. We have tried both ways, and the cinnamon rolls do seem to cook a bit quicker in individually packets as it's a tighter seal, although uses more foil.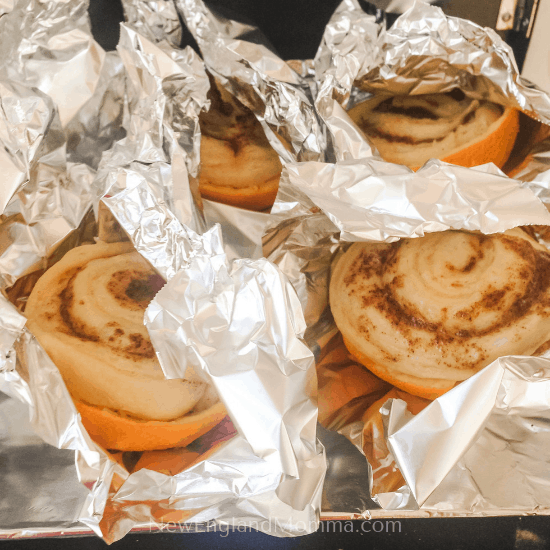 NOW THE HARD PART - - WAITING
Let your grill do its thing and cook those soon to be yummy cinnamon rolls. The total time to cook can vary based on how hot your grill gets or how often you keep peeking in at it to check on them. They should take about twenty minutes. Doneness can be checked by looking at them and of course by tasting them!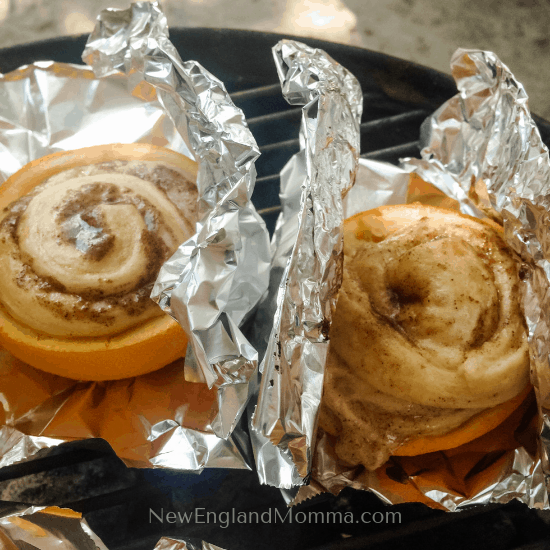 Warm and gooey cinnamon rolls
Make more than you think you will need, as it has been my experience that there are never enough! When they are cooked, serve with the packaged frosting and a fork. These come off the grill hot and ooey gooey. My boys and their cousins love this fun treat! Assist your kids in opening up the tin foil, as they will be hot! We love them and especially enjoyed the hint of orange from cooking them in the orange rind.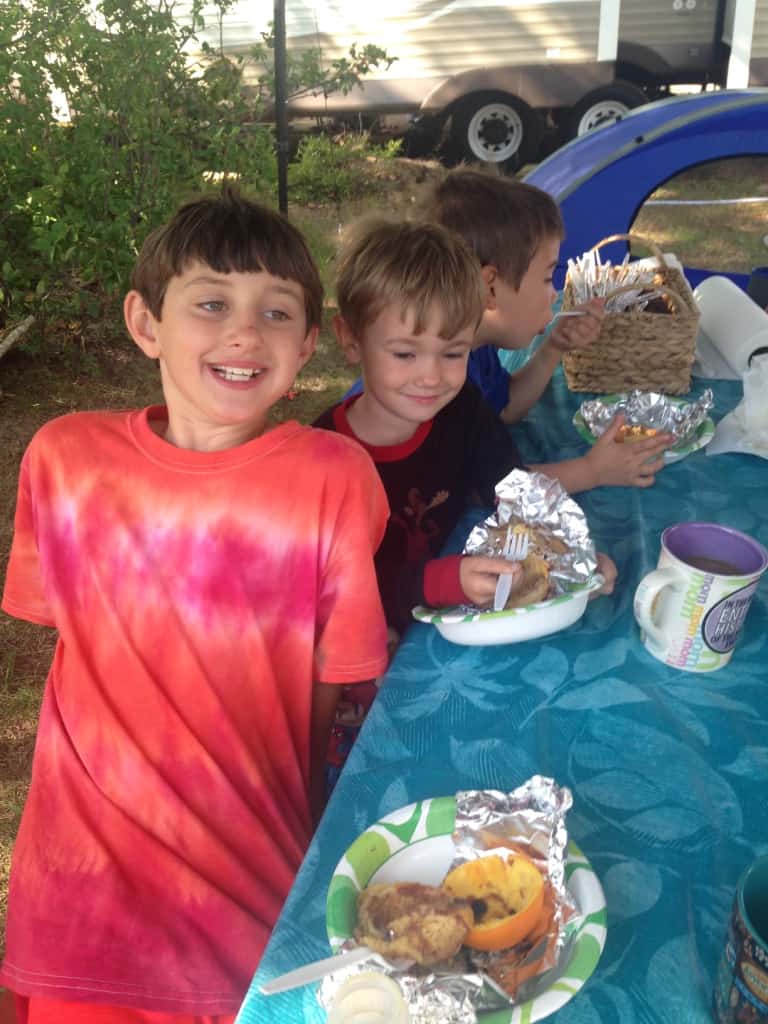 Making cinnamon rolls is a great way to get your family to together! Have them help by cleaning out the oranges. Enable the help of even the littlest camper by allowing them to put the cinnamon roll into each orange. Let the bigger kids, wrap each orange in foil to make single packets. Eat a delicious breakfast and enjoy the fresh air - all while camping!
Originally published on 6.15.17, updated 4.2.19
SaveSave