Camping with a hammock is essential. First of all, most images of hammock conjure up images laying in and staring straight up or perhaps taking a nap as you're lulled with the sounds of nature around you.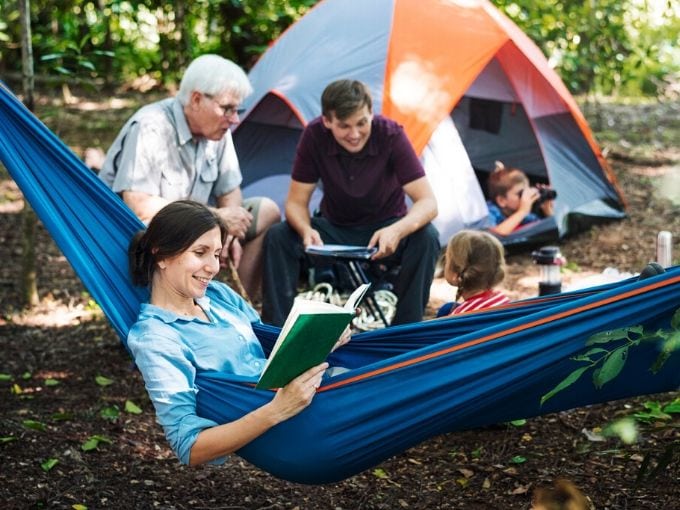 First Published: Apr 9,2016... Last Updated: Feb 11, 2020
In our first home together, hubby and I had one of those large white hammocks on a big green stand in our backyard.  The two of us would lay in the double-sized hammock and just relax side by side staring up at the tree branches and the clouds.  It was absolutely relaxing in our little quiet sanctuary of a backyard.   Fast forward a number of years and now we have our little blessings.
HAMMOCK WITH KIDS
With kids, it may be a bit more difficult to get peace and quiet as now the hammock which was one a means of relaxing is now a swing! Right?  They're fighting over who's turn it is to sit in it, they're pushing each other trying to get the other to do a full 360 while they laugh and hold on tight, hoping not to fall out.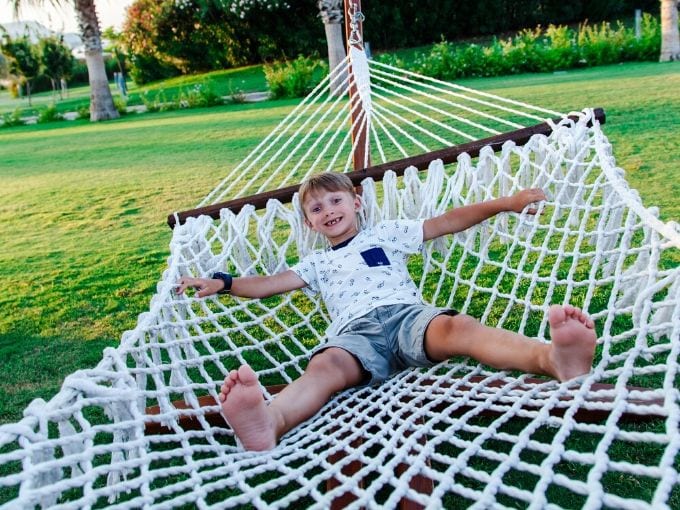 RELAXING IN A HAMMOCK
What is it about laying in a cocoon type bed; swaying in a light breeze while feeling the warm sun on your skin.  Listening to the sounds of kids playing or even the sounds of a chainsaw buzzing.  The sounds of camping.
Bringing a hammock camping for either resting or sleeping in it all night is definitely a fun idea to bring the next time you head out to camp whether it's a car camping trip or a backpacking trip.
While camping, anything can happen so be sure you're prepared. Ticks and rain may happen, but there's still ways to have fun and keep relaxing.
QUESTIONS BEFORE PURCHASING
Things to inquire about before purchasing a hammock for camping.
Maximum amount of weight it holds
Weight of Hammock itself
Ease of set up and hanging up
Does it come with a rain shield?
Is it water-resistant?
Is there an insect shield to keep bugs out?
Do I need to buy a hanging kit separately or does it come with the purchase of a hammock?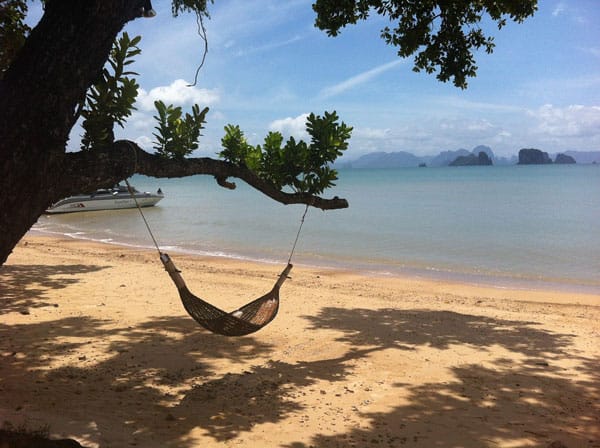 Bringing a camping with you while camping is a great item to help you relax at camp. All that's needed is a couple of trees.  Most hammocks are easy to put up and you'll be relaxing, staring at the sky in no time! Happy Camping!