Dehydrated or Dried Food!
Whether hiking or camping, dried food is a great idea for snacks!  It's easy to do, light-weight and can be healthy! It's also easy to store and can last for a long period of time without refrigeration which is perfect when camping.
This is something you will want to do a few day before your trip.  We have a Nesco Snackmaster Pro Food Dehydrator FD-75A which was a fantastic value and works well.   I've included the link to the dehydrator we purchased through Amazon.com.  It comes with 5 trying trays, 2 mesh screens and 2 rolled fruit trays. The nice thing about this dehydrator is that the heat is on top so there are no worries about dripping liquid into the heating element and you can set it up to use 1 or all 5 of the trays.
To read more about the Nesco Snackmaster as well a list of recipes, check out the manufacturer website:
http://www.nesco.com/products/Dehydrators/Dehydrators/FD-75PR-5-Tray-Snackmaster-Pro-Food-Dehydrator/
My boys love beef jerky so this is something we make quite a bit.  Recently, we were at Cabela's and picked up their variety Jerky Seasoning kit.  Usually I make up our own beef jerky marinade but this time, we decided to try Cabela's seasonings. Each individual package is for four pounds of meat.  I picked up a 4.5 pound beef round, and sliced it into small strips.
I marinated the strips for a good eight hours or so and before bed, I go out our Nesco Dehydrator and was able to fill three trays of beef jerky strips.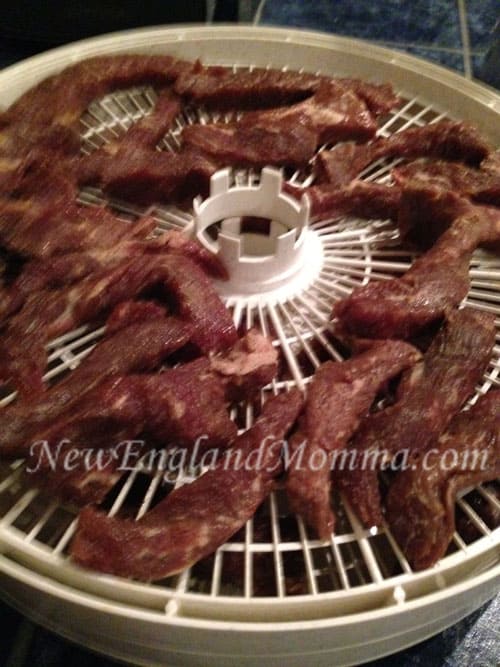 The next morning, we woke to beef jerky on the dehydrator cooked perfectly!  The hard part is smelling beef cooking all night and now it's a constant snack for my boys.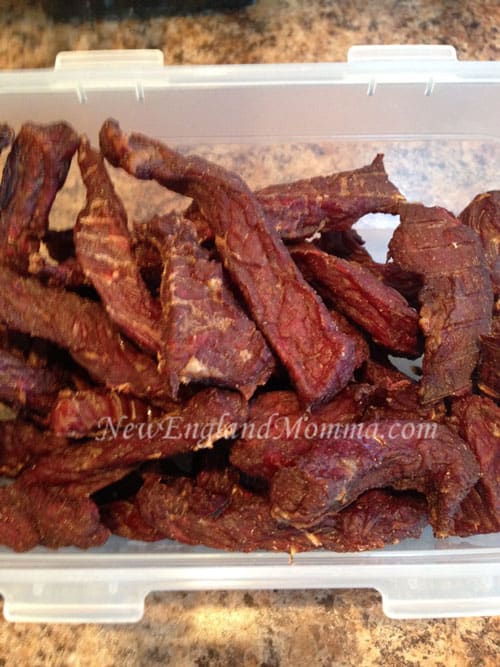 Beef jerky is not the only thing you can make with a dehydrator!  I have also done apples, tomatoes, strawberries, bananas and peaches! How about garlic?  Dry it out so you have an easy seasoning on hand to add to your meals!  I have also done various herbs.  Endless possibilities!
SaveSave