Flying with kids is super exciting for them.  Most kids can't sit still while waiting to board the plane, never mind expecting them to sit in a seat for hours.  And for me sitting in a cramped spot for a number of hours with my fidgety children doesn't exactly top my list of my favorite things to do. However, when it comes to traveling, it is something we all must face, whether it be an airplane (or a car) and it really can be fun for all, if you plan ahead.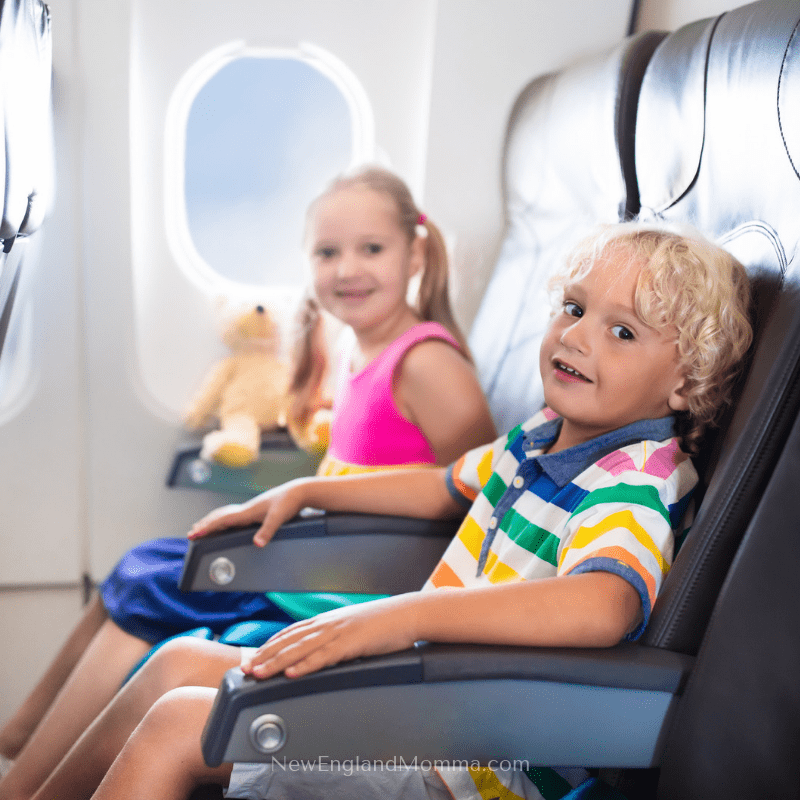 I've compiled my favorite fairly inexpensive non-electronic and yet easy to pack products to keep them busy while flying with kids. We all know about electronic devices, whether it be a tablet or phone, a travel DVD player, or other small game playing device, so I'm going to focus on non-electronic activities in this post.
As an Amazon Associate I earn from qualifying purchases.
DRAWING
Nothing beats a few crayons and a coloring book or some plain paper.   But if your child intentionally or not, colors on the airplane tray, you may wish you had something like Crayola Color Wonder Disney Preschool Coloring Pad which allows your child to color without the mess. The markers only work on the special Crayola paper.   Win-win!
Another fun travel idea for coloring is to use the Travel Aqua Doodle.  It's thin and folds up which makes it easy to pack in your carry-on.   It comes with its own pen that uses water to draw. This is a great mess-free drawing pad!  If you're taking it on a plane, you will need to bring it through security without water. Then fill up the 'pen' in the bathroom sink. Now your kids can draw with the water pen on the Travel Doodle pad. The magic happens right before their eyes!  As it dries, it disappears!  Your kids can draw over and over again.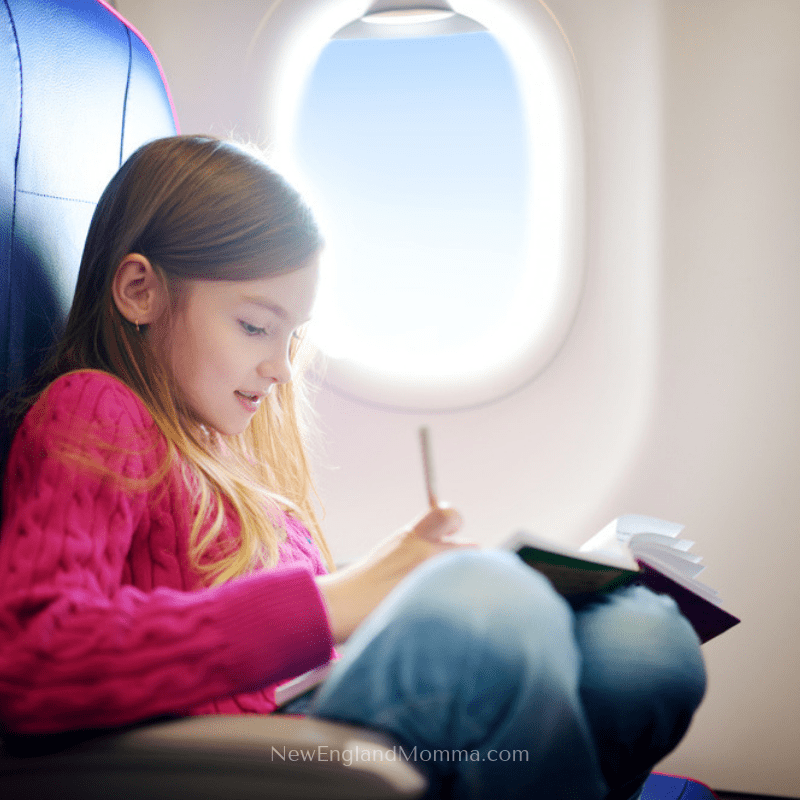 JOURNAL BOOK
Pick up an unlined journal and washable markers and your child can make their own "book".  My younger child loves to draw pictures.  Then together, we create stories to go with his pictures. This is a great activity to get their imagination flowing.  My older son loves to write a story complete with illustrations using a book such as the Lakeshore Learning which has a Draw and Write Children's Journal.  It's fun, educational and keeps them busy. Also, with the washable markers, easy cleanup if they happen to write on themselves or on the tray table.
HANDS ON FUN
There is such a large variety of sticker books out there perfect for big and small fingers.  Using their fine motor skills (or mom/dad's help) peeling the stickers off and being able to pick where they go is a fun activity!  Here are some my recommendations that my kids have enjoyed.
Build Your Own Cupcake Sticker Book.  This is a tiny, fits in your hand sticker book. The Frozen Sticker Book - Disney's Elsa & Anna and all their friends in this full color fun sticker book. This sticker book is great for all ages - LEGO DC Comics Super Hero
WIKKI STIX
Like a pipe cleaner but better! Wikki Stix are made of a waxy material that not only make them safe for little hands but they stick together much easier than pipe cleaners. I have always been nervous of my child poking themselves in the eye with a pipe cleaner.  Also, I'm not even sure pipe cleaners would make it through airport security. Play it safe and order some Wikki Stix for your next airplane trip and see what fun creations you and your kids can come up with!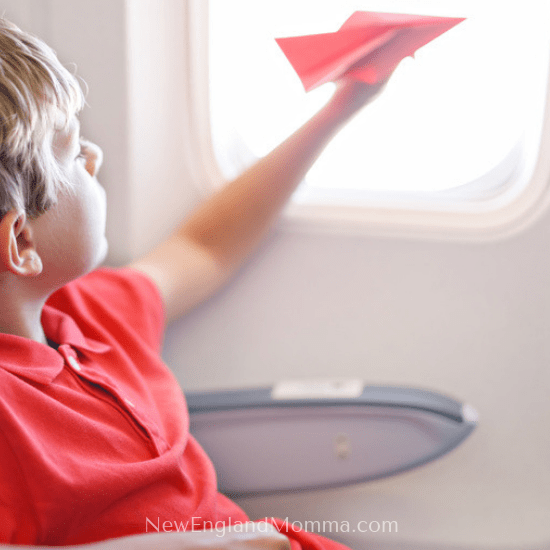 BOOKS
Reading books although fun may be hard to do with the airplane noise, never mind the people around you may not want to hear you reading a story. Picture books are easy to go through especially for toddlers.
My First Body Board Book was one of my son's favorites when he was younger.  Pointing at each of the pictures and telling your child what each body part is or just let the child flip through the book themselves.
A Squirrel's Tale was a favorite of my older son when he was a toddler.  This book has a cardboard cut out of a squirrel which passes through a slot on each page.  The squirrel got used so often, we had to buy another copy of this book so he could continue his adventure over and over again!
ACTIVITY BOOKS
Activity books are probably one of my favorite things to get my kids due to the sheer multitude of variety that is available.
Melissa & Doug On The Go Books are awesome due to their size, easy to do and come with their own marker.  Some of our favorites are ColorBlast! Dinosaur, Jungle Animal Safari Drawing Pad and Secret Decoder. Kumon Activity Books:  My Book of Easy Mazes and Step-by-Step Animals and My Books of Numbers. My older son is very excited to take on the challenge of Melissa & Doug's Undersea Fantasy Stained Glass.
TIPS BEFORE YOU GO
Don't show everything at once!  Keep the element of surprise on your side.  Show one thing at a time and then wait.  Let them have a snack and stare out the window.  Maybe, just maybe they will close their eyes and you could all have a little quiet!
Consider packing half of your airplane activities in your suitcase for the way home!  The way back can be just as long as getting there else you now have a fussy kid because the excitement of getting to a new place is long gone.  So be sure to keep some fun stuff on hand for the return trip!
What are your favorite keep busy activities for your kids on an airplane? Share with me below in the comments!
Editor's note: This article was originally published in October 2015. It was edited and republished in January 2019.