Snowmen – how can you not love them? They're cute and round and in these recipes, delicious! During the bitter cold months of winter, my kids and I love finding recipes to make together when it's too cold to head outside. These snowman recipes of snowmen are not only cute but yummy too.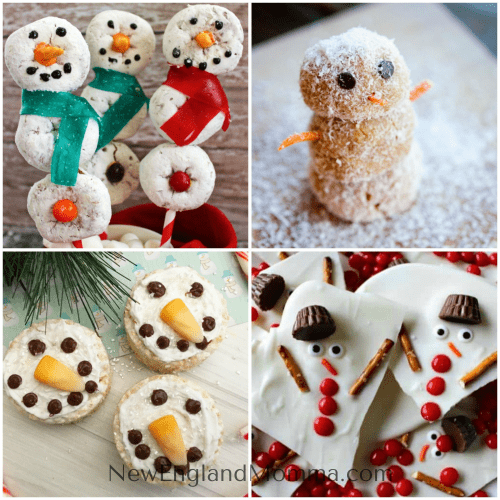 First Published: Jan 6,2019… Last Updated: Nov 5, 2019
This awesome collection of snowmen can be made right in your kitchen whether you have snow or not!  Have fun with your kids and let them help out! What a fun idea for a get-together, a school function or a fun winter treat!
Melted Snowman Chocolate Bark – Princess Pinky Girl
Melted snowman chocolate bark – a super easy holiday dessert. Chocolate candy melts, Reese's Peanut Butter Cups, Red Hots and a few other easy ingredients are all you need! A great option for Christmas cookie swap parties or a perfect holiday gift!
Melting Snowman Cookies Recipe – Must Have Mom
Energy Ball Snowmen Recipe – The Gracious Pantry
These clean eating energy ball snowmen are a fabulously healthy treat for yourself or your party guests! (Plus, the kids love making these!) These are such a fun and healthy holiday snack! Barring any allergies, these are a great snack for kids of all ages.
Snowman Sugar Cookies Recipe – Princess Pinky Girl
These Snowman Sugar Cookies are the perfect Christmas project for kids! They get to make this super cute Christmas Cookie and they get to eat it too! These cookies are perfect for your Christmas Cookie Swap! Snowman Sugar Cookies…yes, please! Who doesn't love to decorate cookies? The answer…no one!
Melted Snowman Popcorn Snack Mix – Delightful E Made
Mini Snowman Pizzas Recipe – Snappy Gourmet
How to Make Snowman Cake Pops – Pint Sized Baker
String Cheese Snowman Caprese Salad Appetizer Recipe – Arts & Crackers
Truth be told, my boys will not always eat what I serve them. They can be picky. Sure, they love fruits and vegetables, but I don't want to serve them only carrots and oranges and grapes every. single. day. SO, I try to come up with fun ways to present different foods to them.
Snowman Donut Pops Recipe – Mommy Musings
Easy Cheesy Snowman Garlic Pizza Breads Recipe – Eats Amazing
Snowman Pretzels Recipe – Thrifty Jinxy
Snowman Pancakes – The Joys of Boys
Easy Snowman Cheese Ball Recipe This post is sponsored by Lunchbox. All views expressed are that of my own. Are you looking for an easy to make appetizer that will be the life of the party? If so, I have the absolute perfect idea for you all!
Marshmallow Snowman Hot Chocolate – The Joys of Boys
Snowman Pudding Pie – Dancing Through the Rain
Which Snowman recipe will you be making this winter? My kids and I are going to have to have a tough time choosing which we should make first! Let me know in the comments below which one you'll be trying out!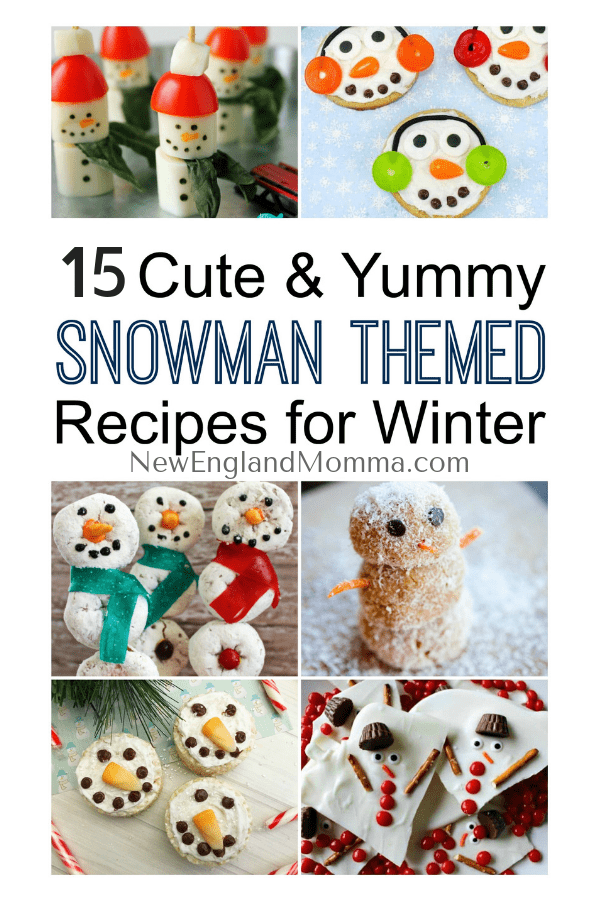 Here are More Snow-Themed Ideas: