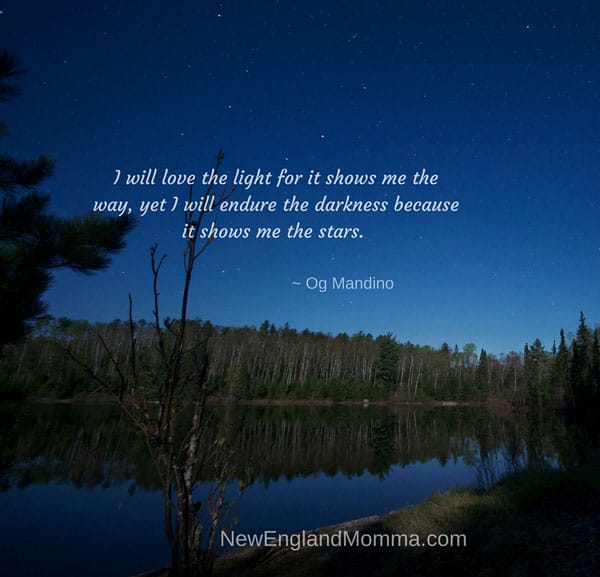 It's dark. The sun has long set and the kids are sound asleep in their sleeping bags. I grab a lantern and head to the camp bathrooms. The night air is still but for the sound of fire pits crackling, hushed voices talking and the occasional loud laugh of an adult enjoying time with friends.
I look up into the black night sky. The more I stare at the sky, the more stars I see. I usually walk with the lantern swinging next to me, but sometimes, I shut the lantern off and take myself back to when I was a teenager. It was never cool to carry a flashlight as a teen! Summer nights at camp with my friends; I enjoyed taking long walks on the dirt roads of the campground in complete darkness to both test and scare ourselves. The excitement of what might be, kept us huddled close together, often linking arms together as we giggled. Sometimes, we would talk about ghosts, bears and of course boys as we walked.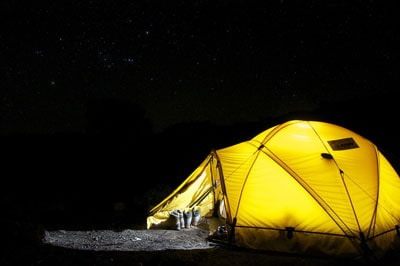 These are the moments I remember as I walk in the darkness but now as an adult, I put the lantern light back on bringing myself back to reality. Times have changed as now I do prefer to have a lantern or flashlight in tow. I also love to see the different sites with their decorative hanging lights, various lanterns and tiki poles. Where the only time other than the holidays, it's okay to have lights up and out on display in the shapes of flamingos, sombrero hats or little campers hanging from your tent or RV.
Daylight may be where we do most of our camping activities, however the lights within the darkness always brings special memories as well.