Strawberry picking season in Massachusetts is in the month of June. This is a fun outdoors activity to do with your kids. As with most things with kids, setting the right expectations before you go strawberry picking is key. Here are the best tips you need to make your next strawberry picking experience fun for everyone.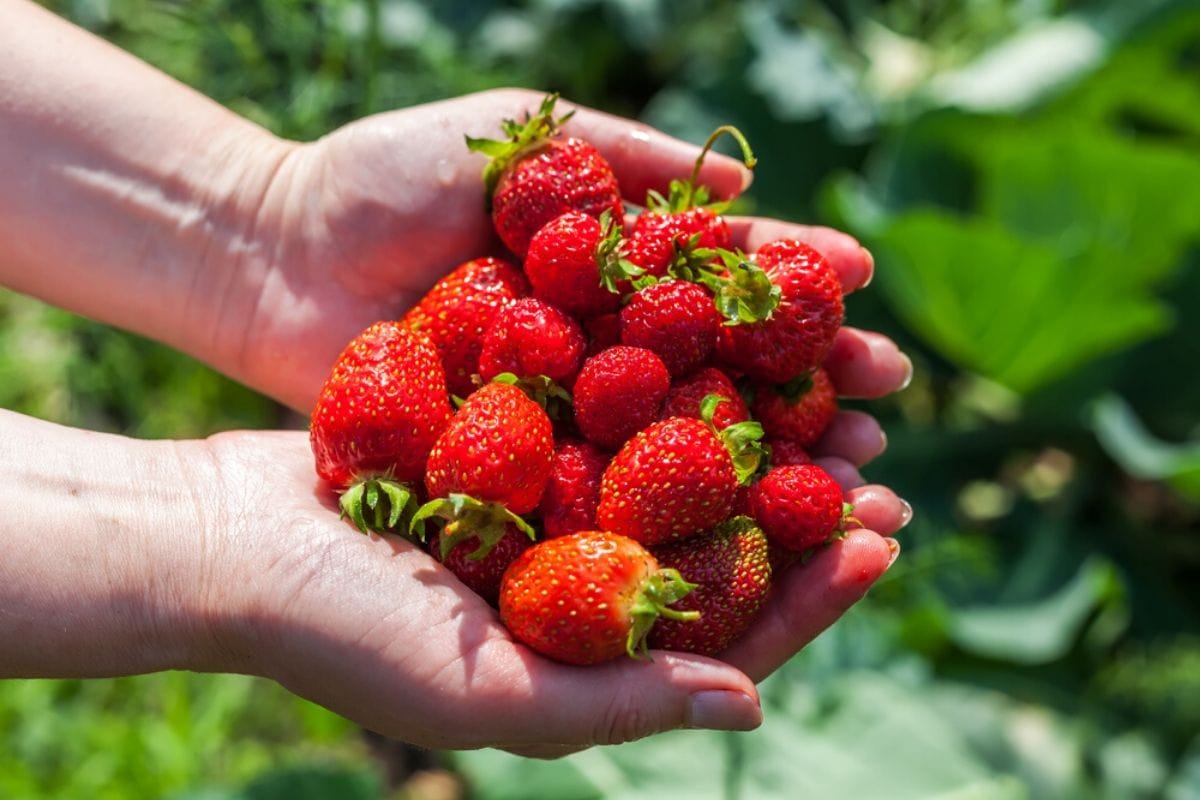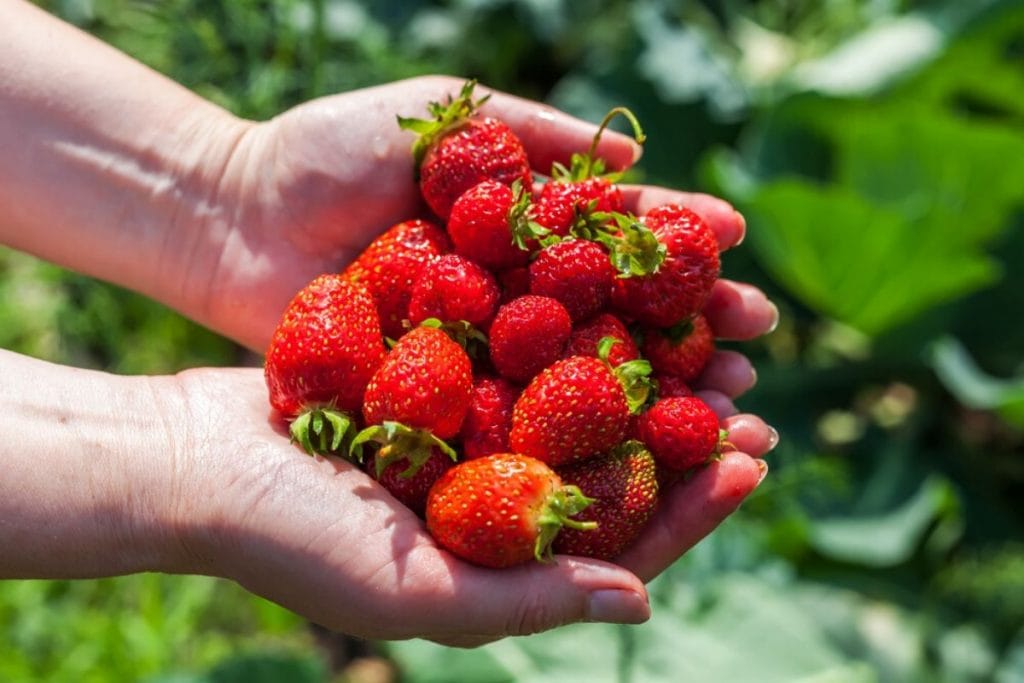 First Published: June 2016... Last Updated: May 30, 2020
As an Amazon Associate I earn from qualifying purchases.
Going strawberry picking is a family must-do as the weather starts to warm up in New England. Rising up early to get out into the morning is ideal to pick strawberries as there will be less people and the sun isn't bearing down on you just yet.
Plan ahead
Most pick-your-own farms open early in the morning and close when all the ripe fruit is gone. Then they may wait a day or two for more fruit to ripen before opening their fields again. We like to check the farm's social media page or call them on the phone the night before or even the morning of to check that they are open for pick your own fruit. To avoid disappointment, plan ahead!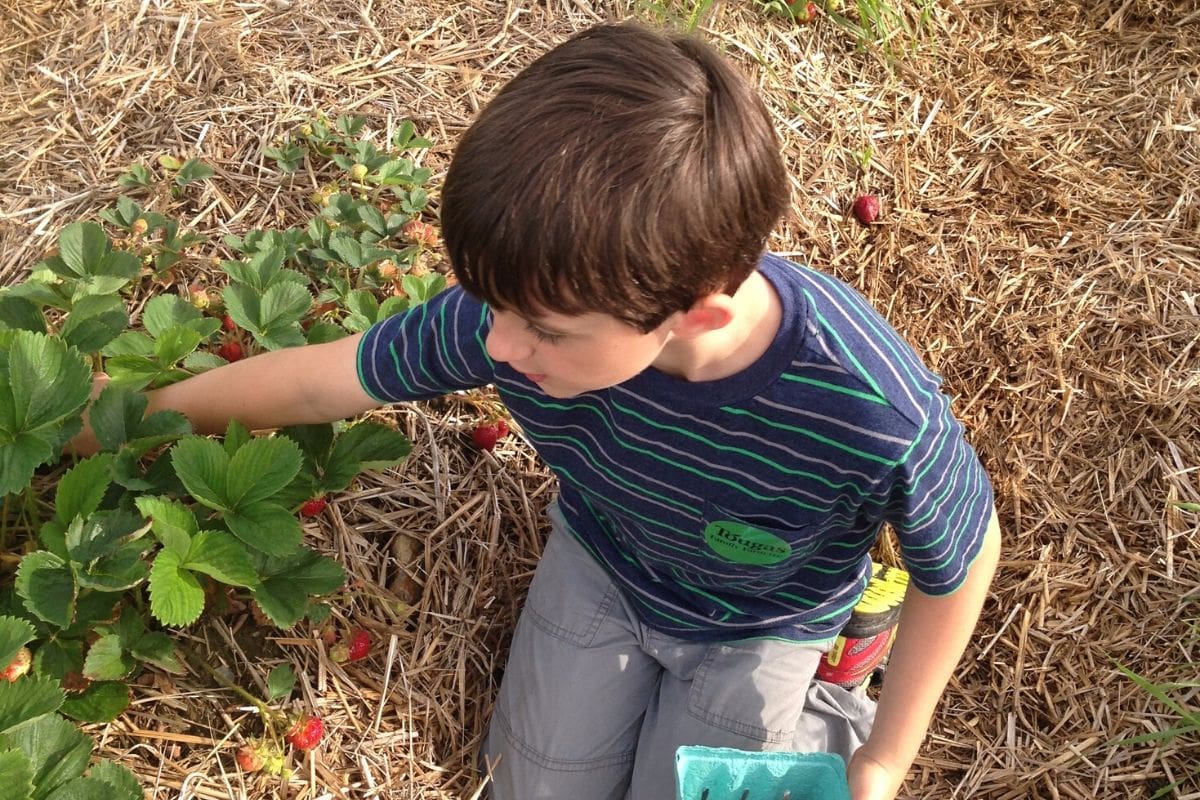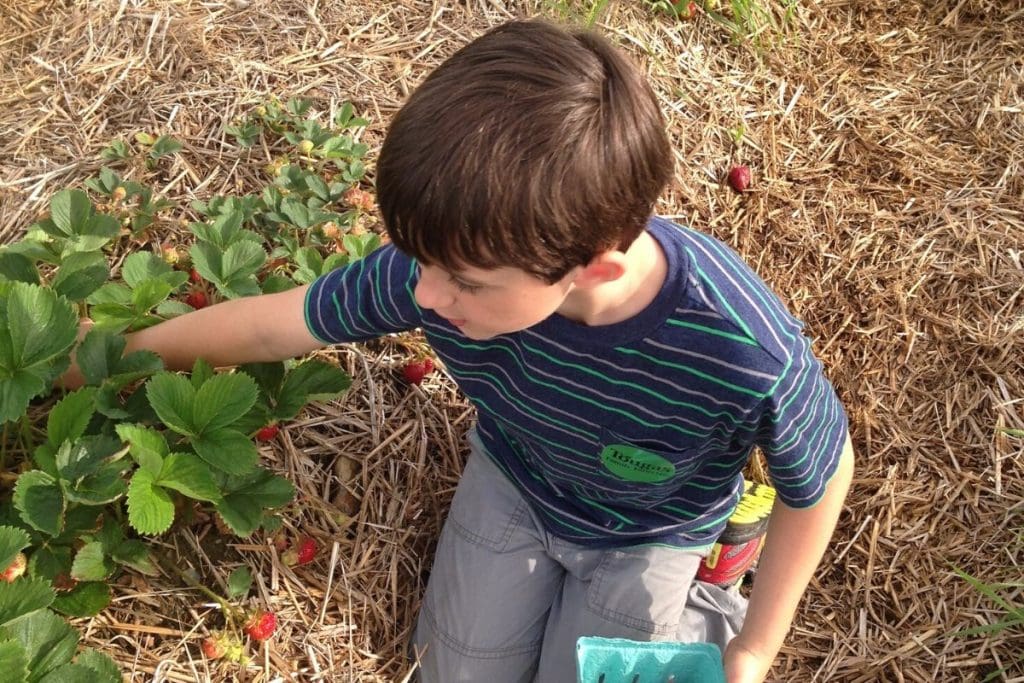 Dress for the weather
Dressing for strawberry picking may be a little challenging even in the month of June. Pants or shorts? Well, keep in mind that strawberry plants are low to the ground. Expect to be kneeling, crawling or getting lots of squats in as you reach down to pluck the strawberries from the plants.
Another thing to consider if you are there early, is that the grass may be wet from the morning dew. We like to wear junky sneakers or boots for this reason. And finally, don't forget the sunscreen and hat. Strawberry fields don't have shade, so be sure to bring what you need to protect yourself from the sun.
RELATED: Love strawberries? You'll want to check out these 20 Scrumptious Strawberry Desserts
Not a buffet
Who doesn't love to sample what they are picking? I know I do! And most pick-your-own places don't mind if you have a sample or two. Check the rules before you head out so your kids will know ahead of time what is expected of them. Remember that every strawberry you pop into your mouth and not into the basket, is fruit you are not paying for and thus ,the farm is losing money!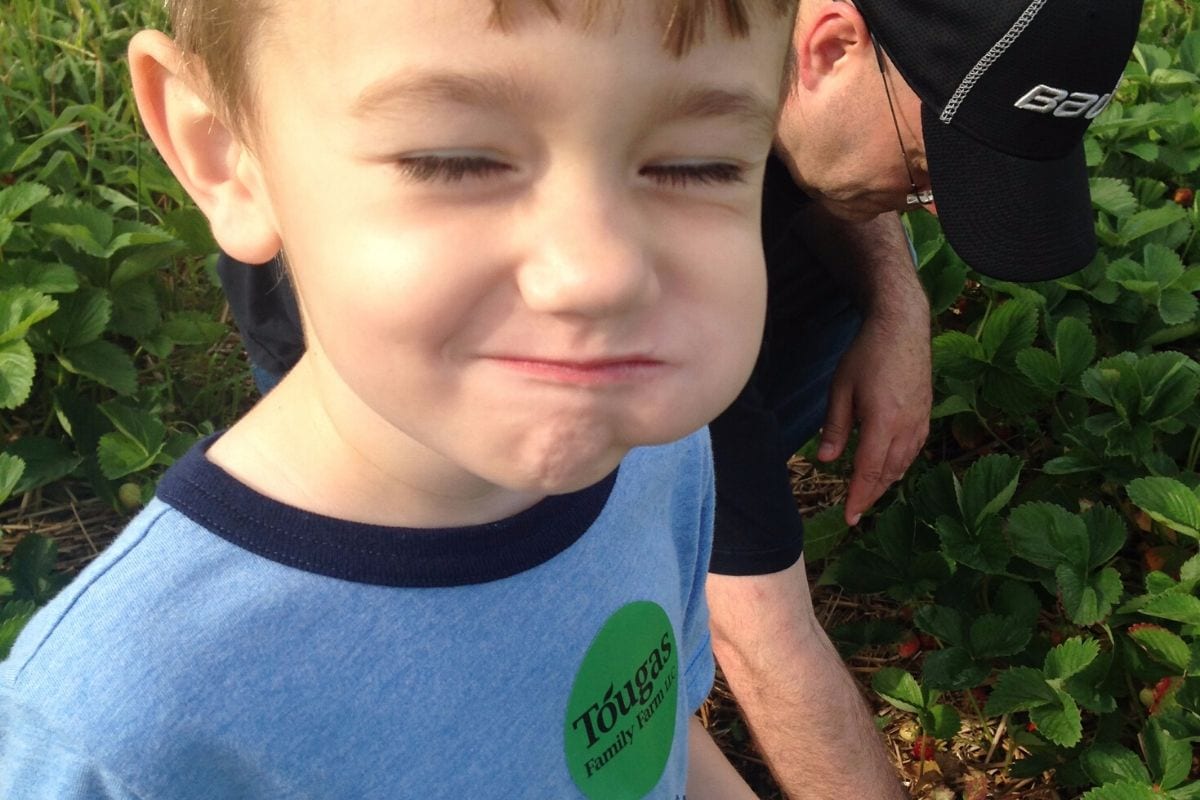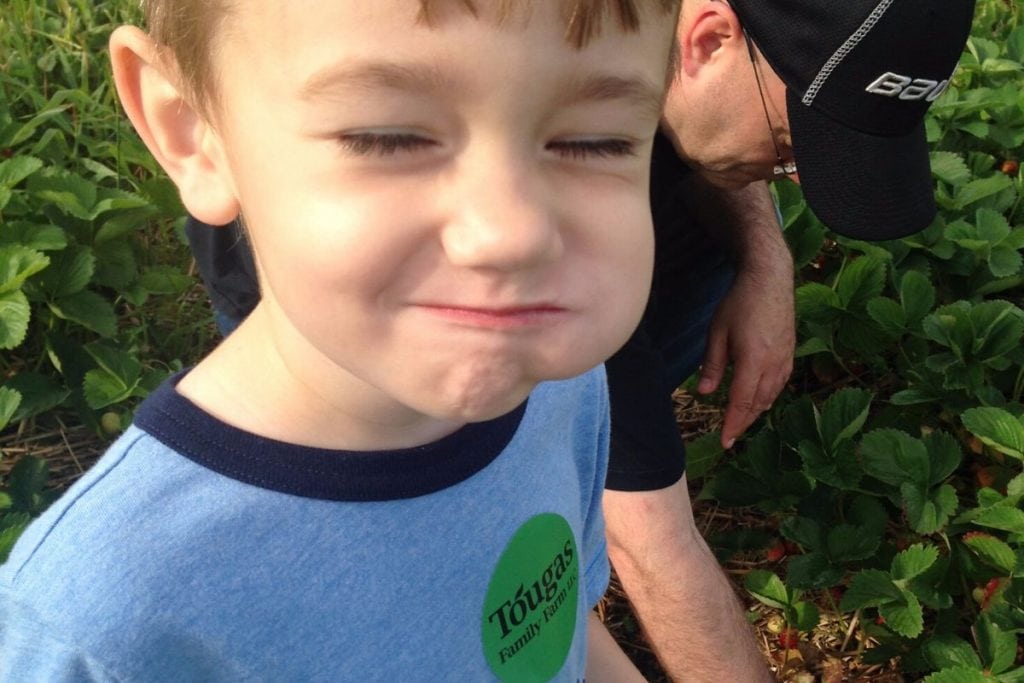 Only pick red strawberries
Once you pick a strawberry it will not ripen like other fruits. In fact, it may even be a bit hard and bitter. Explain to your kids that they should leave those non-red strawberries for the next picker. The red strawberries are the sweetest and juiciest!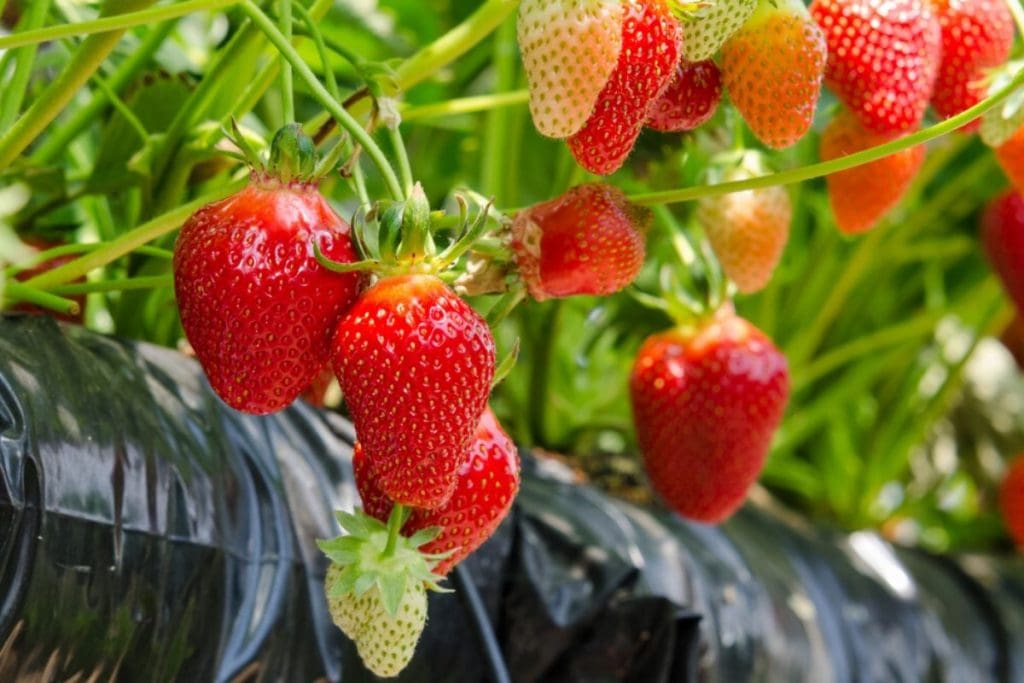 Compost bucket
If you do happen to pick a berry that still has a side of white or green on it, don't throw it on the ground left to get stepped on by the next person. Instead, use the compost bucket. Most places will give you a bin or bucket to put bruised fruit into compost. Smooshed berries left on the ground will rot, attract flies and may spread berry diseases to other plants! So please help out and use the compost bucket.
Be gentle
Going strawberry picking with kids is a fun outdoors activity, but let your children know before they arrive how gentle the plants are to be treated. Strawberry plants can be easily damaged if stepped on or kids are trying to jump row to row. Tell your children the rules before you go out to the fields so everyone can enjoy their time picking strawberries together.
Strawberry picking is such a fun activity to do with for your entire family. Unsure of where to pick strawberries in your neck of the woods? Check out Pick Your Own for a the nearest place, as well as tips and hacks on many different fruits and vegetables around New England.
Now that you have your strawberries, the hard part is trying to decide what to make, here are some ideas!