Candy-free Easter basket ideas are a must for any kid's Easter basket. Candy and chocolate is fun, but no basket is completely stuffed without fun treats and surprises. Okay, maybe one chocolate bunny, and a few peeps and oh yeah a couple of jelly beans, but there are many unique and fun ideas to replace those sugary items.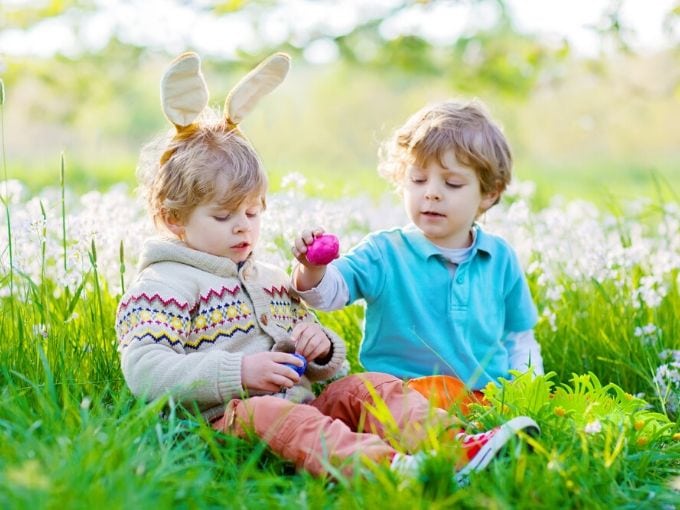 First Published: March 1,2018... Last Updated: March 15, 2021
As an Amazon Associate I earn from qualifying purchases.
List of Easter Basket Ideas
Soon you will be hearing the pitter patter of little feet running down to see what was left in their Easter baskets. It's so exciting to our children. And there is no need to stress! Throw a few of the items listed below in a basket, you're done and your kids will love it.
Crayola Bath Fun
Who says that bathtime can't be fun? With Crayola your child will love hopping into the red, green or blue water when they use a color drop. Mix colors together to make orange or purple! Bathtub markers and the color changing scrubby completes the fun in the tub!
Hatchimals Easter Eggs
If your household is on the Hatchimals craze, these could be an awesome addition to your little one's Easter basket! Imagine their excitement when they see Hatchimals CollEGGtibles waiting for them to crack open on Easter morning!
Sidewalk Chalk
What better time than to refresh that old sidewalk chalk from last year? This box of sidewalk chalk comes with 24 vibrant colors and two holders. Which means they are big enough for colorful pictures or to share! Your little ones will have hours of fun outdoor time with this fun treat in their Easter basket!
Unicorn Bubble Gun
This adorable pink unicorn bubble gun is not only a great reason to get outdoors , but super cute! Give them the gift of laughter and bubbles with these fun bubble shooters!
On the Go Coloring Pad
Melissa & Doug's makes those Easter Day travels a littler easier with this coloring pad with stickers! Mess-free and easy to take along with you wherever you may be heading!
Silly Putty Egg Pack
Who doesn't love Silly Putty? Your little ones can roll it, catch it, string it, stretch it...the options are endless! Give them this fun and creative toy in their Easter basket this year and they are sure to love it!
Easter Bunny Go-Fish
Who doesn't love a fun game of Go-Fish Easter bunny style? Easy to learn, and easy to play for all ages! Love card games? Also check out these 6 favorite games.
LEGO Holiday Easter Egg Hunt Building Kit
LEGO sets are big hit with my kids. This Lego Holiday Easter egg hunt contains 145 pieces and will keep your kids busy once their basket have been opened. It comes with 2 mini figures and 3 locations to hide Easter eggs. An awesome buildable Lego scene that the whole family can enjoy together!
Itty Bitty Boo Frog Stuffed Dog
What Easter basket would be complete without a cute stuffed animal? There are so many Itty Bitty Boo Dogs to choose from. Our favorite is the Boo Frog, but you can also choose the Boo Monster or Boo Bumblebee.
Play-Doh Easter Bunny & Chicks Stampers
An Easter Basket isn't complete without Play-doh and with these Easter themed stampers, your kids will have a blast using the stamps to create fun shapes. Each pack contains one bunny and one chick.
Hopping n Squeaking Plush Easter Bunny and Easter Chick Set
This cute Easter pals are battery-operated and so much fun! One plush white bunny and one plush yellow chick. With the on/off switch activated, the bunny hops around and the chick hops and squeaks. Sure to bring lots of smiles!
Pre-filled Easter eggs with wind-up Toys
Need help filling Easter eggs? This set includes 12 plastic eggs with 12 wind-up toys. Each egg is filled with cute animals that wind-up. Great to add to their baskets or for an Easter egg hunt.
Have fun finding creative and unique items to put in your child's Easter baskets this year. Clever Easter egg baskets will be a hit with your child. While candy and sweets can be tempting, there are so many other items out there that are fun to play with and will last a lot longer than sugary treats! Take a peek at a few of the items above and see if any of them would be a great addition to your child's Easter basket. Have fun, and have a Happy Easter!
SaveSave
SaveSave