A must-see place for holiday fun is to visit Tower Hill lights.  This magnificent seasonal light fest is a one of kind indoor and outdoor joy for families of all ages.  Tower Hill Botanic Gardens in Bolyston boasts their many glittering light displays will leave you awe-inspired as you walk among uniquely decorated trees, nature-inspired ornaments, lush green house gardens and more.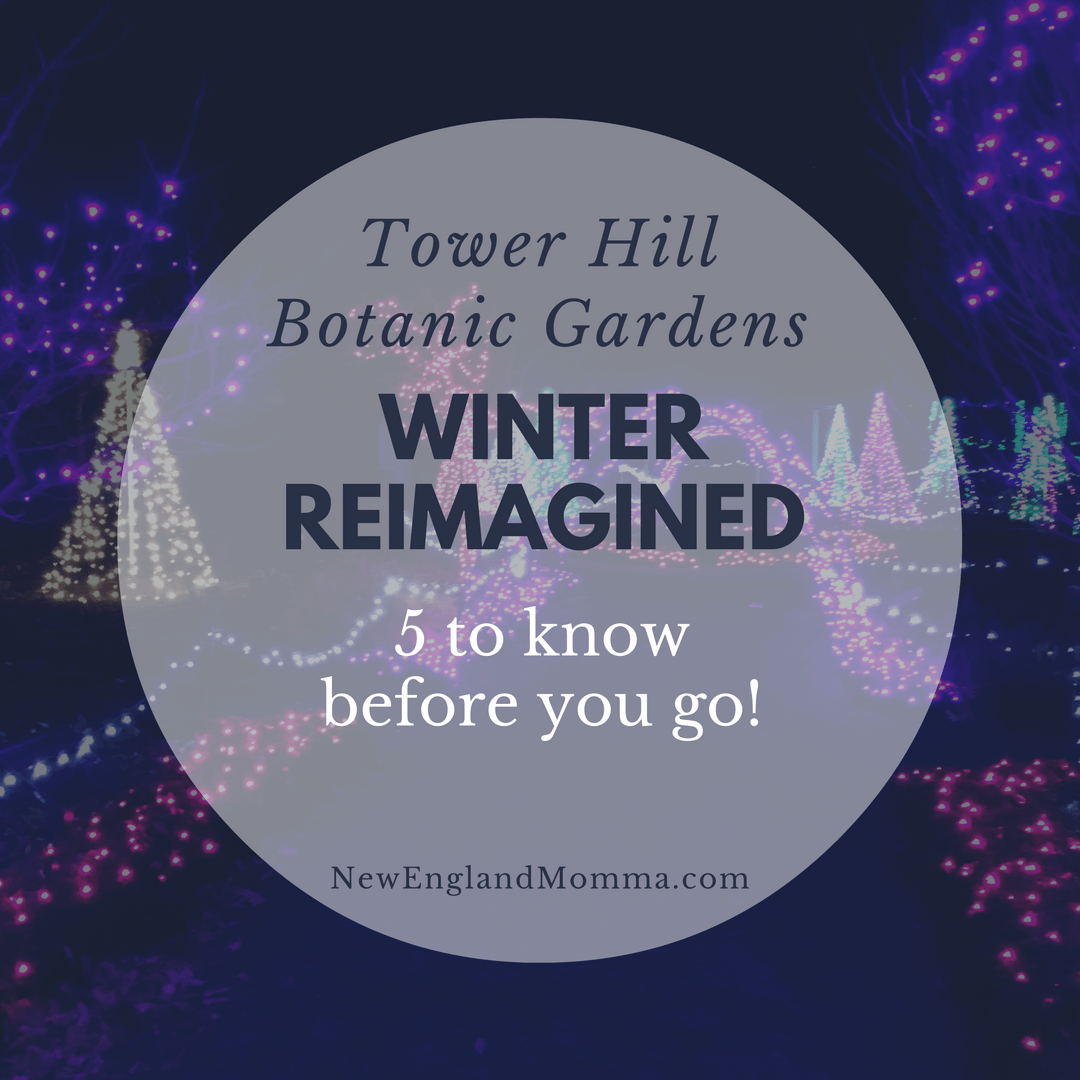 HOLIDAY TRADITION
As a time-honored tradition in most families, we love to find a night that we can gather the kids in the car with smiles and warm blankets all the while drinking hot cocoa as we drive around to find beautiful Christmas displays.  A song in our heart and on our lips as the kids hold hands, share cookies and ...
Whoa!!!!
Okay, let's get out of the Rockefeller painting and see what reality looks like. My kids are arguing in the backseat, playing their electronics, or they're crying or whining that they're bored.  Yes, occasionally they'll look out at the lights but you and I both know, soon 'it' will start-up again.
Sound familiar?
Me too!
Every year, my husband and I have this dream that we will sing Christmas songs together as we drive around the neighboring streets looking for that perfect lit up house.  And every year, we wonder 'What the heck were we thinking?!'
So this year, I thought maybe we could go to a specific place to look at holiday lights.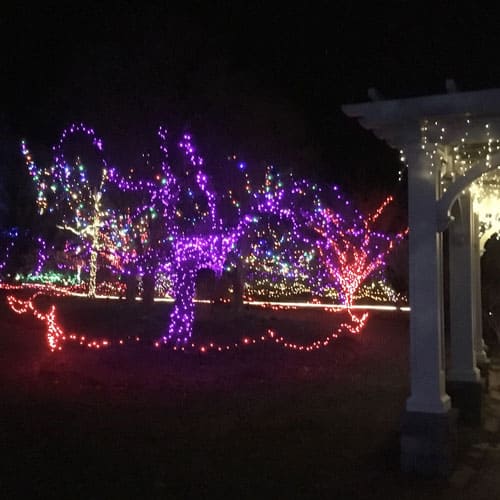 PLAN AHEAD
Tower Hill lights have gotten so popular, in 2019, they sold out even before the first night it was open! If you're on my email list, you would have gotten a couple of reminders to purchase your tickets. If you're not, you can sign up below to not only get a reminder about Tower Hill light display but also many other fun things going on in and around Massachusetts.
Once you have your tickets purchased, either keep the email confirmation they send you safe or print out the tickets as they take either the paper copy or they will scan the barcode from the email! They make it so easy!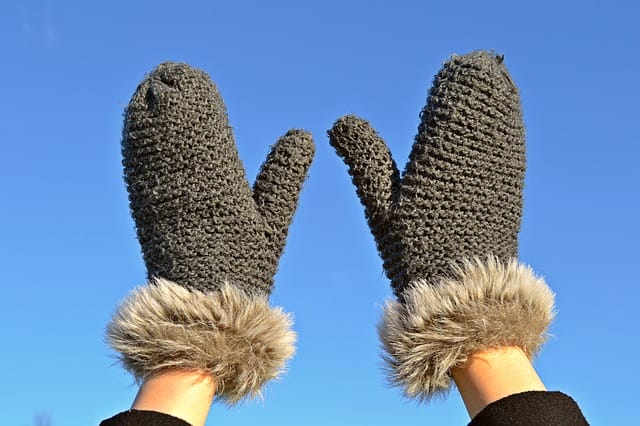 DRESS FOR THE WEATHER
The day arrived and we were all looking forward to it. Excited to see lights, but then again not sure what to expect other than being outside.  I found out from reading their website, that Winter Reimagined happens regardless of sun, rain or snow.  Before leaving, we got our many layers on so we would be ready for the cold.
Luckily for us it was a clear, crisp night.  I love New England, but not the cold! I had on my long underwear layers, pants, turtleneck, winter coat, hat, gloves and a scarf.  My kids, not seeing snow thought they would be fine with just a light coat, however after they quickly realized that the heat of the car was not going to warm them up outside, they understood the importance of putting on hat and gloves when we got there.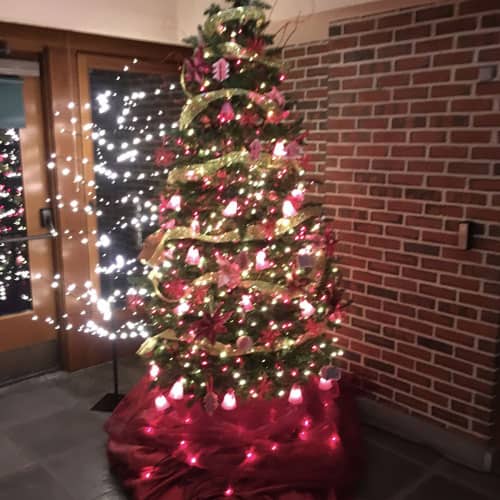 ARRIVE ON TIME
I know this might be obvious but it does say on the tickets, you may forfeit your spot if you don't arrive during your reserved time.  So to avoid disappointment be sure you reserve a time when you know you will be prompt.  They will also not let you in if you arrive too early.  Try to arrive within fifteen minutes of your reserved time.  Keep in mind about school busses if you are traveling on a weekday, congested traffic at the entrance, saving time to eat dinner,  slippery roads/weather when you are reserving your night for Winter Reimagined.
We reserved a 5:30pm on a Friday night.  After my older son got off the bus at 4:00pm, we had a quick dinner and piled into the car for our adventure at Tower Hill Winter Reimagined! Traffic for us was fairly light and to Tower Hill's credit, they did have two police officers directing traffic at the Entrance and Exit which certainly helped with any congestion.
The street leading up to Tower Hill, is a long curvy road and we were all anxious to start seeing lights.  Instead, we saw four attendants checking tickets for each car.  I had printed my tickets out, but I believe they would also scan the bar code on your smartphone if you didn't print them out.
After the parking attendants led us to a spot, we put all our layers back on, and were ready to go!  Not sure where to go at first, we started to follow a path which unfortunately there was a fork in our road.  We decided to head into the building first to see if they had a map and find out what other activities they had for the kids.
GET A MAP
Head inside and get a map.  Sure, you can walk aimlessly around and hope that you see everything or you can grab the map like we did to find the best way.   And to be honest, once I got the map, glanced at it and made our plans, I didn't look at it again.
We were also able to ask directions at the desk for such things as snacks, water and bathrooms.  They have a couple of vending machines outside of the bathrooms, so having a few dollars may benefit all, especially to keep the meltdowns at bay.  And of course, we were able to find out where the formerly mentioned scavenger hunt was to keep the kids busy.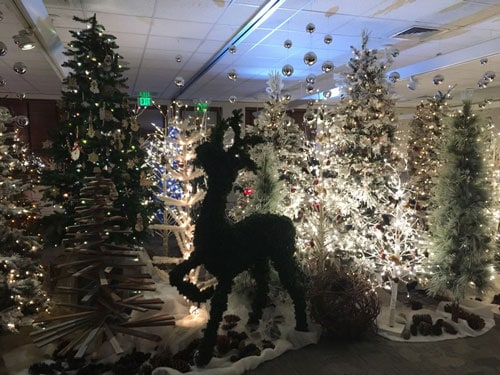 SLOW DOWN AND ENJOY
I loved the large inside room with the deer among the trees.  This room had trees where you could take a tag, write whatever you wanted on it and hang it on the tree.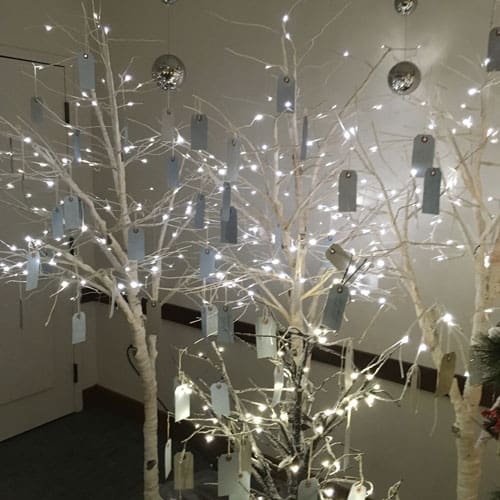 It also has many of the items needed on the kid's scavenger hunt paper, so slowing down to see the beautiful lights and ornaments is definitely doable!  The ornaments on the trees looked to be handmade and mostly from items you would find out in nature. This ornament made from a pine cone and acorn as well as popsicle sticks and toothpicks. Incredibly creative!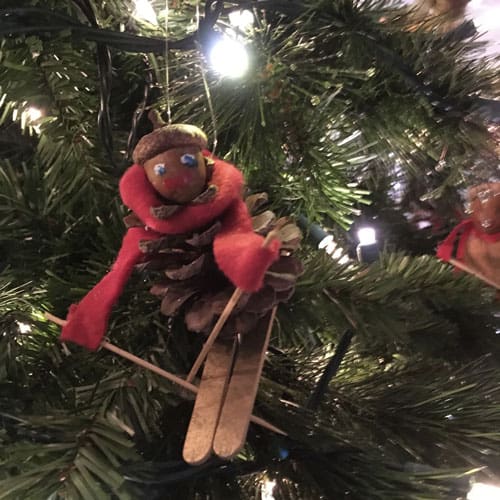 The ornaments were beautiful and definitely take the time to look at as many as you can.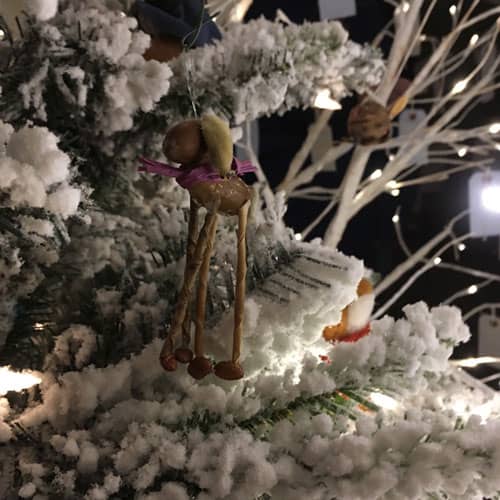 When you are done admiring the inside, step outside into the cold night air and enjoy the sights and sounds outdoors.  There are paths that weaves down and among the lights.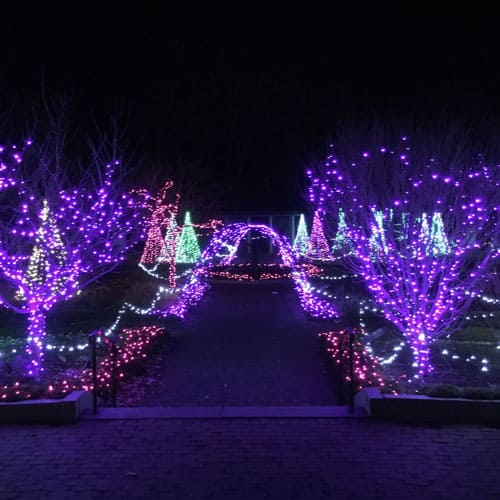 GET A SITTER!
My last 'know before you go' may actually surprise you with all my talk about this being a fun event for families but I will tell you, as usually the pictures we capture show the beauty and calmness in that moment.
What it doesn't show, is my husband or I yelling at our kids not to touch the ornaments for the millionth time. Nor, does it show us telling them to stay with us or to stop running.  The little one has to go to the bathroom (again?!)  Their hats and gloves I tried to so hard to get them to put on, are being strewn on the floor as they walk for me to pick up or I'm being asked 'Mom, can you hold this?'  And as they dart among the lights outside, jumping on a wall, yelling to each other and hiding in bushes, my husband and I look at each other, sigh and he says what we were both thinking "This is fun but it would have been so much better, romantic even, if the kids had stayed home!"
If you have gone to Winter Reimagined at Tower Hill Botanic Gardens, please leave a comment and let me know how much you and your family enjoyed it.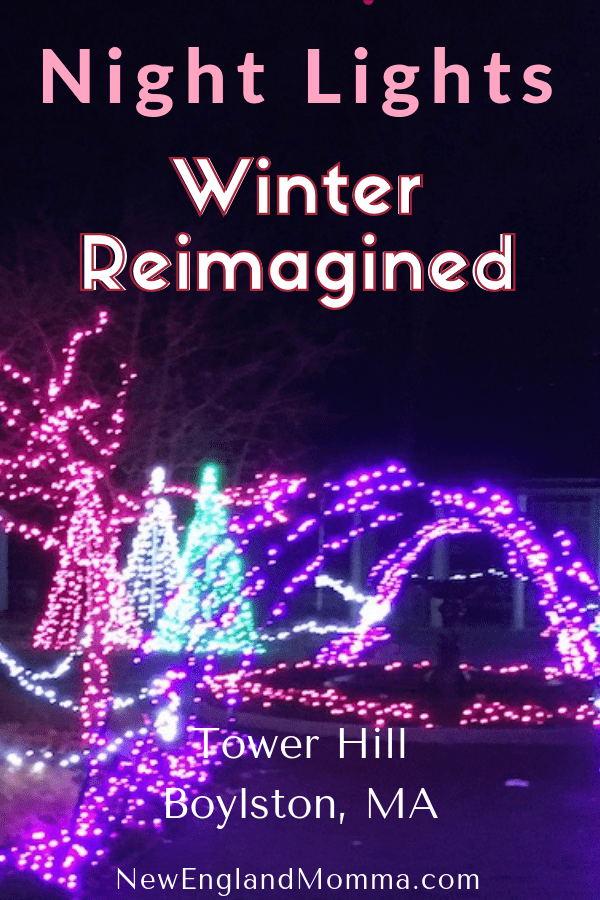 SaveSave
SaveSaveSaveSave
SaveSave
SaveSave
SaveSave
SaveSave
SaveSave