Outdoor ice skating rinks are a great way to get outdoors and exercise with your family!  The feeling of gliding on ice with fresh air all around you is invigorating! Be sure to dress for the weather, as it has to be cold outdoors for the ice to be hard. Mittens, hats and lots of layers! Rinks outside can be found scattered all throughout New England. Man-made and groomed for a smooth surface, but keep in mind they are also dependent on the elements and the everyday maintenance.  If you have tweens or teens like I do, this is one activity that will get them off electronics and outdoors having fun! Here are a few outdoor ice rinks you may want to try this winter vacation!
OUTDOOR ICE RINKS IN NEW ENGLAND
Labrie Family Skate at Puddle Dock Pond
Where: Portsmouth, NH
What: This outdoor ice skating rink is a professionally-maintained rink in the middle of historic Strawberry Banke Museum in downtown Portsmouth, NH. Strawberry Banke is an authentic 10-acre outdoor history museum.
Skate Rental: yes
Other: The Figtree Kitchen Cafe is located in the visitors center along with skate rentals, bathrooms, and changing areas. Pond hockey is also available, just their schedule for exact days/times.
Website: Puddle Dock Pond Skate 
The Rink at Thompson Point
Where: Portland, Maine
What: This 10,000 square foot ice surface is covered, yet outdoors. There is also a second rink for beginners and available to children under the age of 12.
Skate rental: yes
Other: ice skate sharpening, multiple warming areas. Special events and themed nights. Check their calendar for a list of events coming up!
Dates: From November through February 23rd, on Wednesdays through Sunday. The Rink at Thompson Point offers unlimited skating for the day when you purchase an admission ticket. Every two hours they will resurface the ice and the ice surface will be closed for 30 minutes
Website: The Rink at Thompson Point
RELATED: Why the Yankee Candle Flagship store in Deerfield should be your next family excursion.
Boston Frog Pond
Where: Boston, Massachusetts
What: Downtown Boston at the Boston Commons, the oldest park in the United States.
Skate Rental: yes
Other: During the winter months, the Boston Frog Pond is transformed into an ice rink. Offers lessons, winter camp, rentals and events. Tuesday evenings bring your college I.D. for college night. Find out more about their events on their website.
Website: Boston Frog Pond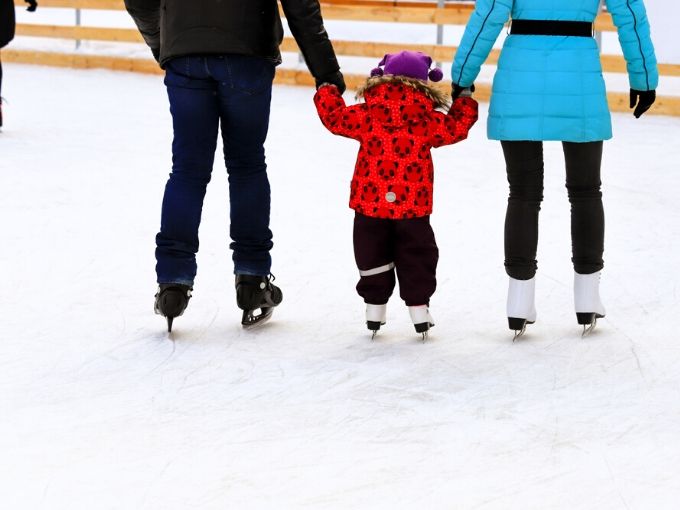 Winter Skate at Patriots Place
Where: Foxborough, Massachusetts
What: The Winter Skate is a professionally maintained ice skating surface located in Patriot Place. Go skating and enjoy all the amenities of this shopping and restaurant areas.
Skate rental: yes
Other: Winter Skate offers day and evening public skating. This is a fun and affordable activity for families.  The 60-by-140 foot ice surface is great for recreational skating. No hockey or figure skating. Also available is an observation deck for non-skaters. All skate levels welcomed!
Dates: Winter Skate hours of operation will be 11AM-10PM during the week of February vacation, 2/16-2/22. Check their website for more dates and special events.
Website: Winter Skate at Patriots Place
The Providence Rink
Where: Providence, Rhode Island
What: In the heart of downtown Providence, you will find The Providence Ice rink for ice skating and bumper cars on ice.
Skate Rental: yes
Other: Skating patrons have 4 hours of ice skating available from the time of admission ticket purchase. Exit and re-entry during those 4 hours is not permissible. Safety helmets are available and for free for kids and adults in the ticket office. Skate aids available for rent – Penguins for young kids and Snowmen for big kids and adults.
Website: The Providence Rink
WHAT TO KNOW BEFORE YOU GO
Keep in mind these rinks as they are outdoors may be closed due to inclement weather or if the temperatures rise above freezing. Always call, check their website or Facebook page for specific details.
Keep in mind that during school vacation week, it may get busy.  Call ahead to see if you need to reserve a skate time during vacation week or plan to arrive early.
Dress for the weather. As most of us New Englanders know, dressing in layers in key. If you get warm with skating, it's easy to shed a layer, but if you're cold, you will be miserable.
Bring cash if you are renting skates or in case they have a snack bar.
This winter instead of visiting the regular indoor rinks, you may want to venture out and try an outdoor ice skating rink!