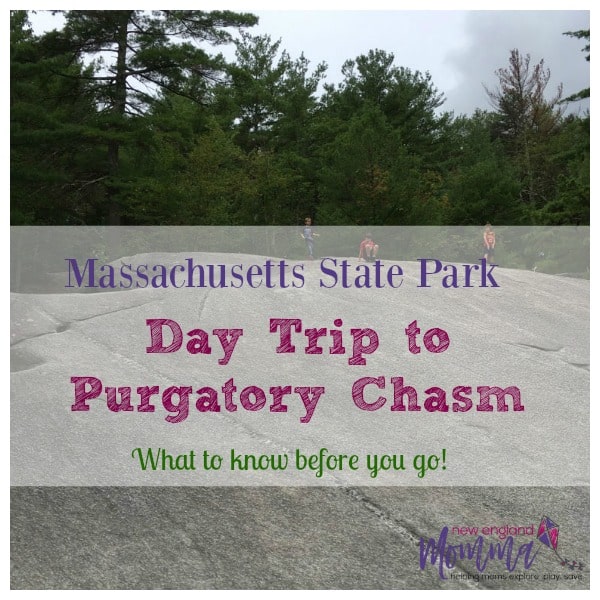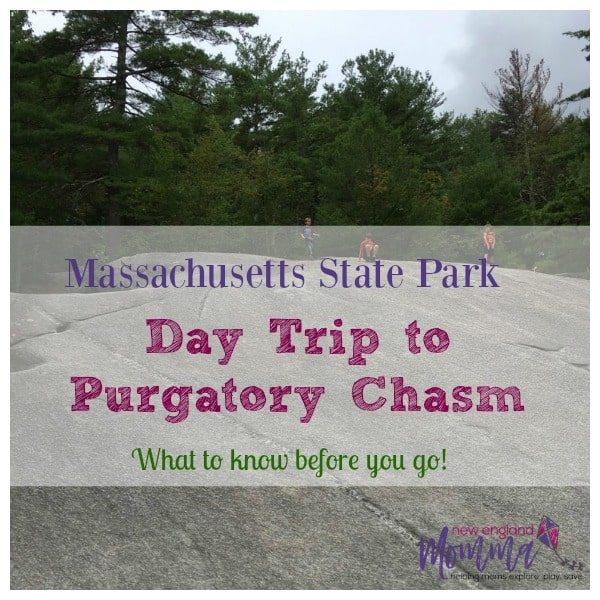 There is a Massachusetts State Park that is not only wooded trails but a trail through a rocky chasm that one must maneuver over huge rocks and boulders to get through it. Purgatory Chasm is a fun adventure that can be reached in under an hour from Boston and only 20 minutes south of Worcester. It is not as scary as the name says it to be. The hike through can take you about a mile or you can pick up a map at the visitor's center to explore other trail options for a longer hike. This is a super fun day trip!
Upon Arrival
Purgatory Chasm is located in Sutton, Massachusetts.  When you enter into the State Reservation from Route 146, the visitors center will be on your right side. Parking is $5.00 a car for Massachusetts  Residents and $10.00 for non-Massachusetts residents.  Take some time here at the visitors center to check out the various pictures they have up on the wall, grab a map of the state park and ask the ranger here any questions you may have regarding the chasm. They also have indoor bathrooms here; always a bonus.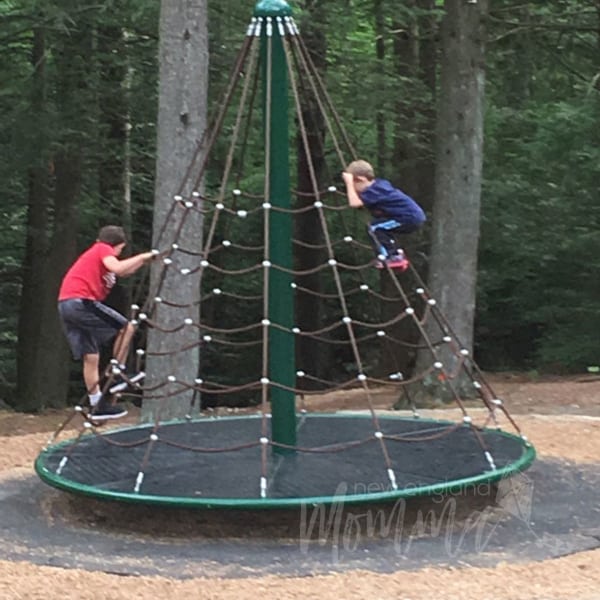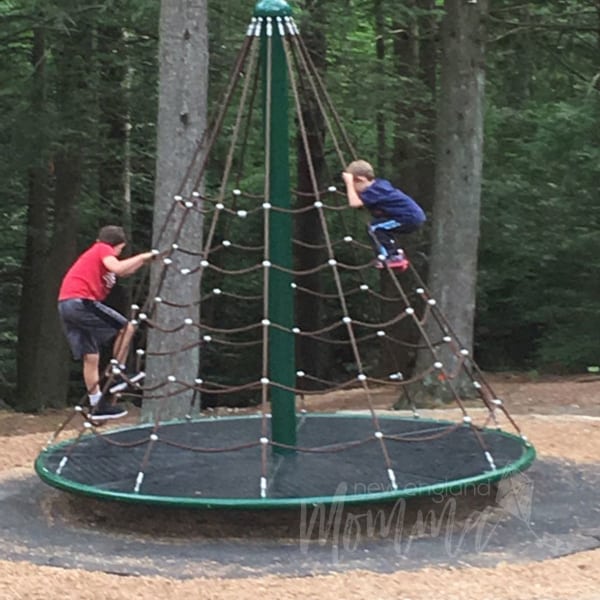 By now, your kids have probably spotted the super fun playground nearby with climbing structures, swings and a merry-go-round.  There are also lots of picnic tables in the area as well if you brought your lunch or a snack.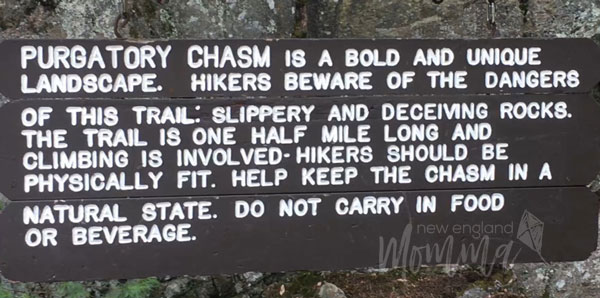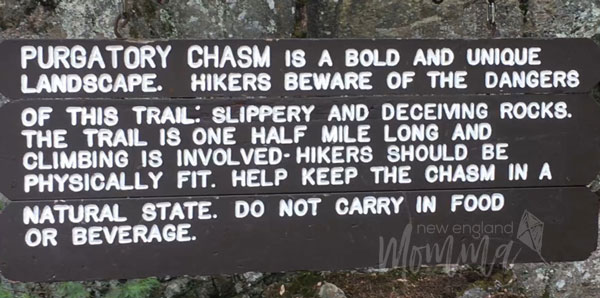 Adventure Time! 
Before you head up to the trail head, make sure you leave your parking receipt in view on your dashboard. A quick run inside the building for a bathroom break and don't forget to grab a map before you start the next part of your adventure!
Cross the street and to see the chasm entrance up on the other side as well as a covered area with more picnic tables. Now you're at chasm entrance.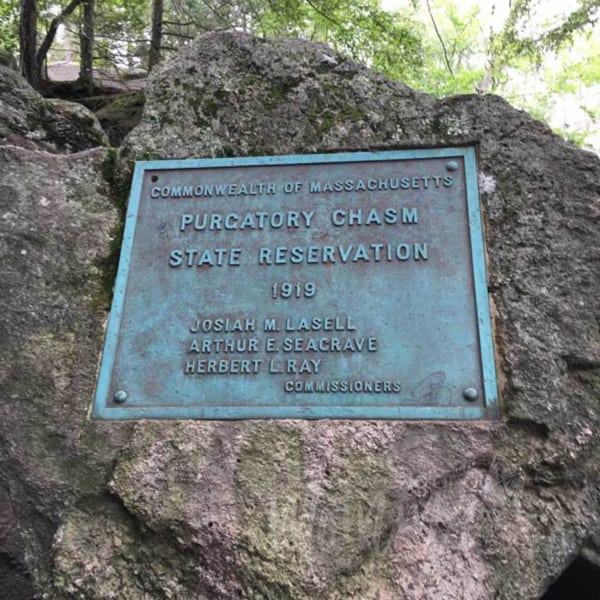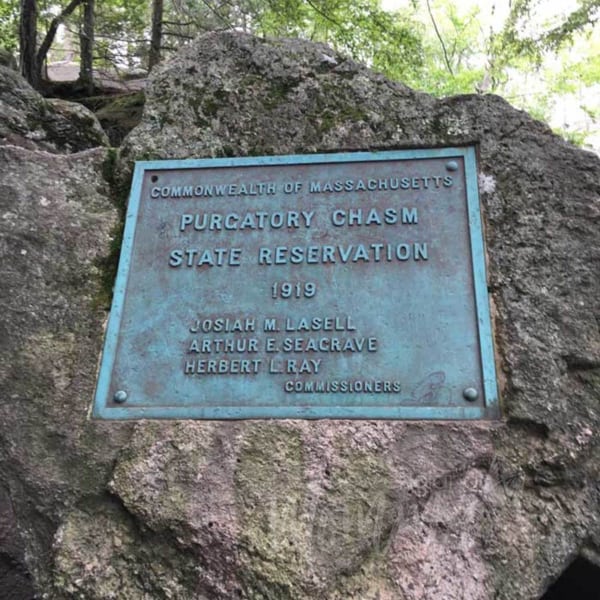 There is a sign that says no eating or drinking in the chasm but I have brought a bottle of water without incident. It is a hike and either yourself or your kids may want a drink. It would be an absolute miserable time, if I was caught without water for my boys.  Be sure to carry any empty bottles or trash you bring in, out with you.
At the entrance you will now start to realize what a rock-climbing star you are about to become!  I am far from being as nimble as my kids, yet I am able to make it through with lots of slow careful steps and I'm not afraid to say it, sitting on my butt and scooting down. My kids ,on the other hand are jumping rock to rock and while they wait for me often asked if they could climb up various sections.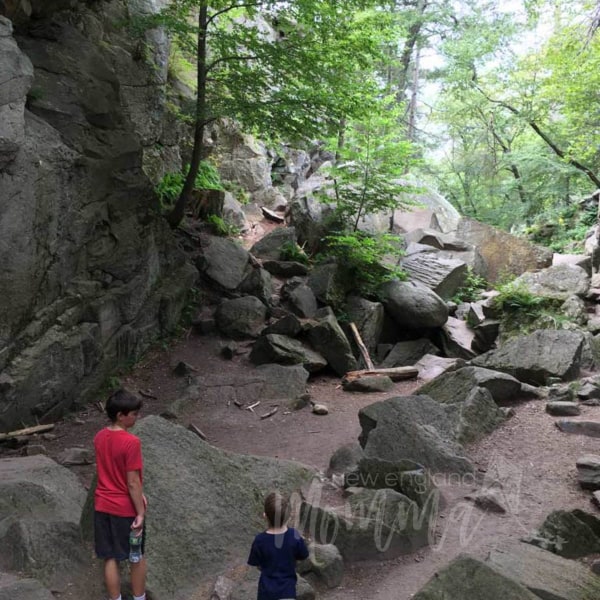 Make It Fun
Bring the kids small flashlights (think dollar store!) or head lamps for them to wear so they can explore all the nooks and crannies of the chasm.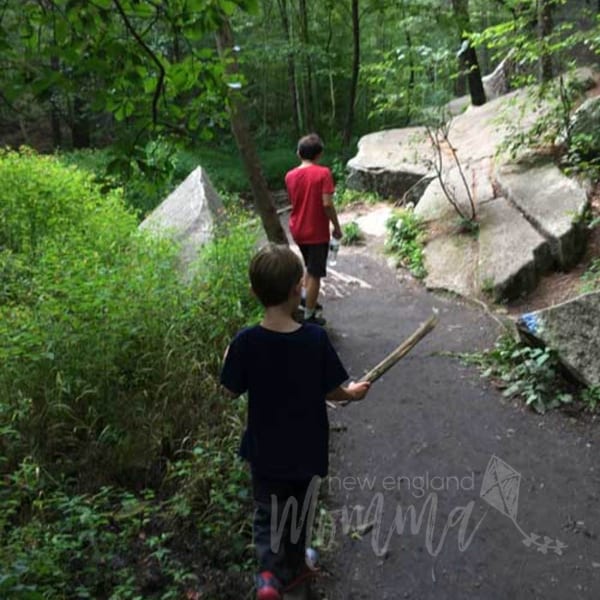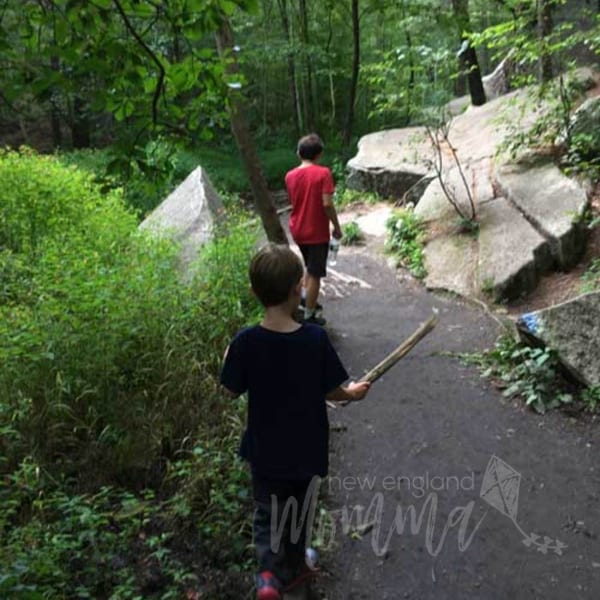 Another fun idea, is to let them take pose on the rocks for silly pictures or find a walking stick to play with as they go.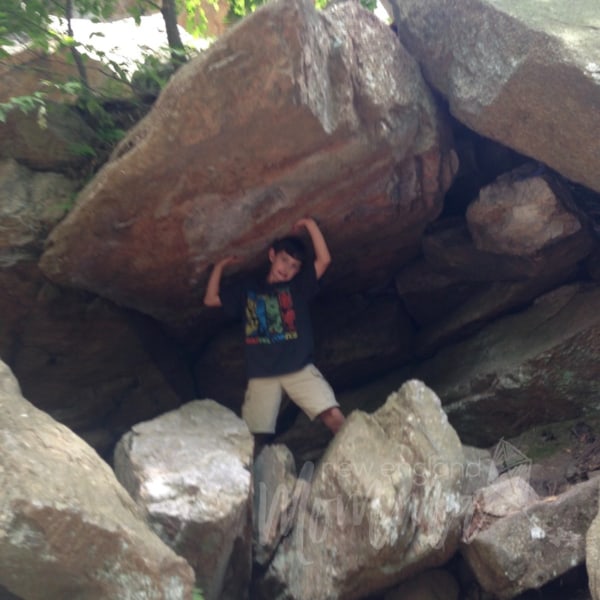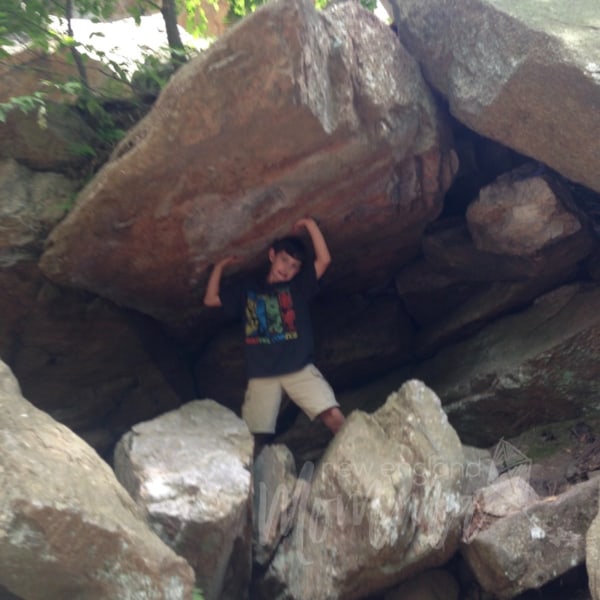 When you get to the end of the chasm, its time to decide if you will be heading back the way you came or take a trail.  This is a great time to pull out the map you picked up in the visitors center! Going left will bring you up above the chasm so you can look down into it.  This option, scares the hell out of me (pun intended) because the kids may get too close to the edge but it's usually the path they choose. We take our time and stay together.  Once, we did take the trail to the right and it was less scary being a trail through the woods and thus turning it into a great longer hike.
But Wait, there's More!
When you get back to the beginning, your kids may be itching for more rocks and boulders to climb.  Facing the chasm, head to your right to find the very large slanted rock.  I don't know if this rock has an official name but 'the big slanted rock' works for us!  Your kids may enjoy running up and sliding down on their tush.  I'm pretty sure doing this enough times will result in some ripped pants, but my kids were spared from that happening the last time we were there. The both had a blast running up and sliding down. If you're interest in seeing my little guy in action, here is his video.

Final Tips
The handful of times that we've gone as a family there has been an ice cream truck parked next to the trail head on the road. This may or may not be the case when you go, however if you are traveling with children, you may want to have some cash on hand.
Wear comfortable clothing and sneakers or hiking boots.
Bring water for the hike.
Throw a band-aid or two in your backpack for any skinned knees.
Bring lunch or a snack to enjoy at the picnic area at the visitor's center.
Bring the kids mini-flashlights or head lamps.  Last time I forgot these and my younger son kept asking to use my iPhone's flashlight. I was very nervous it was going to end up in one of the many crevices.  A mini-flashlight from the dollar store is a much better idea!
This is nature's playground at it's best! It can be fun and adventurous however, it can also be difficult and dangerous.  Please use your own discretion and follow the guidelines that the Massachusetts State Park Department has listed on the sign outside of Purgatory chasm.
Have fun! 
Please pin for later!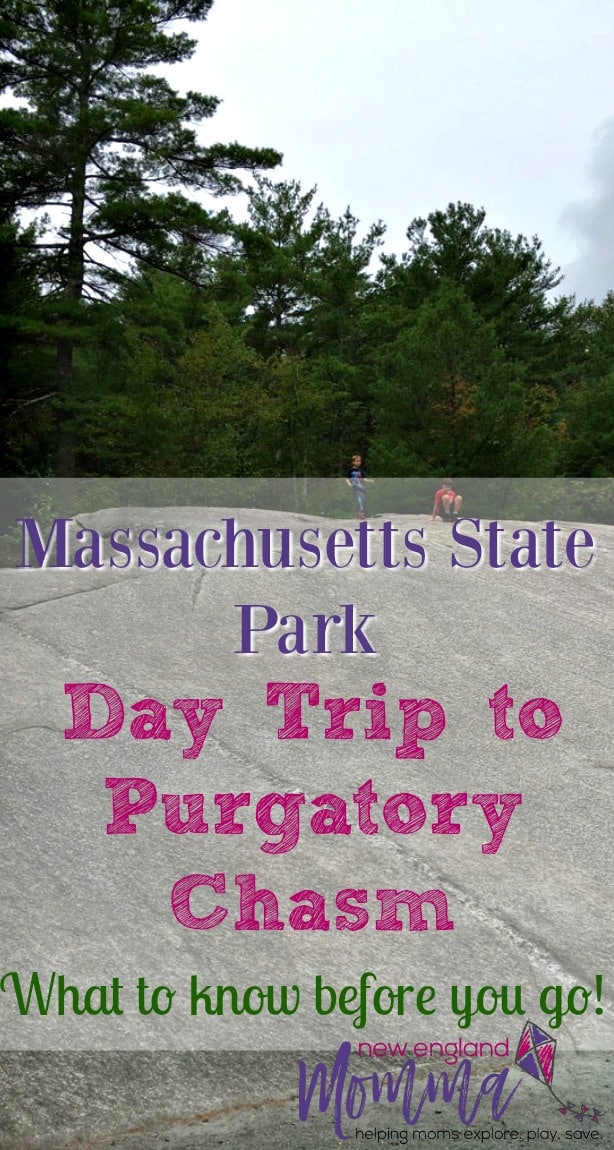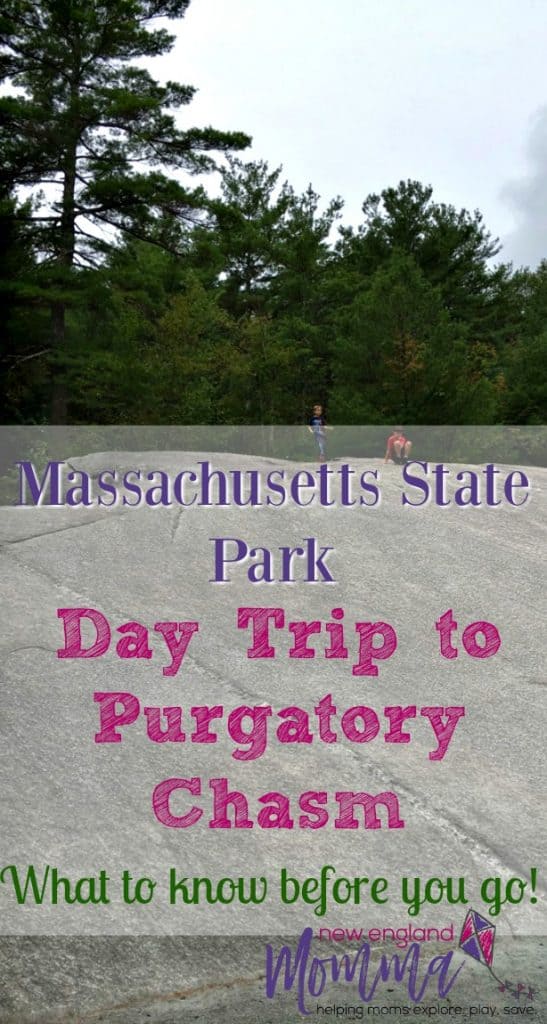 SaveSave
SaveSave
SaveSave
SaveSaveSaveSave
SaveSaveSaveSave
SaveSave