A day trip to visit the Quincy Bog and the Polar Caves NH is a fun and exciting day for families! Located in Grafton County of New Hampshire; It is on the southern side of the White Mountains. If you've never been, you will want to set aside a day to go explore these two fun things to do in Rumney, NH.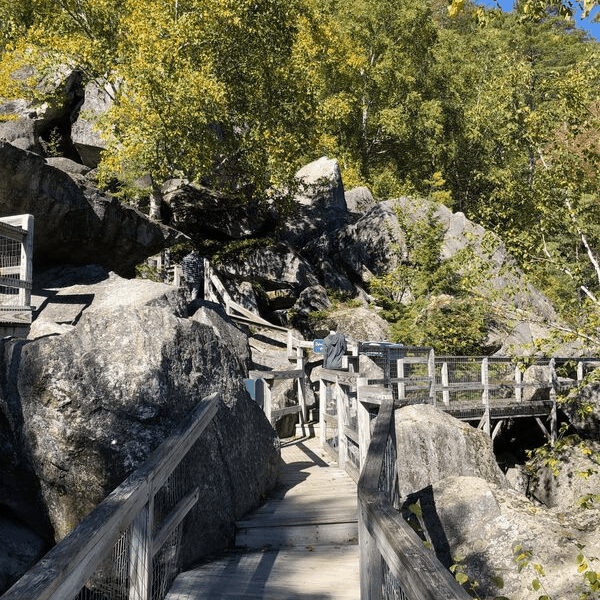 This is a full day trip depending on where you live. And even if you are close by, you will want to give yourself 2-3 hours at the Polar Caves and at least 1 hour at the Quincy Bog. You will also want to be prepared, pack snacks, water and other road trip essentials. Let's get ready for this day of adventure!
WHAT ARE THE POLAR CAVES?
The Polar Caves is a fun nature hike where you get to climb, shimmy, and squeeze through glacier-formed caves while enjoying the White Mountains of New Hampshire.
This family-owned nature attraction is less than two hours from Boston! From their website, 'The Polar Caves were formed from glaciers that moved across the landscape. As boulders fell, they formed passageways, around and through, we then built boardwalks and stairs to allow for deeper exploration'.
In my opinion, the caves are awesome! They are set up in a way that when you follow the trail and trail map, you should get to all 9 caves. Each cave is unique and exciting in it's own way.
If you are squeamish around tight spaces, you can walk around most of the caves, instead of going through the caves. I love that they built stairs into the caves to make it easier to get down into them.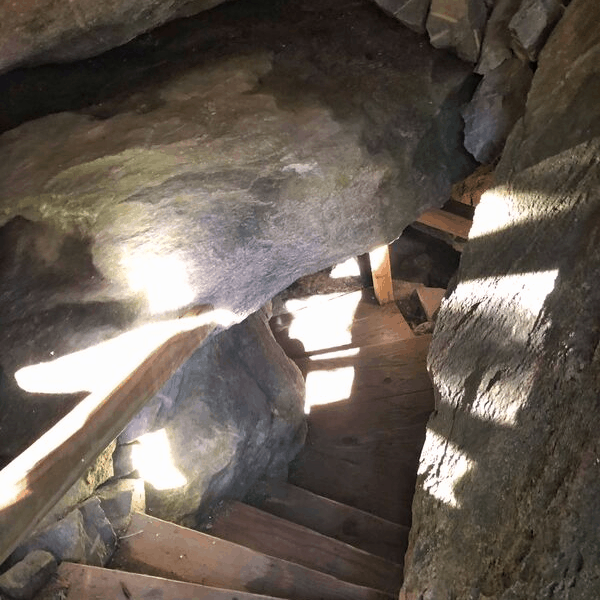 IS THIS REALLY WORTH THE LONG DRIVE?
My boys were not thrilled with us, when I told them we were going on an almost 2 hour drive to visit the Polar Caves. To be honest, I hadn't been since I was a young kid and I really had no idea what to expect. I was super hopeful they would enjoy it.
They came along (of course, they didn't really have a choice) and at the end of the day, they were happy we drove up to New Hampshire for the day. Yes, total win because even my 12-year old said it was worth the drive. They loved it!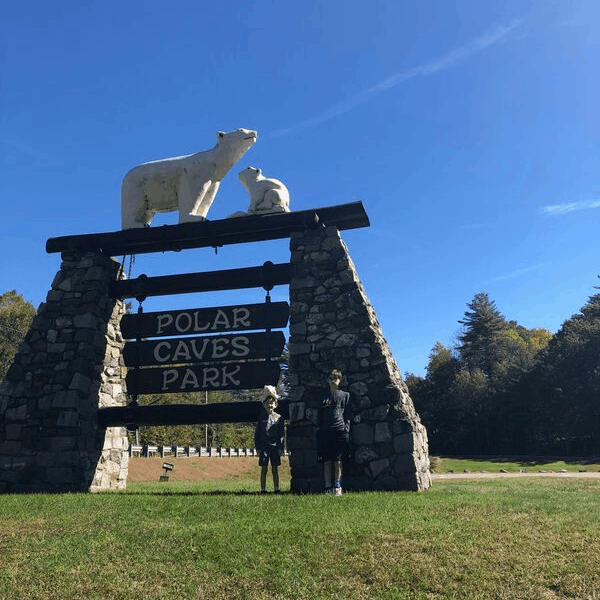 POLAR CAVES OF NEW HAMPSHIRE
These caves of New England, should not be missed.
There are 9 caves and crevasses to explore. Although there are stone steps, wooden boardwalks and such, footing can still be unstable so take your time to explore and do the caves at your own pace.
If you love to hike, you will love this. Truth be told, there were a few times that I had to sit on my butt and scoot through because I was unstable on my knees, but I am proud to say that I made it through the caves, except for the Lemon Squeeze Cave.
THE LEMON SQUEEZE CAVE
Have you heard of the Lemon Squeeze Cave? Well, I'm not sure how many adults can actually make it through this, so I opted for a nearby cave exit. My oldest loved it and squeeze right through. I'm not sure how he did it to be honest!
The walls are narrow and you literally have to squeeze through it – fear of getting stuck is what kept me from even trying! My husband did try it but said his shoulders were too broad and so that kept him from going any further.

WHAT TO KNOW BEFORE YOU GO?
Wear sneakers or any other type of non-slip, grip shoe as there will be walking and climbing up, down and over rocks.
Bring water to stay hydrated
Wear a light sweatshirt as the Polar Caves temperature can get a little chilly inside. We purchased a couple of long sleeve light sweatshirts from the Polar Caves gift shop as we were all wearing shorts and t-shirts when we arrived.
Footing may be unstable hiking through and around the caves.
Be sure your kids stay with you. Do not let them just run off and do the caves by themselves.
If you are looking for Polar Cave coupons, check the Fun Pass Book. It has a buy one get one coupon within the book! Don't forget to bring the book with you to take advantage of this savings.
Bring a few quarters to feed the ducks and animals after your hike!
Leave your pet at home, they are not able to visit the Polar Caves with you.
THE QUINCY BOG HIKE
Before heading home, you may want to opt for a hike through Quincy Bog. This is also located in Rumney and is right down the street from the Polar Caves.
We happen to find it as we were driving to the Polar Caves and on a whim, decided to check it out. So glad we did! Driving to it, we passed through a covered bridge!
At the trail head, there is a parking lot and maps available. There is a one mile hike around a pond with beautiful foliage and fall scenery. The bog which is an open wetland with deep murky soil will not disappoint. Throw on some bug spray and get your camera, especially if it's fall foliage time!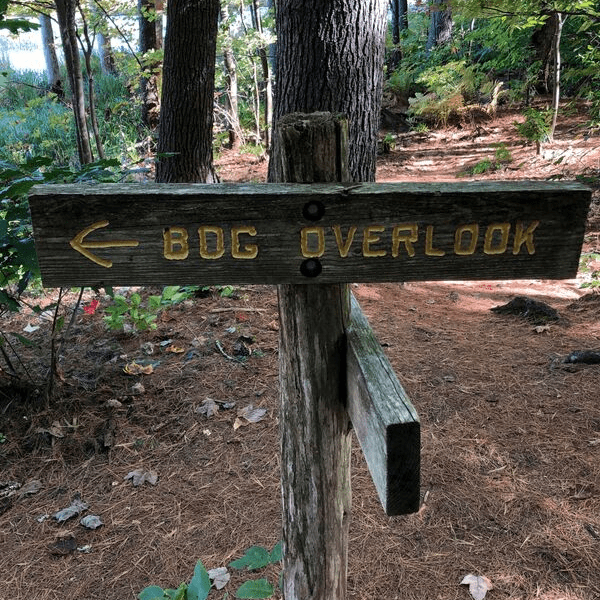 This walk is filled with pines, Red Maples and other foliage. While we were walking we saw a bunch of Canadian Geese take flight on the pond! Unfortunately, we were not lucky enough to see a beaver at work, but I read later on, it's not a rare site! The Fall colors were magnificent!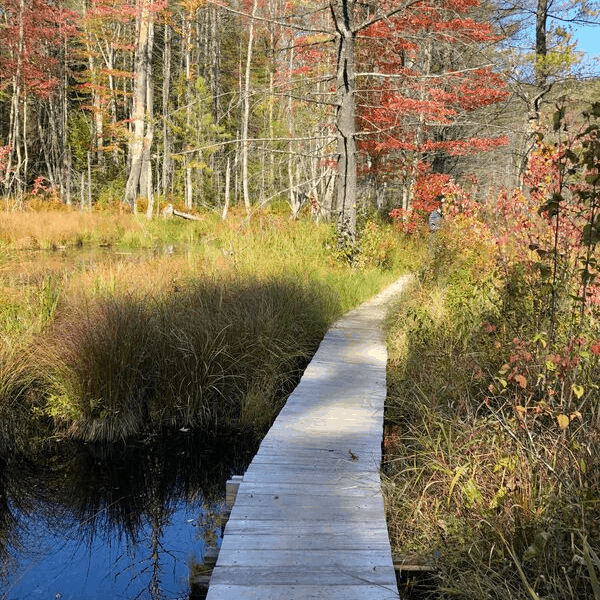 More information as well as maps can be found on the Quincy bog can be found on their website.
This was a super fun day trip that all family members will enjoy! I hope you take some time to check out these fun things to do in New Hampshire. The Polar Caves and the Quincy Bog is a New England day trip not to be missed!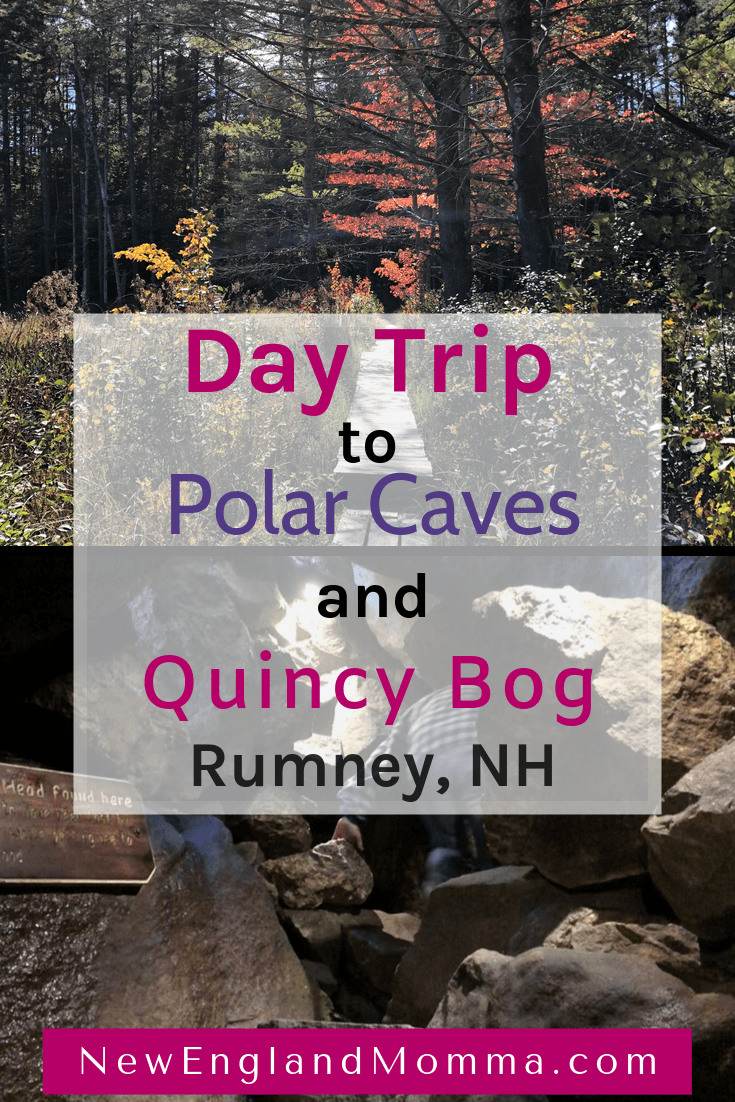 MORE DAY TRIP IDEAS IN NEW ENGLAND