With the 2020 Fun Pass from Breathe NH, traveling around New England is not only fun but affordable too! The Fun Pass coupon book has over 100 attractions, valued over $2,000 and all proceeds go to preventing lung disease.  This is a coupon book you do not want to miss out on getting every year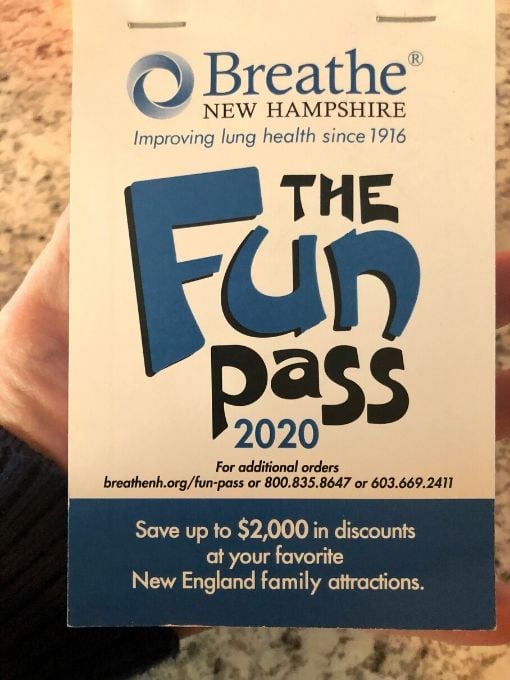 First Published: March 2018, Last Updated: Feb 2020
Taking my kids on day trips throughout the year, is something we look forward to as each season comes along. Winter and spring it's skiing as well as various museums as there is still usually a chill in the air. Summer and fall were exploring zoos, various waterparks, whale watches and other amusements. Going on adventures with my family are exciting and fun, but what I don't like is paying full price for these places. Finding a coupon for a discount on an attraction is something I love to do! And when I find one, I must share it with others!
Fun Pass coupon book 
Introducing Fun Pass through Breathe New Hampshire! For only $35, you get a Fun Pass book filled with coupons worth $2,000 to more than 100 favorite New England family attractions! Here are a few of my favorites.
LEGOLAND Discovery Center- Boston, MA
York's Wild Kingdom - York, ME
Old Sturbridge Village - Sturbridge, MA
Whale's Tale Water Park - Lincoln, NH
Edaville Family Theme Park - Carver, MA
Davis' Farmland - Sterling, MA
Southwick's Zoo - Mendon, MA
Storyland - Glen, NH
If you only visit Storyland in New Hampshire or Edaville in Massachusetts, this book nearly pays for itself! See the full 2020 Discount List .
New attraction coupons 
New attractions for 2020 include Cog Railway, CoCo Key Water Park Boston North Shore, Discovery Museum, Naismith Memorial Basketball Hall of Fame, Connecticut Science Center, Denison Pequotsepos Nature Center, Discovery Museum & Planetarium and Quassy Amusement & Waterpark. LEGOLAND - Boston is one of our favorite places to visit, here is what you should know before you go!
RELATED:  Ways to get Discounted Tickets for Admission prices
Coupon book discounts
Many coupons admit a child 12 and under free or at a discounted rate with a paying adult, or they are BOGO (Buy One, Get One Free) so with one visit to some attractions, you cover the cost of the Fun Pass. Offers and deals vary by attraction. How much can you save? Go to www.breathenh.org/funpass to see.
Important: When using your Fun Pass coupons, take the entire book with you. In order to receive the discount, the coupons must be attached in the Fun Pass book when presented to the attractions.
The Fun Pass can be used as a road map to explore new places in New England and create family memories to last a lifetime. I love to flip through the book and figure out where we are going to go next! This offers so many fun ideas.
Visiting Central Massachusetts? Here are 15 awesomely fun things to do in this area.
Support improving lung health
All proceeds support Breathe New Hampshire's critical mission of preventing lung disease and improving the quality of life for those with lung disease.
Order online or call their main office: 800-835-8647, Breathe New Hampshire. Shipping is free. See Breathe New Hampshire for more information. Follow Breath NH on Facebook and Instagram.