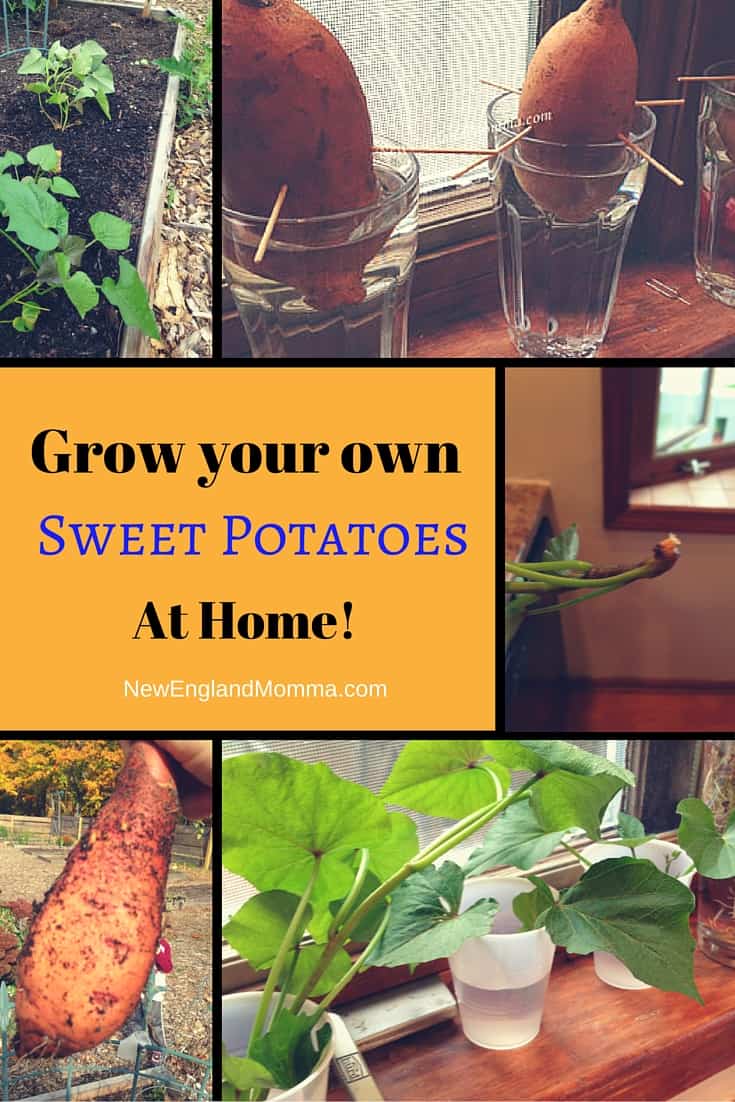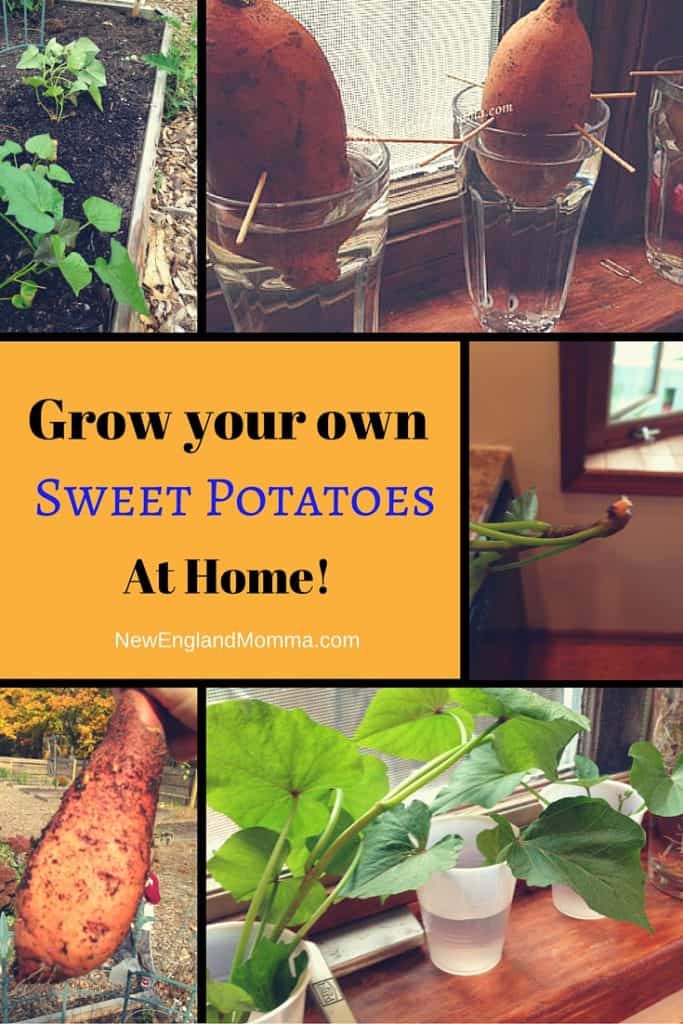 Grow a Sweet Potato from a Sweet Potato? 
Ever wonder how to grow a sweet potato when they don't have any seeds?  I did!  And so I took pictures from start to finish so I can share my discovery with you.  This is such a great project to do with your kids or on your own.
I am in zone 5, so here it is not time to plant outdoors yet; at least another month before we can start putting our vegetables in but it is time to start thinking about what we will be planting!  This year be sure to save some room for your sweet potato plants!  You will need enough space for a few plants; probably 1-2  square feet depending on how many sweet potato slips (plants) you will be putting in the ground.
Items Needed
2-3 Organic Sweet Potatoes
Toothpicks
2-3 glasses or jars
Water
A Sunny window sill
100 days (patience needed)
Use Organic
The first step is to get a few sweet potatoes from your local market.  I prefer organic sweet potatoes especially when I am growing potato slips from them. I don't want any added chemicals to my plants.  Most organic sweet potatoes look smaller than the sweet potato you might get at your local grocery store. They are thinner and smaller but I will be the first to tell you how much softer and more flavor they have than your regular non-organic sweet potato.
Next you will need a glass for each sweet potato you will be using.  Fill the glass with cold water about 3/4ths of the way.  Pierce your sweet potato with 3 or 4 toothpicks in the side to hold the sweet potato on the rim of the glass but so that the bottom of the potato is sitting in the water and the top half is not.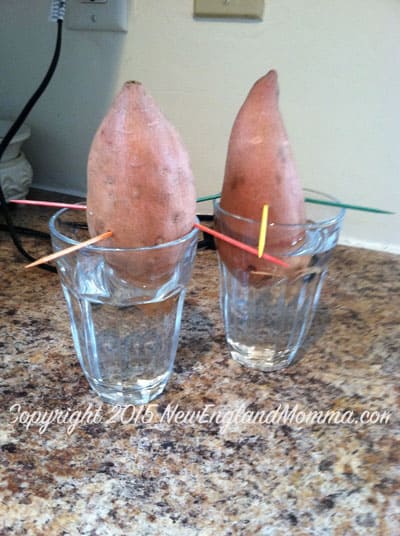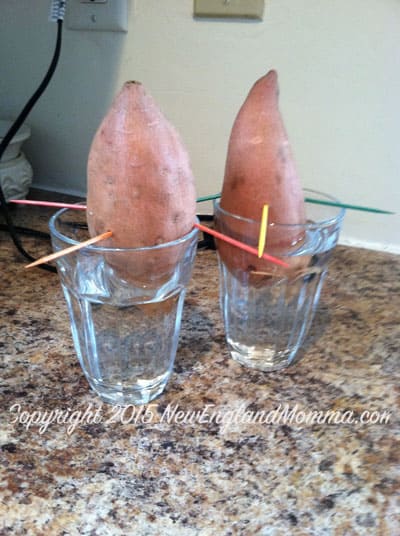 100 days 
Put your glass of sweet potato up in the window sill for about 100 days.  Yes, I know it sounds like a very long time but just sit it up there in the window and forget about it.  Okay, well don't completely forget about it.  And you won't be able to because every time someone comes to your home, they will be asking you "Umm Why are there sweet potatoes on your window sill?" I speak from experience!
About a once or week or as needed, change the water and/or fill it up to the brim with cold water.
Soon, your potato will start to sprout.  Each potato can grow many vines.  Let them grow and get long.  Again, it will take about 3 months.  I plan to start mine by the end of April so I can plant them in my garden or a container at the end of July when the weather is seasonably hot.
If your sweet potatoes look like this after about 4 weeks, then you're on your way to growing your own sweet potatoes!   You want the vines to grown about 12 inches in length so keep doing what you're doing!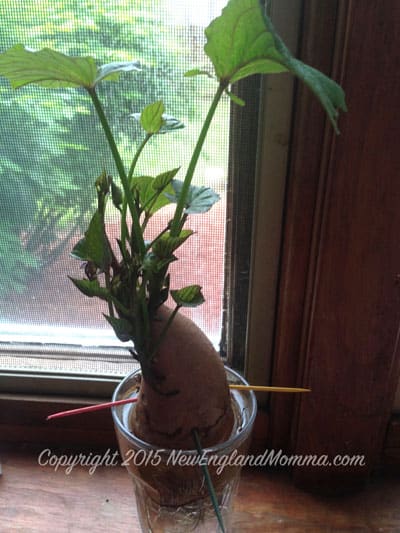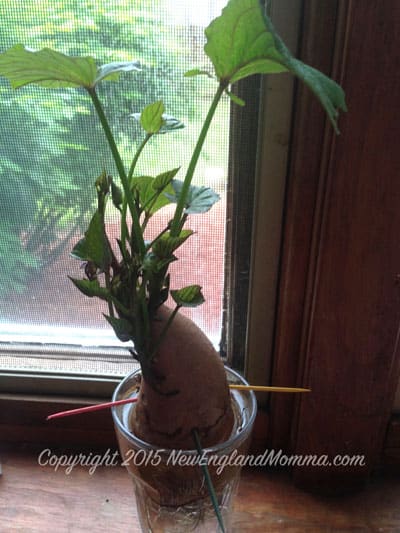 Once your vines are long and about 12 inches long AND it's the end of July or beginning of August, then it's time to move to the next step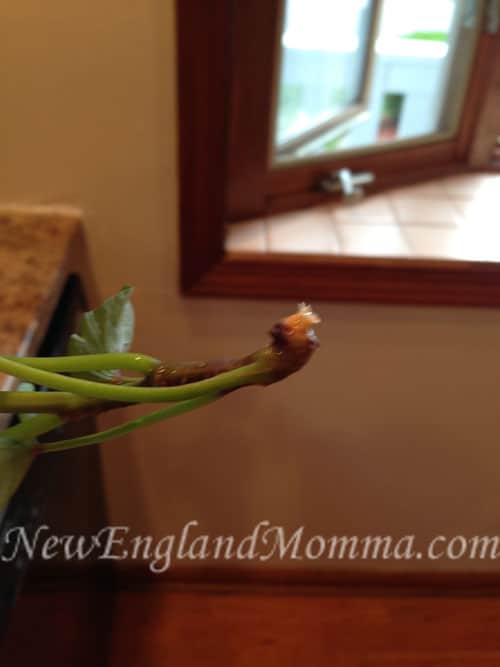 Carefully grab the sprouted end of a 12 inch vine and twist it so it breaks away from the sweet potato.  It should look like the picture above.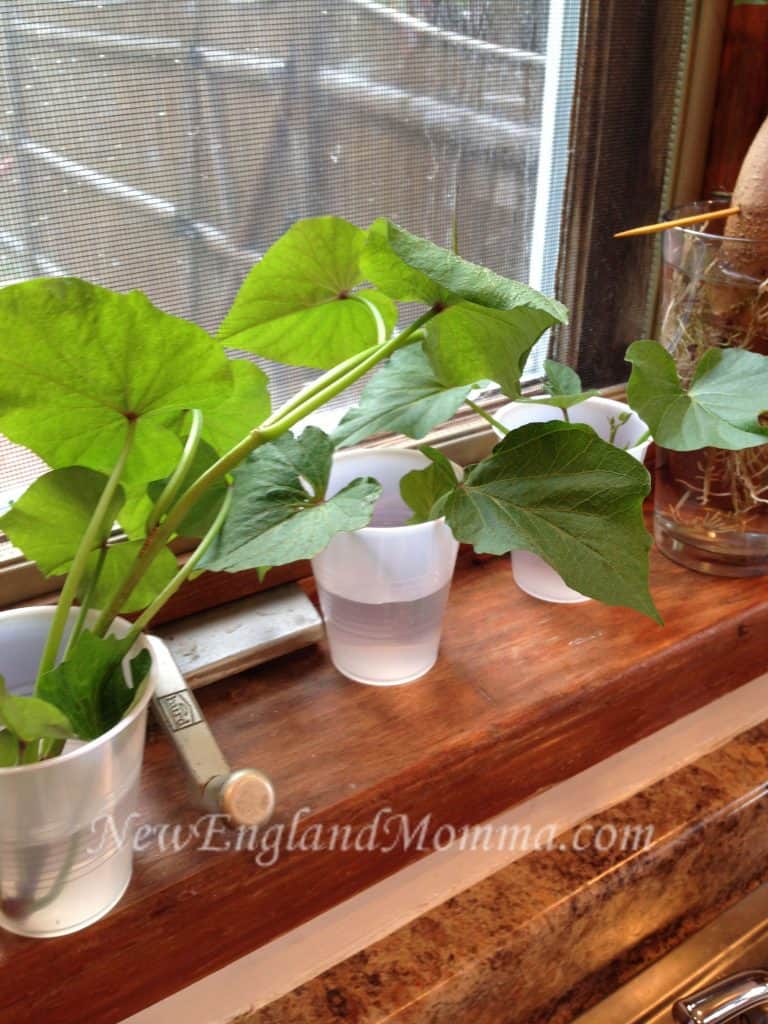 Next, in put each vine in a small cup of water.  I just used some plastic cups we had on hand.  It will take only a few days for the slips to sprout.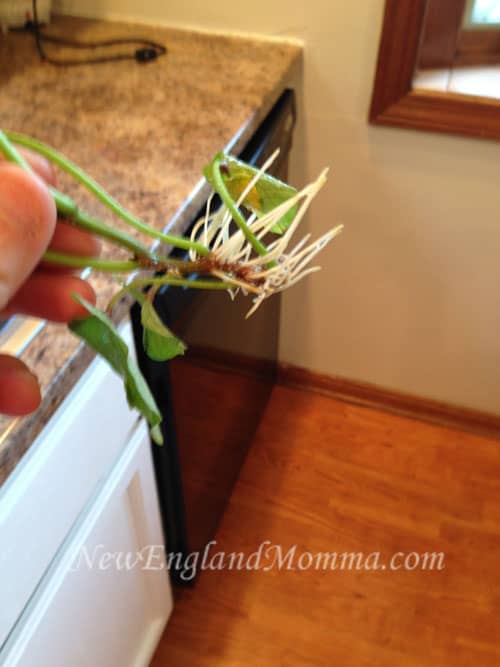 The sweet potato sprouted slips should look like this above.  They are now ready to be planted outside in a warm sunny spot!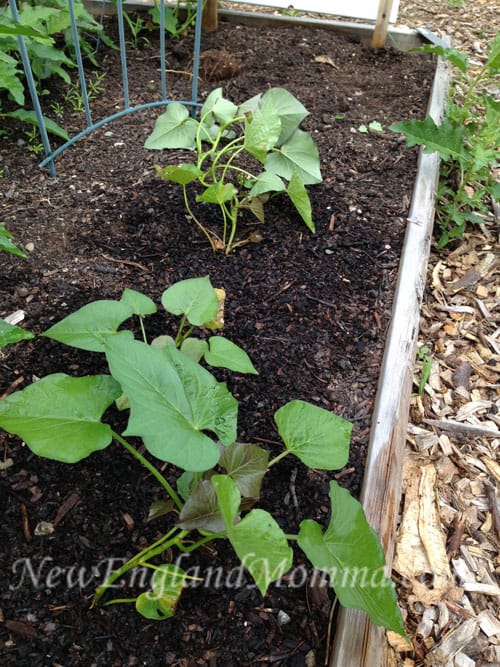 Here are a couple of vines that I planted in our local Moms Club garden.  Now the hard part of waiting and watering again!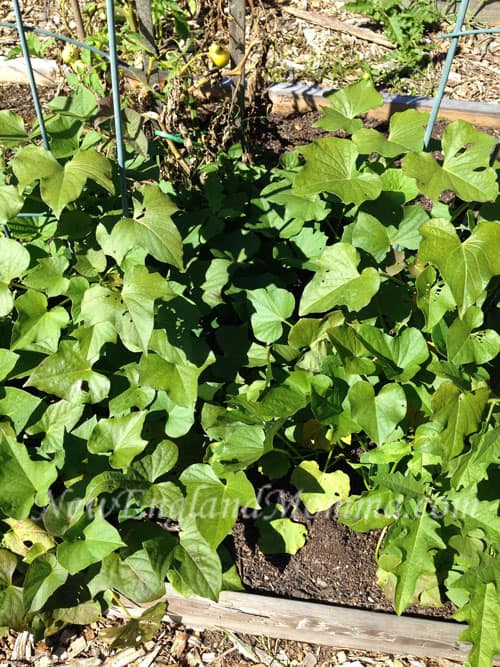 It doesn't take long for your vines to grow from a small vine to many bigger larger vines like above.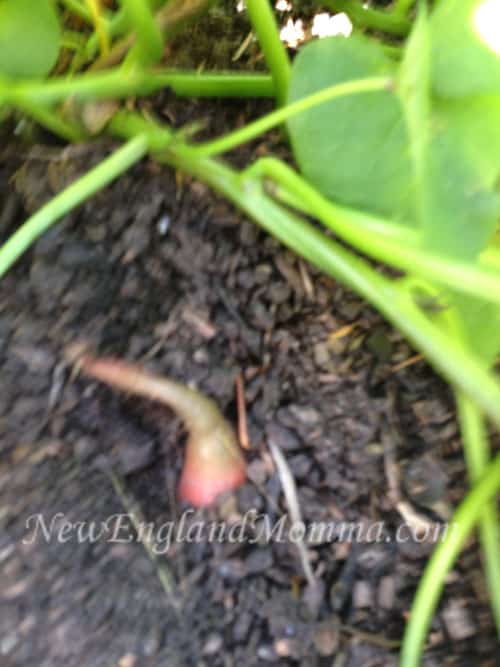 I wasn't sure at first how to check if the sweet potatoes were done but I pushed some of the vines over and this is what I saw!  <Insert happy dance here!>  I had done it!  I grew a sweet potato.  Here are some pictures of what I actually pulled from our few vines that I planted.
[Tweet "Grow a Sweet Potato from a Sweet Potato! Yes you can and now is the time to get started! #sweetpotato"]
It was an amazing experience!  
And it tasted so fresh and awesome! I can't wait to do it again this year!  It may be snowing out your window but it's April and it's the month to get the sweet potatoes in your windows.
If you like this idea and are going to give it a try; please leave me a comment and let me know!
Edit Note:  I had posted half of this post last year and never got to showing how to turn the vines into potato slips and the finished product.  I just updated this and reposting.  Thanks for reading and commenting!