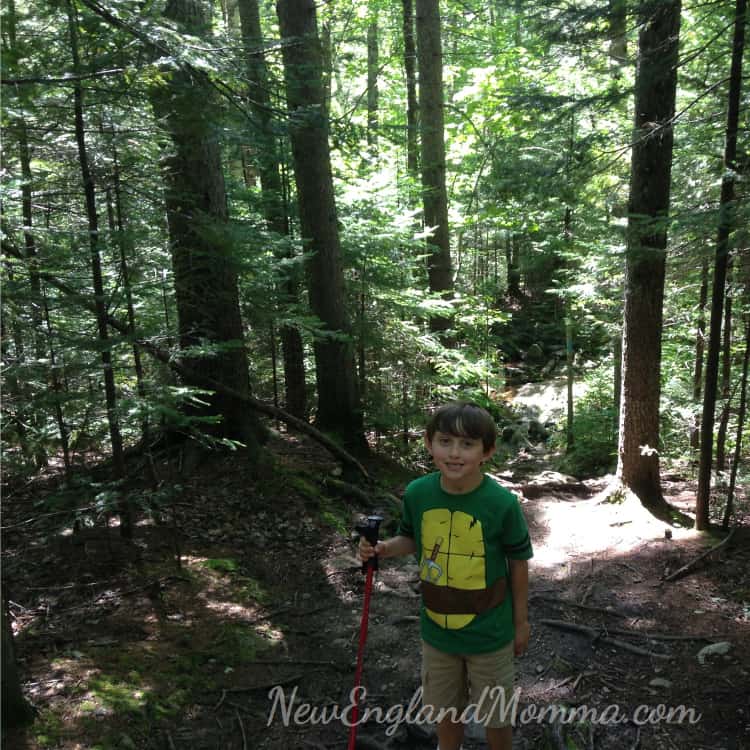 When my younger son was three, we decided to take him hiking with his older brother.  We took two steps into the woods, when he stopped and said to us with a puzzled expression, "Why are we doing this again?"  We told him it would be fun to take a little walk in the woods.  He was not agreeing to it. He wanted to go back to the car.  After telling him he could find a stick to carry around, he showed a little more interest. He was still dragging his feet and whining to be done with the hike. It wasn't until we found a brook where we stopped to throw stones into the water, he was finally enjoying himself. The next time we would be better prepared!
A most recent conversation with Tyler now about hiking.
Me: "Tyler want to go hiking?"
Tyler "No."
Me: "Tyler want to go hiking with a scavenger sheet and we'll bring a snack to eat outside?"
Tyler "Yes!"
Following these tips, your kids will be asking to go hiking!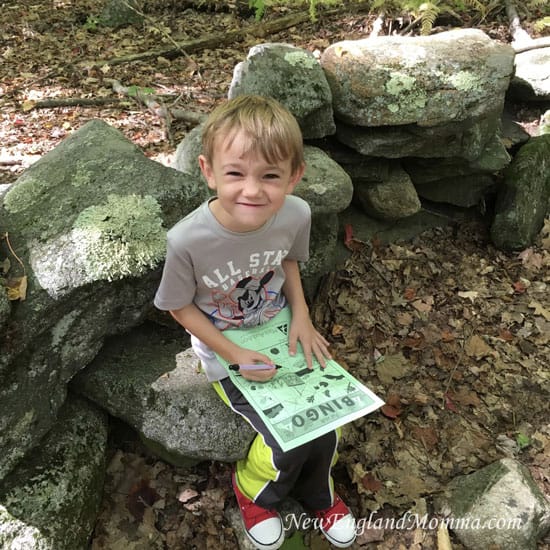 1. Scavenger Hunts
Hand your child a picture scavenger hunt and a pen or crayon and you're good to go! The Massachusetts Audubon has a free printable for scavenger hunts. Not only are the kids looking for leaves and plants but also animals such as chipmunks or a frog in a nearby pond. There are also four different printable, one for each season.
2. Treasure Hunting
All you need is a bag or bucket to hold all our kid's treasures! We enjoy picking up leaves off the ground, small rocks, acorns and twigs. Encourage your kids to find whatever they can on the ground around them. Both my boys love this because to them anything can be a treasure! When you get home, it will be fun to dump all their valuables out and see what treasures they each had found.
3. Pack Snacks
Sandwiches, apples, blueberries, trail mix, cheese sticks are great examples of snacks to take with you on your adventure. Bring a long a bottle of water or a juice pouch.  Find a large rock or other place to sit and your snack time in the wilderness will be complete. Kids love to be the ones to pick where everyone will sit. More than one child? Have them take turns picking where the snack spots will be. Lunch at one spot, a drink and small snack at another.
4. Find a Stick
Kids love sticks. Whether to use as a sword to hit plants as they walk by or to use as a walking stick. Encourage your kids to find their favorite to carry with them on the hike.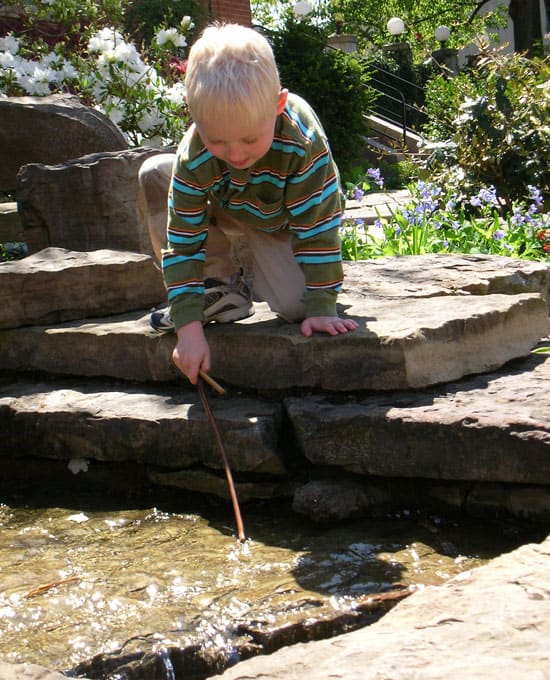 5. Take Pictures
Bring a kid size camera or let them use your phone to capture the right picture! Later, it will be fun to look back at the memories of your day together. Be forewarned you may have a dozen pictures of the same object if your child is snapping photos. Hopefully, there will be at least one good picture to save and your child may feel quite proud of themselves for taking their own pictures.
6. Talk
Talk to your kids about animals that live in the woods. What sounds do they hear as you walk along?  Point out the different types of trees or plants. Look for animal footprints as you go. Stop at a pond and try to spot a frog or fish. Such a great hands-on learning experience!
7. Go Slow & Explore
If your child can walk, you can take them hiking. And if they can't or don't want to, put them in a child backpack. Or both! Set your expectations that you may not get the whole trail completed. The goal should be to enjoy the outdoor time together. Have lots of breaks (see 'Have a Picnic' above) and go at your child's pace. Let them explore. Take a second to peek into a pond to see if either of you spots a fish or a frog on a lily pad.  Let them climb up rocks and jump off. Throw small rocks into a river.  Be willing to let them have fun.

Climb up rocks. Get their hands dirty. Make bird calls. Hoot and Howl. Stop to throw stones into a brook.  Bring another parent and child friend to join you.  Pack a lunch, put on your tick repellent, tell your kids you are going to be explorers or that you are going on an adventure!
Being prepared and setting their expectations will help to show your child how to love hiking.  Let your kids lead the adventure with their sword (stick) and a big smile.  And now, my little guy is often the one asking me "Mom, can we go hiking again?"  This is what's it's all about!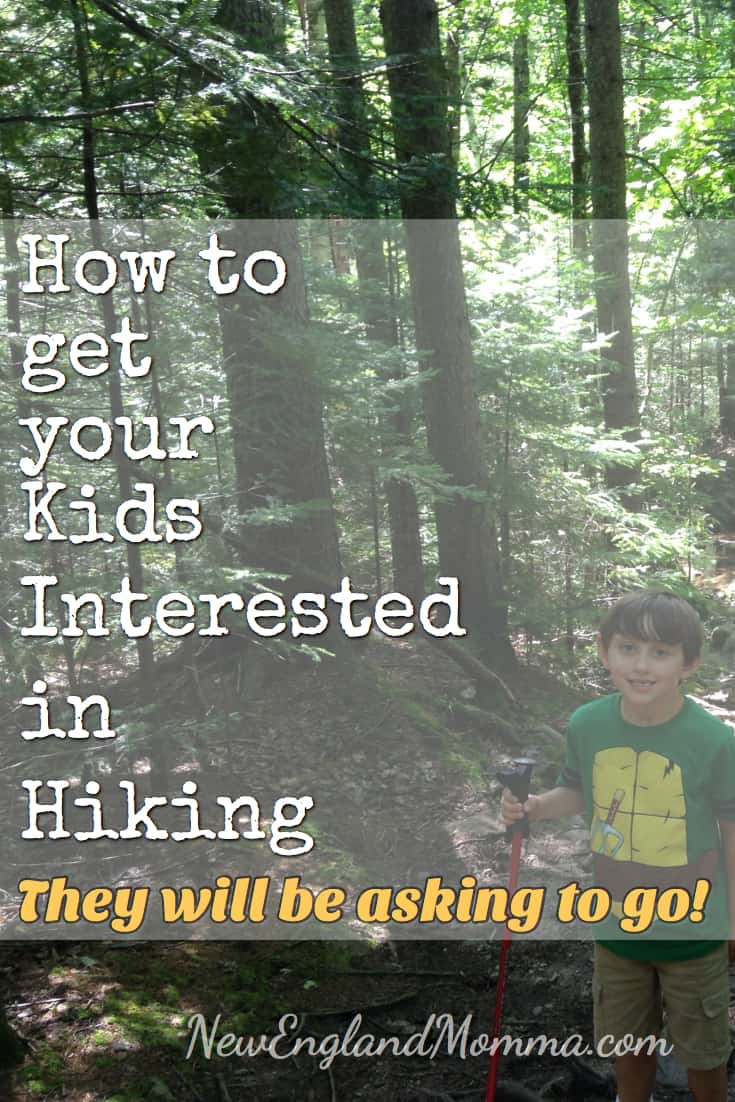 SaveSave
SaveSave