Growing a sweet potato at home is a fantastic experiment to do with your kids. It's super easy and not many items are needed. Sweet potatoes are fun to grow and even more fun to eat.
Mash them up, boil or my favorite, make roasted sweet potato fries! They are versatile, healthy and taste so much better when homegrown.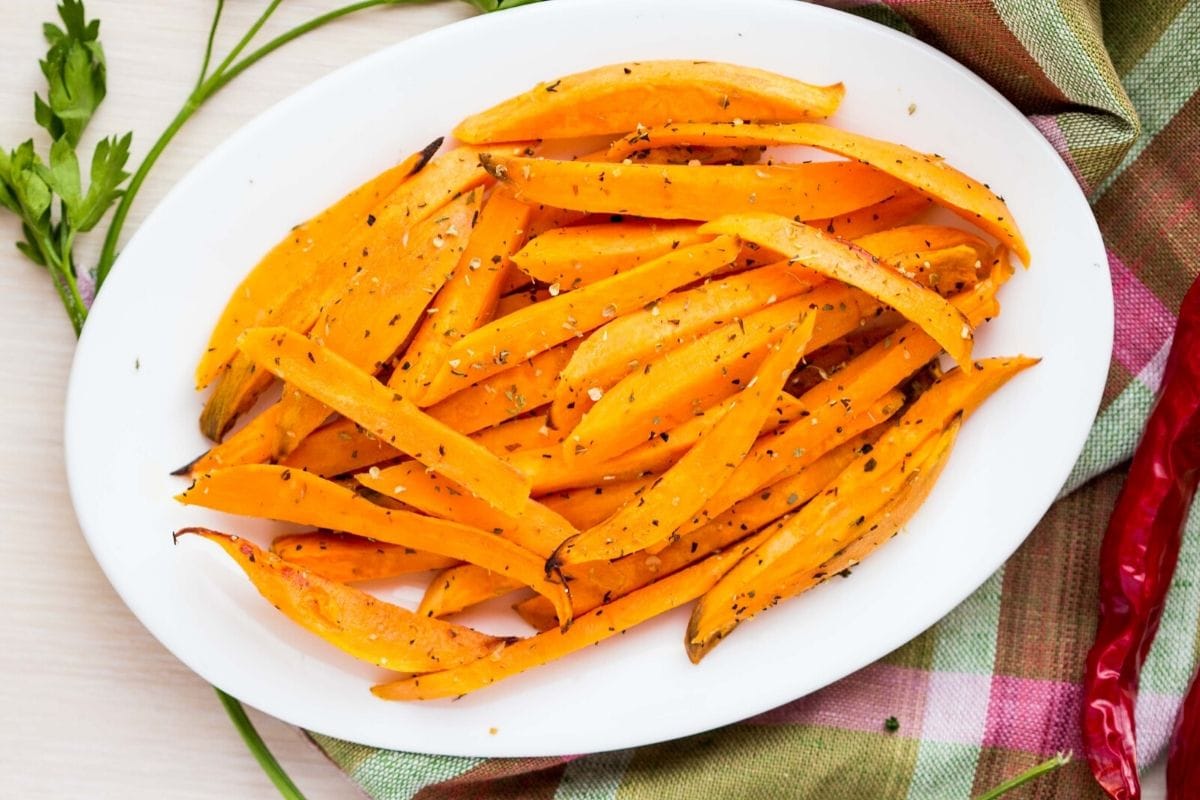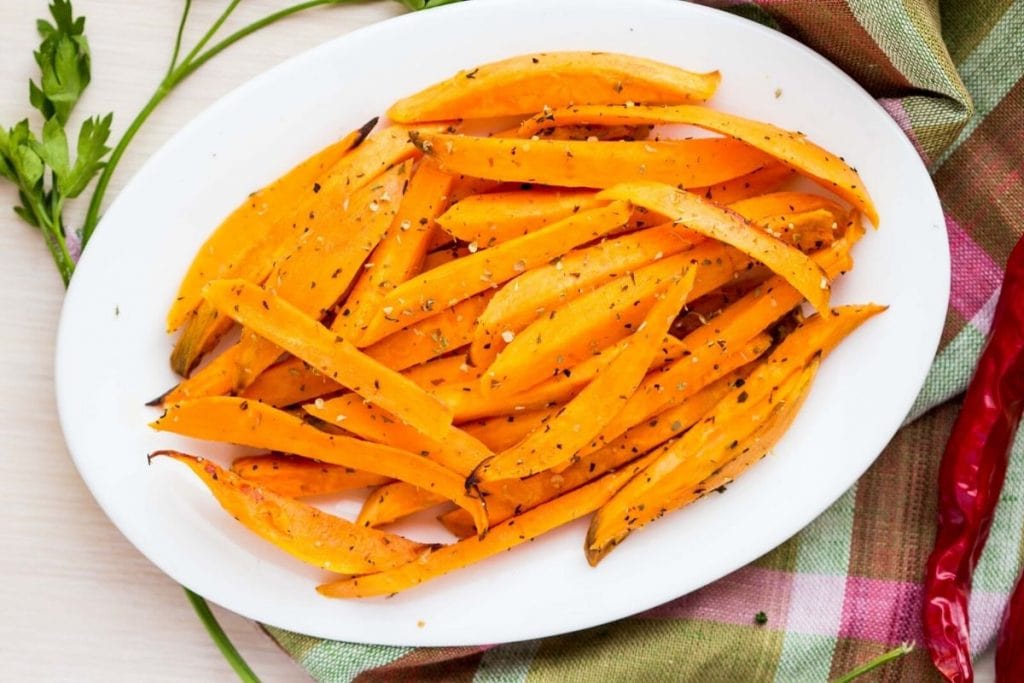 First Published: Apr 3,2016... Last Updated: May 20, 2020
Ever wonder how a sweet potato grows, when there aren't any seeds to plant? Keep reading, I'm going to show you how!
How to start
First thing, you need is a sweet potato slip (seedling). You can of course get these from your local garden store, but the purpose of this post, is to show you how to do it with an actual sweet potato.
My personal preference is to go with organic, but really any sweet potato will work. I also like to do this with 2 or 3 potatoes, just in case the one I picked wasn't healthy to start with and ends up diseased.
Items needed
2 or 3 sweet potatoes
toothpicks
2 or 3 glasses or jars
water
a sunny window
100 days (aka lots of patience)
1-2 square feet of dirt or garden area for each plant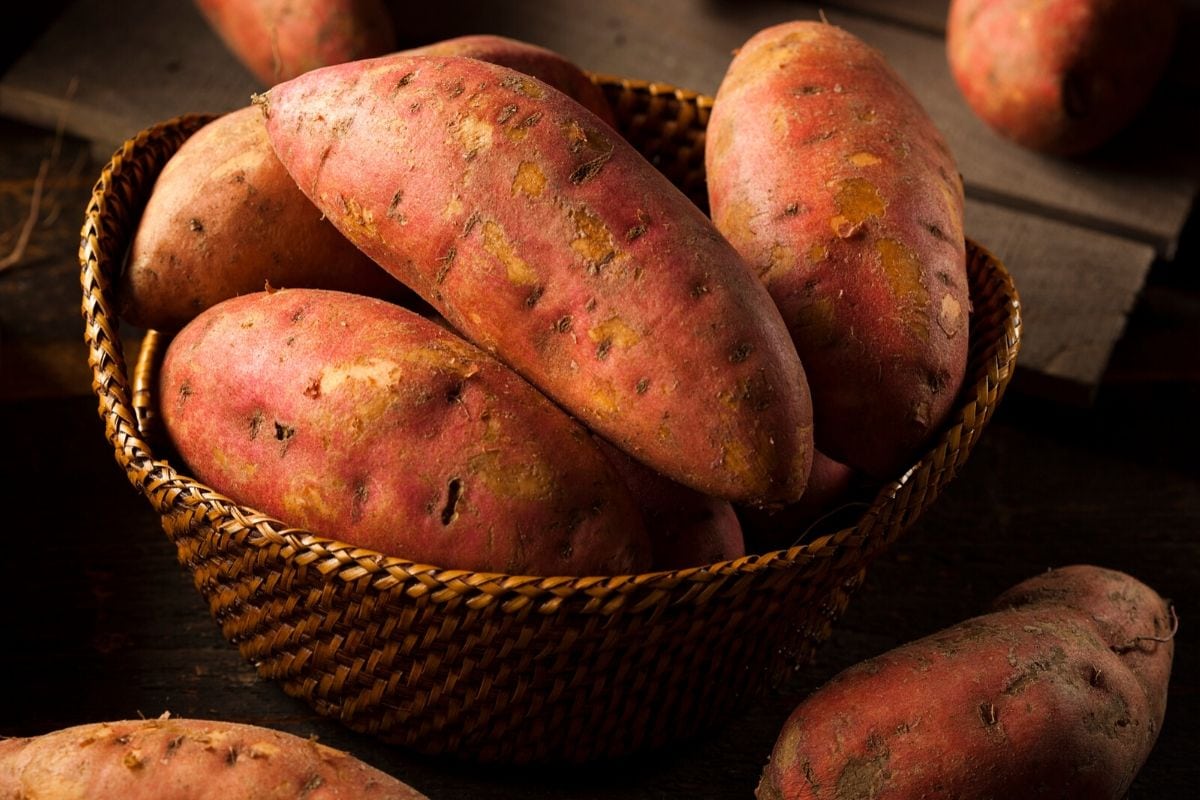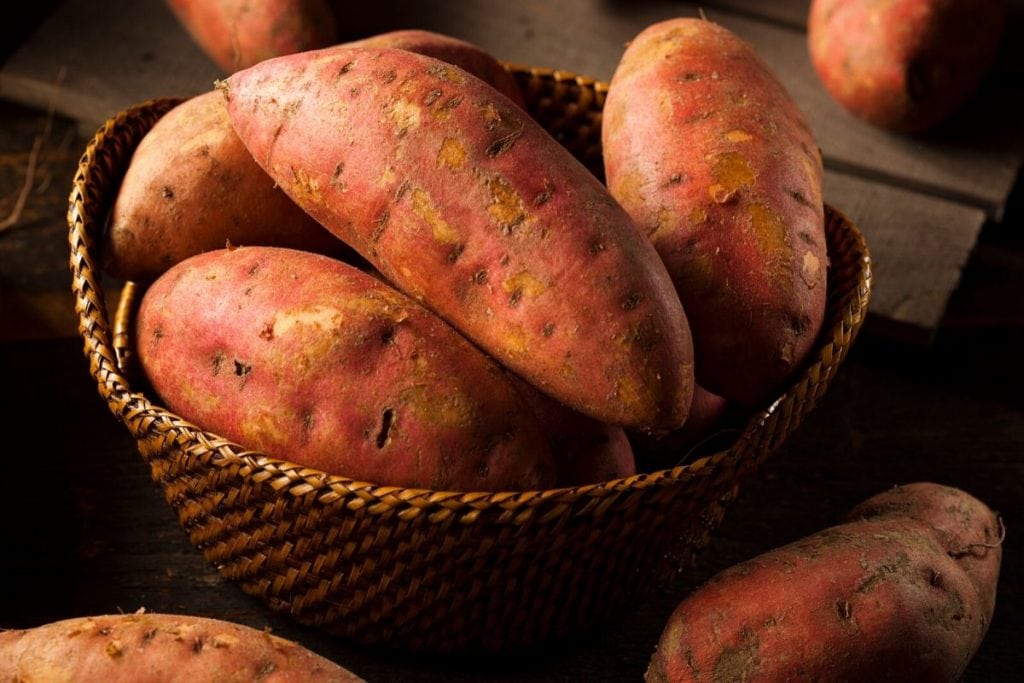 Use organic
From your local supermarket or farm stand, purchase a few sweet potatoes. As mentioned above, I prefer organic, especially when I am growing my own potato seedlings (also known as slips) from them.
I don't want any added chemicals to my plants. Just a note, that the organic potatoes look smaller than the sweet potato you may get at your local grocery store. They are often thinner and smaller, but I will be the first to tell you just how much softer and more flavor they will have than your regular non-organic potato. Definitely give it a try, if you can!
RELATED: Set your next adventure on Strawberry Picking!
Glass jar
Next, you will need a glass jar or cup for each sweet potato. Fill the glass with cold water about ¾ths of the way.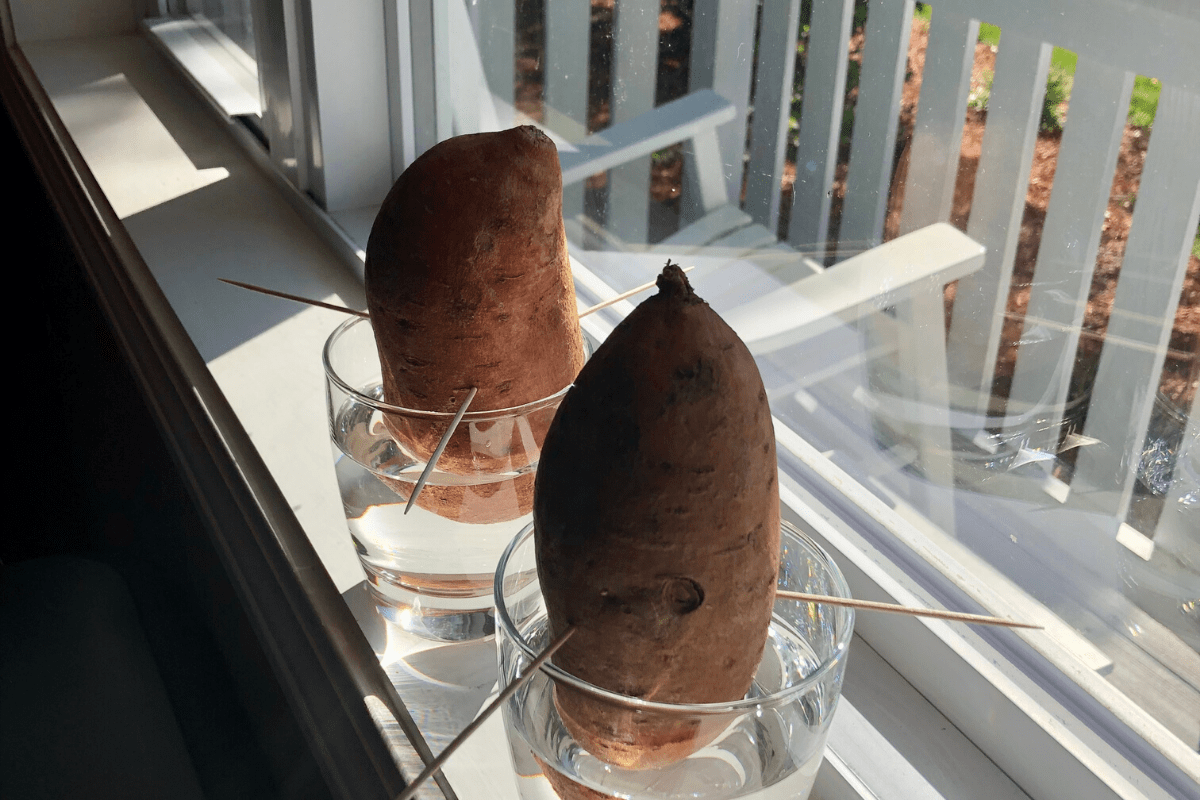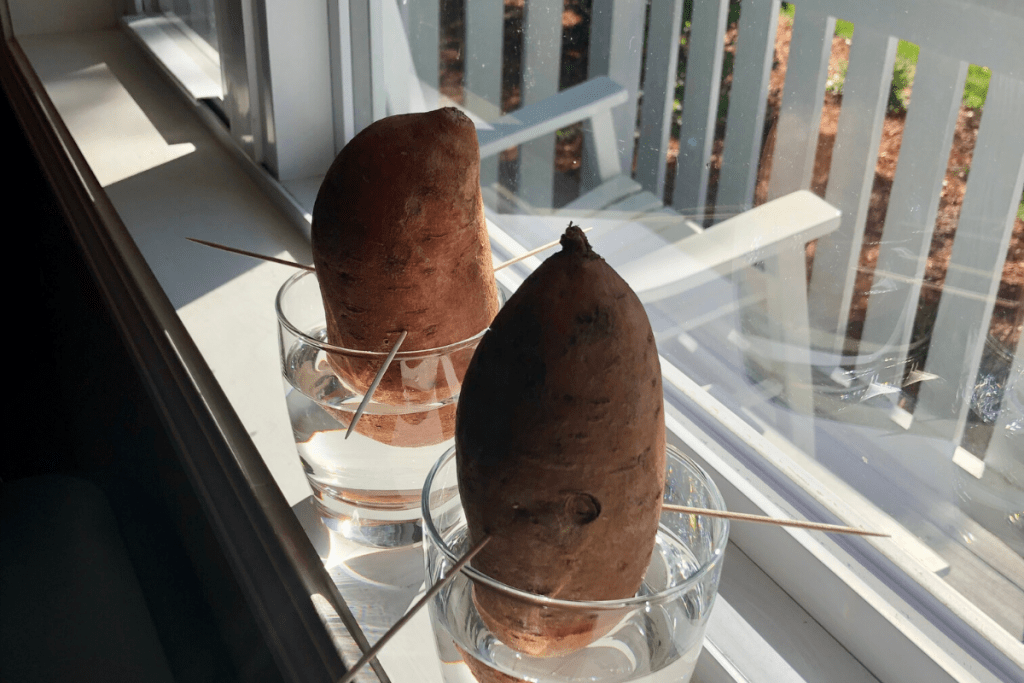 Pierce the sweet potato with 3 or 4 toothpicks in the side to hold it on the rim of the glass. Be sure the bottom of the potato is sitting in the water and the top half is not.
100 days
Put the glass of each sweet potato set up in a sunny window sill for about 100 days. Yes, I know it sounds like a very long time. It is. But just like any other plant, you need to care for your potatoes.
About once a week or as needed, change the water or fill it up to the brim with more cold water.
Potato sprouts
Soon, your sweet potatoes will start to sprout! Each potato can grow many vines. Let them continue to grow. The leaves will grow bigger and the vines will get about a foot long. Just keep checking the water level as they grow.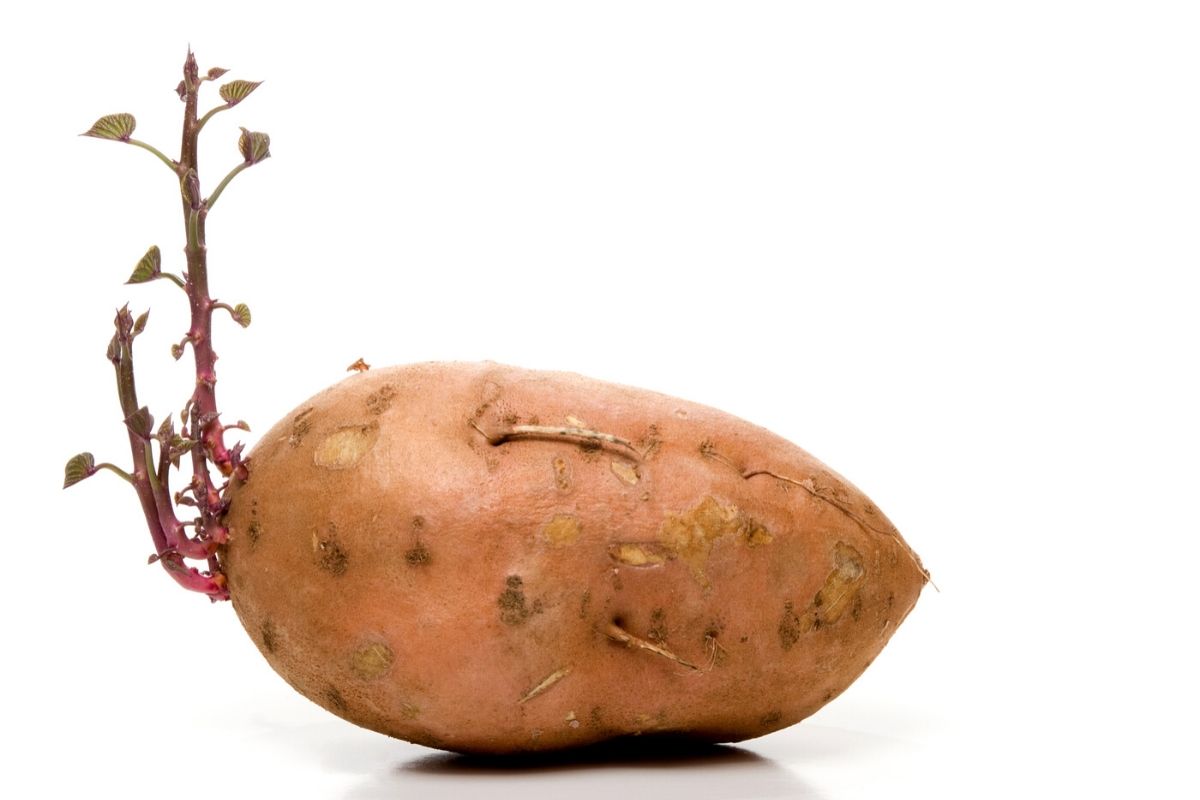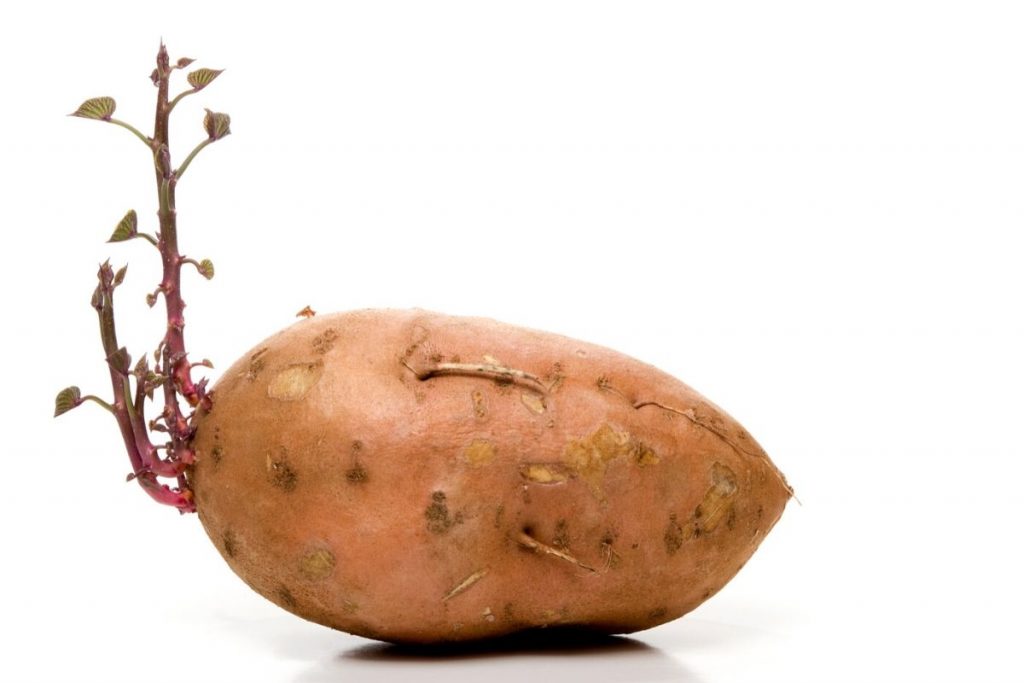 Sweet potato slips
Once the vines of the potato are about 12 inches long, about 3 months later after you've started this experiment, carefully twist each vine off of the potato. It should look like the picture below.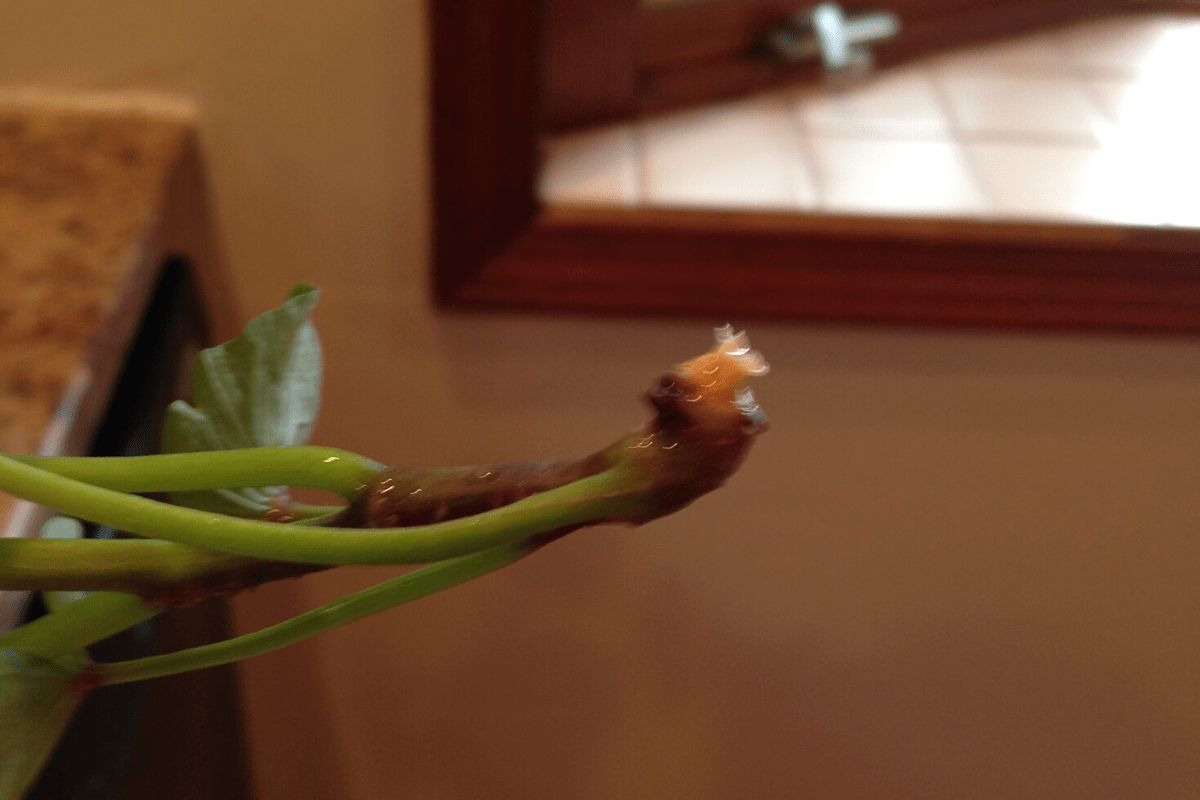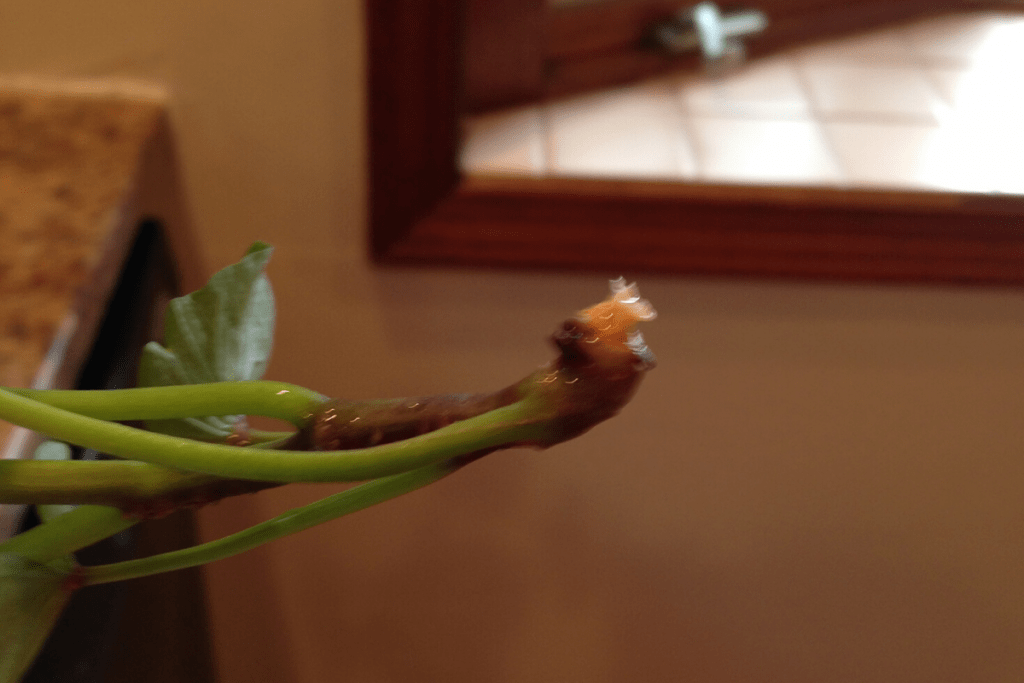 Next, in put each vine in a small cup of water. I just used some plastic cups we had on hand. It will take only a few days for the slips to sprout.
While waiting, make sure your garden area soil is ready to go.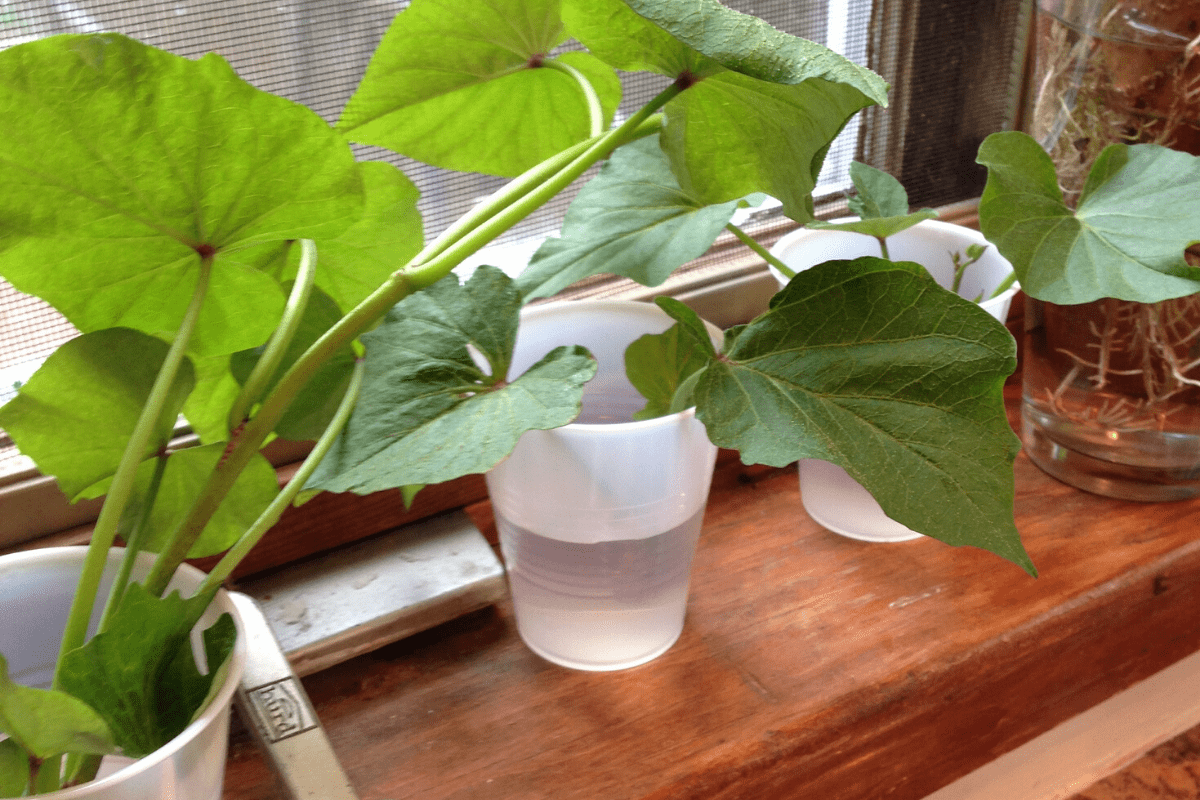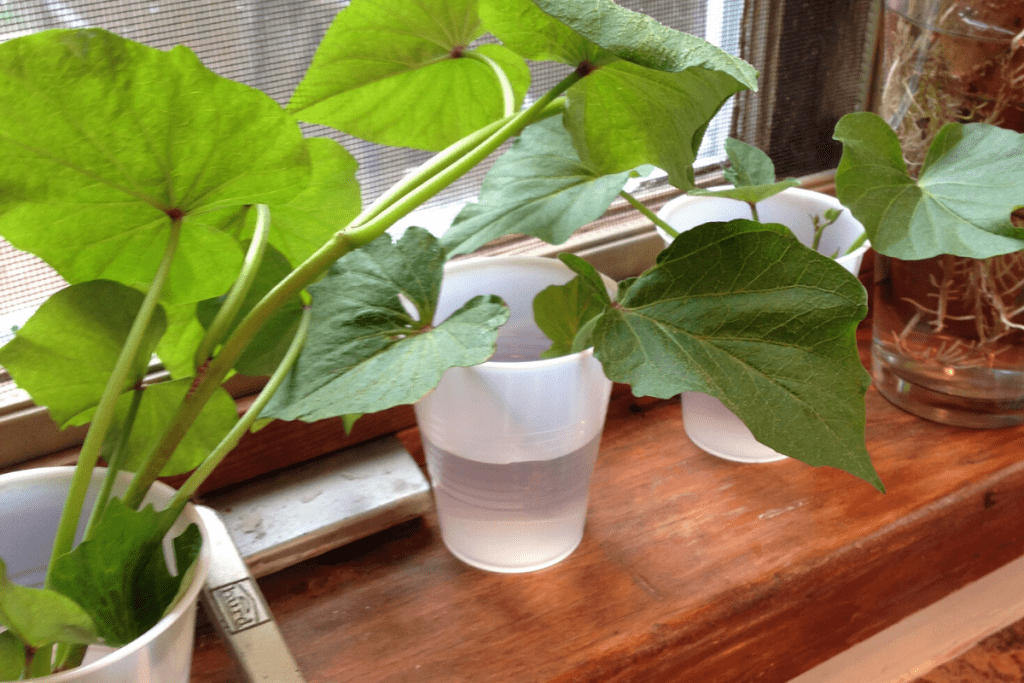 Next, the sprouted slips will grow roots in about a week. When they are about 3-4 inches long, they are ready to be planted in a sunny warm spot outdoors. Don't forget to water often and keep an eye on your plants as you watch them grow.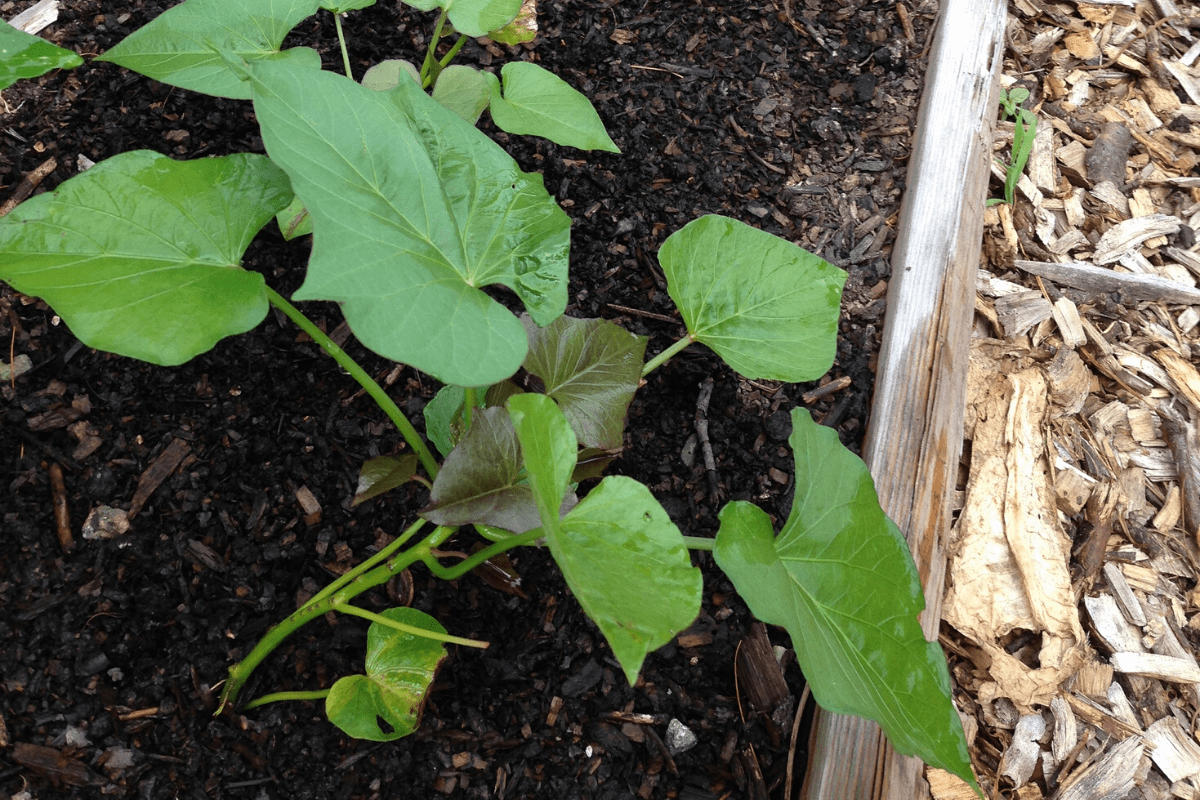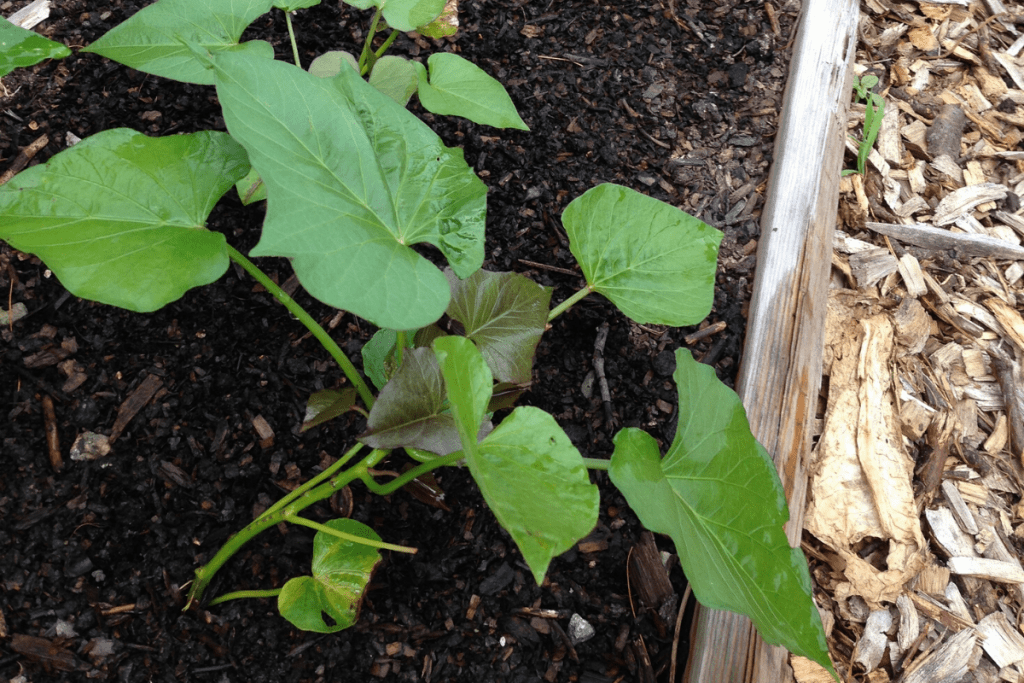 Here are a couple of vines that I planted. Now the hard part of waiting and watering again! They will nearly double in size and sweet potatoes will grow under the dirt.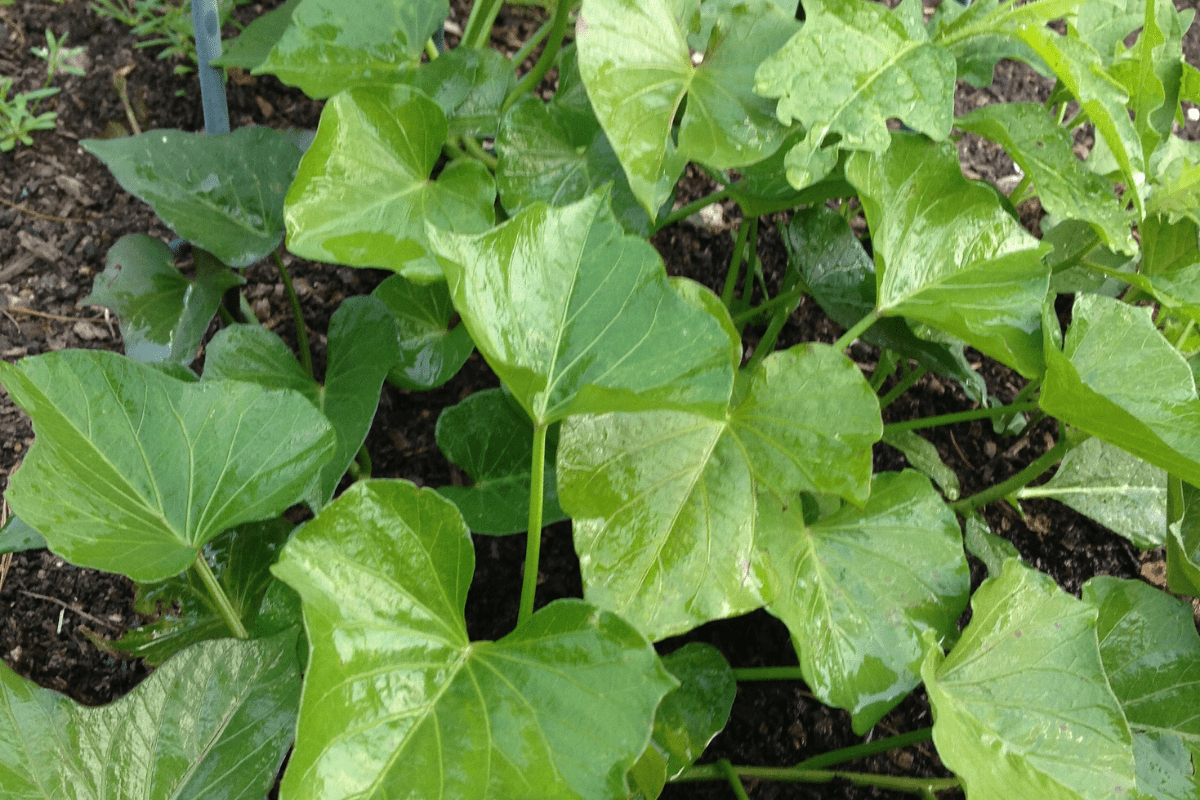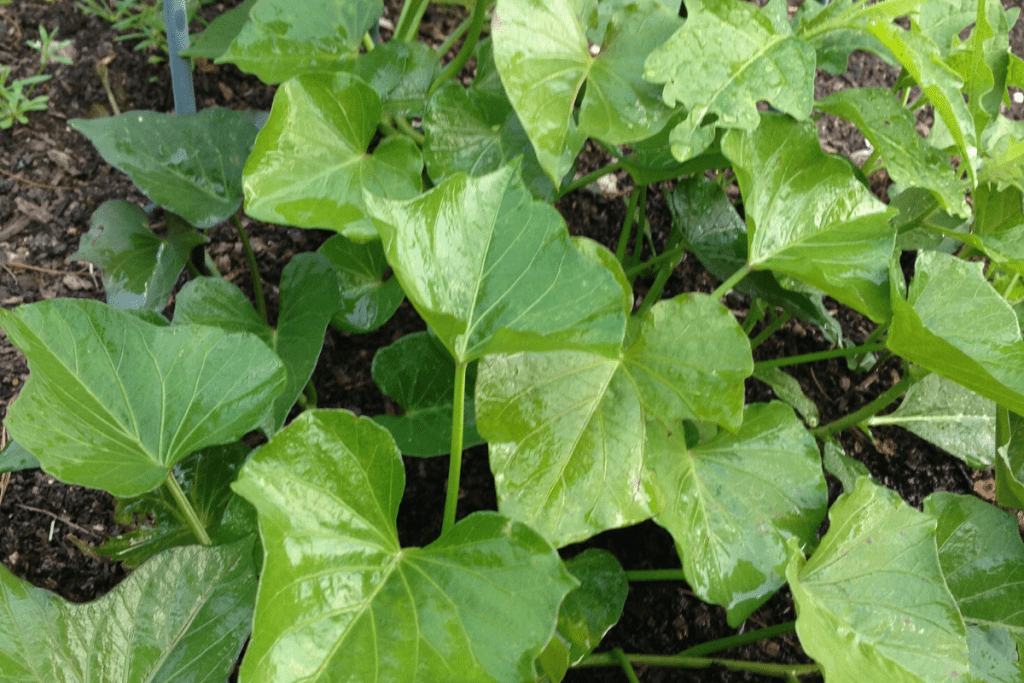 It doesn't take long for your vines to grow from a small vine to many bigger larger vines like above. In about 2 to 3 months your sweet potatoes will be ready to eat!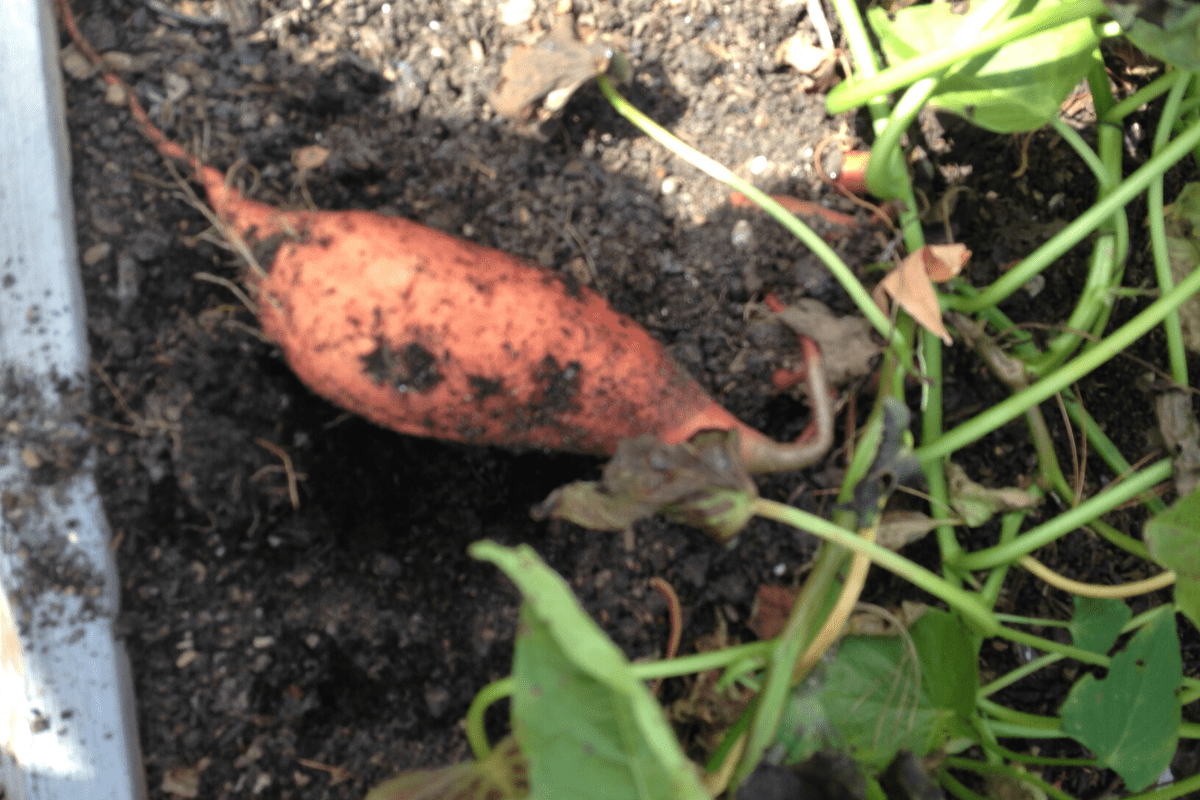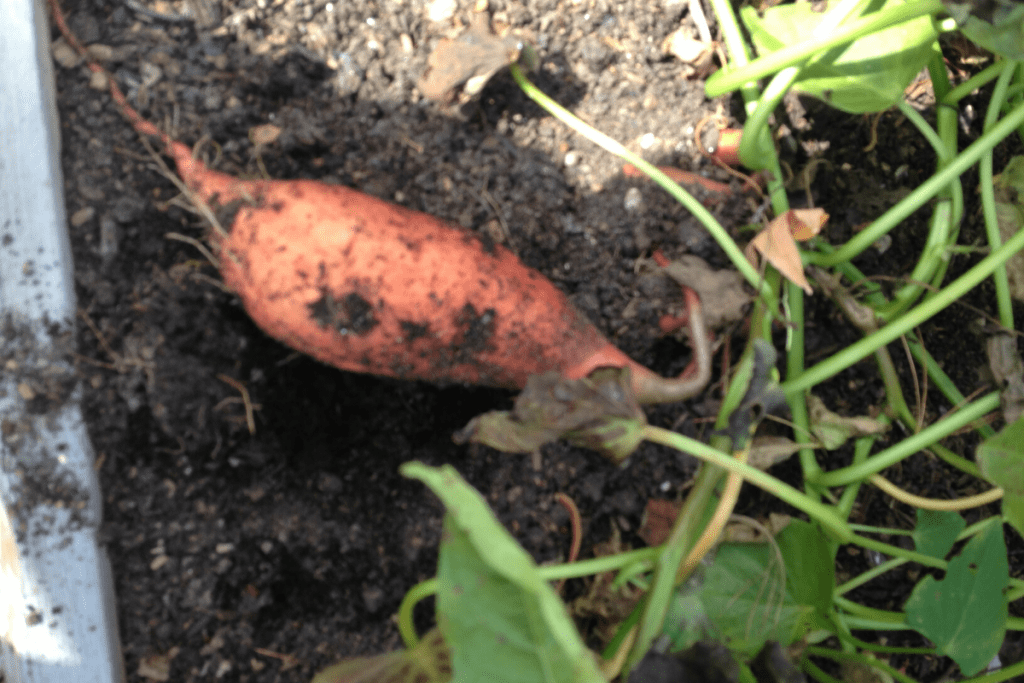 In the fall, I was anxiously waiting for some sign there were sweet potatoes in the ground. After pushing some of the vines over and saw the tip of a sweet potato.
I pulled them up and it wasn't just one, it was a bunch!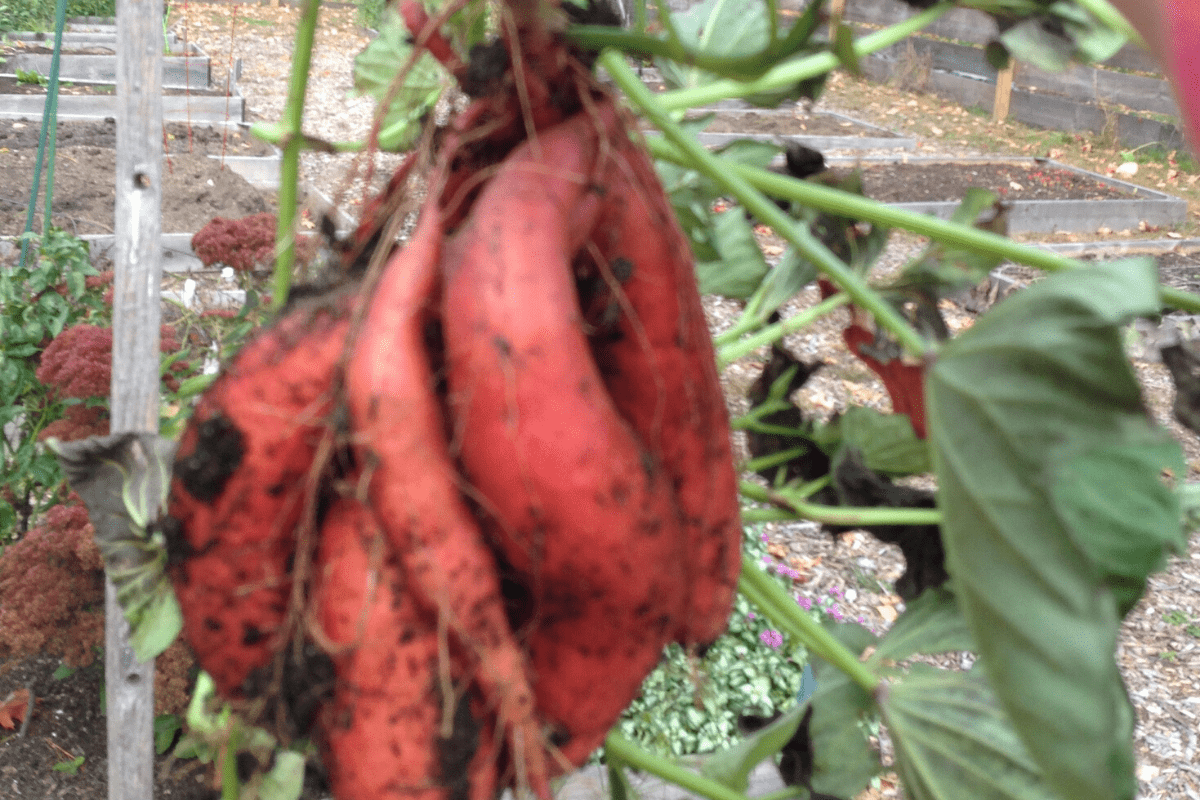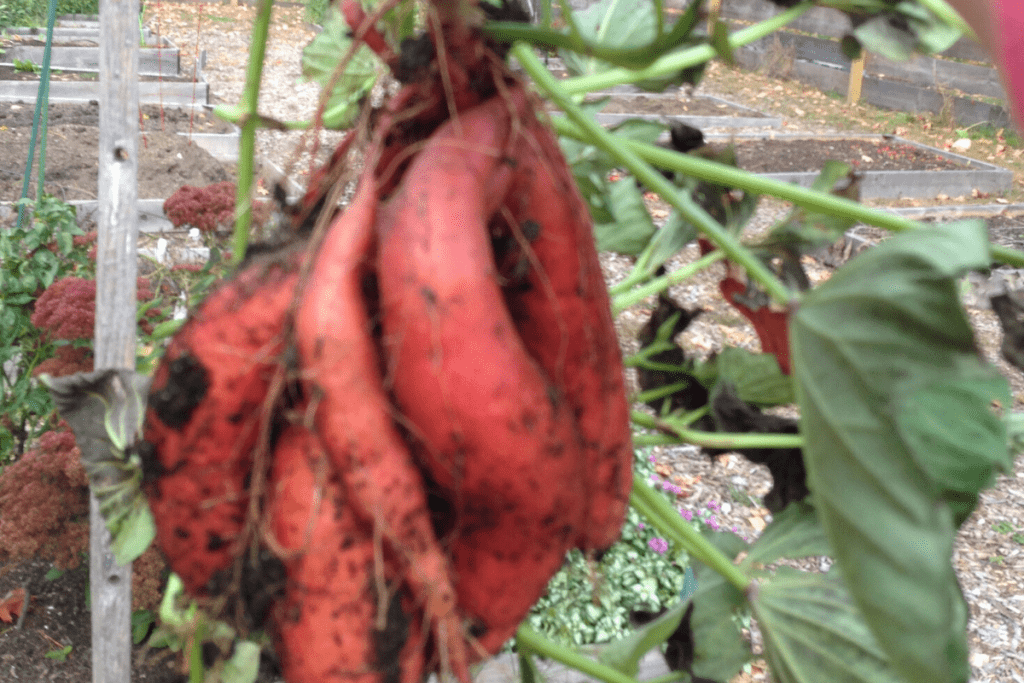 We did it. Grew a sweet potato.  Here are some pictures of what I actually pulled from our few vines that I planted.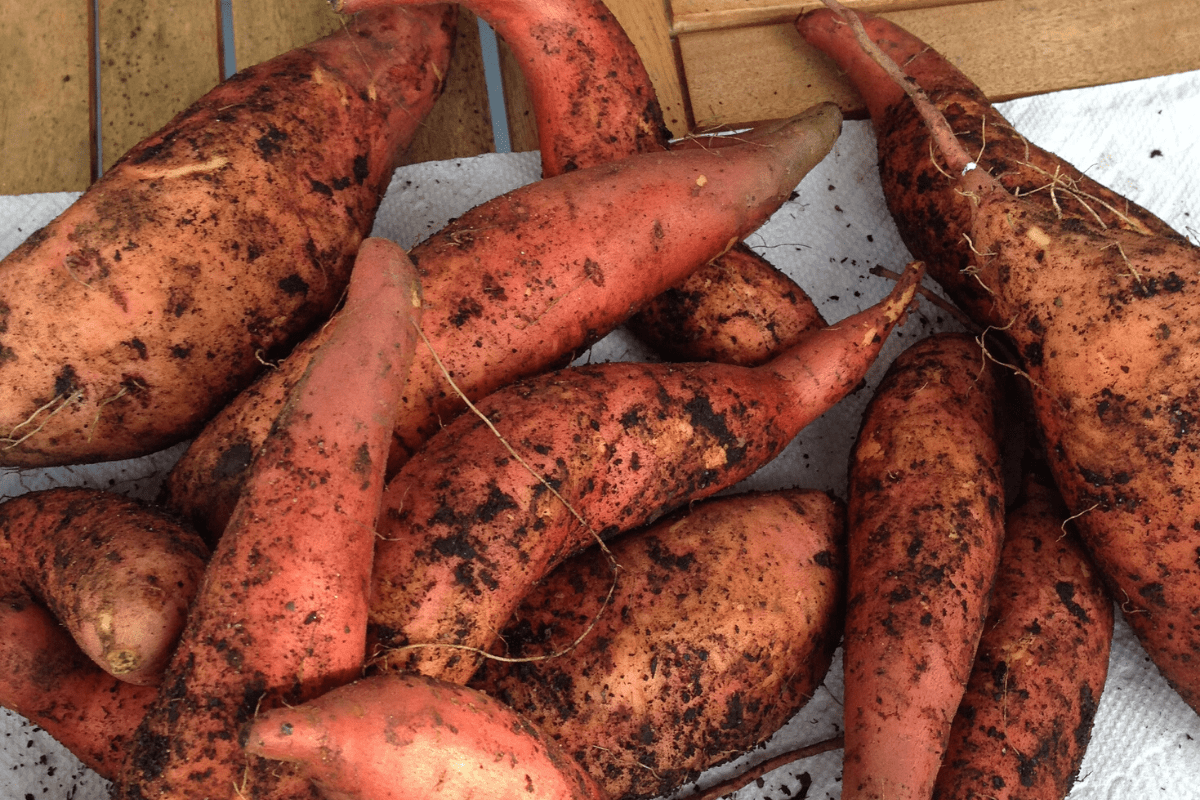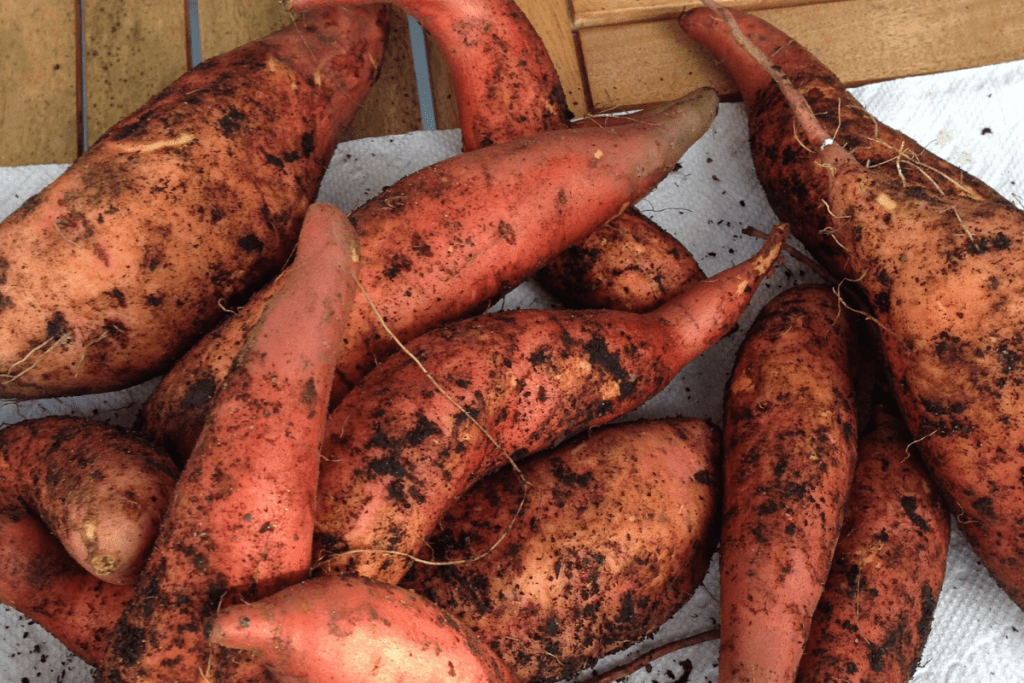 It was an amazing experience!
Homegrown sweet potatoes taste so fresh and awesome! We are looking forward to doing it again next year! Look, just because it's snowing out your April window, it is the month to be planning ahead. Get your sweet potatoes in the window sill in April or May and then you too will also be able to enjoy homegrown sweet potatoes in the fall.