---
If you're looking for some 'cool' fun this winter, then you will want to make time to visit the Ice Castles in Lincoln, NH.  The Ice Castles are walls of ice, made by freezing over 10,000 icicles each day. Over an acre of frozen walls, tunnels, towers, archways and more! This is an incredible and amazing place, that in my opinion is definitely not to be missed if you are in New England.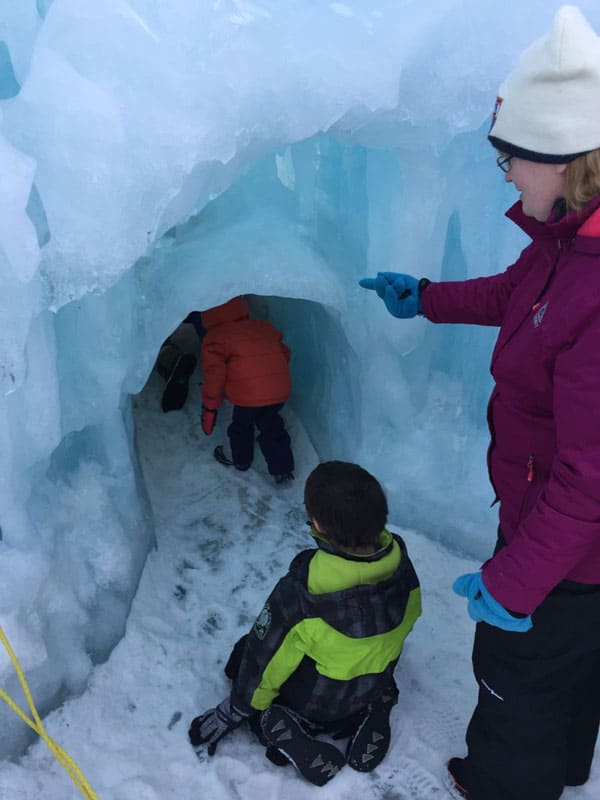 First Published: Dec 15 ,2016… Last Updated: Jan 5, 2020
PURCHASE AHEAD OF TIME ONLINE
When you purchase your tickets online, you are picking what day and time you will be there.  We went at dusk so it was light when we were there and just starting to get dark (and filled with more people) as the evening came along.  I think it was the perfect time to go with our two boys at their younger age. Next time, I look forward to going later in the evening.
HAVE A POSITIVE ATTITUDE
After purchasing my tickets online, I started to read the reviews on various travel sites.  Some loved it (like me) and others thought it was overpriced for what there was to see and do.  But don't let those negative reviews get you down! Go in knowing this is a unique attraction that you don't get to see everyday!  And did I mention, made by hand?  Yes, that's right.  Worked on and groomed daily.  Appreciate and be amazed!  Smile and your kids will too.  Take pictures and enjoy!
DRESS WARM 
Meaning, put on the snow pants over your jeans for you and your kids. Wear gloves, boots, hat – the whole shebang. It's an outside ice attraction.  It will be cold, so dress for it!  My husband, decided not to wear the snow pants and I know he wishes he did by the end of our experience there!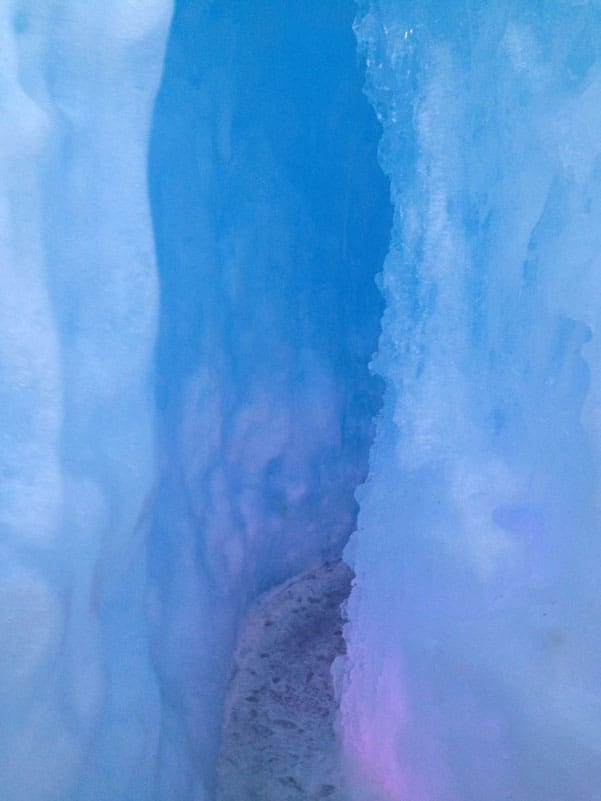 WEAR BOOTS
I can't stress this enough as mentioned above, to dress warm.  The flooring is crushed snow/ice so winter boots that grip are the best to wear.  There were parts that were slippery…because you know it's all made of ice.  Be prepared, not cold!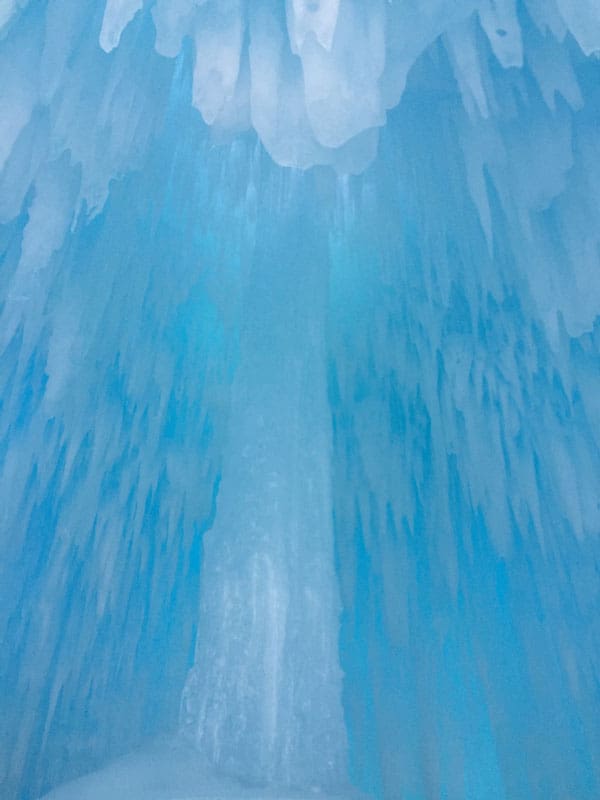 HAVE FUN!
A slide?  Tunnels to explore?  Hell yeah!  And my kids weren't the only ones to explore these things.  I waited in line with the kids to go down the ice slide.  Be warned, you will need to crawl through a tunnel, then proceed up a thin iced ramp to get to the top of the slide but it's doable and a unique, fun experience.   There are colorful lights inside the tunnels.  I wanted to see this for myself, so yes, I squeezed myself through it!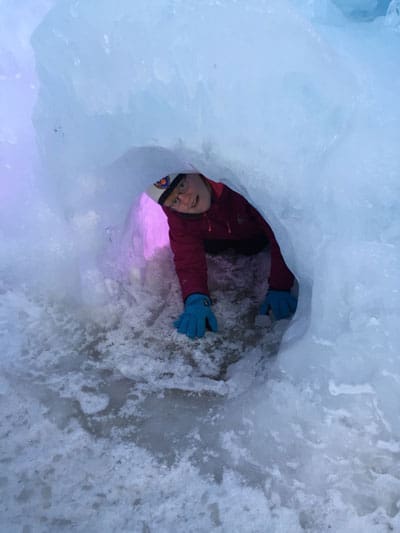 We all loved it.  We easily spent an hour and a half there and my kids would have stayed longer if my husband would have stayed longer but like mentioned earlier, he didn't wear his snow pants and was cold!   They loved crawling through the tunnels.
It truly is an ice playground!
Ice Castles in Lincoln, NH, usually opens Late December/Early January depending on the weather conditions.  This year it opens on January 10th and tickets go on sale on January 6th!  You can purchase tickets on their website and because you are one of my readers, be sure to use this exclusive coupon code: NEMomma20 to receive 15%off your tickets!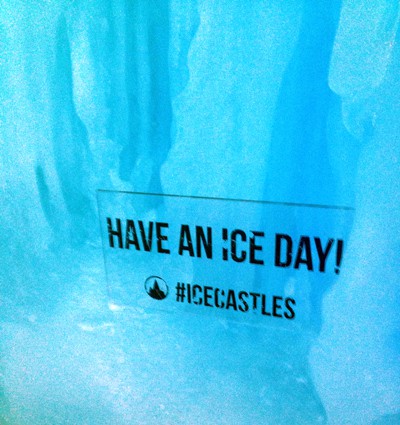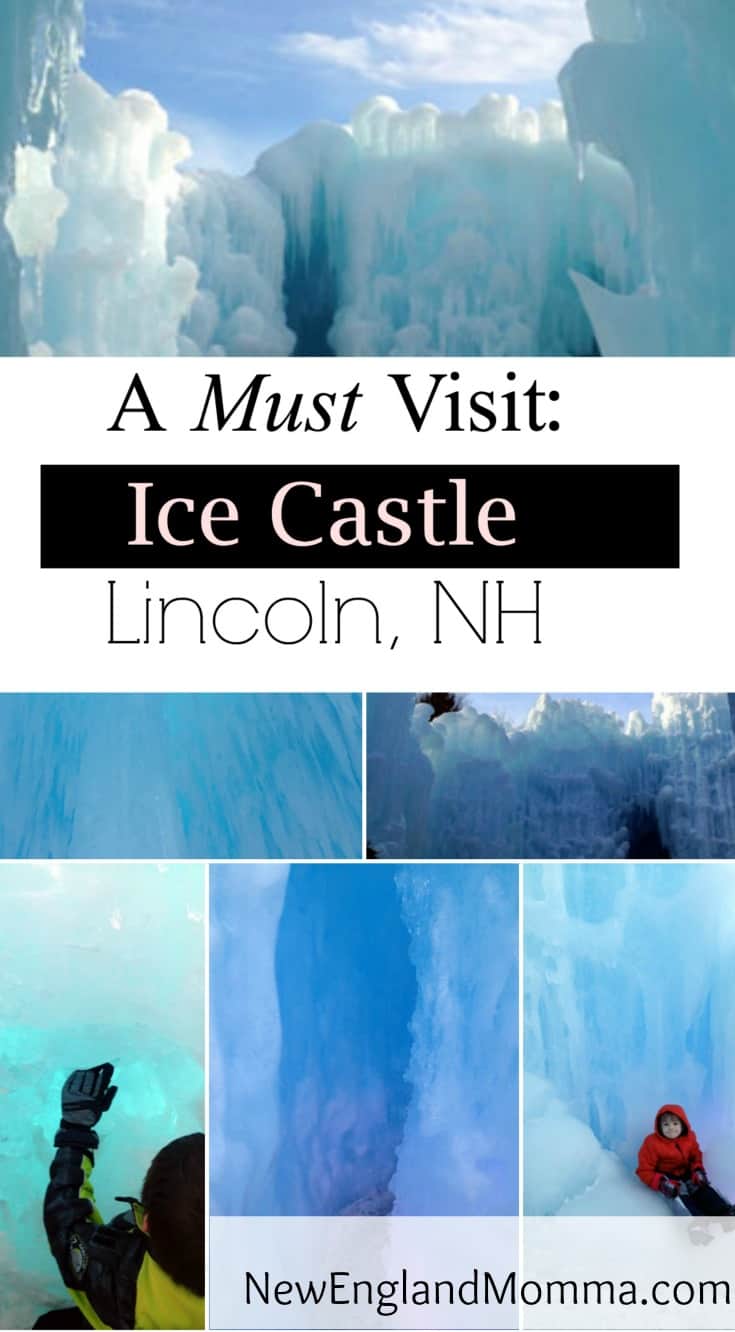 SaveSave
SaveSave