First Published: Jun 8,2017... Last Updated: Oct 15, 2019
As an Amazon Associate I earn from qualifying purchases. 
Camp mornings often start with a chill in the air.  It's can be difficult to get out of bed when you're cold, but you know that once you get the coffee brewing, your senses will also begin to awaken.  Then a smile comes to your lips as you remember, you have bacon to make for breakfast this morning!
And that's when it hits you.... 
At first it comes to you in a slow whiff as you're taking in the smell of fresh air and...An ohh so smokey... so delicious smell. A smile comes to your face as you take a deep breath and enjoy the smell of another camper cooking bacon!  
The best part of waking up...
Now you're up and out of bed because there are only a few smells that will make you want to get out of a warm sleeping bag. I don't know what it is about bacon but next to coffee and cinnamon rolls, it's one of my favorite things to have when camping.
And if you've never had it over the charcoals then you are missing out! We have a  Table Top Grill that we like to use to cook on when camping.  I've heard of some people taking slabs of bacon and throwing it right upon the grill grates. But not me, as the thought of losing one piece would be very disappointing, especially when we are usually all clamoring for the last piece.

Heavy-duty tin foil
Prepare your grill with a layer of charcoal.  After lighting up the coals and waiting for them to heat up,  lay out a couple of pieces or heavy-duty foil or layer a few pieces of regular tin foil on top of each other.  The bacon and grease will be heavy and you don't want it to rip or leak out.  
Lay the bacon down in strips on the center of the foil.  Non-stick spray is not needed as the bacon grease will be plentiful to keep it from sticking.  
Also, don't worry if the bacon slices touch each other.  In fact, it will all soon be, so lay out the bacon as best as you can.  Sometimes, before I fold up the packet, I love to sprinkle just a little brown sugar on top. This adds a little extra crunchy stickiness that my family loves.  Fold all sides of your packet of tin foil up. Press together to create a tight seal, making sure there are no holes for the bacon grease to escape.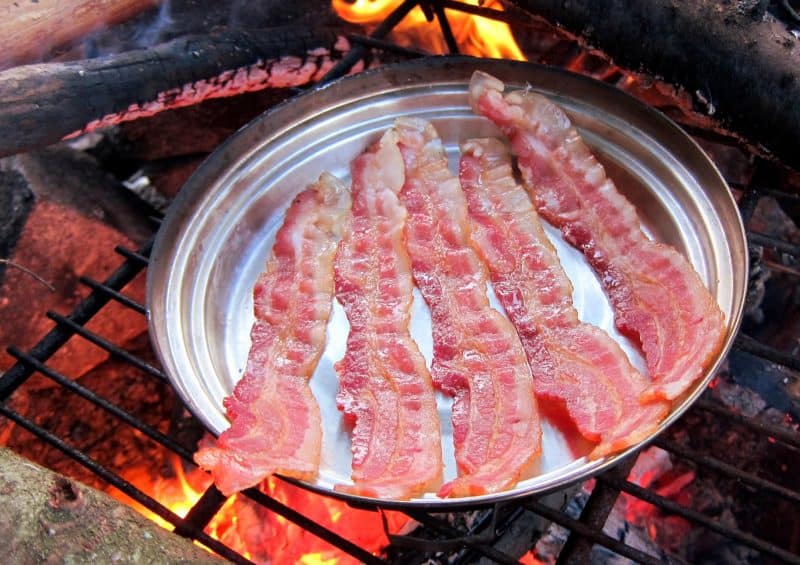 Enjoy the looks of envy
Lay your packet of yumminess on the grill grate over the coals. Put the lid on your grill and wait. Make up some coffee while you're waiting. Enjoy the many envious looks of other campers as they walk past your site thinking 'Ohhh is that coffee and bacon I smell?'
We love making pancakes or eggs on a griddle, while we wait as it does take quite a while for bacon to be fully cooked. Take the grill cover off, and peek inside the tin foil package occasionally to flip the strips as needed. Burnt bacon still tastes good but nobody wants that!
Easy clean-up
After the last piece is gone, it's time to clean up. Let your tin foil of bacon grease cool completely before disposing of it.  As this will be a magnet for night-time critters, be sure to wrap it up tightly before putting it in the trash can.   Sometimes, I even put the tin foil ball into a sealed plastic bag to help keep smells contained.  Before walking away, be sure your trash can cover is tight.
Easy clean up and what a great way to start the day!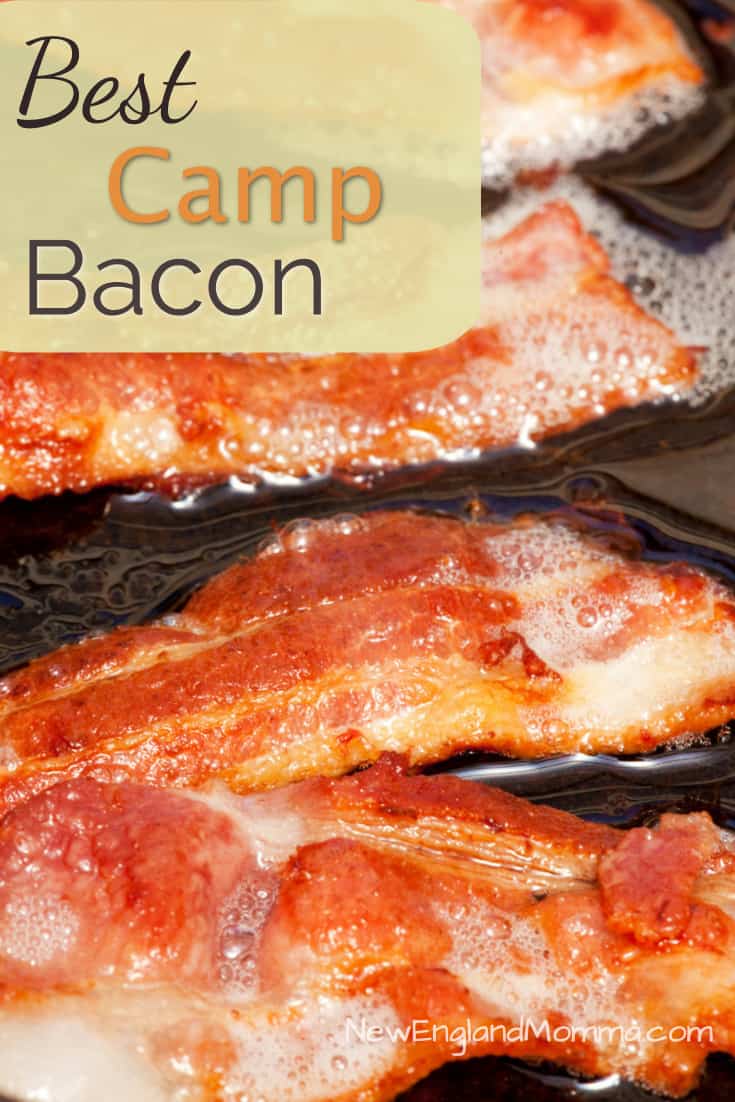 MORE CAMPING POSTS YOU MAY ENJOY: