Animal Adventures in Bolton, MA., is a privately owned exotic animal rescue center that is open to the public for visiting, tours, class and events. Here you can pet a kangaroo, feed an alligator, hold a snake, touch a turtle shell, and visit with many more exotic animals.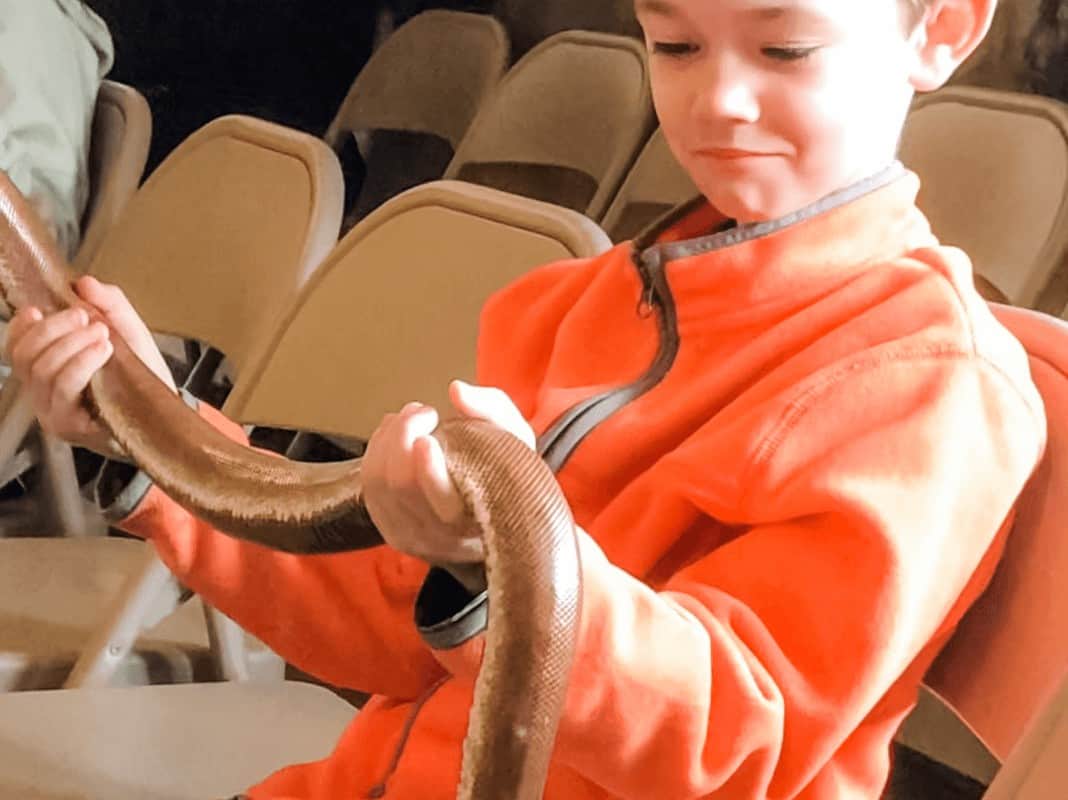 First Published: March 27, 2018, Last Updated: October 2, 2020
This is a sponsored post, but all opinions are my own. Animal Adventures invited our family out to meet some of the animals up close in exchange for "telling all our friends about Animal Adventures". And that's exactly what I plan to do!
We have been Animal Adventures many times in the past and have thoroughly enjoyed it.  It's truly a hidden gem of central Massachusetts. We love it here so much, I wrote a post on it back in 2018, because I want others to know just how much fun there is here in discovering and touching animals. Recently, Animal Adventures approached me about coming back again for a private tour.  Well, we jumped at the chance to be able to meet more wonderful animals at Animal Adventures!
If you've never heard of Animal Adventures. This place is awesome!
More fun than a zoo
Animal Adventures in Bolton takes in exotic animals that are no longer able to be kept by their current owners. The animals that come into the facility are either kept at Animal Adventures and used for educational programs, or are placed at other animal facilities. Animal Adventures delivers thousands of educational programs throughout New England each year.
When visiting Animal Adventures, we have met a Bearded Dragon, a Ferret, Chinchilla, an American Alligator. As well as a Blue Tongue Stink Lizard, a South Florida King Snack and a Red Tail Boa Constrictor. How many people do you know say they pet a kangaroo, fed an alligator, saw a porcupine, skunk, fox, or a bobcat up close? These are only a handful of the animals, Animal Adventures has in their rescue center.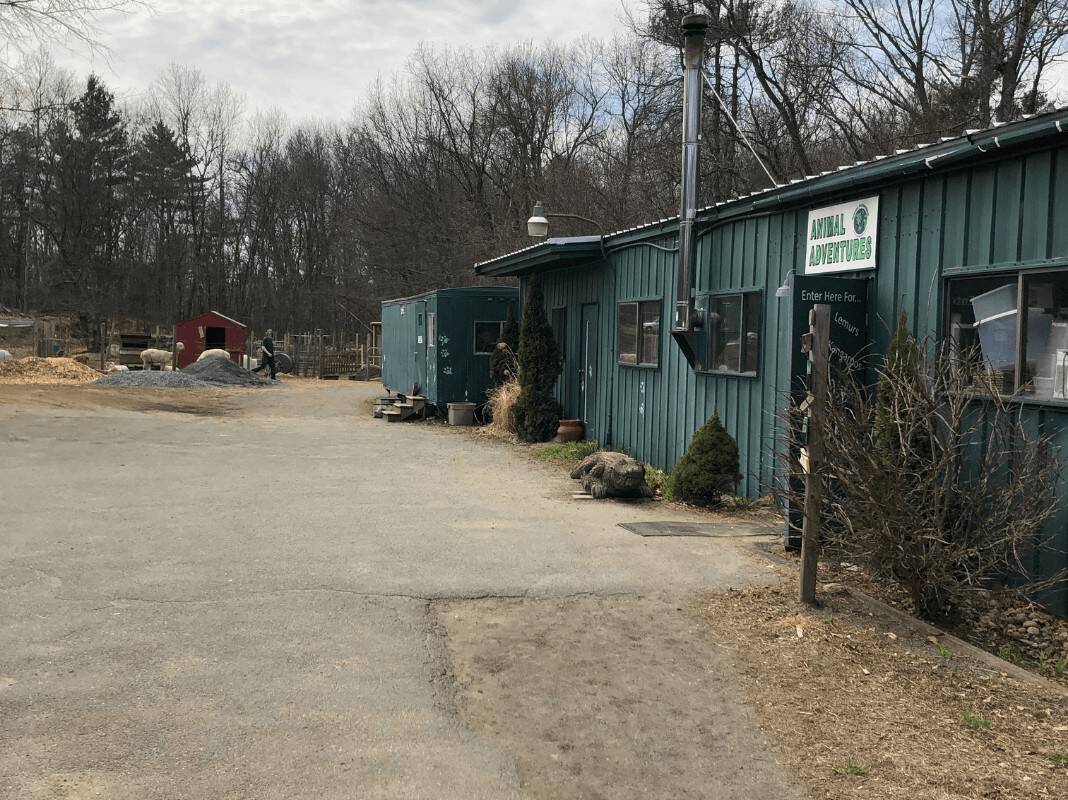 What to know before you go
Wear Boots: snow boots, rain boots or just a junky pair of sneakers. The ground is mostly dirt and not paved between each building. Every time we've gone, we were happy the kids had a pair of boots on so they didn't ruin their sneakers walking in mud from rain/snow. (We've always gone in the Spring – I'm sure it's much drier in the summer months).
Live Show: After paying the admission, check when the next live animal show is to meet and pet many of the animals mentioned above. It's one of the best parts in my opinion. I really enjoyed patting the chinchilla and watching my son hold a snake!
Ask Questions: Look for the staff in the green t-shirts and encourage your kids to ask questions. The staff at Animal Adventures are incredibly helpful and knowledge. We got to see a porcupine walk out of its cage right in front of us as well as pat a lizard in the reptile room because my kids asked.
Play Space: Kids can get some energy out by running around the castle playground or by petting the bunnies and goats. Bring a few extra dollars to buy goat food.
Food: They sell bottled water and various chips for snacks, but if you want more, bring it with you. They discourage eating during the live animal show for sanitation reasons (eating while petting exotic animals…ewww), however, when you're out in the play space, they do have a couple of small picnic tables to enjoy your lunch while the kids play.
Tours: If you want more than the regular live show and self-guided tour, then check out the private tours and extreme tours. You will get a personal guide to walk you around, answer questions and get more hands-on with the animals. Private and extreme tours require reservations. I cannot recommend the personal tours enough after what we had done this day. Takes the visit to a new level!
On arrival
We arrived at 10 AM, when Animal Adventures was just opening for the day. While the kids checked out the play area, I checked us in and found out the first live animal show was at 11:00 AM. The live shows usually run every hour, on the hour. Check when you get there, as this hands-on show should not be missed!
While we waited for the live show, we were escorted into another building to begin our tour. Our guide's name was Zen. She was an awesome tour guide! Okay, truth be told, all the staff at Animal Adventures are pretty awesome, but she brought us around to meet many of the different animals as well to touch, hold and ask as many questions as we wanted.
Animal Adventures has a play space outside for kids if you're waiting for the live show to begin and you don't want to explore just yet, or the kids just need some time to run and get some energy out. Both my sons enjoyed the castle as well as the bunny area.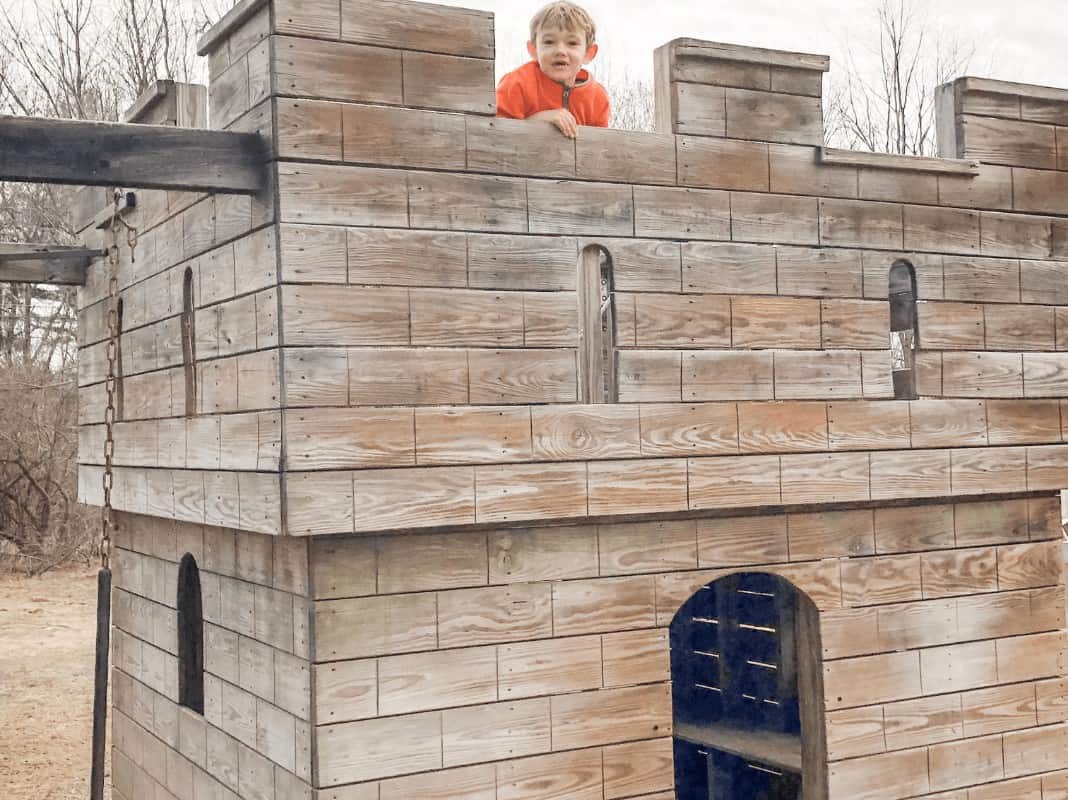 Hold a Toucan
In the first area, we got to get up close with a Coati, a toucan, a hairless rat, and a ferret. Zen was amazing and super knowledgeable answering my 8 and 12 year old's questions. And they asked a lot of questions! Where do they sleep? What do they eat? How do they hunt? How big do they get? You get the idea! As we patted, watched in awe and even held, she would answer questions.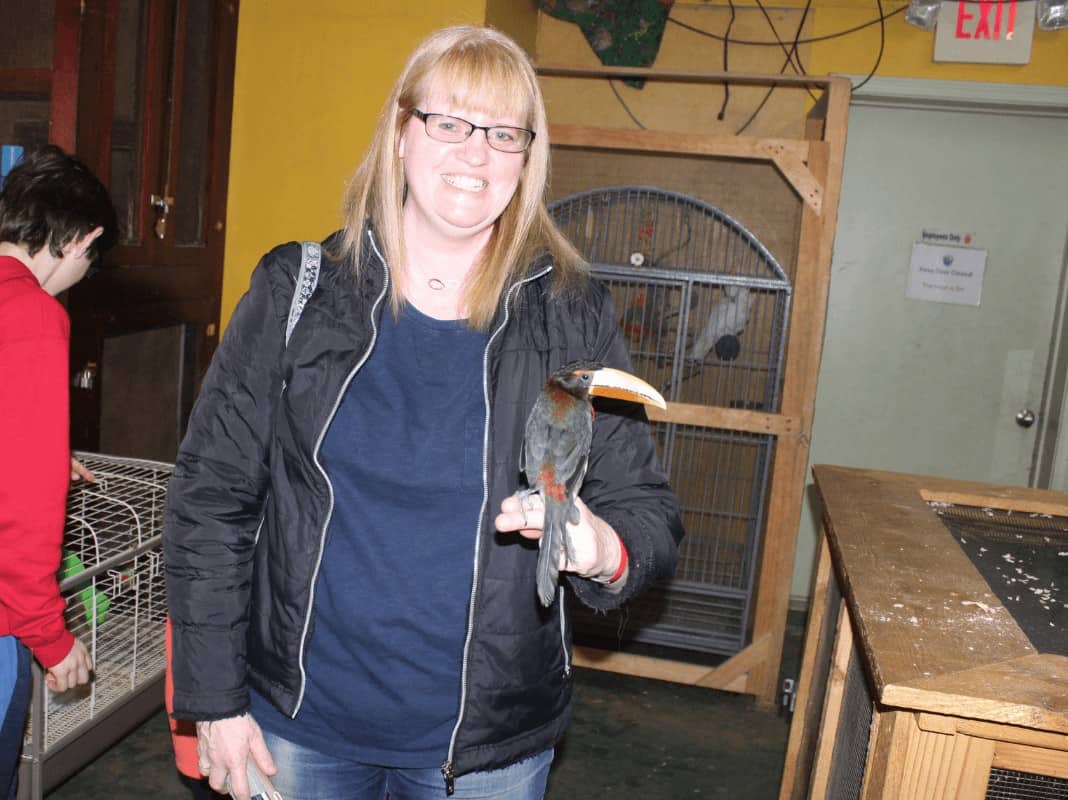 Holding the toucan bird was exciting! My son held her first and then passed the bird to me. The bird felt like she was balancing on my hand! Next Zen explained how a hairless rat makes an excellent pet as many kids are allergic to the fur and dander of a rat but a hairless rat wouldn't cause those issues. I'm going to pass on that idea!
A coati and a ferret were introduced to us as well and we got the chance to pat while Zen held the animal.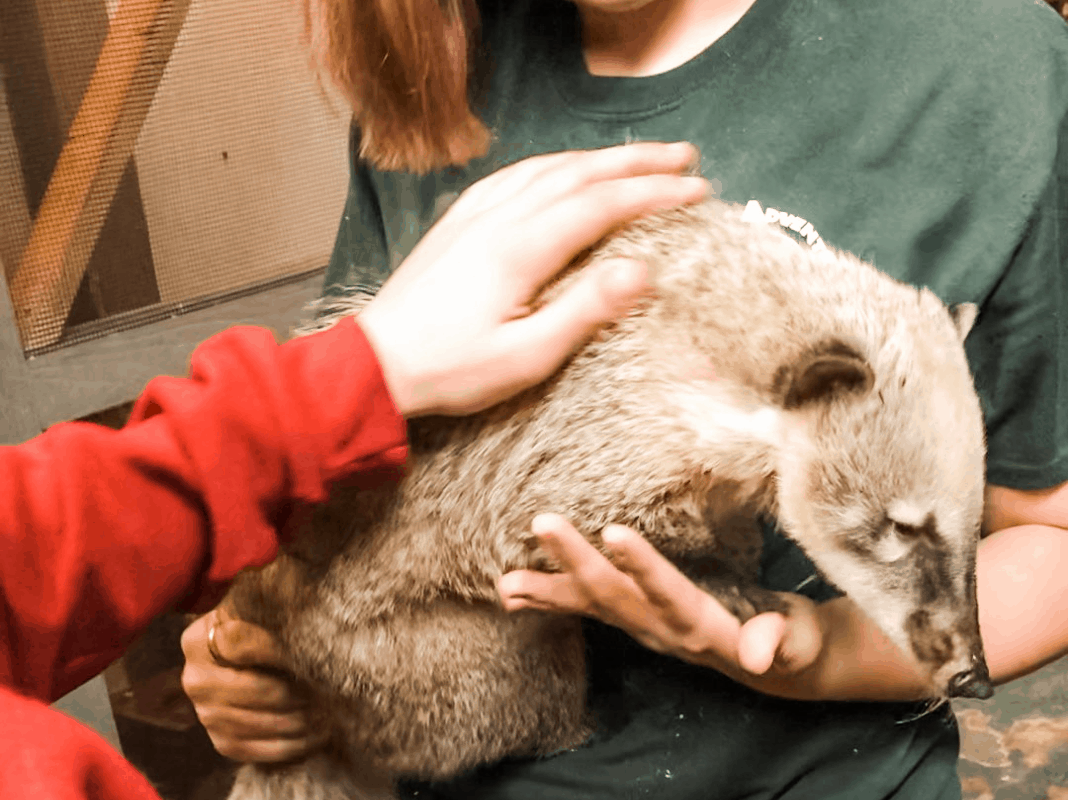 The live show
As mentioned above, this show should not be missed. Also, every seat is a good seat. Even if you end up in the 2nd row way furthest from the caretaker and the animals, they will bring the animal over to you for a pat or a look. Unless it's an animal too big to bring around, such as Gucci, the American Alligator which my kids got in line to be able to touch the gator. My favorite was patting the chinchilla. The softest fur ever! Also, watching my youngest, who was a bit shy with the animals hold the Indian Sand Boa was pretty fun too!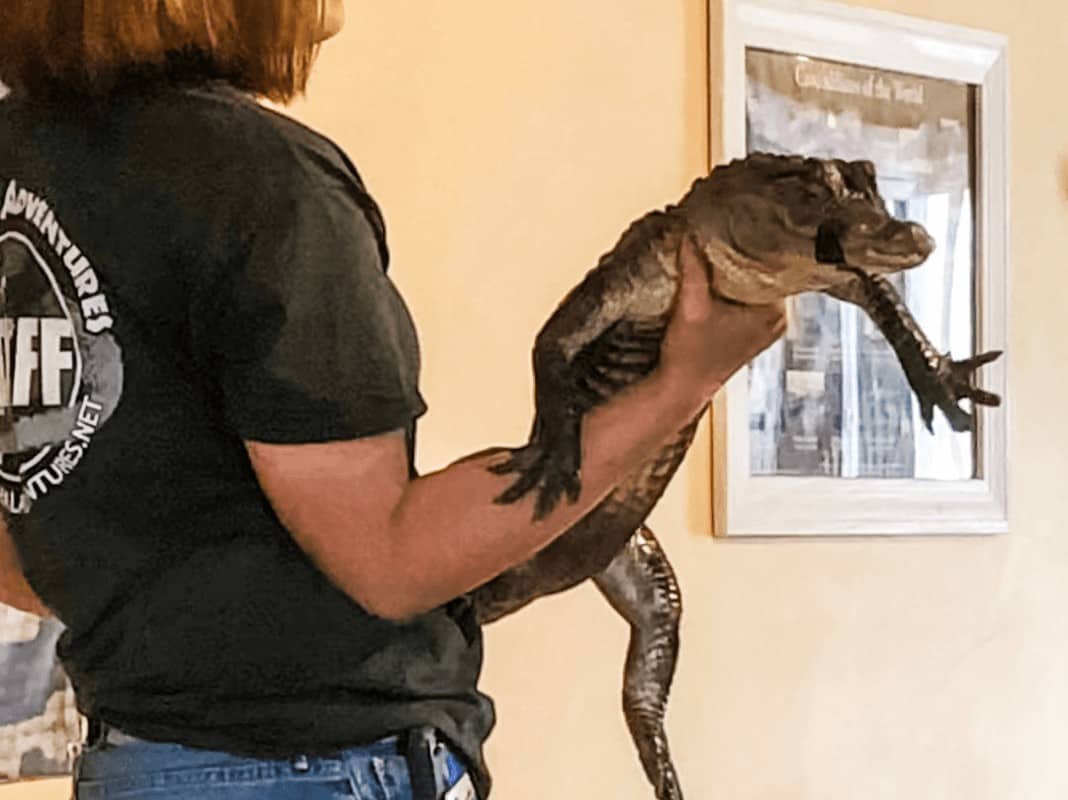 Feed an alligator
Next up as part of our tour was feeding an alligator. And this alligator was not as small as Gucci from the live show. We're talking big, full size gators! Enter into the 'Land of the Giants' area and here you will meet them. They are kept in a glass enclosure and as soon as they saw my son, leaning up against the glass to get ready to feed them, they were eager and awake. What do they feed giant gators? Dead rodent. Gross. But it was exciting to watch my 12-year old fee the alligator. The way that the gator is fed is with the dead rodent food on a long pair of tongs. My son had to reach over just enough to put the tongs near the alligators face and wiggle it around. Then, 'chomp!' and it was gone. He also thought it was extremely cool to do.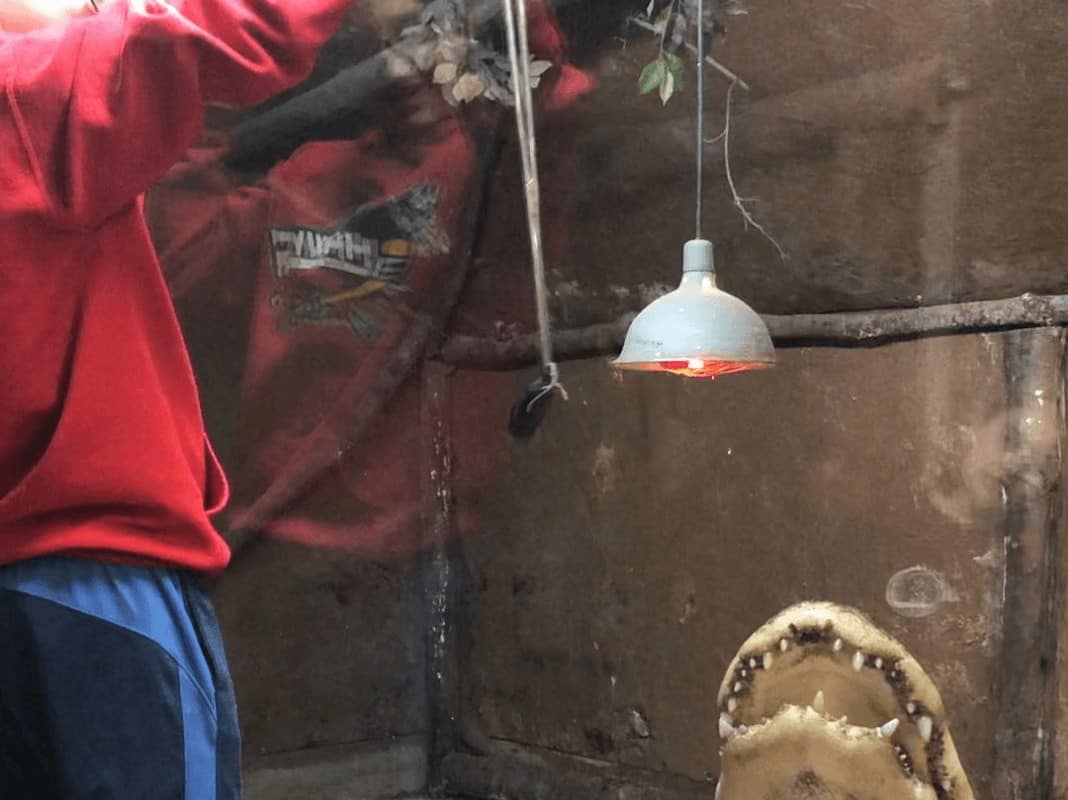 Pat a
kangaroo
Back into the area with the kangaroos, we were able to go into the kangaroos home. Yes! We got to pat a kangaroo! I don't think I would have ever thought this possible. In the kangaroo area, the staff member told us all about kangaroos, how they get their exercise and what they like and don't like. Apparently these kangaroos love shoe laces, but don't like their ears touched. Silly but it was just simple facts like this, that made the whole tour that much more fun, especially for my kids.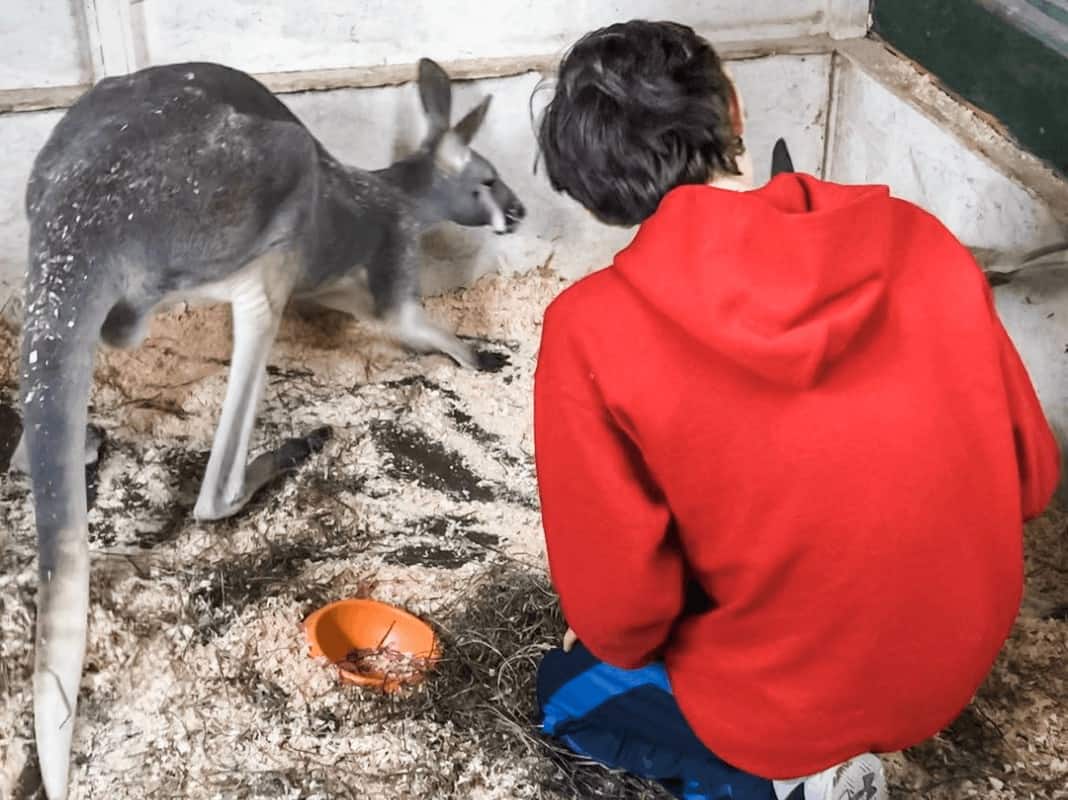 Perfect for ages even Tweens + Teens
Animal Adventures may sound like a petting zoo when you first read its description, but it's not.  It's an animal rescue center first and then a family zoo.  Although, Animal Adventures is perfect for kids of all ages, I have found that the older kids have gotten so much out of their visits here.  We have been visiting Animal Adventures since they have been very young. Sure, they got big smiles patting the chinchilla or touching the snake, but as tweens/teens they ask so many intelligent questions, participate, and love the hands on. Animal Adventures in Bolton is really a fantastic day trip for kids of all ages.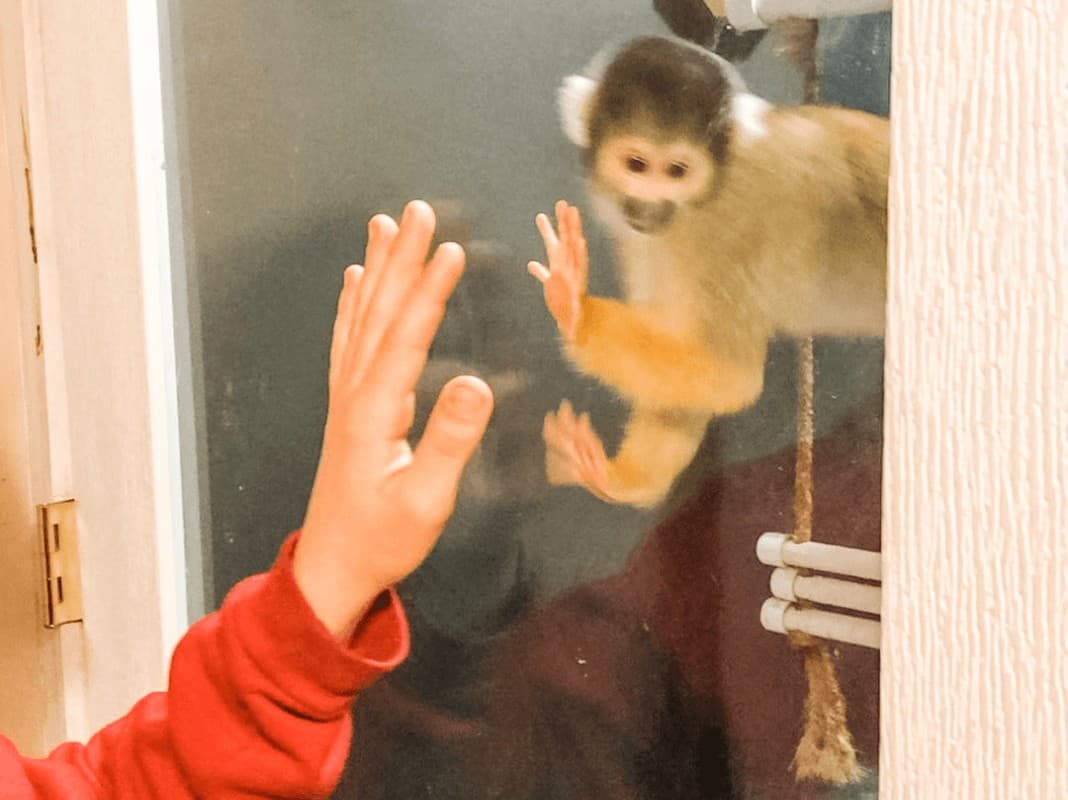 Animal Adventures
It is not a zoo and they are not super fancy. You can tell that when you arrive. However, go with an open mind, knowing the good work that Dr. Ed Laquidara and his wife, Brenda, as well as the staff at Animal Adventures are doing for each and every animal here.
Animal Adventures in Bolton is a USDA licensed zoo and State recognized educational facility and rescue center as well as a small, family run business. All donations received go towards new and updated exhibits and enclosures for the animals. You can read more about Animal Adventures on their website.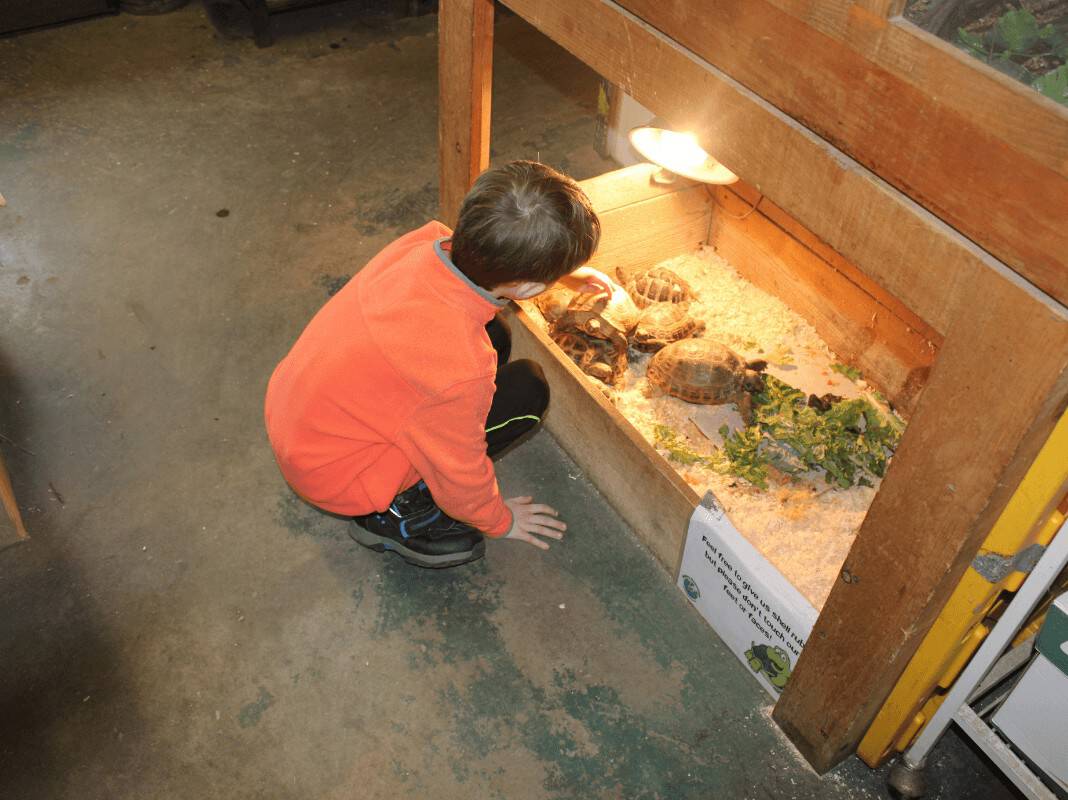 If you are looking for a something different this weekend to do with your kids, you will want to check out Animal Adventures in Bolton, MA!
More fun day trips around New England